Trader Joe's Vegan Snacks to Try (May '23)
Wondering what the best Trader Joe's vegan snacks are RIGHT NOW in stores? I gotcha covered!
From sweet to savory, healthy to not-so-much…these snacks will making noshing the most delicious.
Pin this Post for later: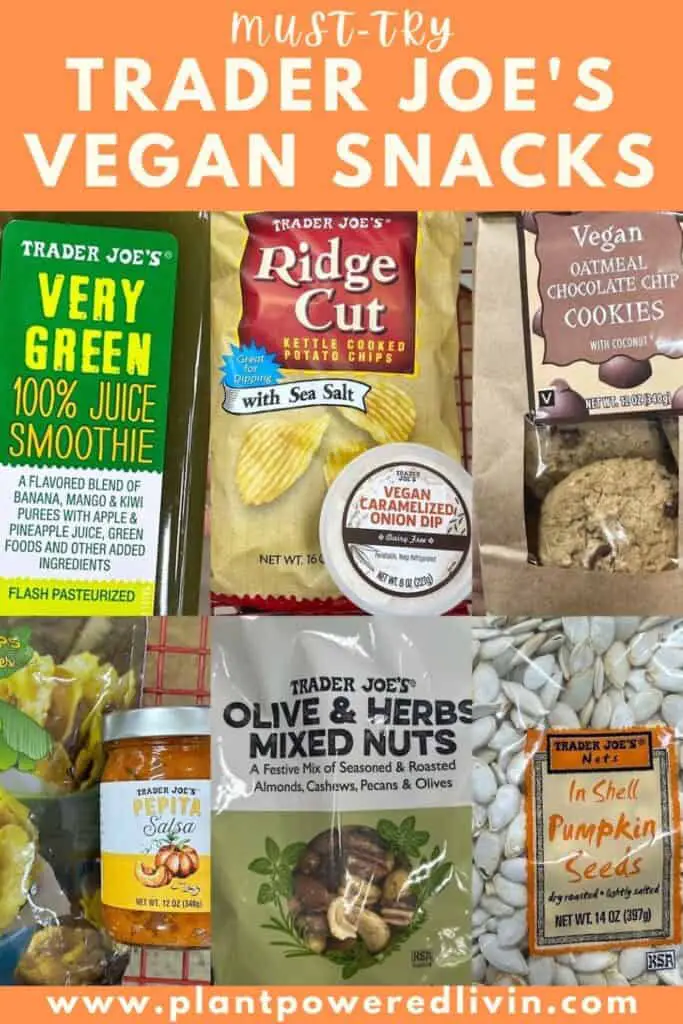 Vegan Caramelized Onion Dip w/ Potato Chips
Nothing beats Trader Joe's Caramelized Onion Dip and potato chips for a nostalgic, savory snack. Sure to fool any hungry snacker, no one would guess that this dip is vegan!
And while any TJ's chips or crackers would work with this dairy free Trader Joe's dip, these Ridge Cut Kettle Cooked Potato Chips have the perfect level of saltiness to complement the dip, and just the right ridges to scoop it up!
Olive & Herbs Mixed Nuts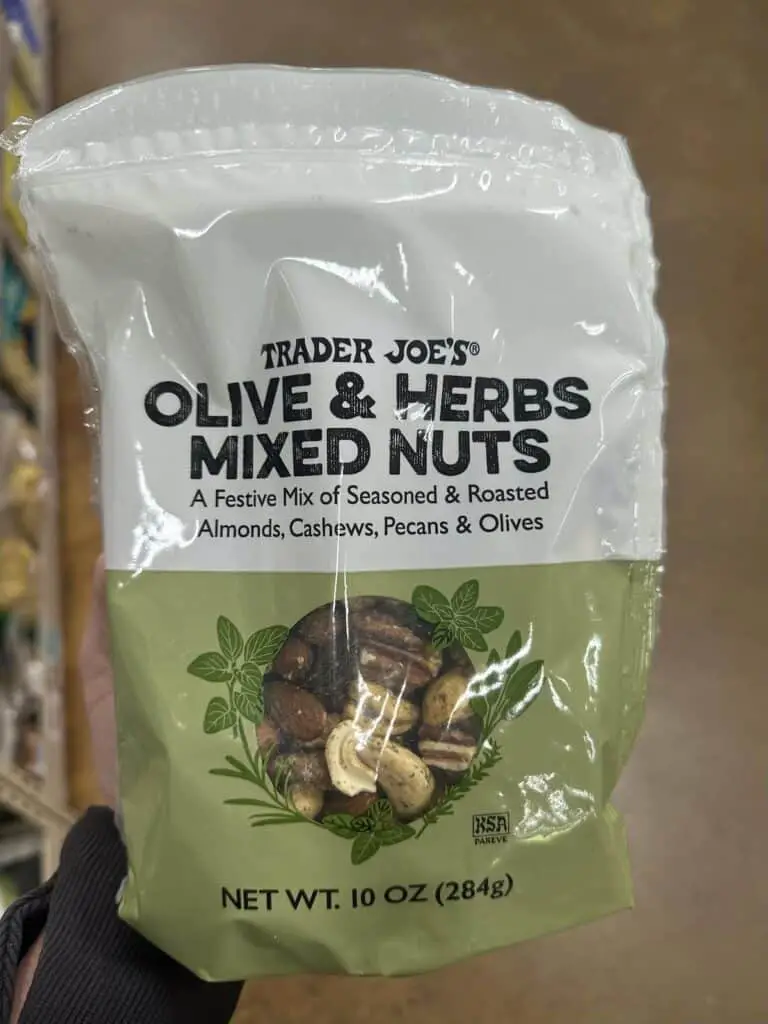 This new olive nut mix is so unique…have you ever had a dried olive before? So unexpected, savory, and delicious…it's gourmet snacking!
Very Green 100% Juice Smoothie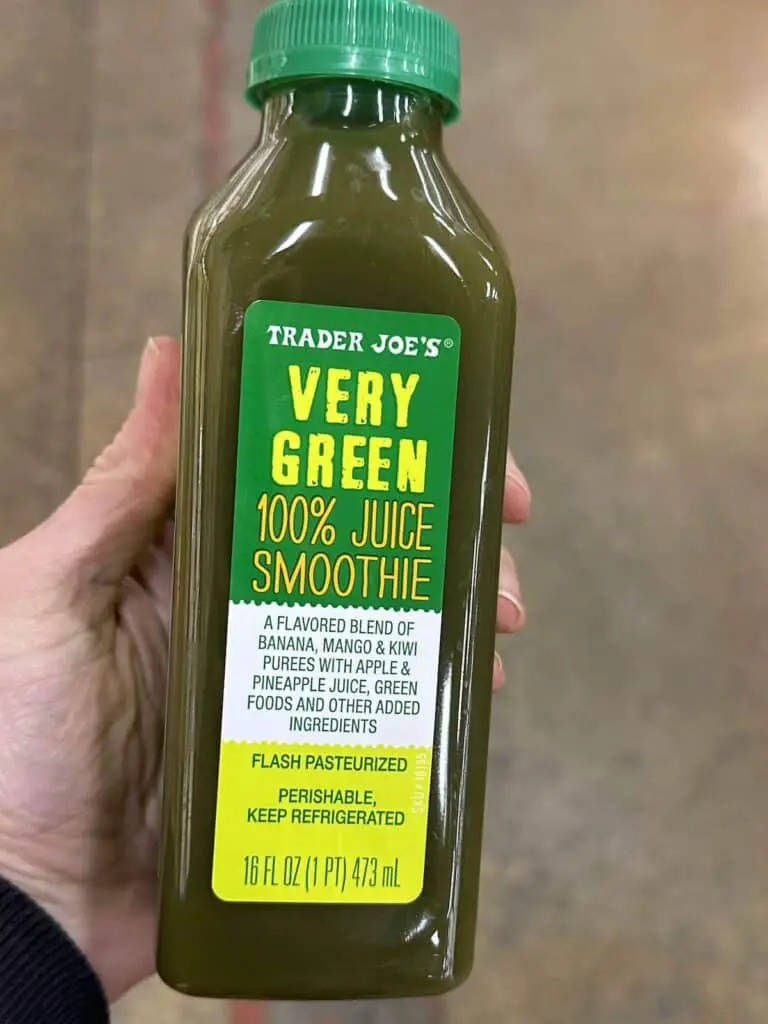 When you have a sweet craving but are trying to make good choices, this green smoothie is a solid option. With mango, banana, apple, and pineapple goodness masking the uberhealthy spirulina, spinach, and parsley, its a win-win.
And while this juice may not compete, health-wise, to the mostly-vegetable green juices on the market, it tastes much better and is still full of whole foods.
Trader Joe's Spicy Miso Instant Ramen Soup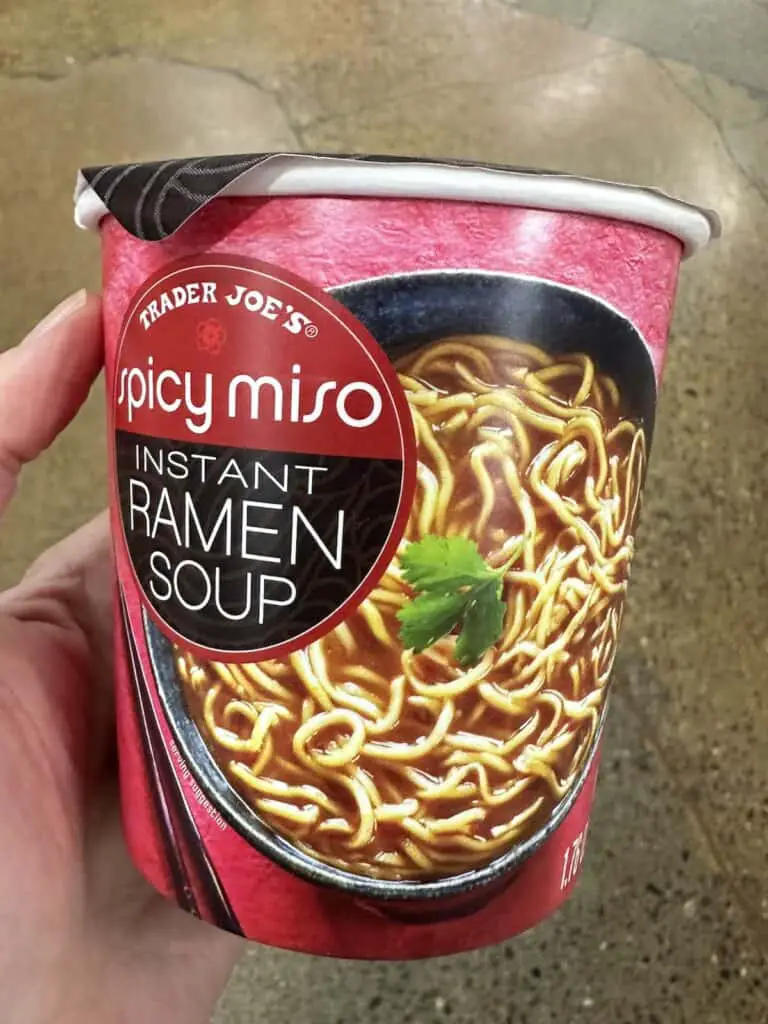 When you're craving a heartier, cozy snack mid-afternoon or later in the evening, nothing beats a cup of ramen! And Trader Joe's spicy miso version is way less processed than most other competitors on the market.
In addition to a snack, it also makes a fabulous quick meal with a few additions.
Not into spicy? The regular miso at TJ's in the green cup is solid too.
Sesame Sticks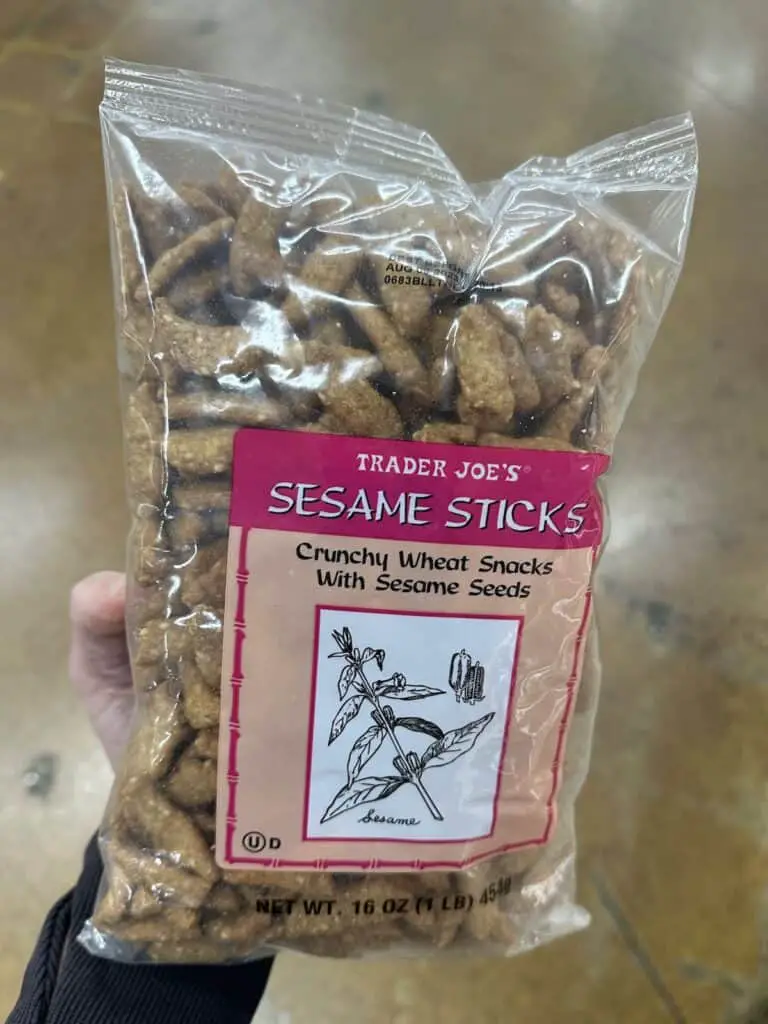 For a quick, salty fix with a bit of protein to boot, sesame sticks hit the spot.
Dip them in peanut butter to bring your snacking to the next level.
Trader Joe's Simply Nutty Bars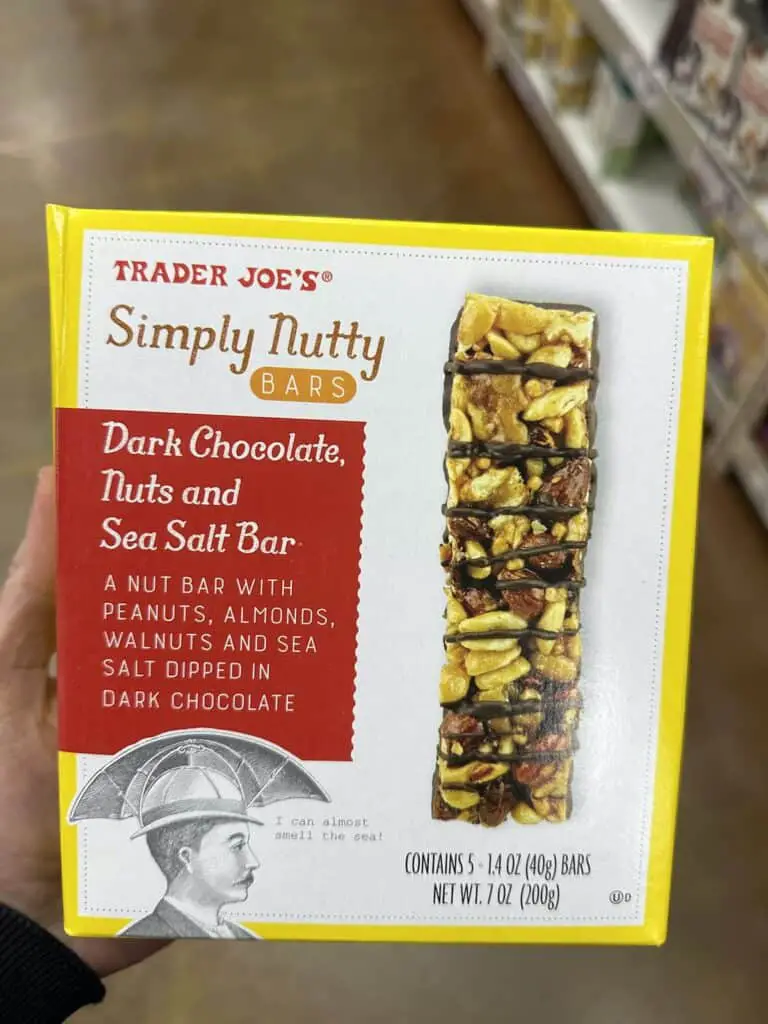 When I have a candy bar craving, I turn to these nut and chocolate bars from Trader Joe's. Chewier and gooier than Kind bars, they take the cake for best texture for sure.
We like the walnut ones, but there are three flavors to choose from.
Trader Joe's Popcorn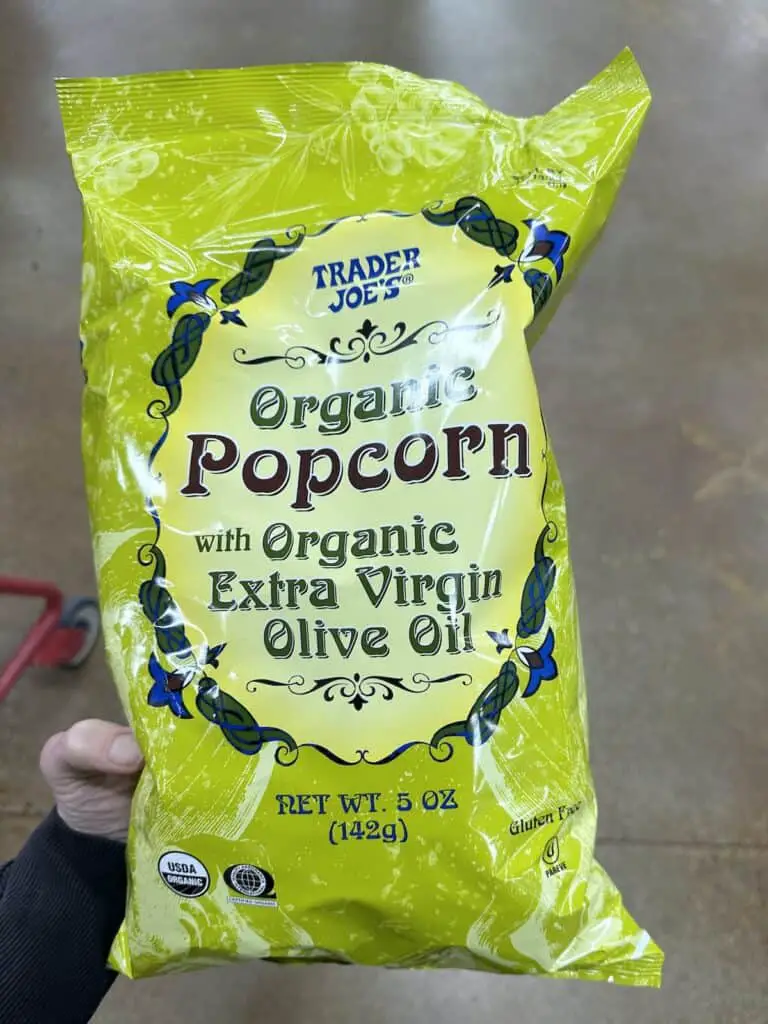 Sometimes the simplest snacks are the best. Trader Joe's bagged popcorn made with olive oil tops the list on this front.
Always a winner in any crowd (adult or kids), we have a green bag in our cupboard at all times!
Plant-based Babybel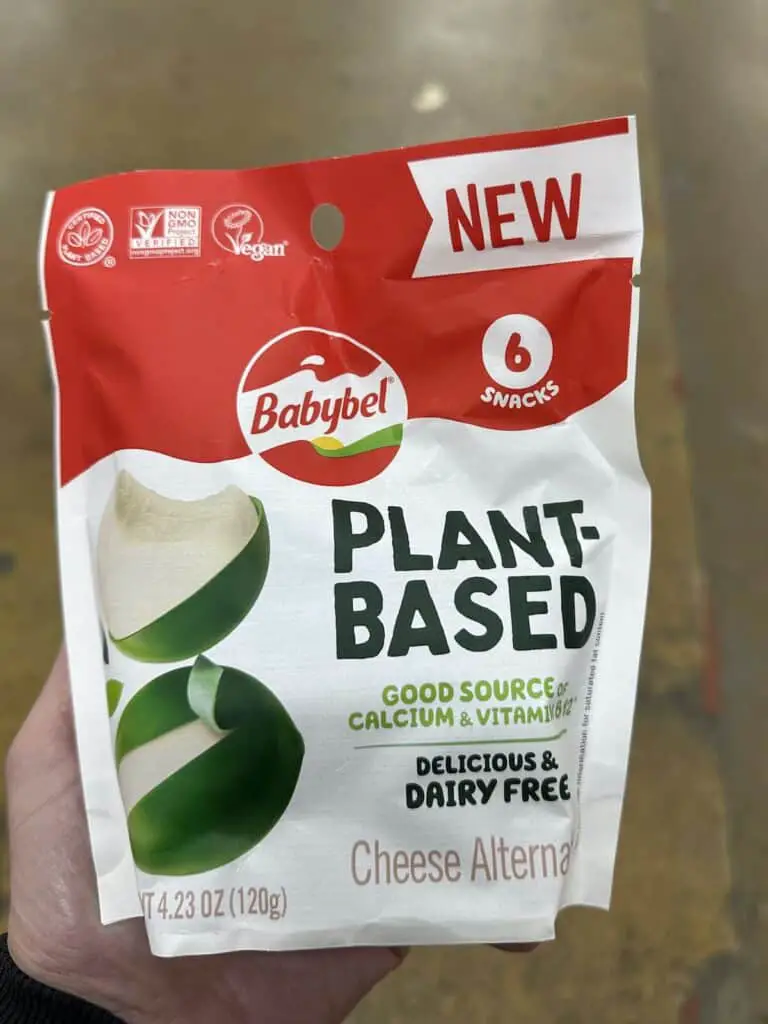 Babybel cheese lovers MUST try this dairy free Babybel version. Shockingly similar in taste, texture, and packaging to its dairy counterpart, this vegan cheese is impressive.
And with the best prices around, Trader Joe's is the place to grab a bag!
Trader Joe's Dry Roasted Pumpkin Seeds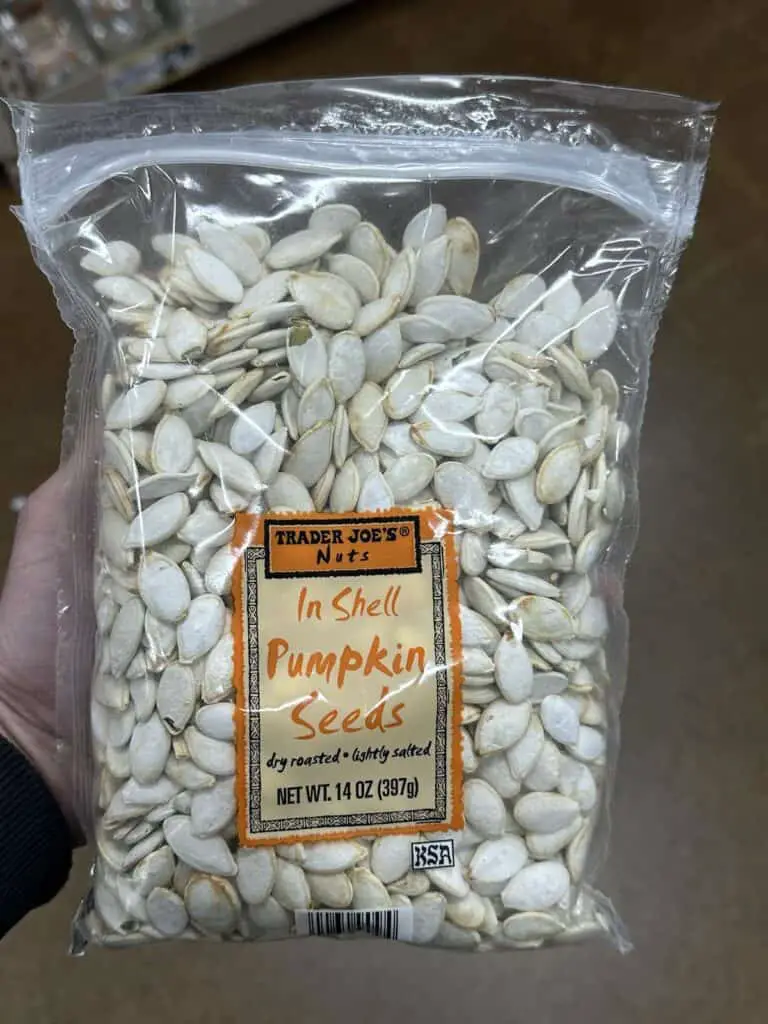 For a high protein, low carb vegan snack choice, these pumpkin seeds take the cake. And with that savory crunch in every bite, what's not to love?
These In Shell Pumpkin Seeds top the list for best high protein vegan snacks to buy as well!
Spicy Tempura Seaweed Snack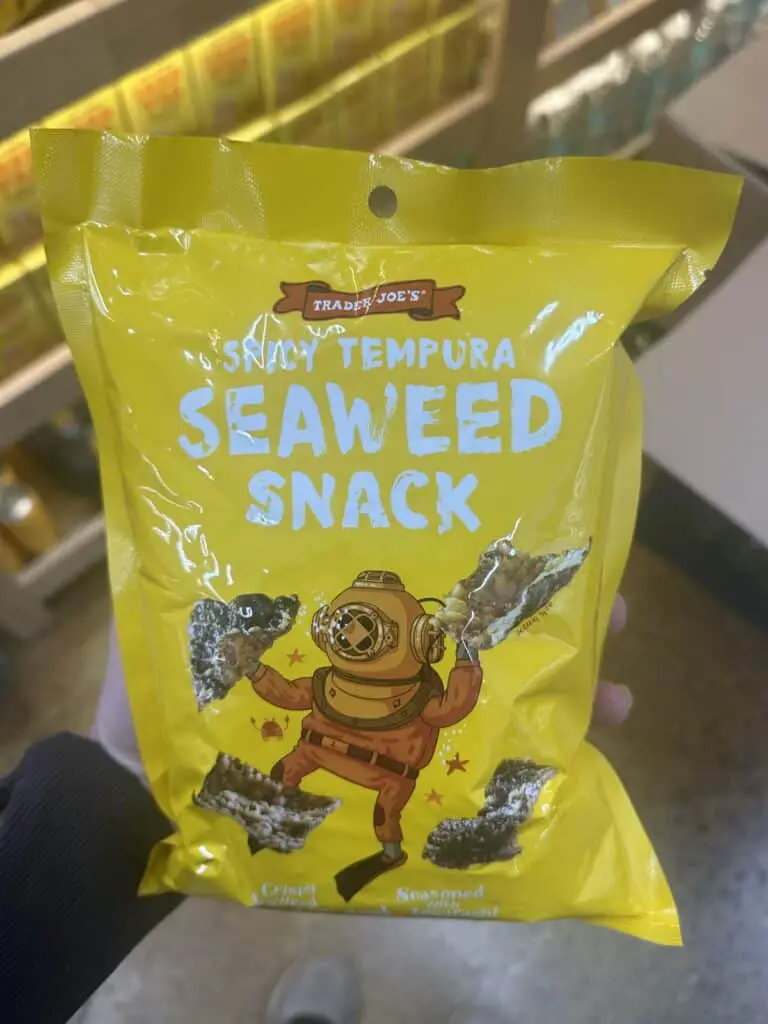 This brand new spicy seaweed snack fires on all snack cylinders: crunchy, spicy, savory, and delicious. You gotta grab a bag!
Trader Joe's Vegan Chewy Granola Bars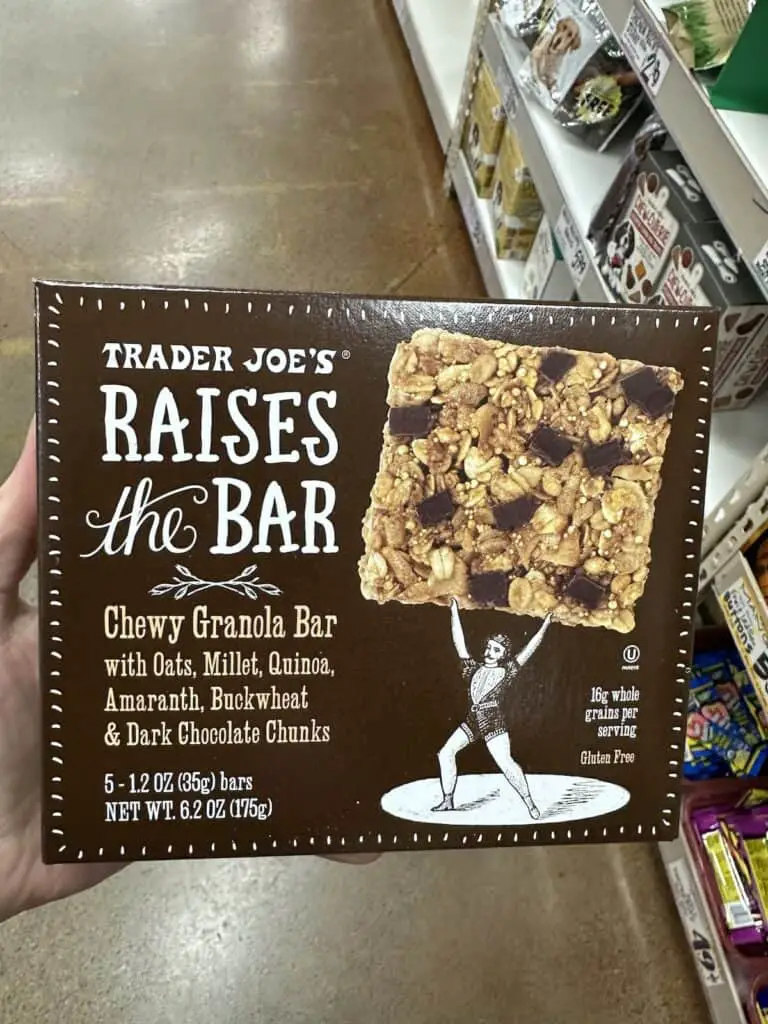 These Trader Joe's Raises the Bar bars include all the healthy grains: oats, millet, quinoa, amaranth, and buckwheat. With all that grain goodness and dark chocolate chunks, these chewy granola bars are definitely geared towards adults…Thanks TJ's for making a healthy version for us!
Trader Joe's Pepita Salsa w/ Plantain Crisps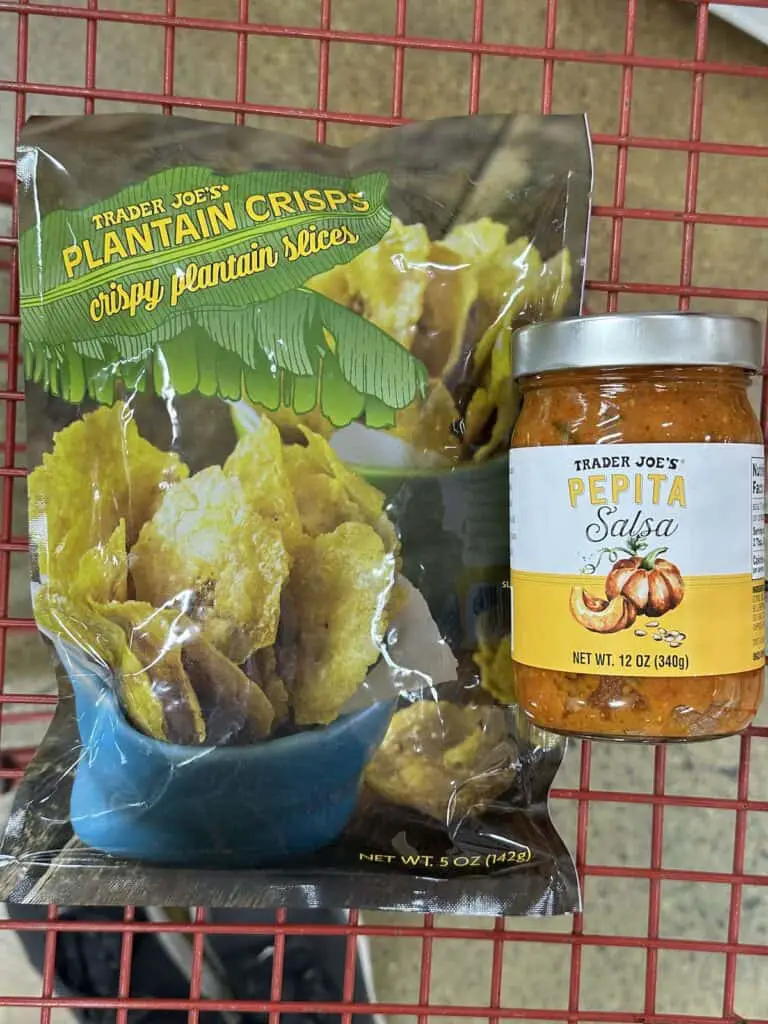 Trader Joe's Pepita Salsa is one of the most unique salsas on the market. Spicy and nutty and just so good, up the chips and salsa game yet again with TJ's unbeatable plantain crisps. TRUST ME.
Spicy Porkless Plant-Based Snack Rinds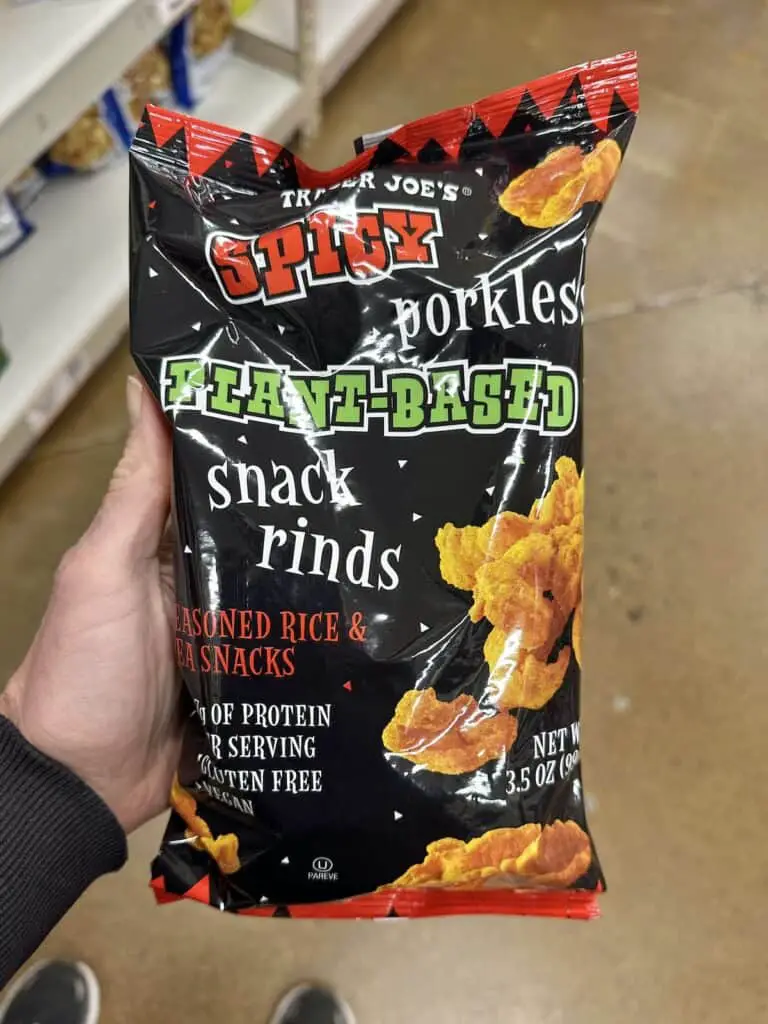 Admittedly, I have never had a pork rind in my life. But these crunchy, spicy nuggets are tasty! Spice lovers, these are worth a try!
Made with rice and pea protein, they are gluten free and relatively high in protein compared to most chips/crackers.
Cauliflower Crisps: Trader Joe's Vegan Snacks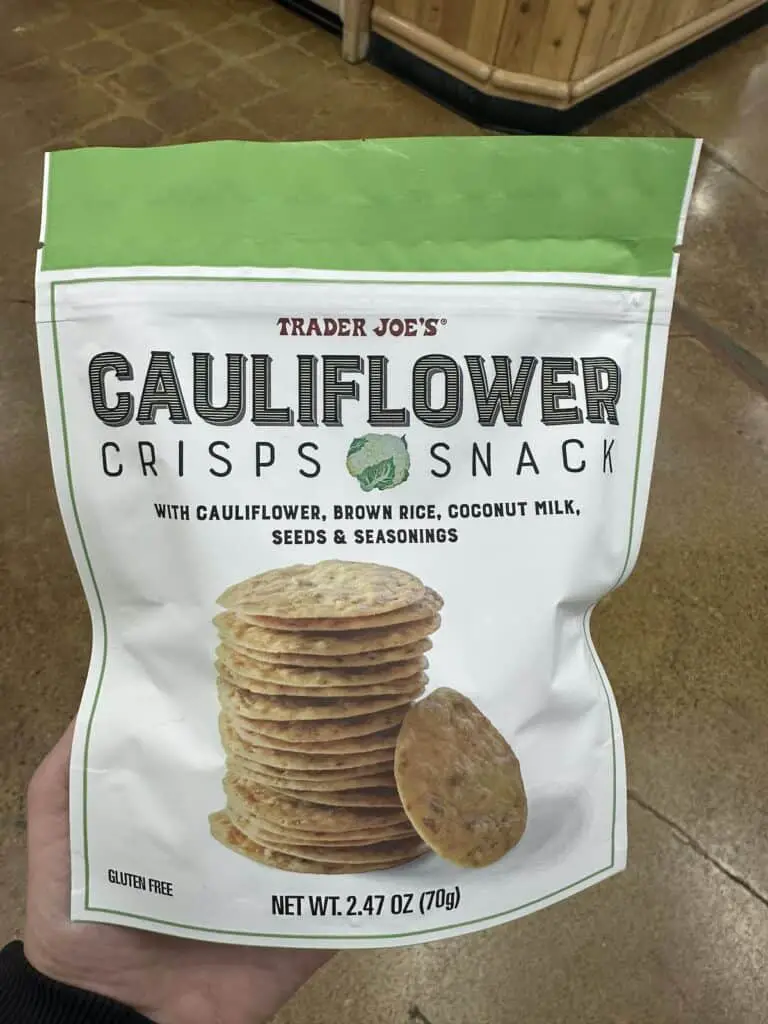 These unassuming crackers are delightful all on their own, or paired with your dip of choice. With a hint of coconut, you would never know that these gluten free crackers are make with cauliflower!
This Coconut Brings Chocolate on a Date Bars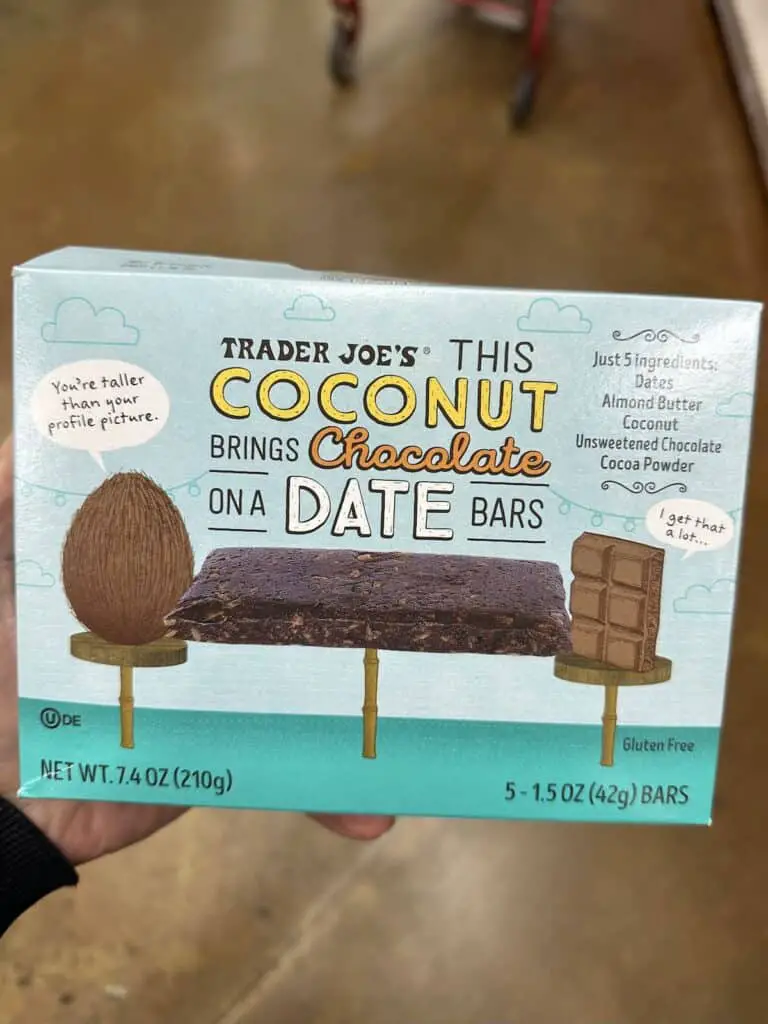 Not only do these bars have an incredible name that says it all, they are a delicious, healthy snack to boot!
Perhaps on the more refined side of the palate, these vegan and gluten free bars are more popular with adults vs. kids (in my house a least).
Trader Joe's Cassava Chips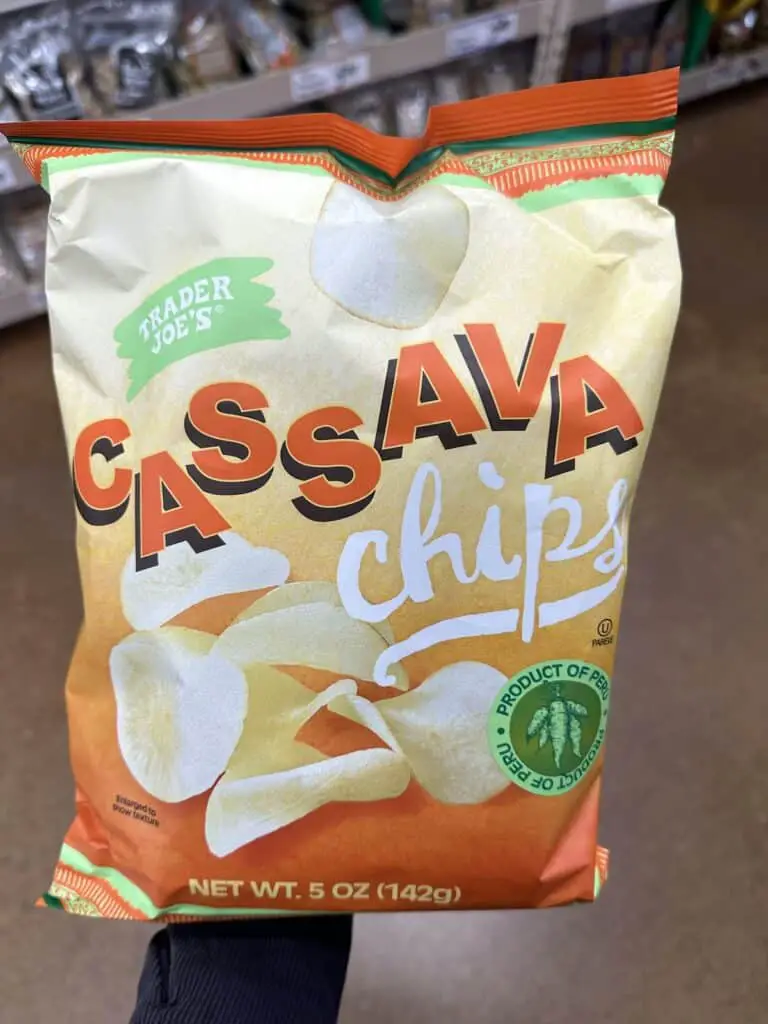 For a twist on the potato chip, check out these new cassava chips! Crispy, salty, and equally addictive, this Peruvian snack may just be your sandwich's new BFF🙌🏼!
Barebell Protein Bars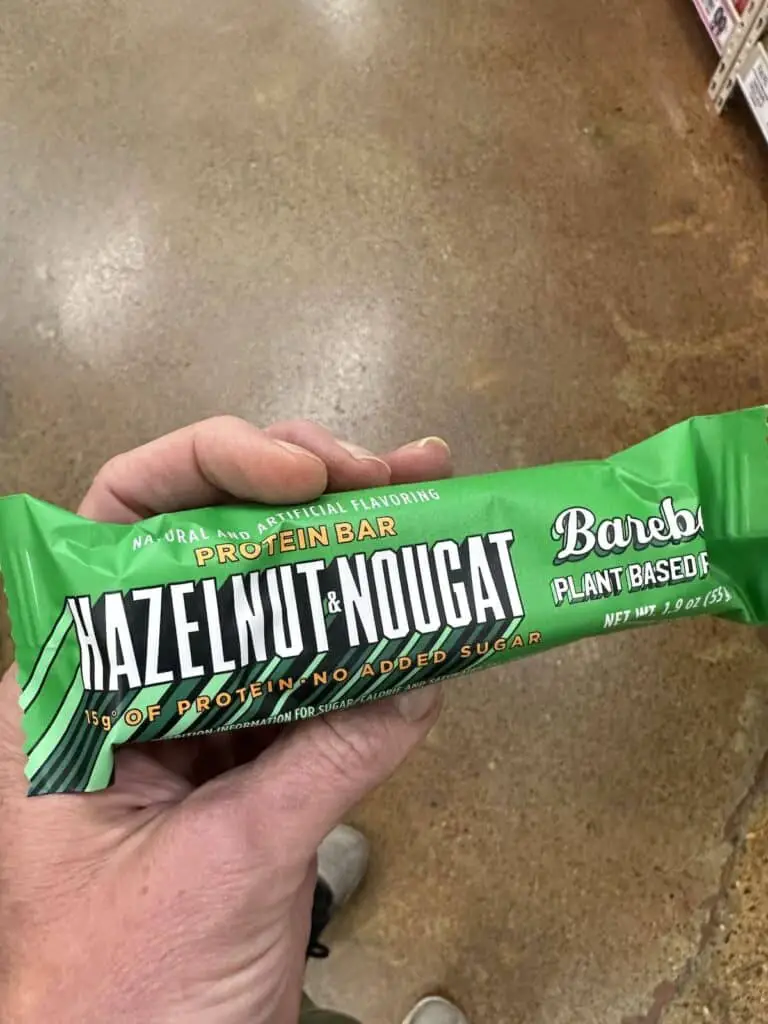 Looking for a plant-based protein bar? These Hazelnut & Nougat Barebell Bars are as tasty as they come. With 15 grams of protein and 27 carbs, they are a perfect post-workout snack when you don't have time for a proper meal.
Sweet & Salty Umami Crunchies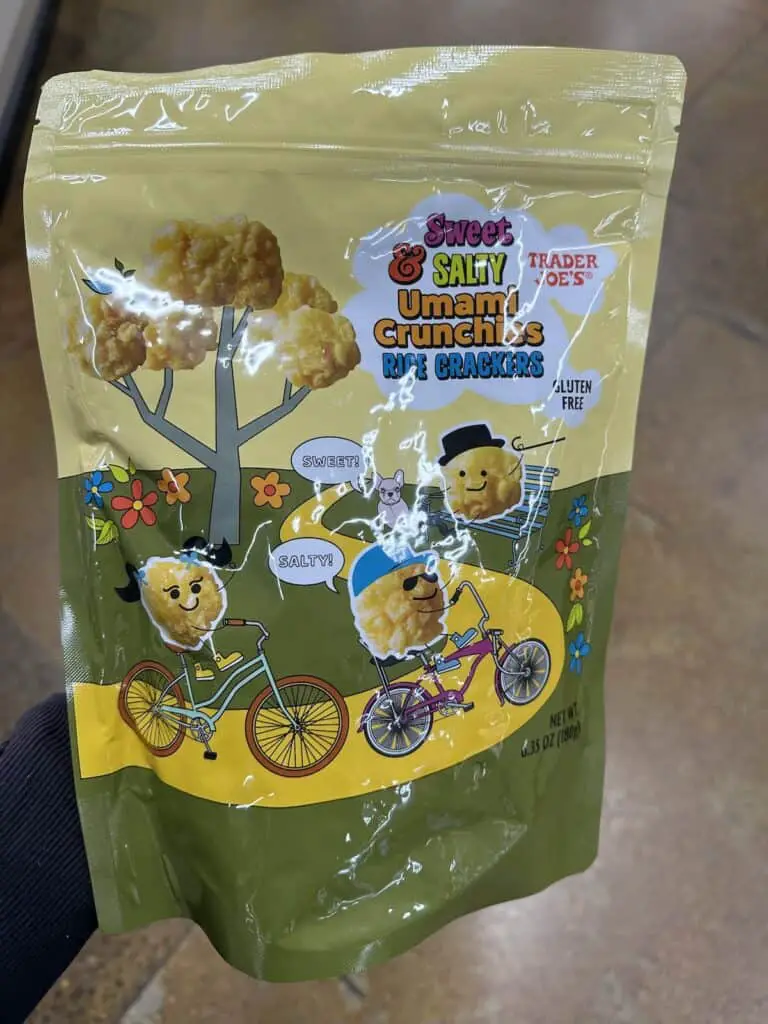 These new rice crackers are my daughter's favorite new snack. Reminiscent of the sweet cracker in those old school Asian snack mixes, this one is definitely nostalgic.
Chile and Lime Flavored Rolled Corn Tortilla Chips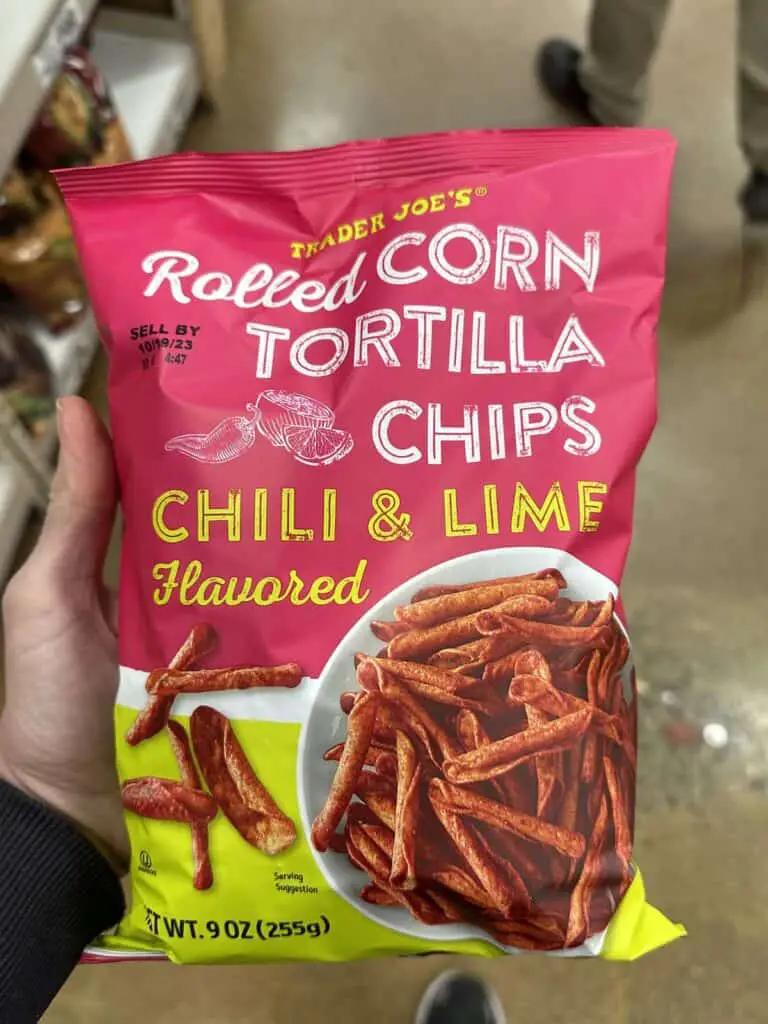 Takis lovers…THESE are for you! If you ask me, the "Trader Joe's takis" are better than the Taki brand because they taste less processed, and dare I say less salty?! But they still hit the spot for spice and lime, if that's your thing.
Trader Joe's Organic Dried Mango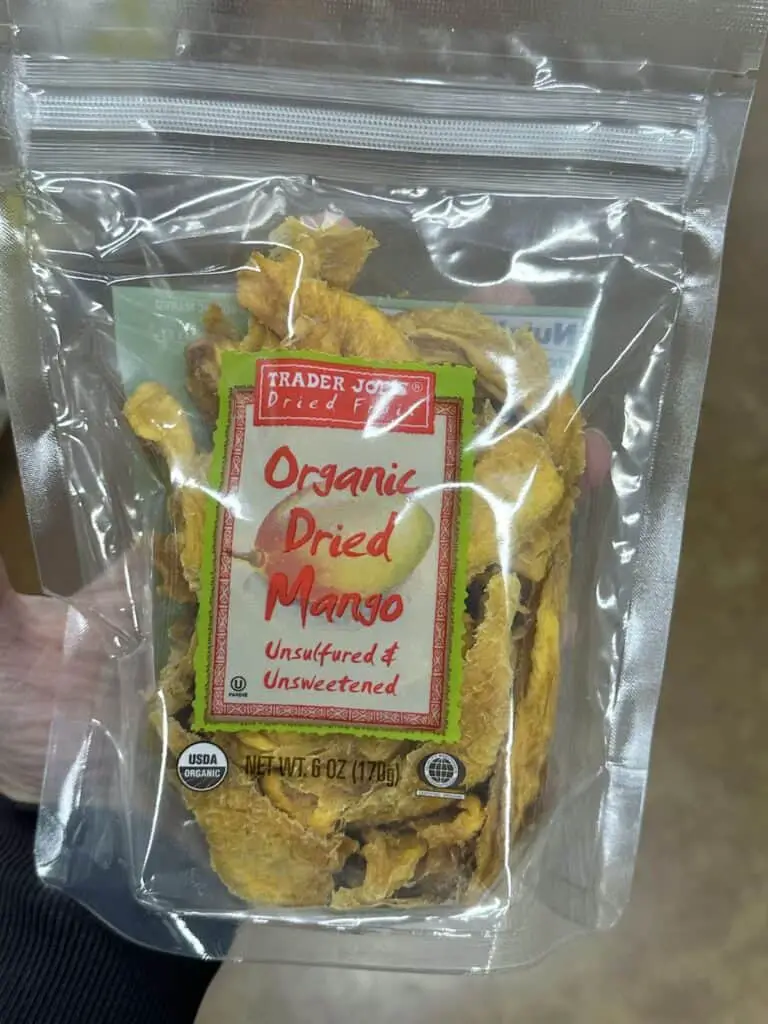 While Trader Joe's has an abundance of tasty dried fruit options, the dried mango is always the most popular for the kiddos. And while Trader Joe's offers at least two mango options (sometimes more), I try to stick with the unsulfured and unsweeted organic option.
Giant Peruvian Inca Corn Snacks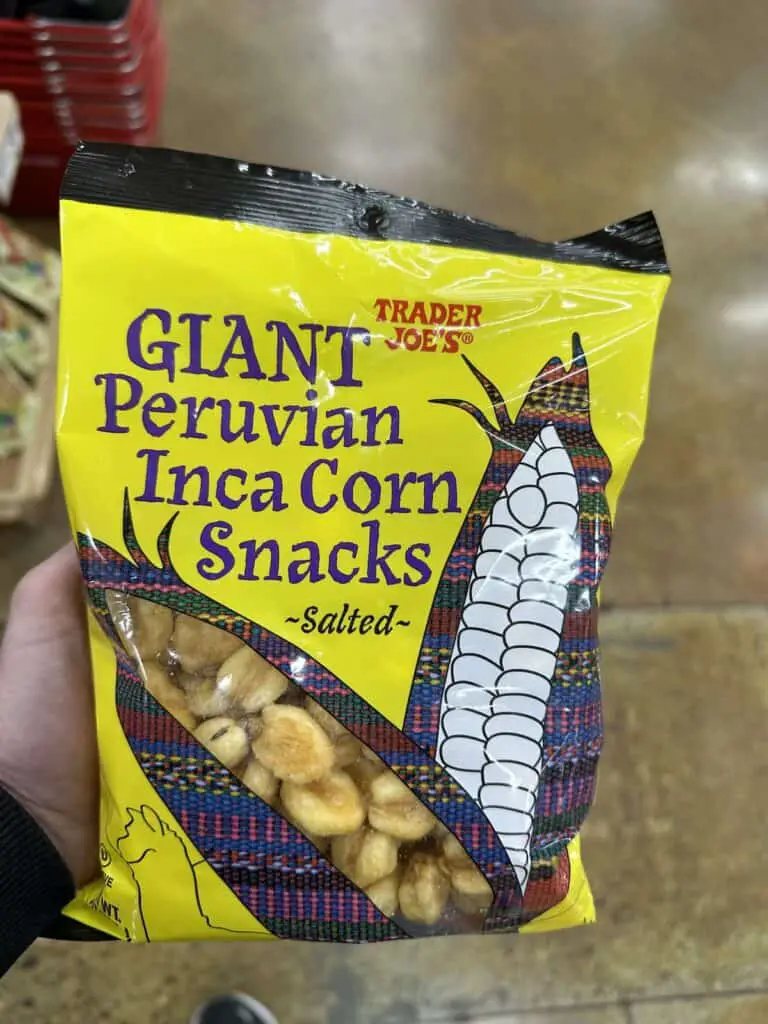 If you're a corn nut fan, you will love these giant corn nuts! Simple and salty, they hit the spot when you want an ubercrunchy, savory snack.
Crispy Crunchy Mochi Rice Nuggets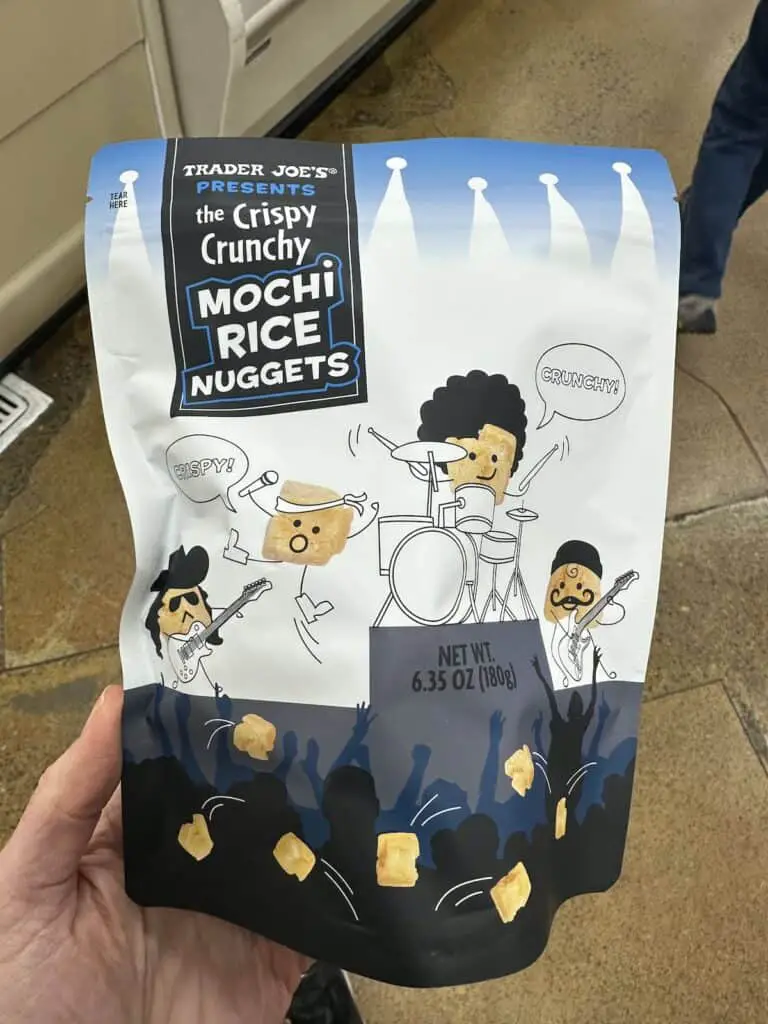 Savory mochi? Yes, apparently it's a thing. Forgot what you think a mochi is, because this is not that. These are crunchy, salty rice squares, and they are addictive. Definitely worth a try!
Dark Chocolate Sunflower Seed Butter Cups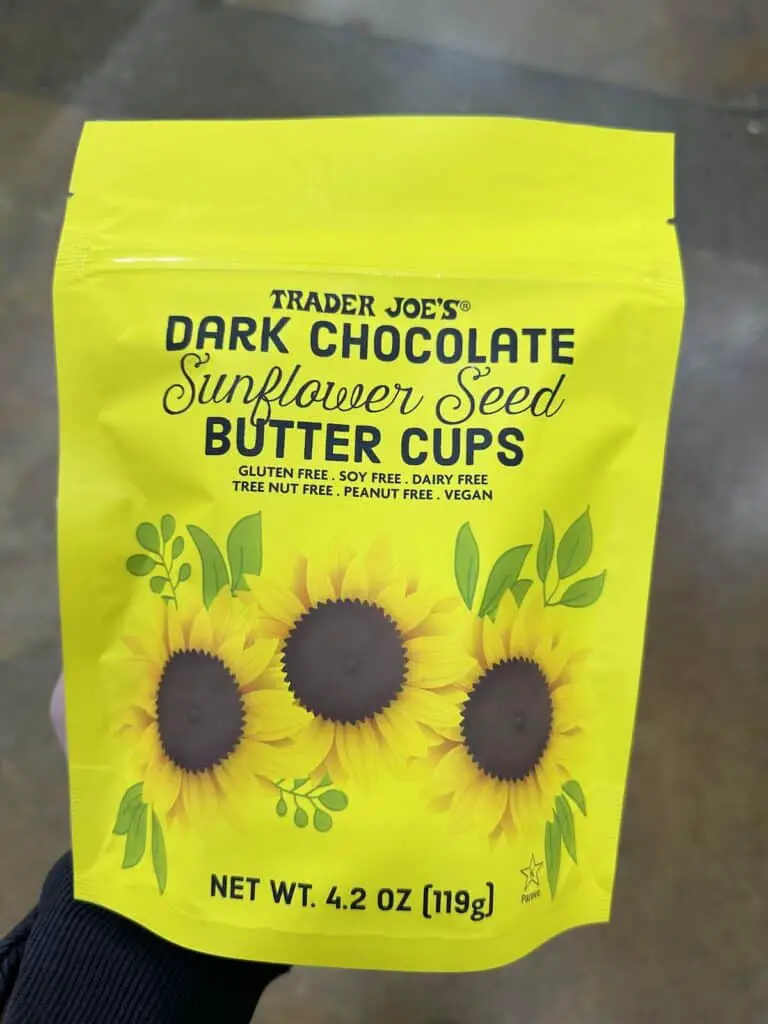 If chocolate candy is what you're craving, these Trader Joe's sun butter cups are pretty tasty…and one of the only vegan chocolate candy options in the store these days! Hopefully that will change soon, but until then, at least we have these (and those oat milk chocolate bars).
These nut free cups are allergen free too!
Perhaps I have introduced you to something new?! Or, maybe I am missing some of your favorite Trader Joe's vegan snacks?! Please, tell me what you think in comments below!
For more TJ's love, check out :
Cheers!
-Jenn
---
---