Best Trader Joe's Vegan Food (Sept. 2023)
Looking the the best Trader Joe's vegan food? These treasured TJ's plant-based items stand out as being not only remarkably tasty, but uniquely Trader Joe's. Check out the current list of must-haves!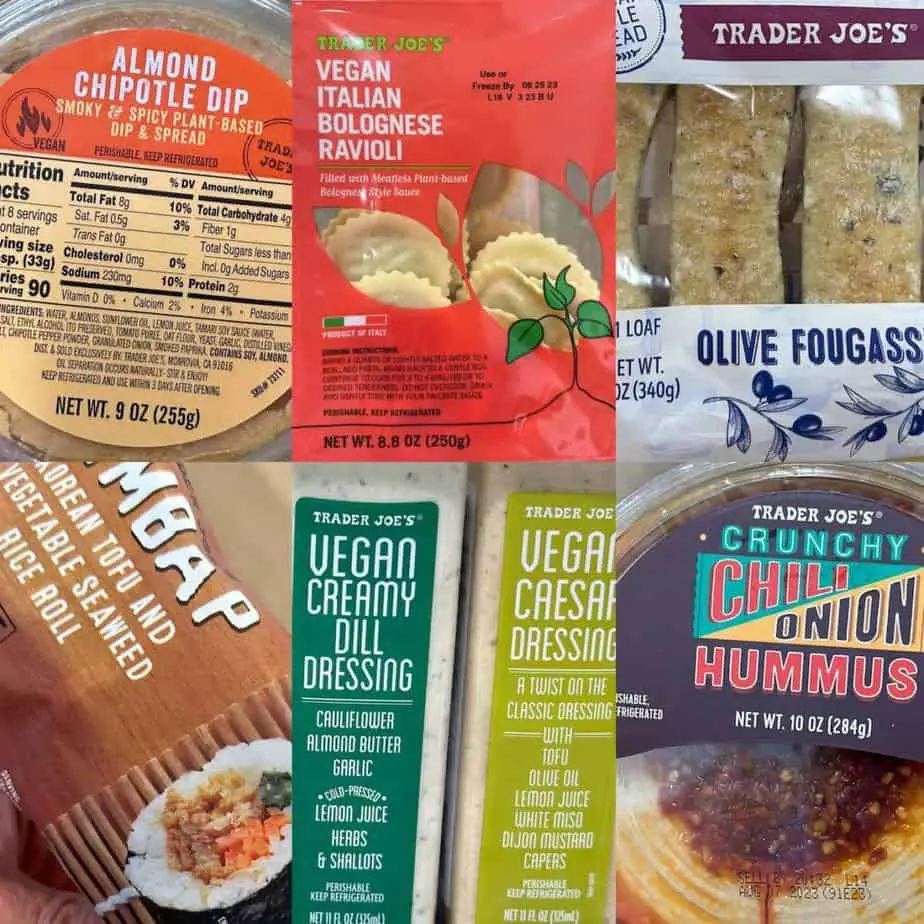 I am a Trader Joe's junkie, and proud of it🙌🏼! I love the brand, the food, and the store experience. In fact, my weekly visit feels more like a ritual than a mom chore. My family and I try pretty much every vegan item that hits the shelves (or the fridges, or the freezers;)). We don't like them all, but that's okay because there are SO many good ones to consider in the best Trader Joe's vegan food list in 2023!
My friends and family often ask me for a Trader Joe's vegan grocery list, so I developed this log about three years ago and update it regularly. Enjoy!
New! Trader Joe's Vegan Italian Bolognese Ravioli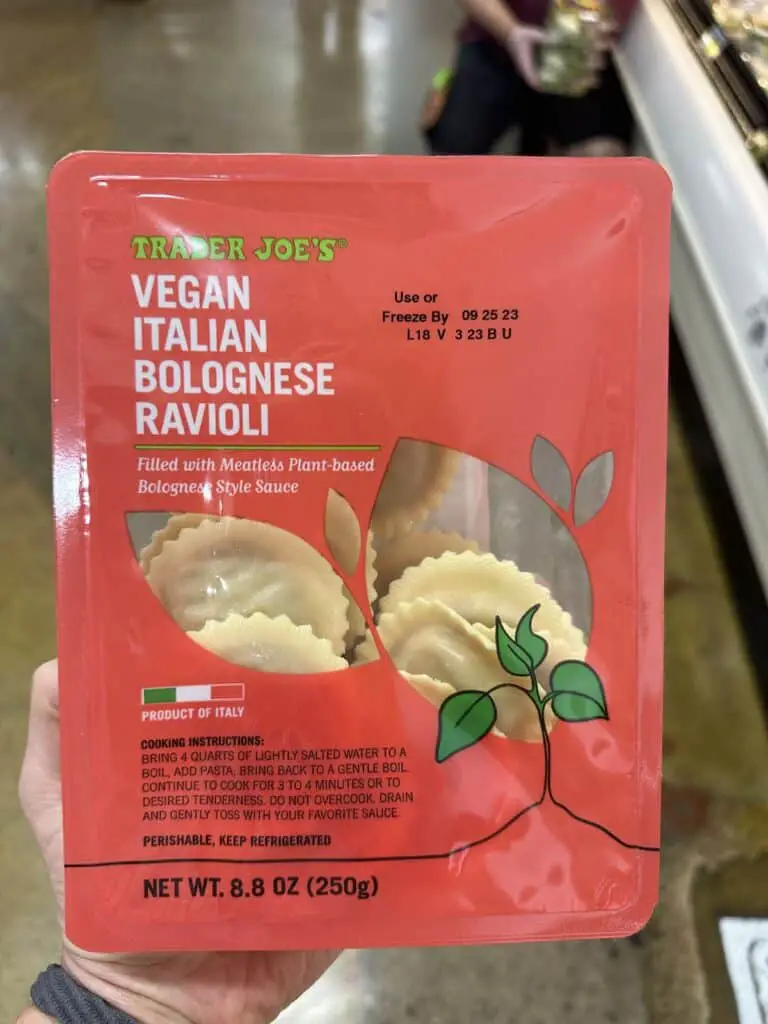 These newest vegan ravioli at Trader Joe's are👌🏼. The plant-based bolognese sauce is made with lentils with a rich and slightly sweet taste. My entire family rated them even better than the spinach and cashew (below).
New! Almond Chipotle Dip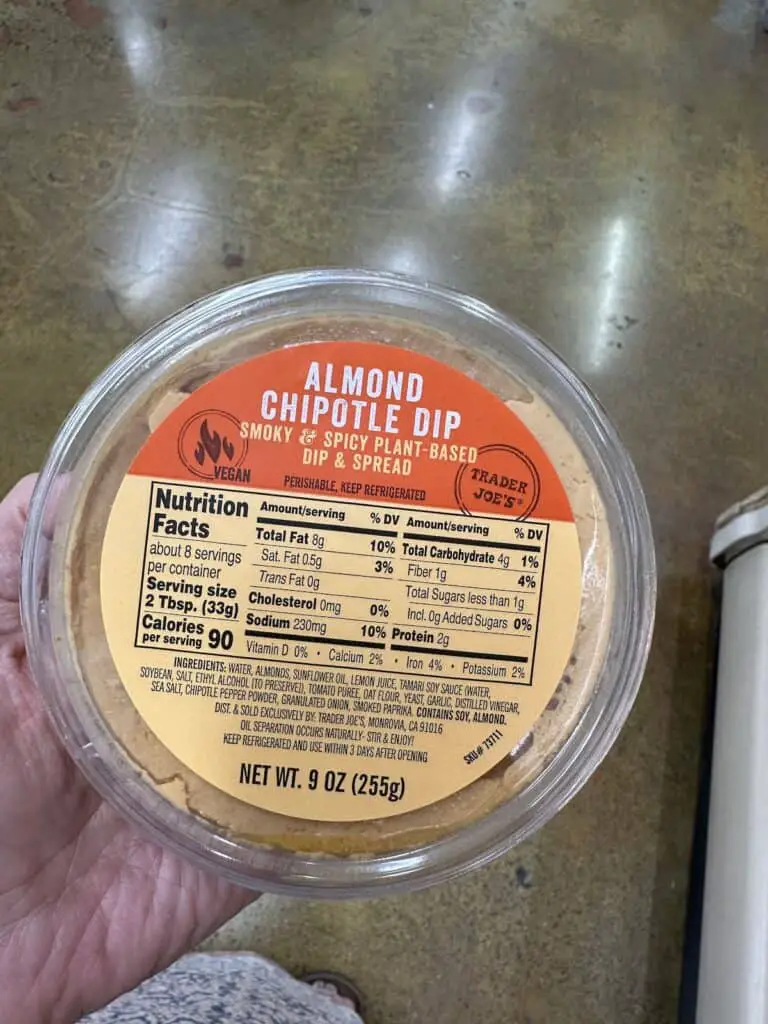 Okay okay, so this list is almost always uniquely Trader Joe's items, but Trader Joe's knockoff of Chipotle Bitchin' Sauce is remarkable. With an amazing smoky taste and thicker, more dip-like consistency than Bitchin', plus about half the price at just $3.49, The TJ's copycat is a total winner!
New! Strawberry Lemonade Ice Bars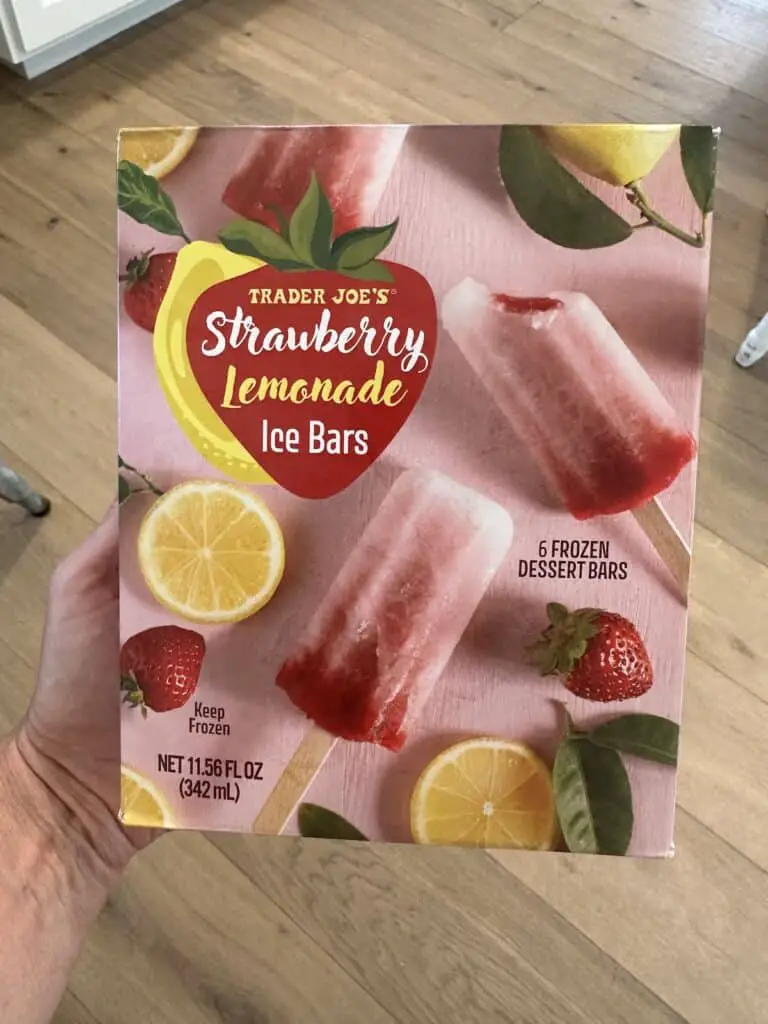 These new Strawberry Lemonade Ice Bars are the perfect balance of sweet and tart…my kids and my new favorite afternoon treat!
Note: these bars are not gluten free.
New! Korean Kimbap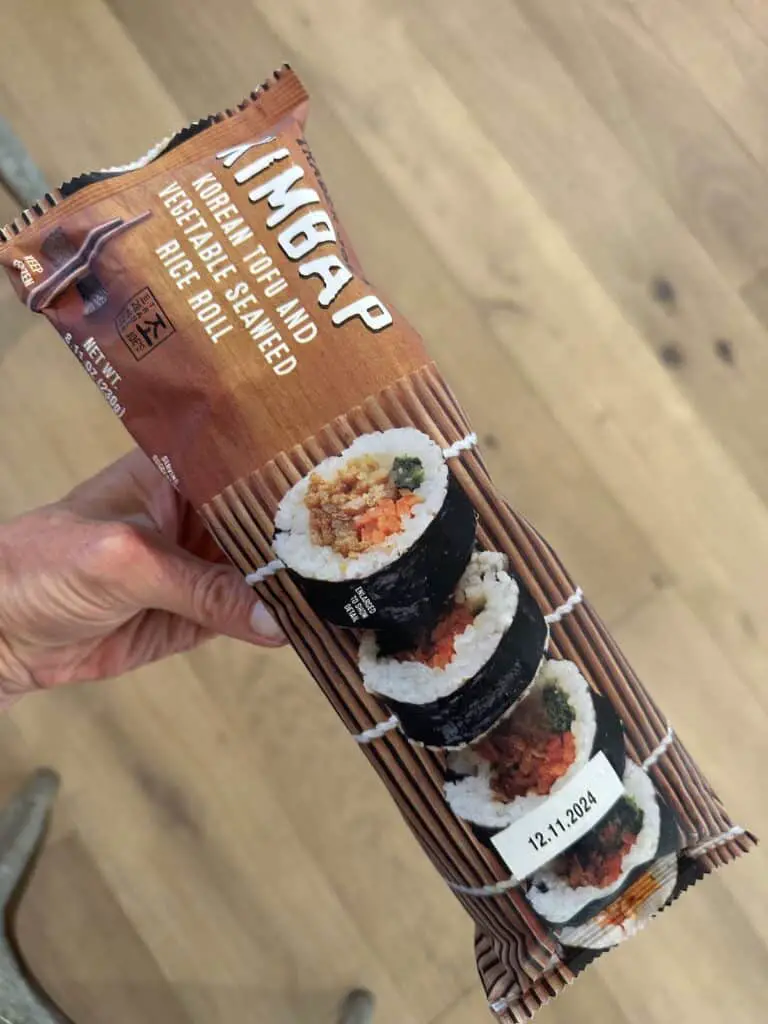 This impressive new frozen Kimbap at Trader Joe's is flavorful yet mild. Fairly similar to sushi, Kimbap is a Korean staple made with sesame oil-infused rice, seaweed, and, in this iteration, filled with greens, root veggies, pickles, and braised tofu.
My kids love it all alone, and I love to dip it in a little Gochujang sauce, sriracha, soy sauce combo😋.
Simply microwave for 2 minutes from frozen, and enjoy! One of the most exciting items in the frozen aisle!
It may not be the authentic method, but Trader Joe's sure does make eating global cuisine accessible!
New! Crunchy Chili Onion Hummus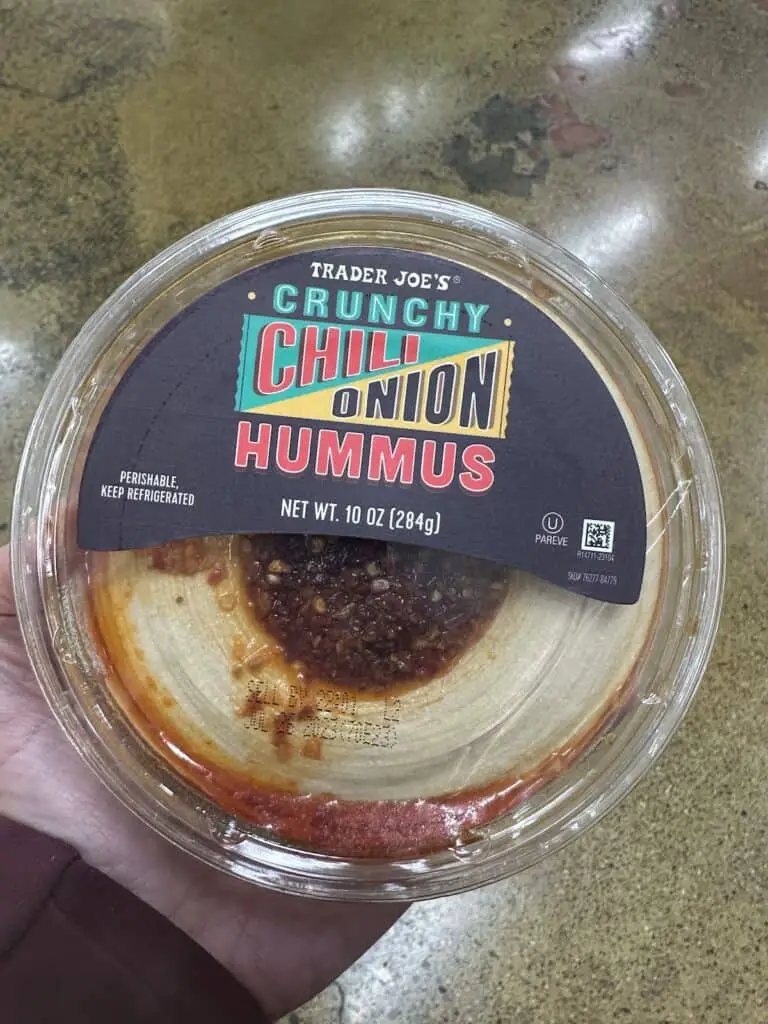 Store bought hummus is hard to impress IMO but this new Trader Joe's Crunchy Chili Onion Hummus is awesome! Full of flavor, texture, and the perfect amount of heat (not too spicy), this hummus is a must-try!
Stir Fried Garlicky Cabbage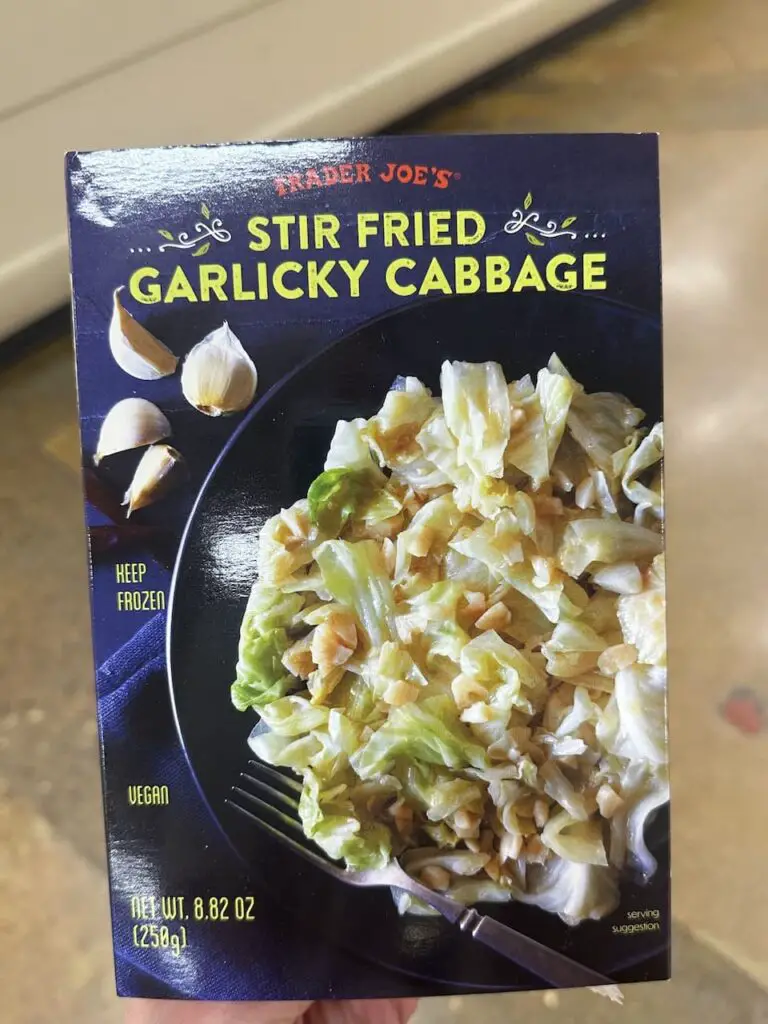 Attention cabbage lovers: you must try this frozen Trader Joe's cabbage! I know it may sound too simple to be interesting, but it is absolute perfection. Also…it's tough to make cabbage taste this good easily😉.
Serve it as a side or mix into noodles/rice! My favorite way to enjoy it is my simple Chili Onion Cabbage Noodles.
Korean Beefless Bulgogi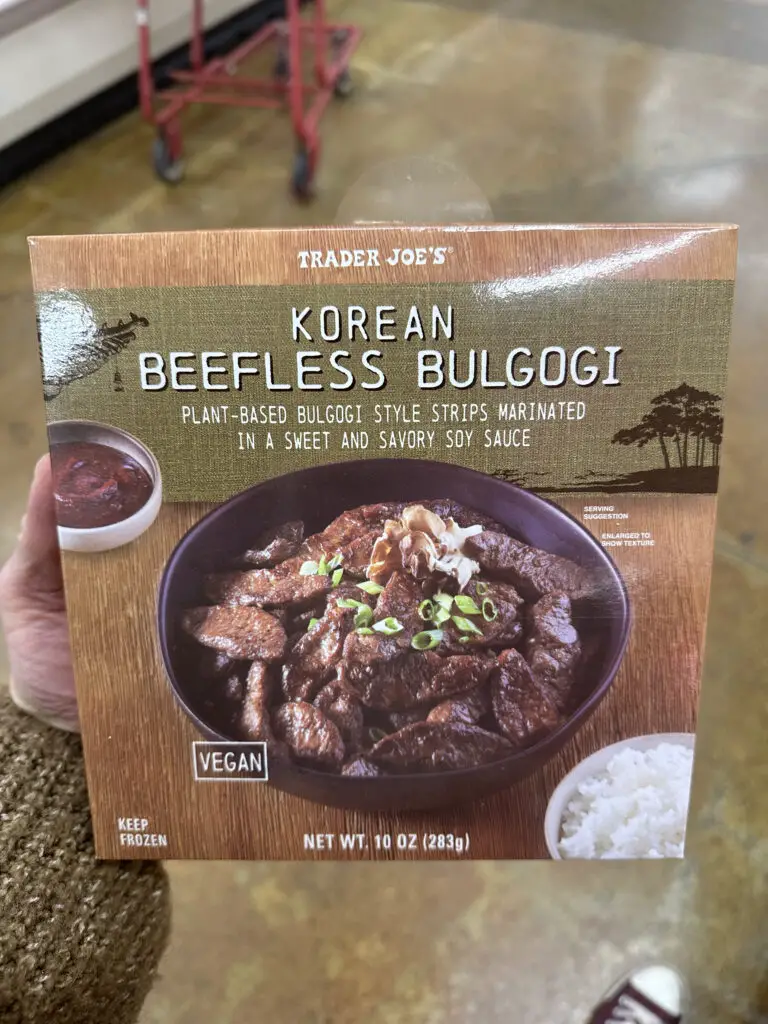 This vegan meat substitute lives up to the hype! Chewy texture and a wonderful balance of sweet and savory, this Trader Joe's vegan bulgogi is worth a try. Serve over rice with veggies (additional sauce optional).
Find it in the freezer section.
Gingermints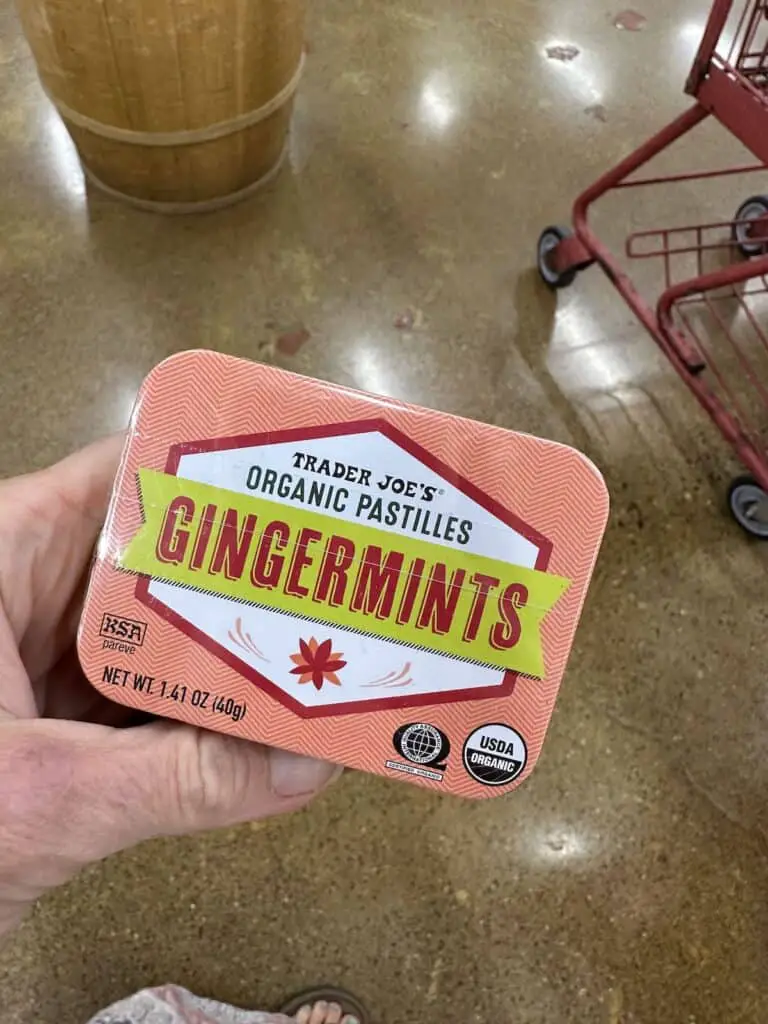 Ginger lovers MUST try these amazing ginger "mints"! I can't believe it took me so long to add them to this list, but they are a daily staple in my car. Gingery and refreshing, and just a touch spicy, they are my favorite post-meal refresher.
Olive Fougasse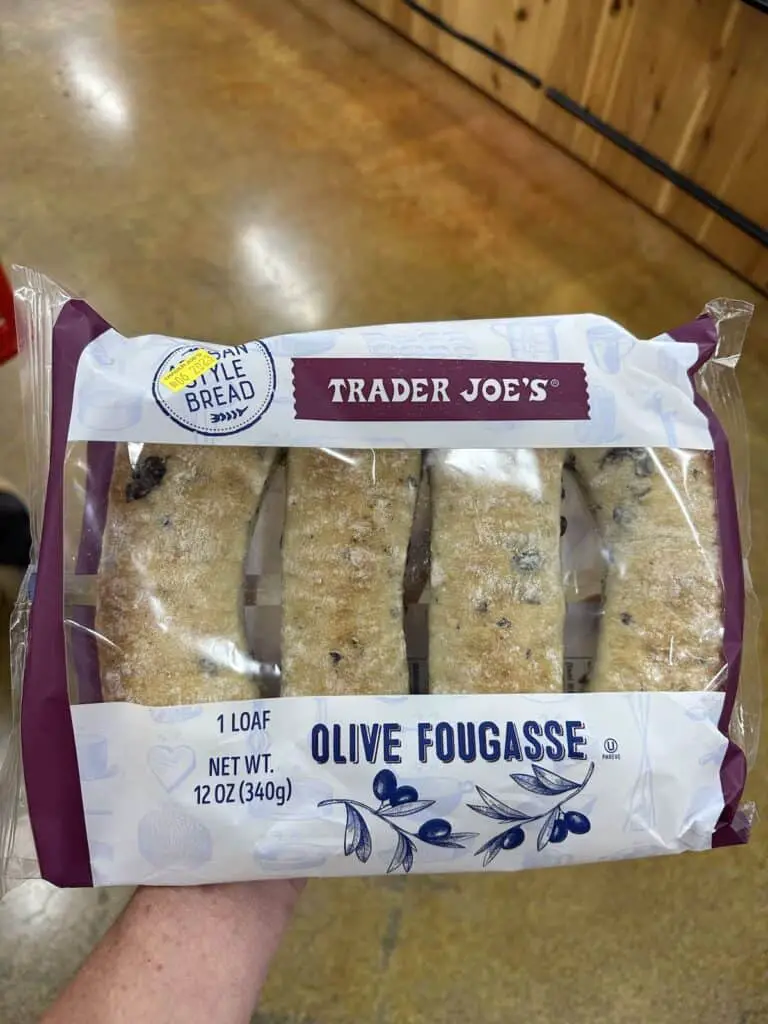 I don't always celebrate Trader Joe's bakery section, but this olive bread is pretty impressive. It comes in a fun round shape, perfect for entertaining since it's so pretty and easy to tear off a piece. Simply bake at 400 for 4 minutes…tasty perfection.
Very Chocolatey w/ Fudge Brownies (seasonal item)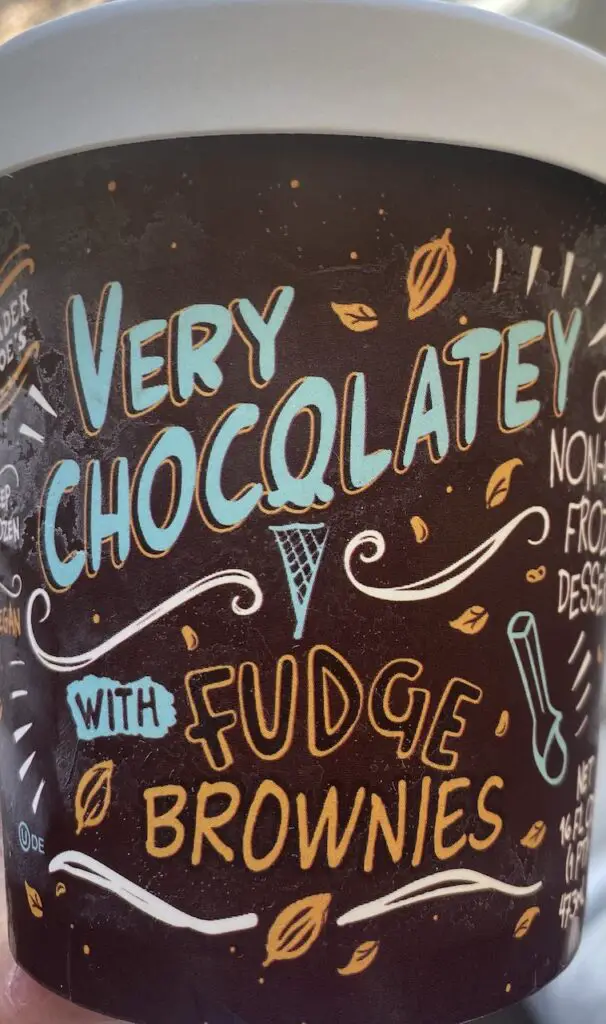 This decadent Trader Joe's vegan ice cream is for chocolate lovers! Rich, velvety, and oh so chocolatey. It is a seasonal item, although I have found it at different stores at different times. Keep an eye out.
Clearly this one makes the Best Trader Joe's Vegan Dessert list as well!
Crispy Jalapeño Pieces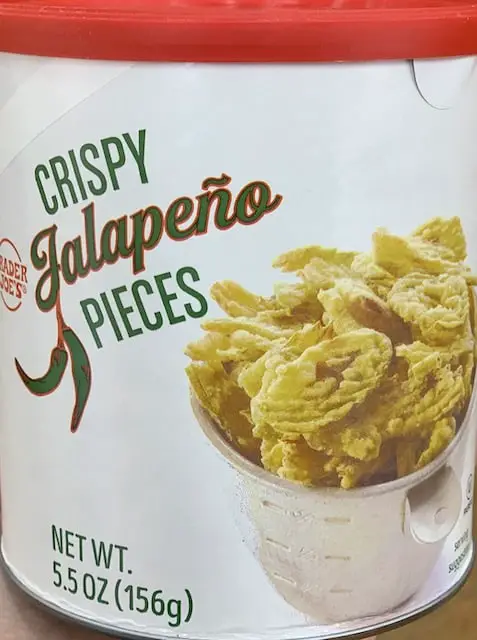 These crispy jalapeño pieces MAKE every salad. Crispy, crunchy, with the perfect level of heat, they are way more satisfying than the tortilla chips I used to use. From taco salads to vegan cobb salads (with vegan ranch dressing), these crispy jalapeño pieces are mandatory. In fact, I now buy 2 cans at a time so we never go without;).
Trader Joe's Vegan Ravioli: Spinach and Cashew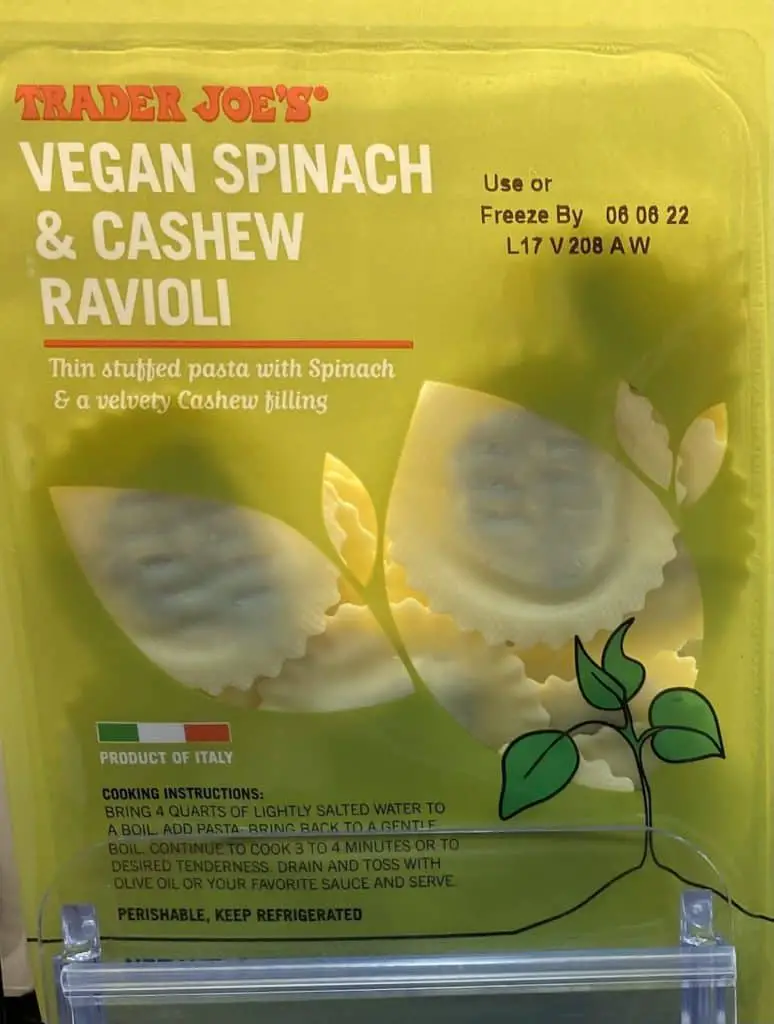 The vegan Trader Joe's ravioli is DELICIOUS! Mild and creamy, this pasta gets a big thumbs up from kiddos too. Keep it simple with tomato sauce and vegan parm (see below), or get more creative with the sauce.
Definitely an easy weeknight vegan Trader Joe's meal to add to the rotation.
Chimichurri Sauce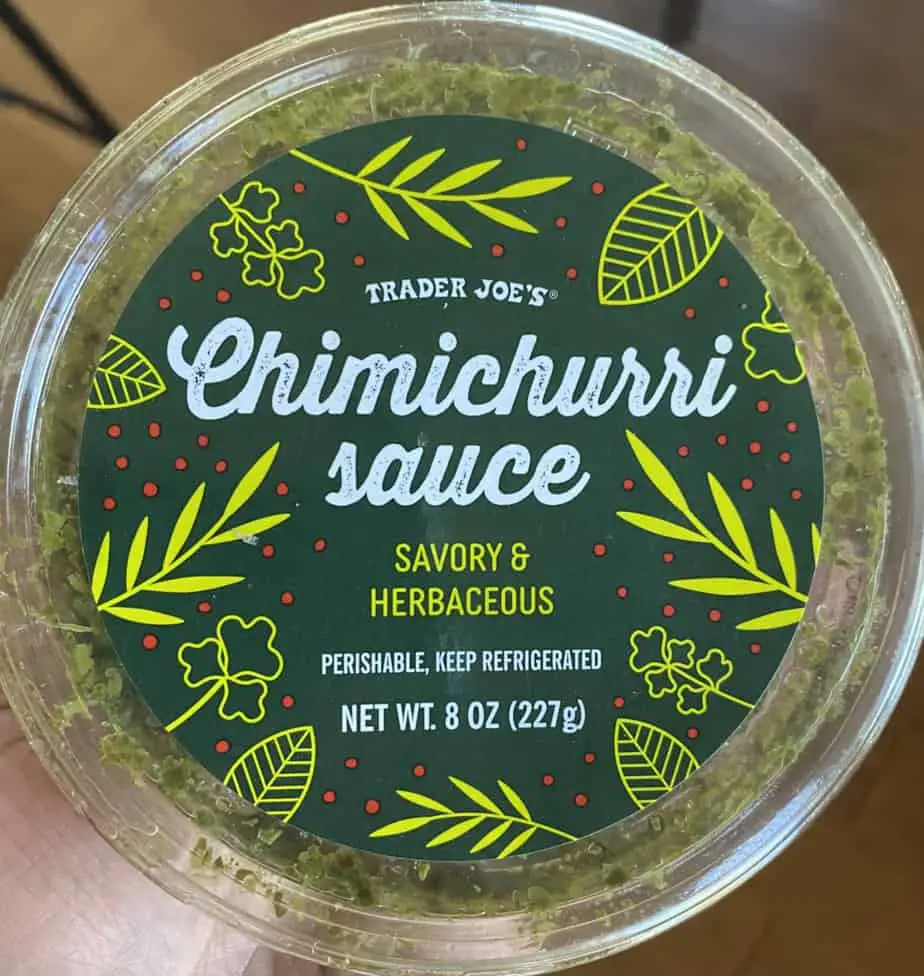 You guys…THIS is the green sauce of all store bought green sauces: garlicky, herbaceous, and with a perfect spicy kick. More flavorful than both TJ's Vegan Kale Pesto (which is also on this list!) and that spicy Zhoug Sauce, this sauce serves so many purposes. And while I can't vouch for it as a traditional Chimichurri with red meat, there are endless ways this sauce completes any dish.
First, as a dressing on salads, like a simple grain or pasta salads (love it on quinoa) or a more elaborate TJ's Greek Salad. Or, dress up any old steamed or roasted veggie with Trader Joe's Chimichurri Sauce. Finally, upgrade your sandwich or wrap with a slather of this sauce.
In fact, TJ's Chimichurri is remarkably similar to my homemade Tangy Herb Sauce! And while I love a fresh, homemade sauce, TJ's makes it possible to choose EASE without having to give up on TASTE once in a while.
Trader Joe's Vegan Parmesan Cheese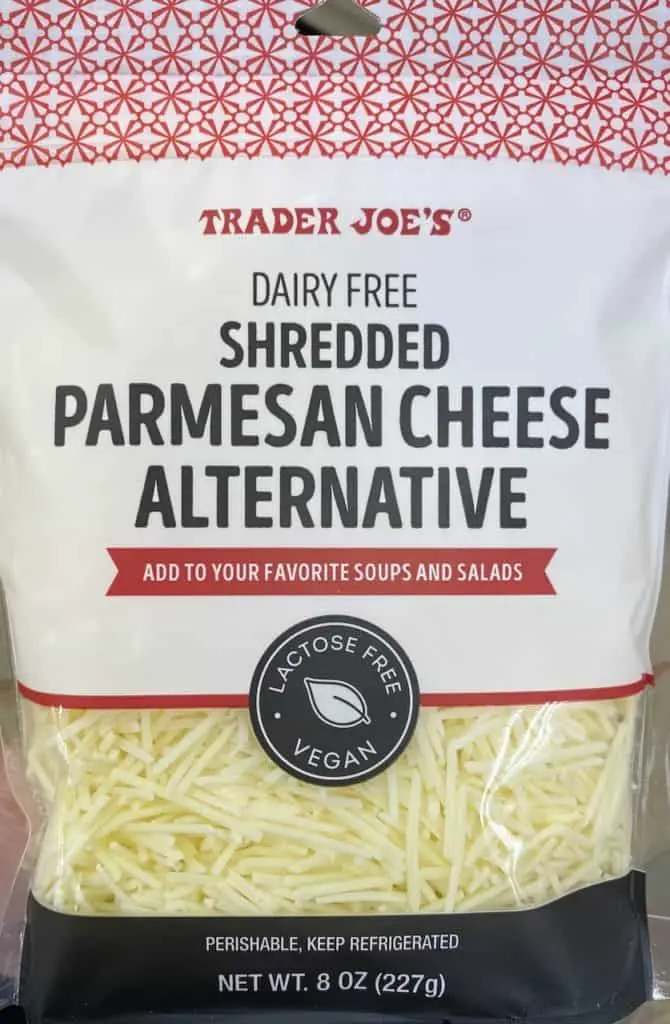 Trader Joe's took a while to catch up in the plant-based cheese category, but they nailed it with vegan parmesan! Slightly creamy and without any aftertaste, this is the best store-bought parm IMO and tops the list for best vegan cheese by category. The perfect topping to endless vegan Trader Joe's meals.
Trader Joe's vegan options for cheese continue to expand and I look forward to tasting more as they hit the market!
Taiwanese Green Onion Pancakes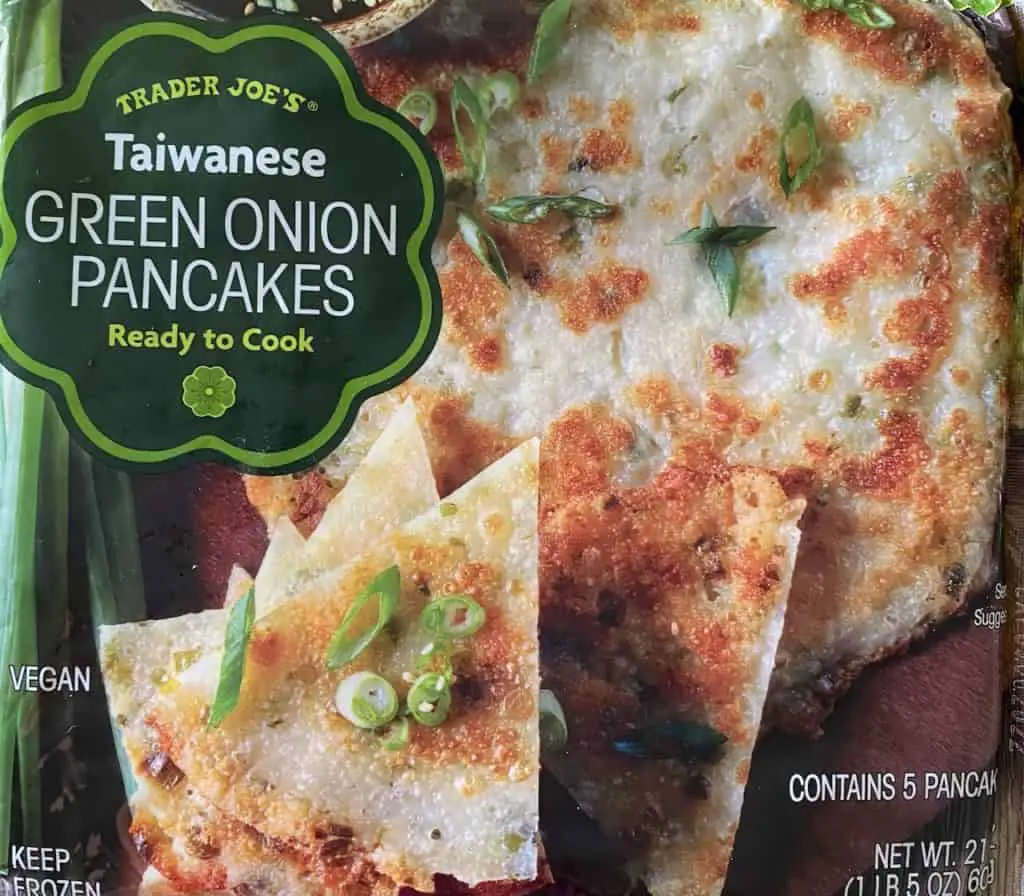 These savory green onion pancakes currently top my family's Trader Joe's vegan list! I was unfamiliar with this Taiwanese bread before spotting it at TJ's…I would describe them as a mix between tortillas and flaky paratha bread.
These pancakes are so addictive that the kiddos eat them right out of the fry pan, but I generally serve them alongside curries in place of naan bread. They are also perfect as tortillas in breakfast tacos.
They come frozen and go directly into a fry pan with a little oil. Ready in minutes, they are crispy, flaky and simply irresistible!
Vegan Tzatziki Dip: Best Trader Joe's Vegan Food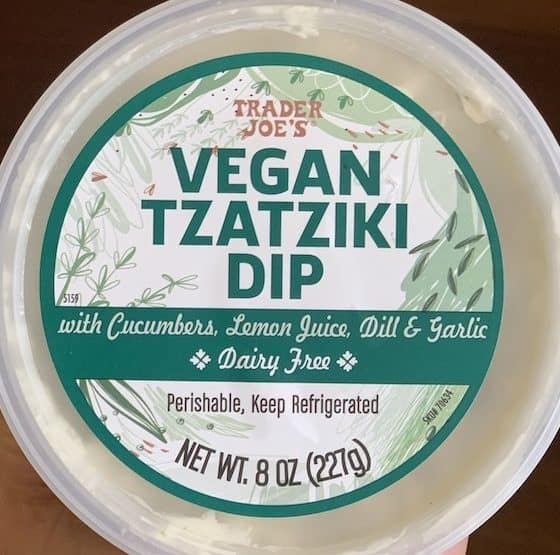 This vegan Trader Joe's tzatziki is on-point for authentic flavor, and it pairs perfectly with falafel on a salad or pita, or as a dip with veggies and pita chips. I spent years making my own tzatziki sauce before this hit the market, and I am so grateful to TJ's to have my time back!
Trader Joe's Vegan Caesar Dressing

This vegan caesar dressing was a game changer! After slaving away at homemade vegan caesar salad dressing for the past three years, I was BLOWN AWAY by the depth of flavor in this Trader Joe's vegan version. Omnivore friends have tried it and agree: this egg-free and anchovy-free vegan option is solid. In fact, it is the only store-bought dressing in our fridge regularly…except the one below!
Here is how I use it to make my kale caesar salad.
Vegan Creamy Dill Dressing

This new vegan Trader Joe's salad dressing is PERFECTION. Closest to the flavor of ranch dressing, this creamy dill is shockingly made with cauliflower and almond butter. It works on countless salad creations.
Healthy and delicious?! Sold!
Italian Bomba Hot Pepper Sauce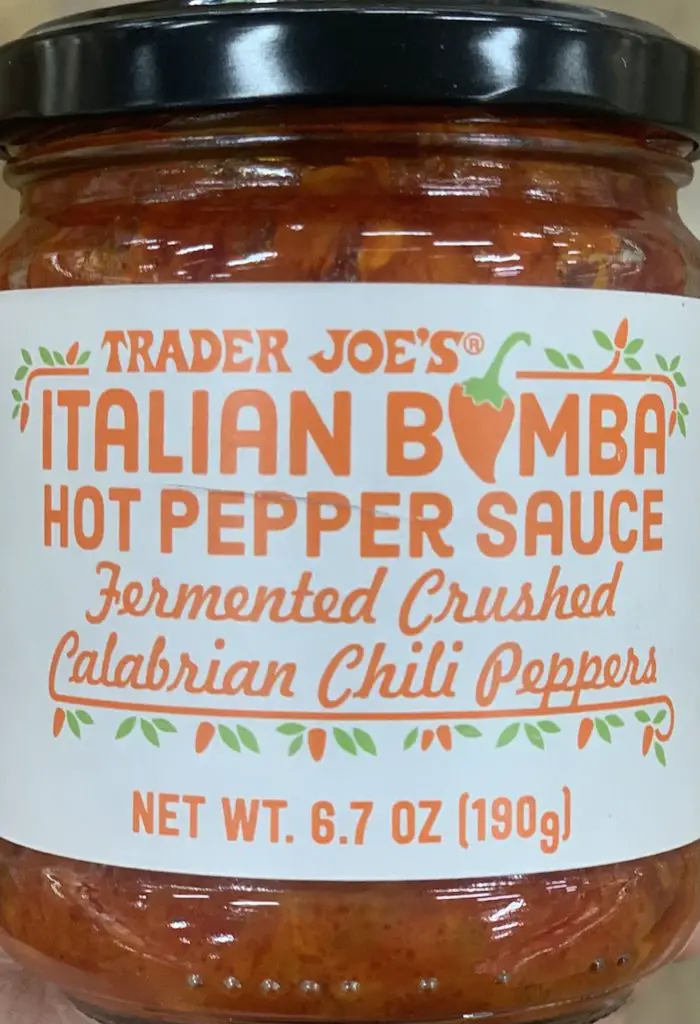 This fermented spicy pepper delight is a MUST TRY for spice fans. It has an awesome kick that takes a second to sink in and winds down slowly. Reminiscent of a Chinese chili paste we have loved for years but refreshingly less salty, we use it on almost everything: from pizza and pasta to rice and vegetables.
Vegan Caramelized Onion Dip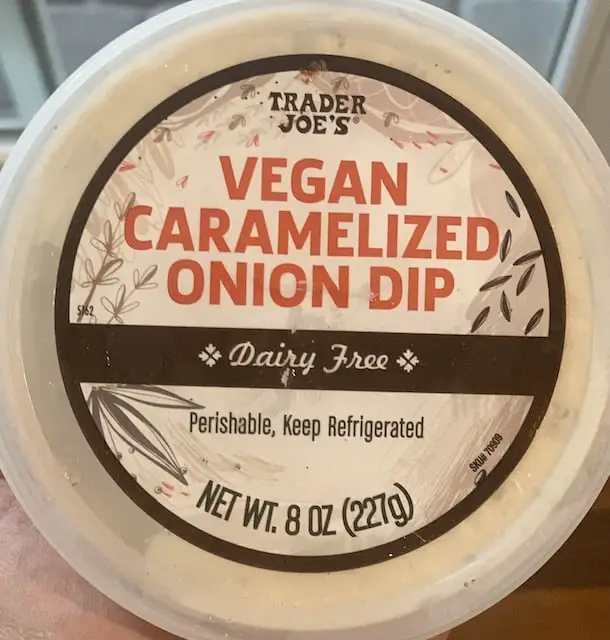 This vegan caramelized onion dip tops the list of Trader Joe's vegan products most likely to fool omnivores! Serve it with potato chips for an easy poolside snack or game day appetizer.
Definitely tops the list for best Trader Joe's vegan food.
Hashbrowns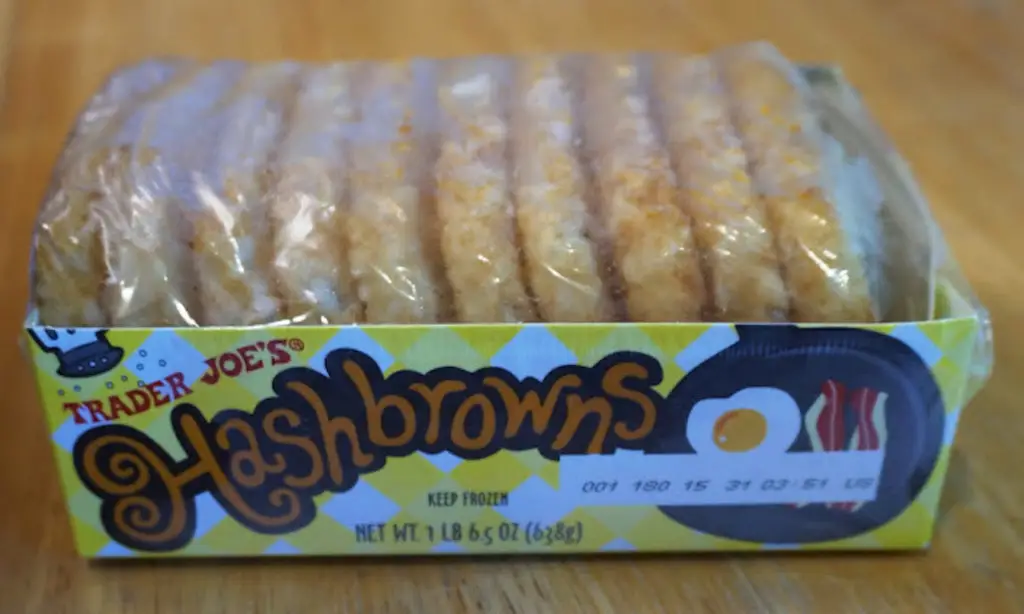 We have been loving on these for as long as I can remember. These hashbrown patties are one of life's true pleasures…just pop 'em in the oven for about 25 minutes, or better yet, air fry them!
These are very reminiscent of those childhood fast food hashbrowns;). The ultimate breakfast comfort food, and one of the tried and true best Trader Joe's vegan food items!
Trader Joe's Vegan Pesto with Kale, Cashew & Basil
This vegan pesto is in regular rotation in our kitchen, loved by both the adults and kiddos. Made with kale, it's packed with even more goodness than the traditional version. In fact, I created a pesto roll recently using only 4 ingredients, including this one!
Plus, it will elevate endless dishes, from pasta to rice to sandwiches. Often, I will add a little cheesiness to it with homemade parmesan or just nutritional yeast.
Hold the Dairy Mini Coconut Dessert Cones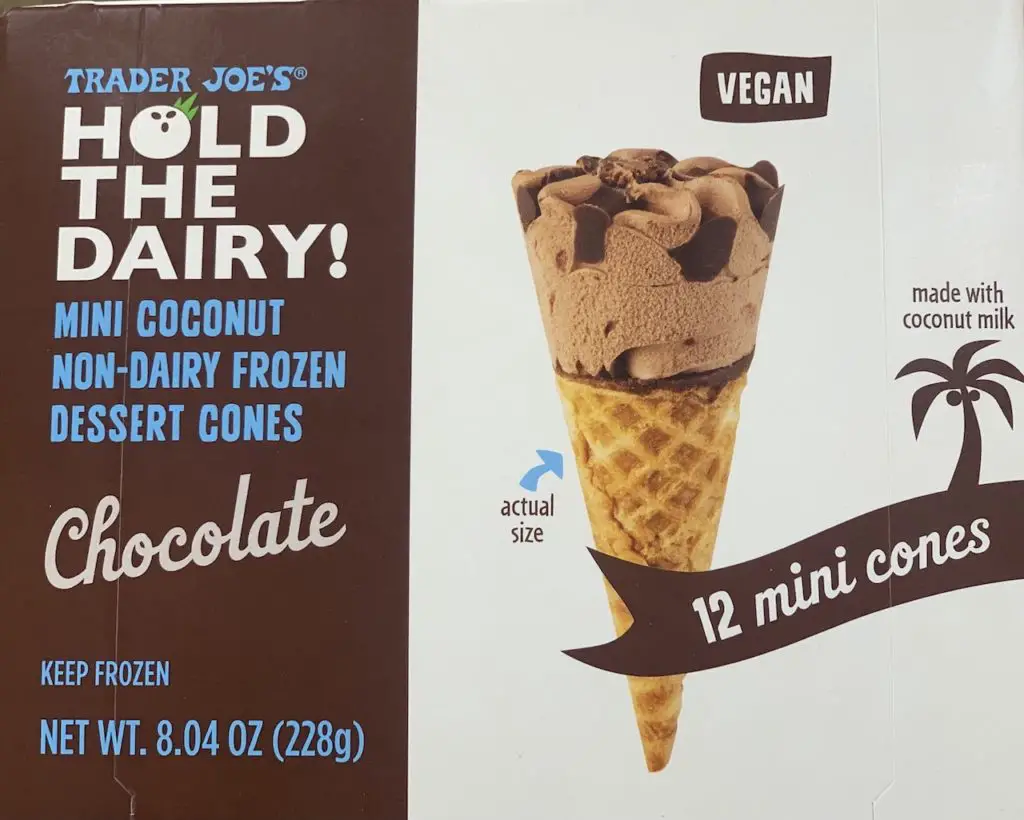 These mini Trader Joe's vegan ice cream cones are their best frozen plant-based dessert IMO. They HIT THE SPOT when craving an ice cream cone…I dare you to eat just one;)!
If dessert if your jam, you may be interested in the other top vegan Trader Joe's desserts too!
Sriracha Flavored Baked Tofu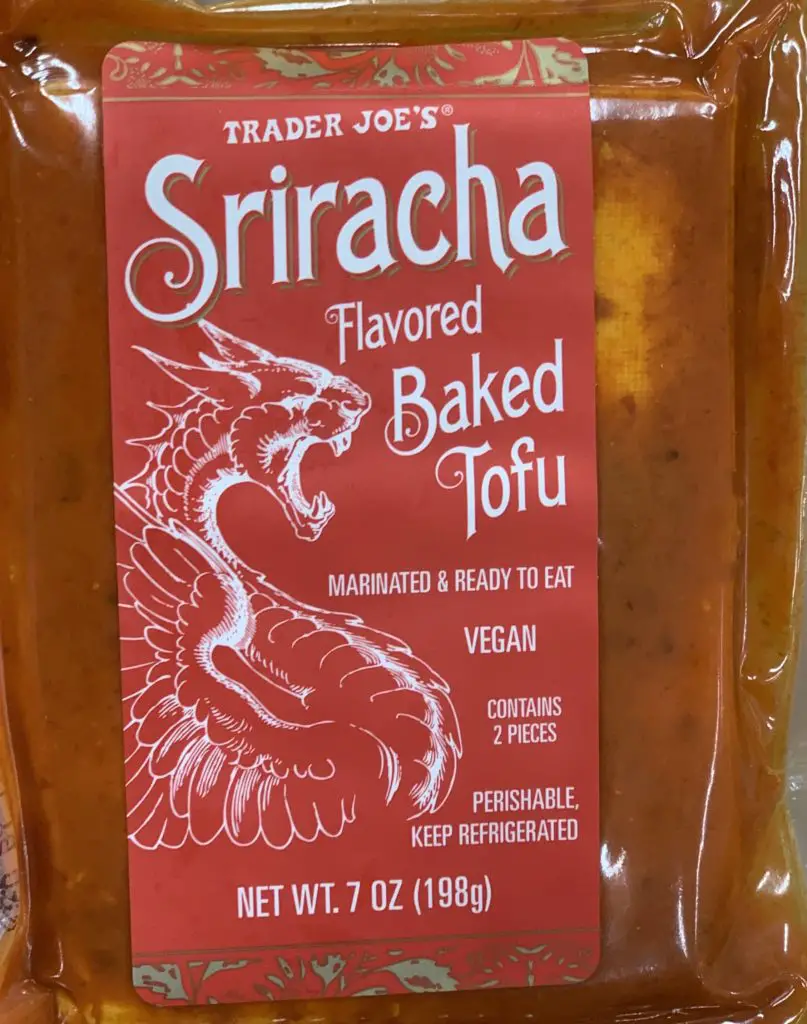 If you like the flavor of sriracha and haven't tried this tofu, YOUR LIFE IS NOT COMPLETE. It has a perfect amount of flavor and spice, and the texture is 👌. Use it in sandwiches, wraps, salads, toast, stir fries, noodles, soups, and vegan California rolls! I personally prefer it cold/unheated.
Peeled Garlic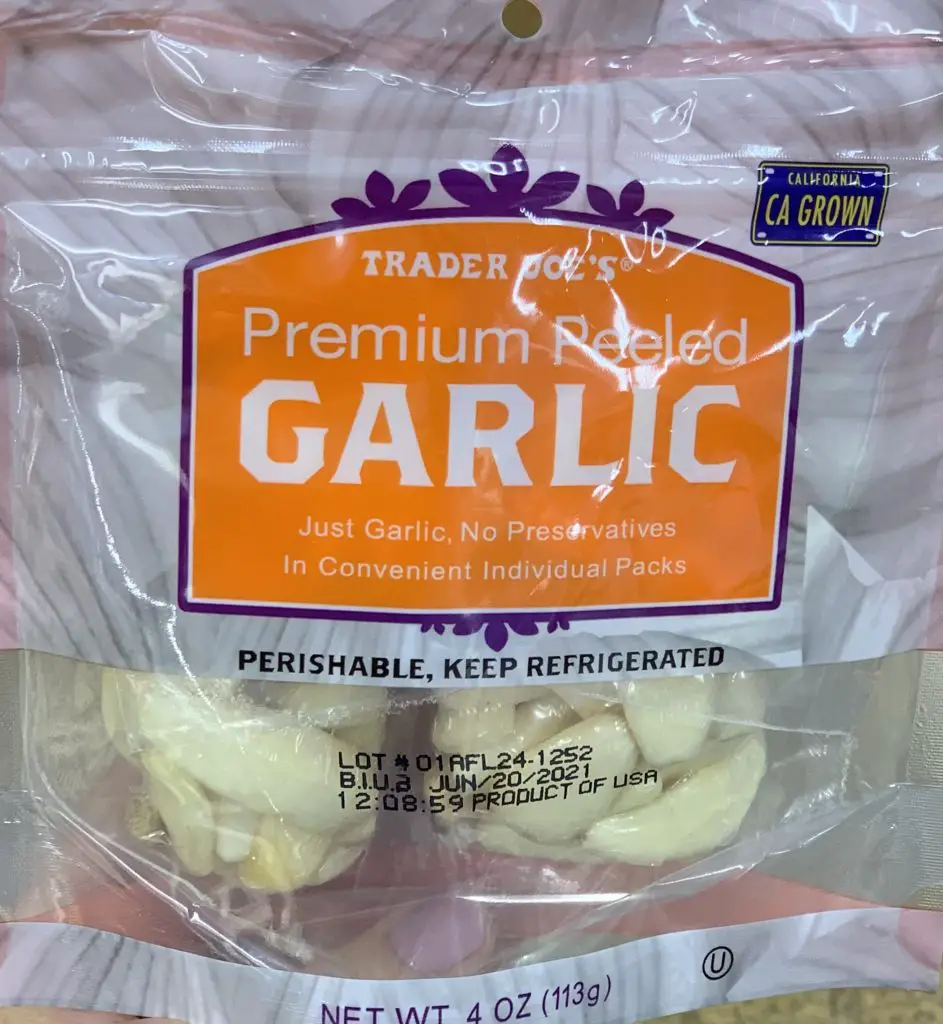 This here pre-peeled garlic has saved me hours over the past two years since I discovered it on the shelf. And while not unique in taste, it is so convenient. The only other place I have seen it is at Costco, and I just don't use that much garlic;)!
Misal Curry with Brown Rice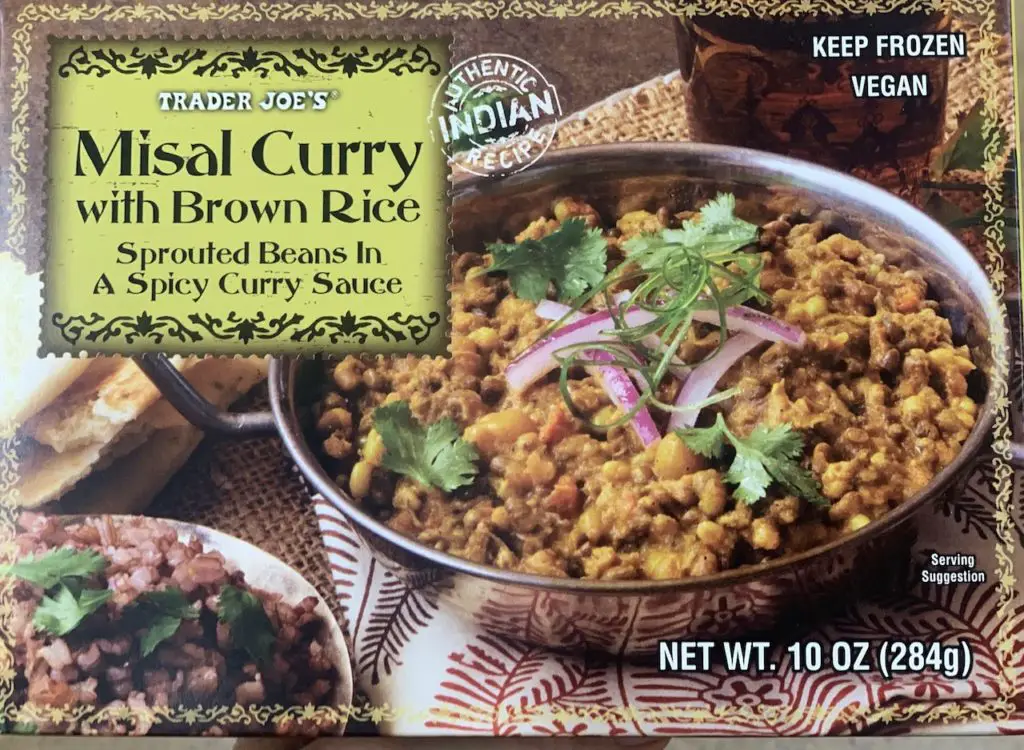 We don't eat many Trader Joe's vegan frozen meals at our house, but once in a while, I love a quick and tasty weekday lunch. This Indian misal curry is really flavorful with a lovely little kick. If I have a minute, I add some sauteed greens for a well-balanced, protein-rich quick lunch at home.
Vegan Thai Green Curry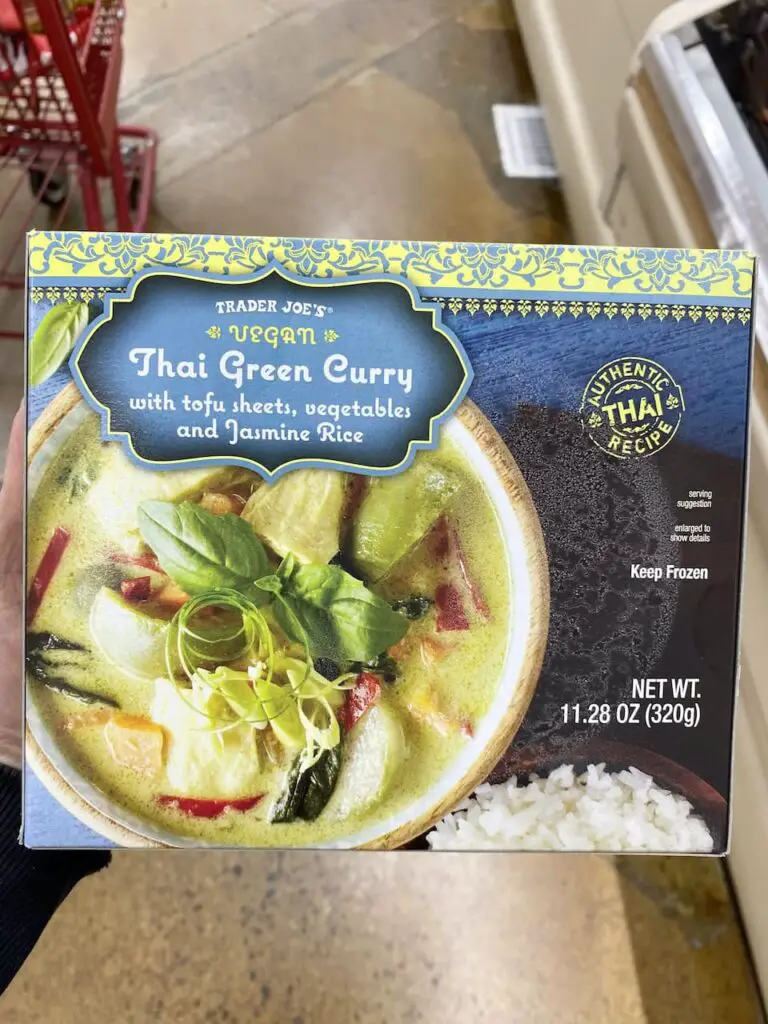 Trader Joe's vegan Thai Green Curry with tofu sheets and veggies has restaurant-quality flavor! It is impressively spicy (a 9 on a scale from 1-10), so it's not for the faint of heart! But heat lovers should definitely try this one.
It is the other frozen Trader Joe's vegan meal that I grab when I want a warm meal in minutes on a busy day.
Thai Vegetable Gyoza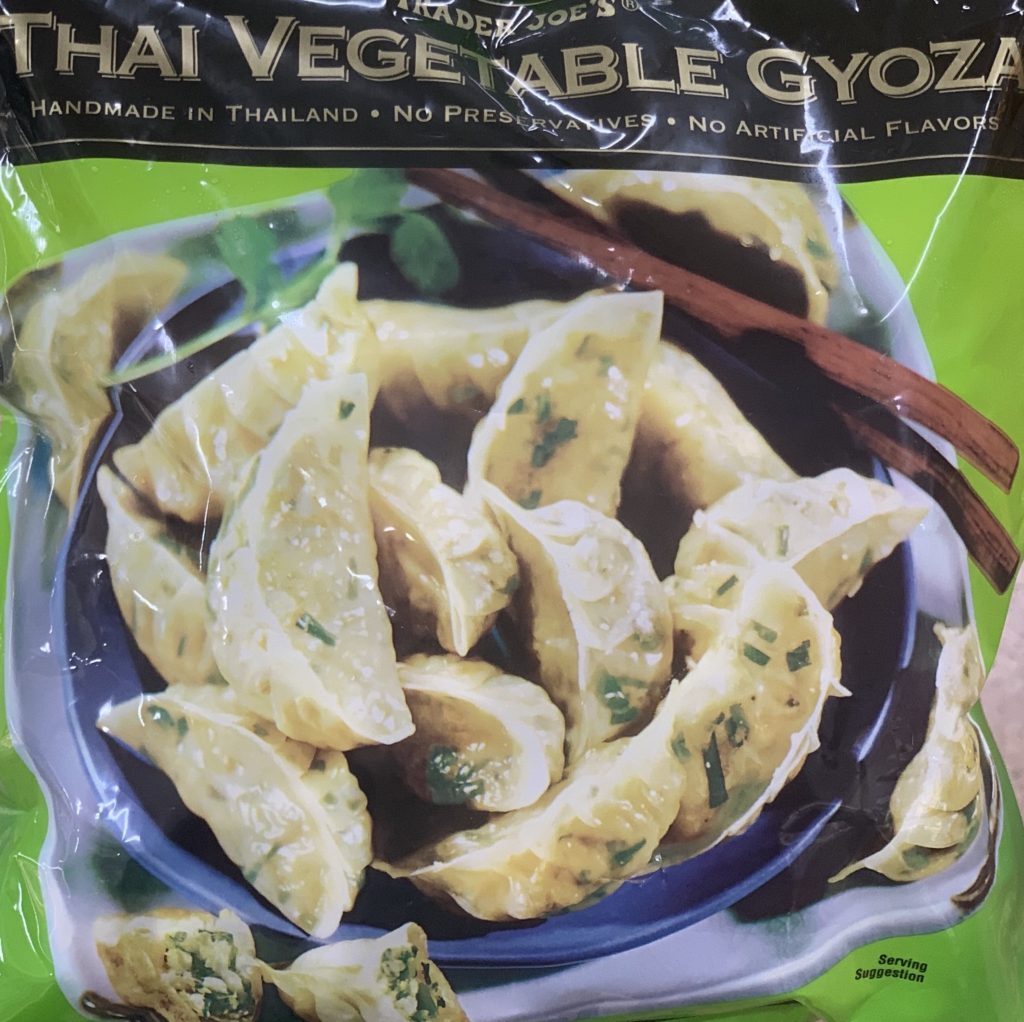 My kiddos LOVE potstickers, especially when dining out. At home, there is only one brand that we can all agree on—these Thai Vegetable Goyzas. With a perfectly balanced filling-to-dough ratio, a delicate texture, and a hint of gingery goodness, they are amazing on their own. But when I have a few extra minutes, I love to make them into a simple veggie dumpling soup to increase the kids' veg consumption;). One of our favorite quick vegan Trader Joe's meals.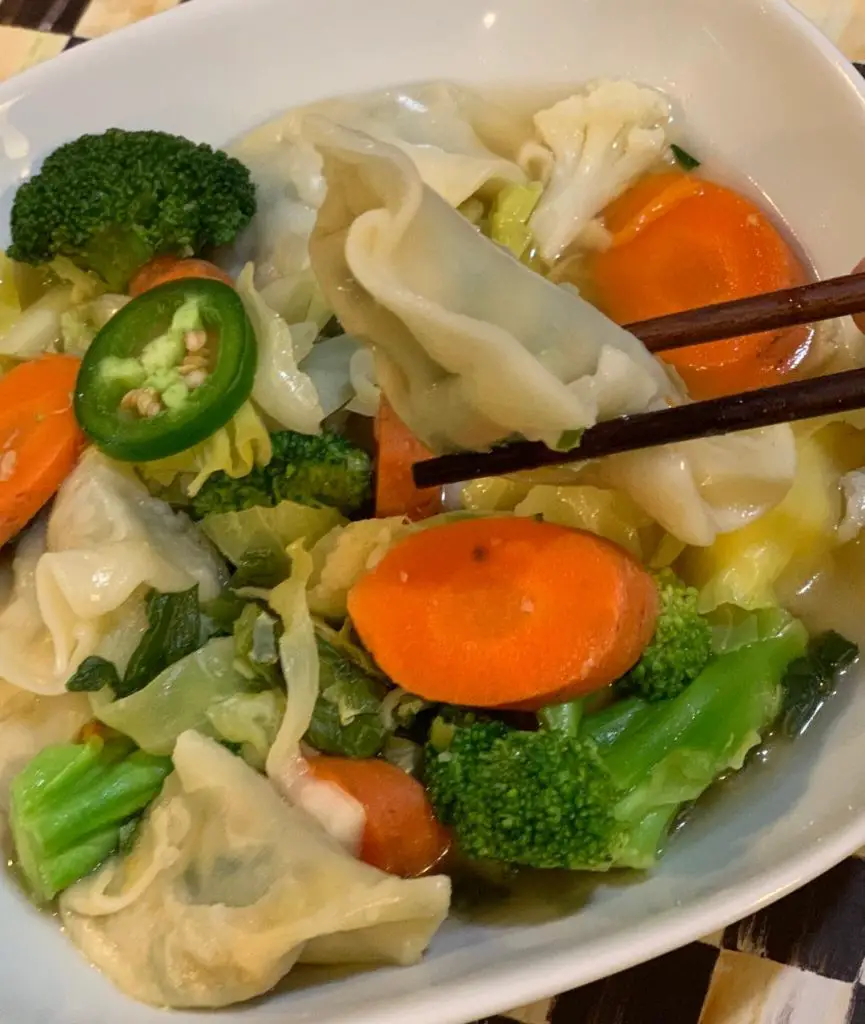 Trader Joe's Vegan Oatmeal Chocolate Chip Cookies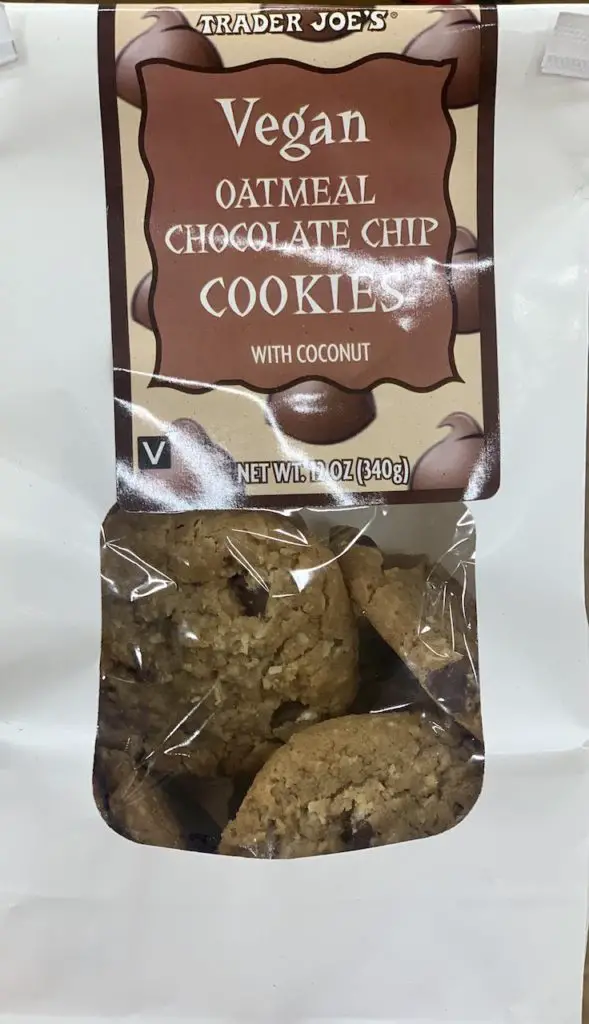 These vegan oatmeal chocolate chip cookies with coconut are the only store bought cookies I buy regularly as they are consistently soft, slightly chewy, and not crumbly. And those little coconut flakes make them just so delicious. They are our go-to road trip dessert as they travel well too.
These bad boys are also included in the top vegan Trader Joe's desserts too!
Sweet & Spicy Pecans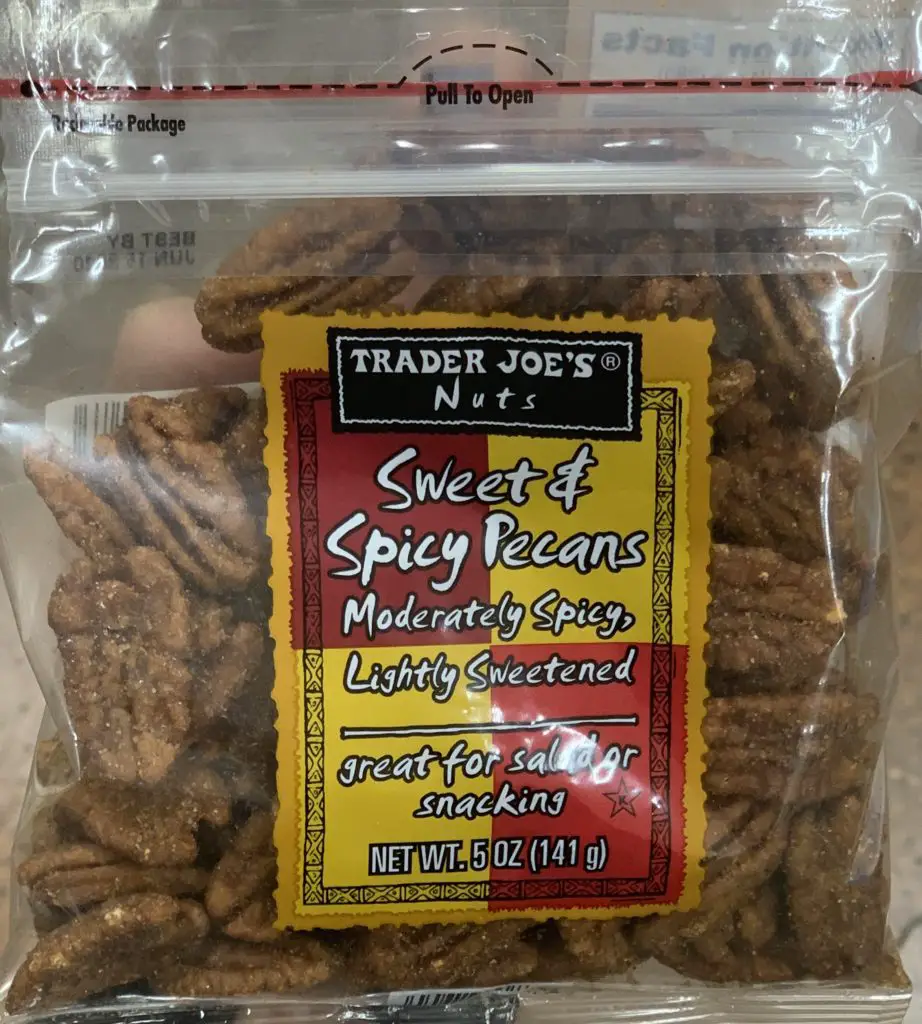 These pecans are the PERFECT balance of spice and sweet. While they most often show up in a salad (with some apples or pomegranate seeds and plant-based soft cheese), I have recently been snacking on them all on their own. They are so satisfying that I eat way fewer of them than I would other nuts.
Plantain Crisps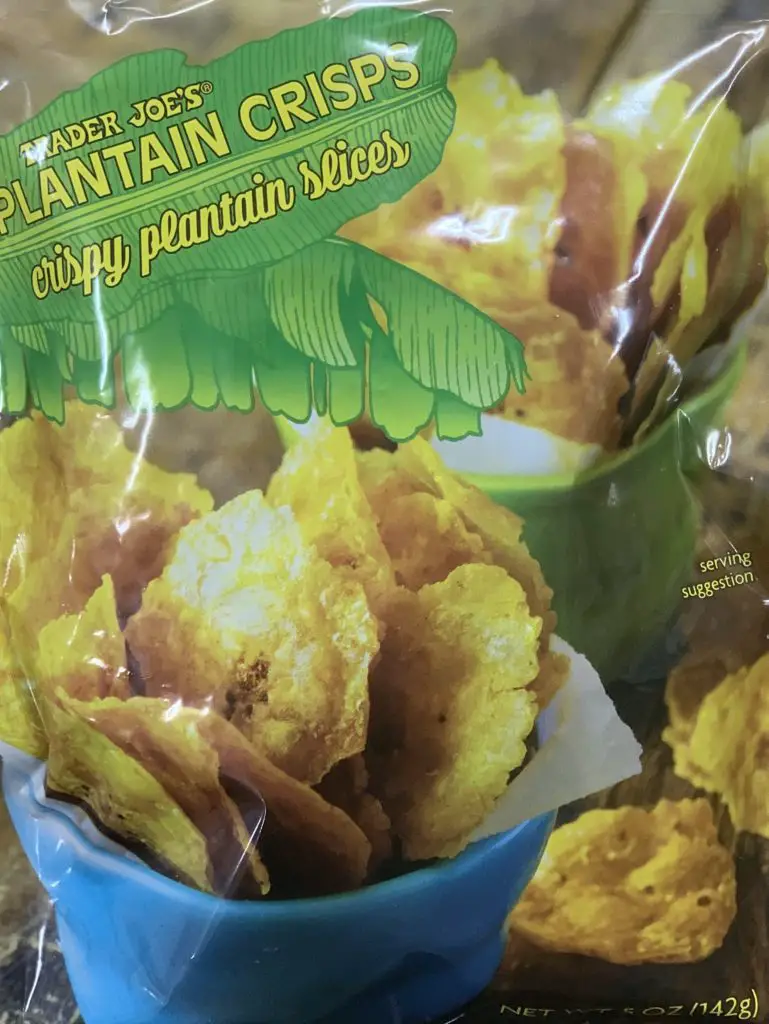 These tasty Plantain Crisps surprised and confused us when they came out, as we had been big fans of the plantain chips for years and couldn't imagine needing an alternative…but they are our favorite household dipping chip! Thinner and crispier than the original, they are similar in texture to a kettle potato chip. Plus, they are lighter (read: able to devour more guac with them😉)!
Bruschetta Sauce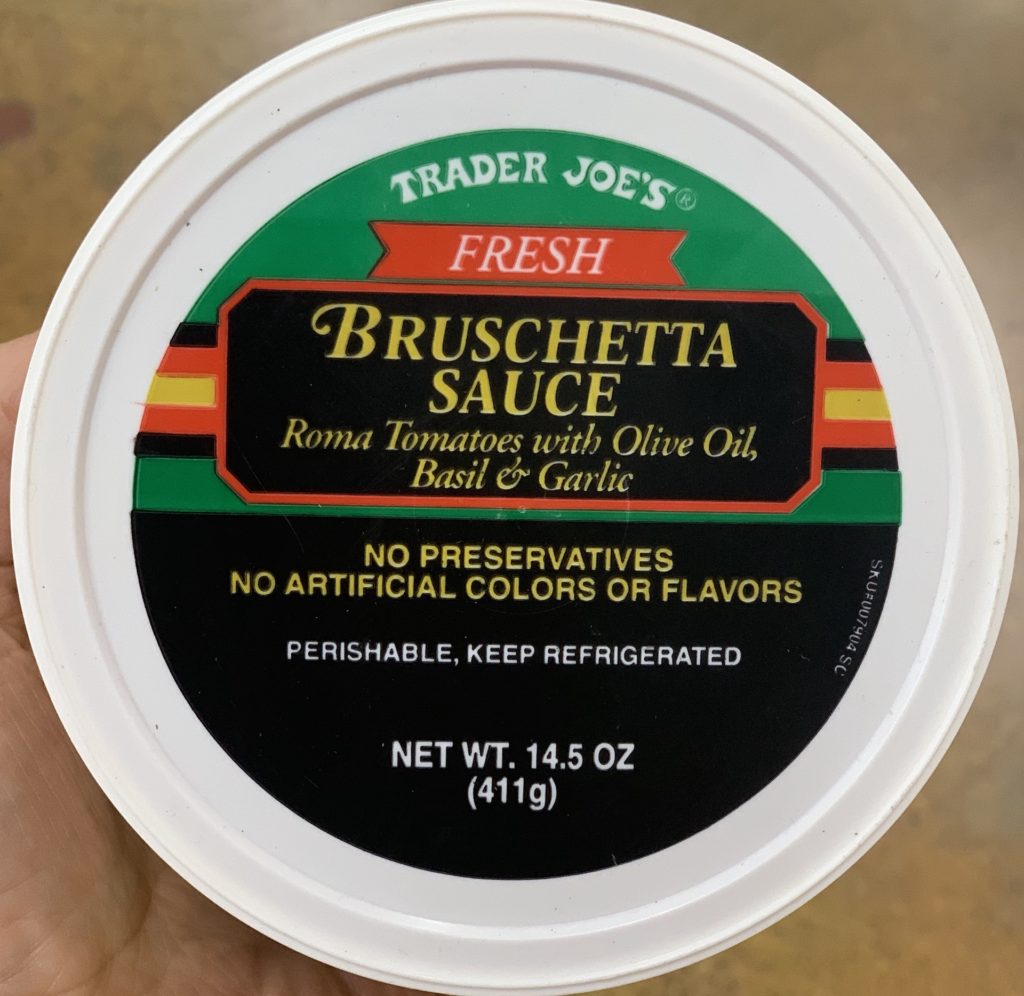 While this product has been around for years, it is still one of our family favs. While we have long enjoyed it mixed with lentils, both of my kiddos are super into the latest combo: this bruschetta sauce mixed with white beans over crostini.
Soy Chorizo

I've never had real chorizo in my life, but this stuff sure is tasty, with the perfect amount of kick and flavor. The simplest preparation is to mix it with a ton of veggies and some crumbled tofu for an amazing breakfast scramble…no additional seasoning needed. It also works well as a meat replacement in any Mexican dish, like tacos or burritos.
This Trader Joe's vegan meat is approved by herbivores and omnivores alike!
Perhaps I have introduced you to something new, maybe I am missing your fav?! Please, tell me what you think in comments below! I update this trusty best Trader Joe's vegan food list quarterly.
For more Best Of Trader Joe's lists, check out:
Or check out all my Trader Joe's posts!
Cheers!
Pin this list for later: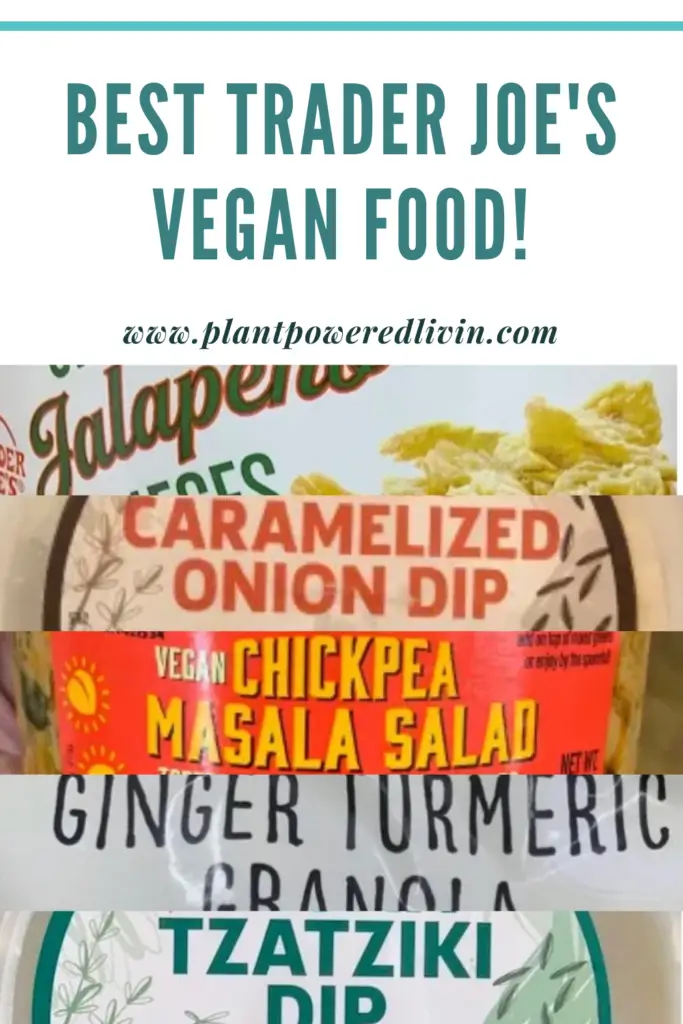 ---
---