Trader Joe's Dairy-Free Items (Sept. '23)
Trader Joe's offers dairy-free alternatives to virtually all those foods you love! Whether you're lactose intolerant, vegan, or just aiming to cut back on dairy, the delicious assortment of Trader Joe's dairy-free foods and drinks will satisfy almost every dairy craving.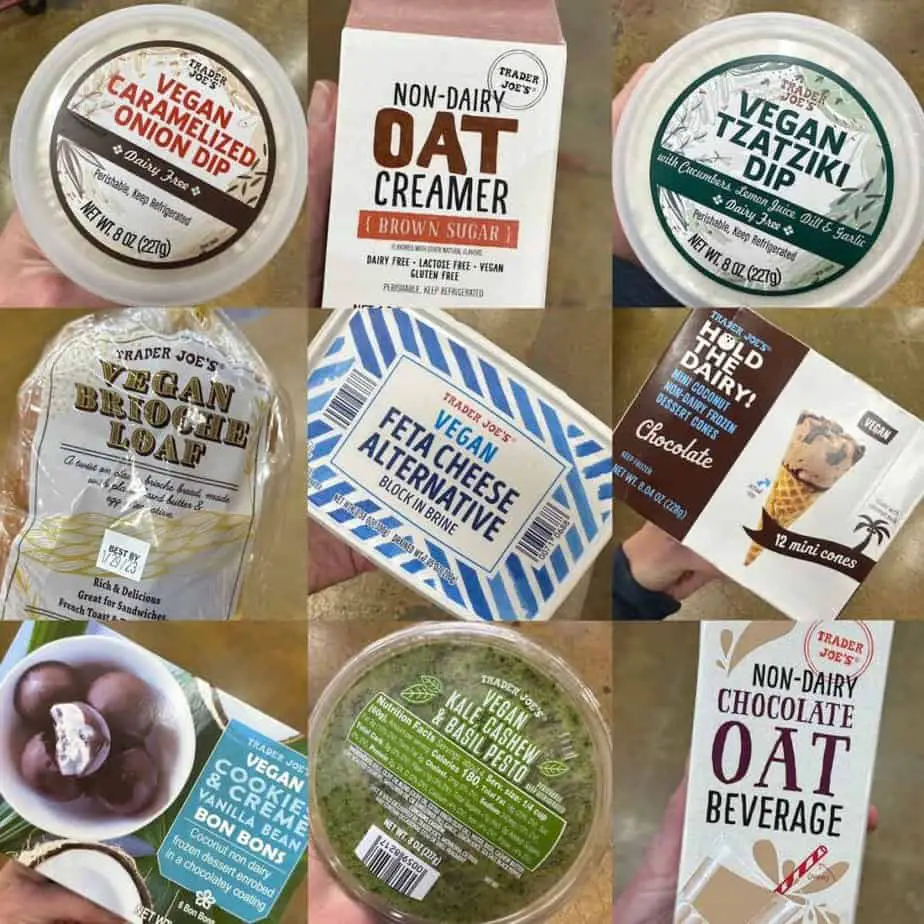 As a self-proclaimed vegan Trader Joe's junkie, I visit TJ's weekly and never miss discovering and trying a new nondairy item. And with so many impressive ones at Trader Joe's these days, it was high time to celebrate them!
Here is the current list of all of the Trader Joe's dairy-free products that are worth checking out!
Trader Joe's Plant Milk
Almond Milk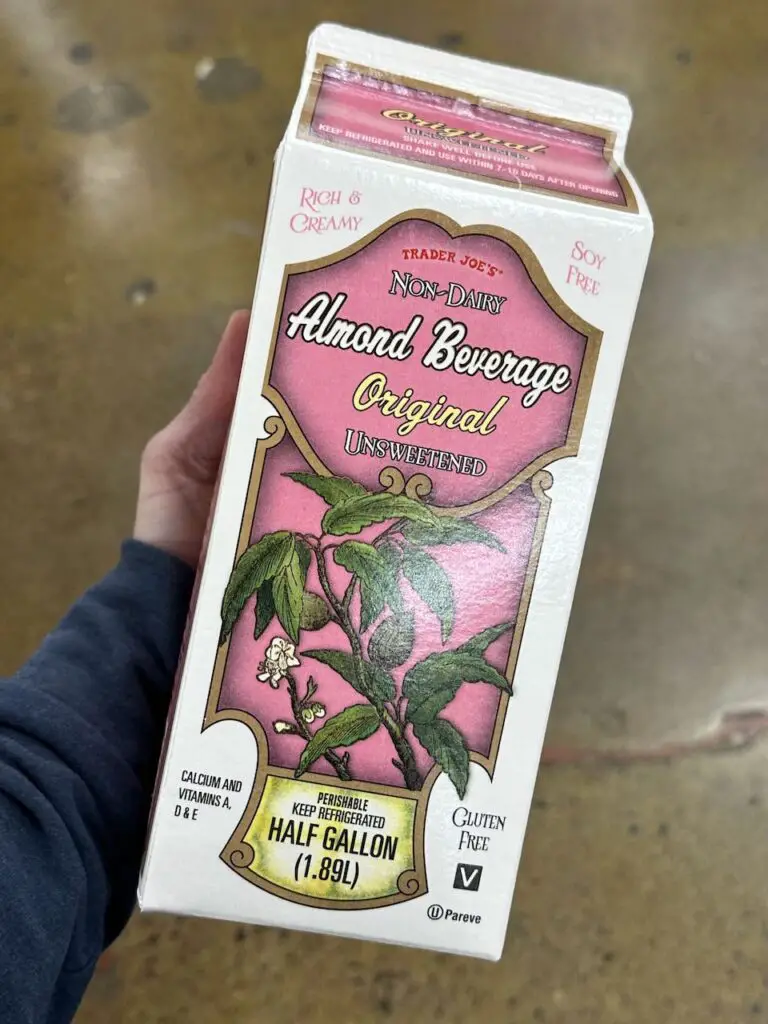 Trader Joe's unsweetened almond milk has been at the top of my almond milk list for years. Unlike many other brands, the Trader Joe's version doesn't have an aftertaste. Plus, it is one of the only almond milks that doesn't curdle in warm or cold beverages!
Trader Joe's Oat Milk
Richer, creamier, and sweeter than almond milk, Trader Joe's oat milk is another solid dairy-free choice.
Trader Joe's Chocolate Oat Milk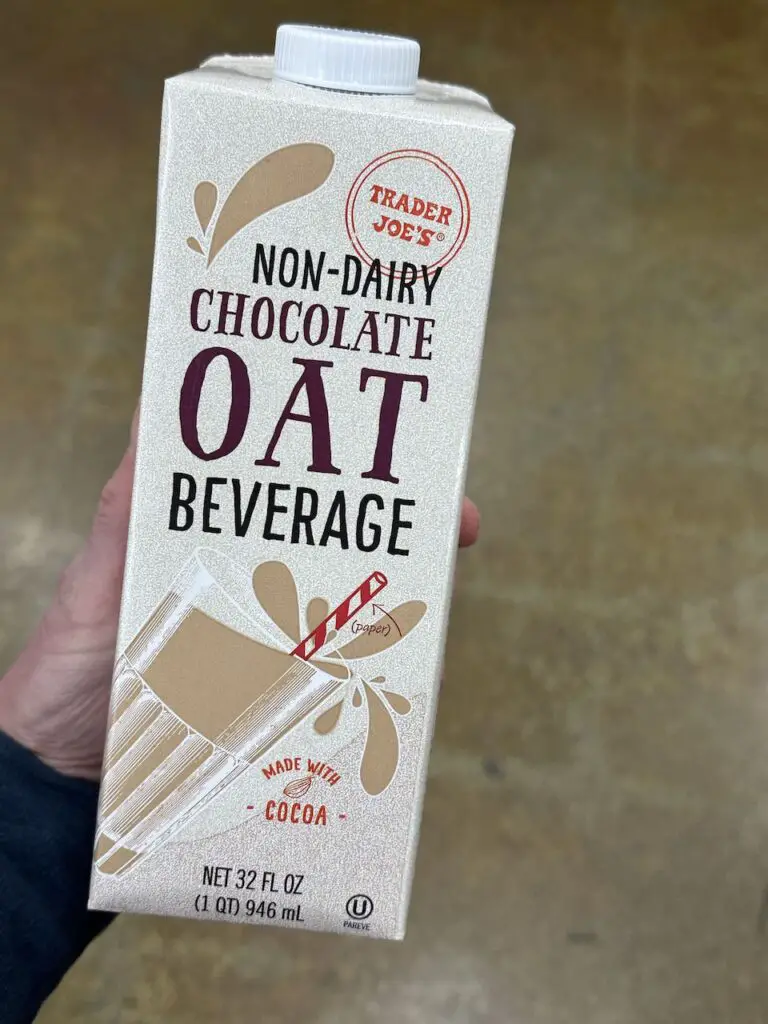 Craving chocolate milk? This Trader Joe's chocolate oat milk WILL HIT THE SPOT!
Trader Joe's Coffee Creamer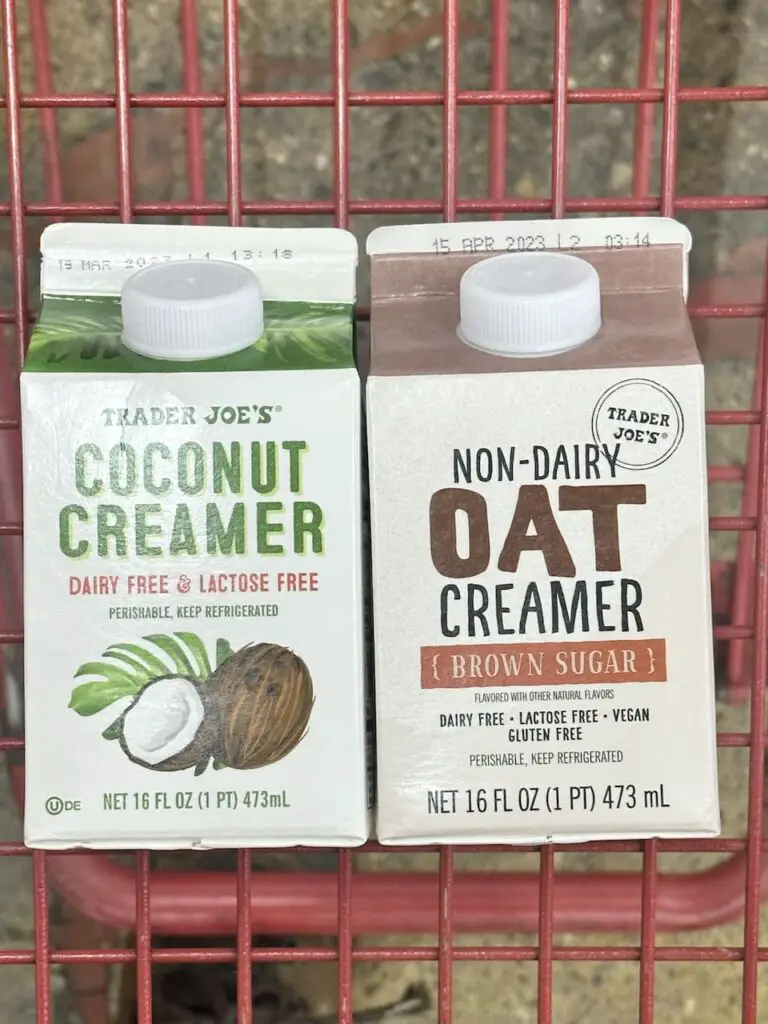 These Trader Joe's non-dairy coffee creamers are both wildly popular.
For a simple option, try the Trader Joe's Coconut Creamer: rich, not too sweet, won't curdle, and doesn't have a strong coconut flavor.
If you enjoy a sweeter dairy-free creamer, you must try the Brown Sugar Non-Dairy Oat Creamer: it's a little slice of coffee heaven.
Dairy-Free Cheese at Trader Joe's
Trader Joe's Dairy-Free Feta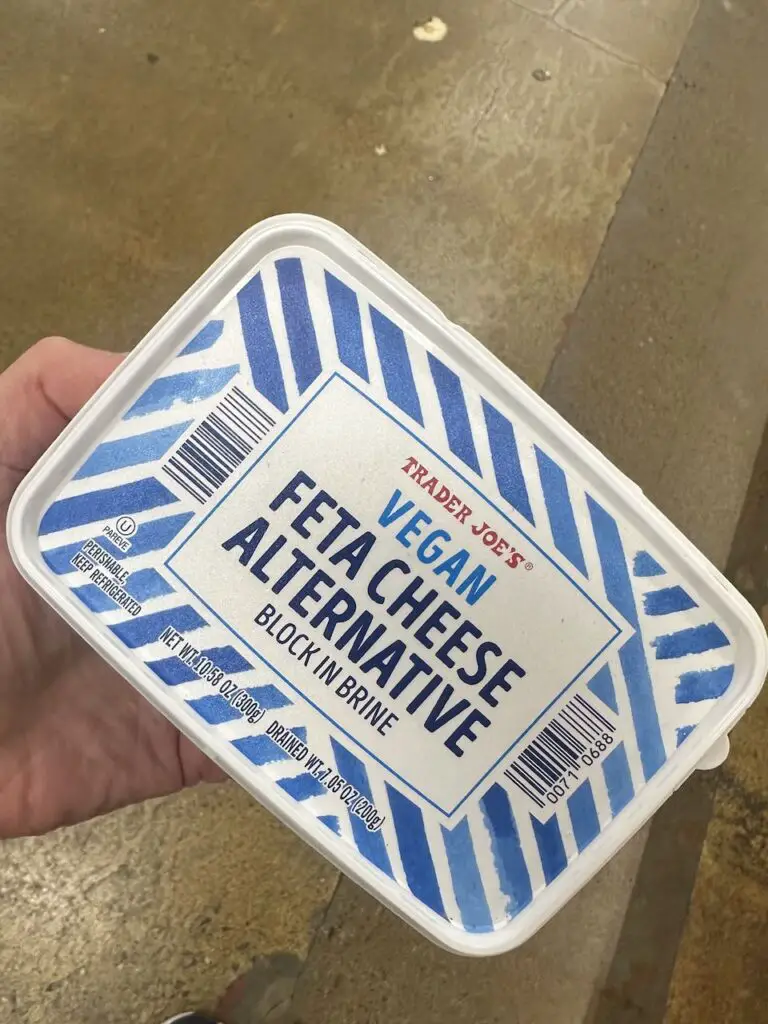 Trader Joe's Vegan Feta Cheese Alternative is newer on the scene than most vegan fetas…and they nailed it! Impressive both in taste and texture, TJ's takes the cake for best feta on the market right now on my list of Best Vegan Cheeses (by style)!
TJ's Vegan Parmesan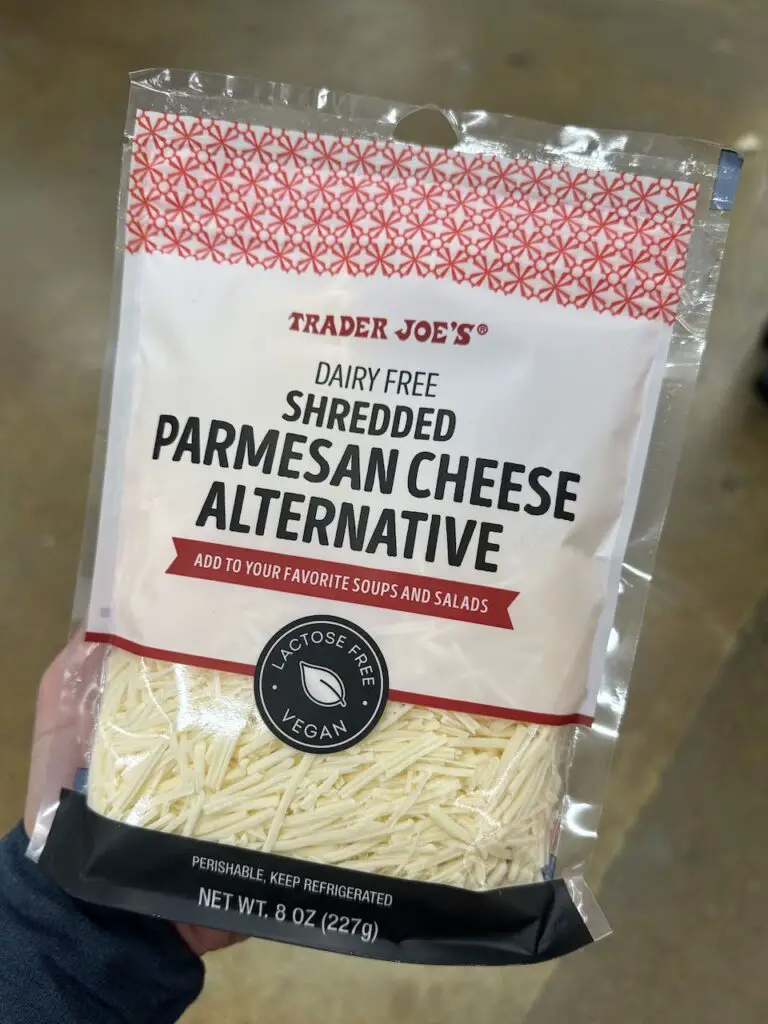 Trader Joe's has also nailed vegan parmesan more than any other brand IMO! Slightly creamy and without any aftertaste, it also tops the Best Vegan Cheeses to Buy list for best vegan parmesan. The perfect topping to endless dishes.
Dairy-free Cheddar Cheese at Trader Joe's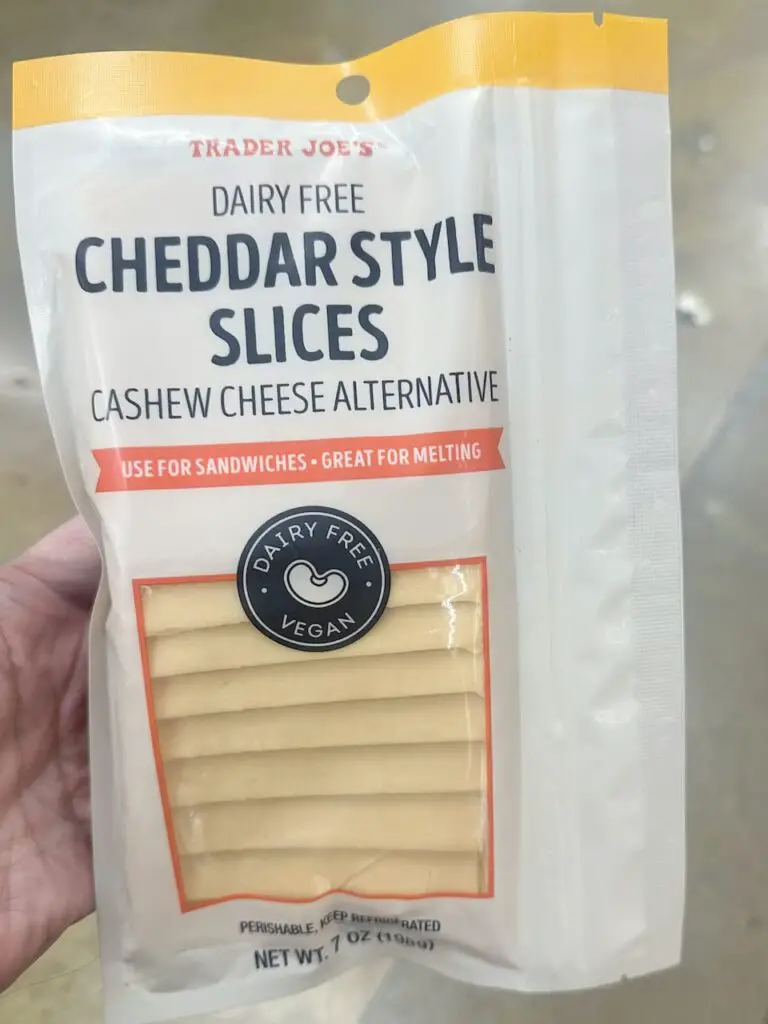 Trader Joe's vegan cheddar slices are a solid choice when it comes to non-dairy cheddar, pretty tasty cold or warm.
Like most vegan cheese, it is tough to melt. I recommend either:
Placing the vegan cheese under the broiler for a couple of minutes on your bread of choice.
Putting the cheese directly on a hot pan until it starts to melt, then scoop it onto your bread, tortilla, etc.
Vegan Babybel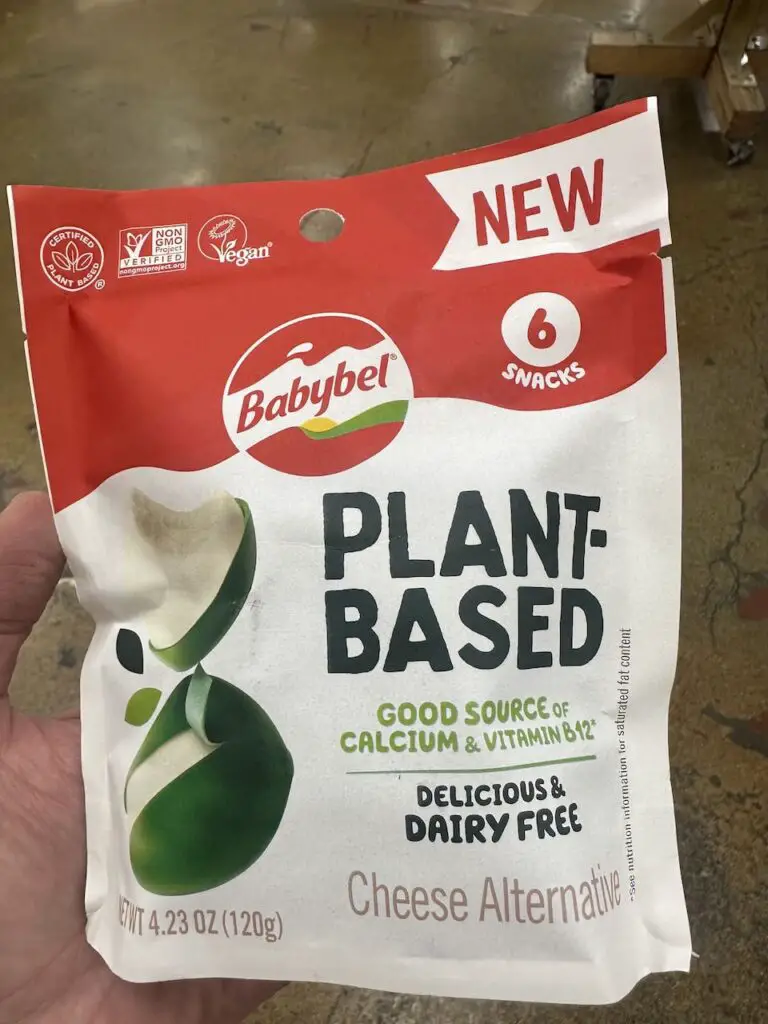 The plant-based Babybel is one of the most impressive dairy-free cheeses on the market when it comes to similarity to the dairy version. In a green wax wrapper, these nostalgic bites are worth trying.
Dairy-Free Boursin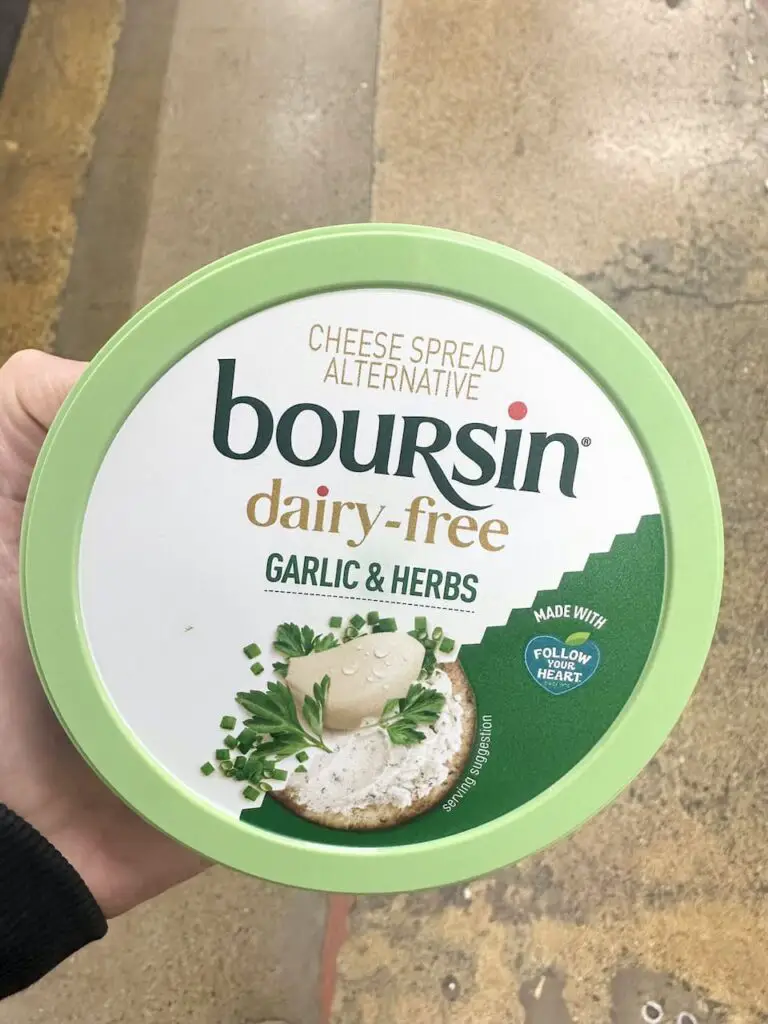 This vegan version of the classic Boursin spreadable cheese is so nostalgic! It tastes just like the original, as confirmed by many omnivores (not just me!).
Vegan Cream Cheese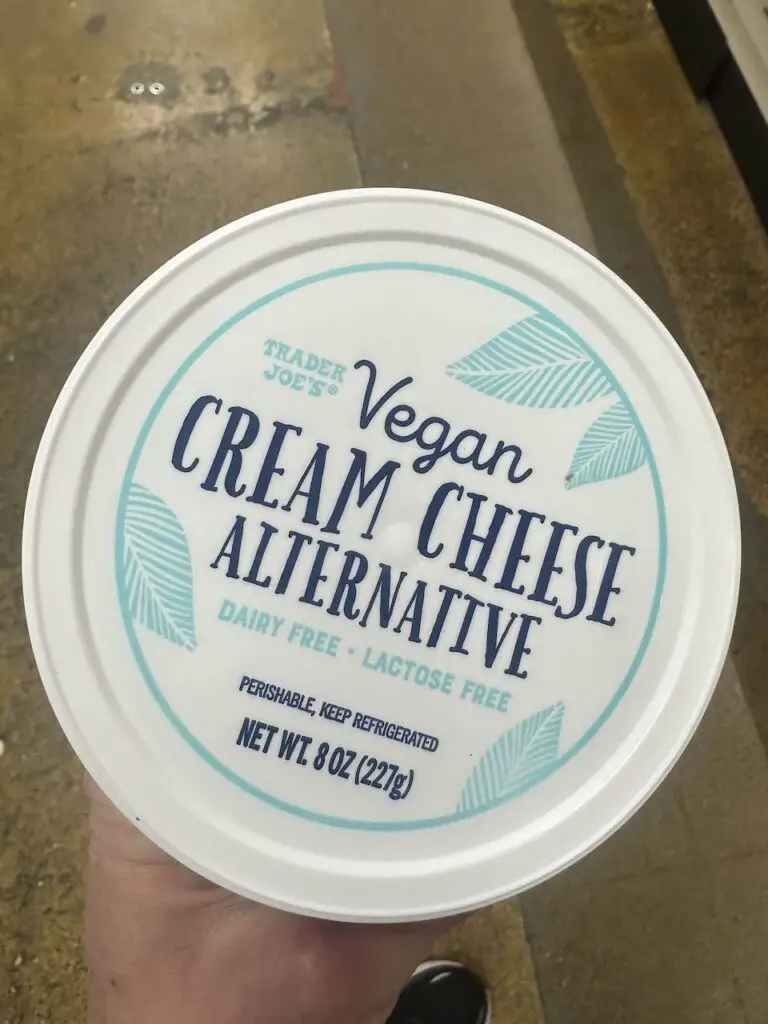 Trader Joe's vegan cream cheese is one of the tastier choices on the market, and without any aftertaste.
Note: sometimes it can be a little watery when you open the package. Simply mix before serving.
Trader Joe's Dairy-Free Dips, Sauces, & Spreads
Dairy-free Pesto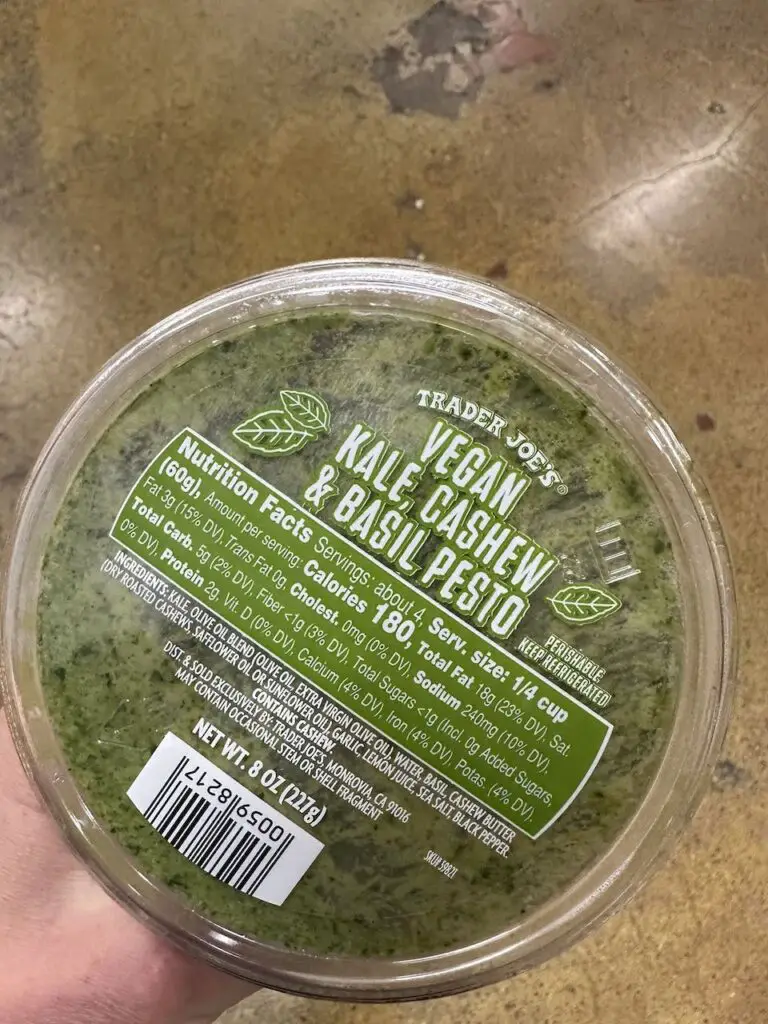 Made with kale, this Trader Joe's vegan pesto is packed with even more goodness than the traditional version. In addition to pasta, we love making pesto rolls using only 4 ingredients.
Dairy-free Tzatziki at Trader Joe's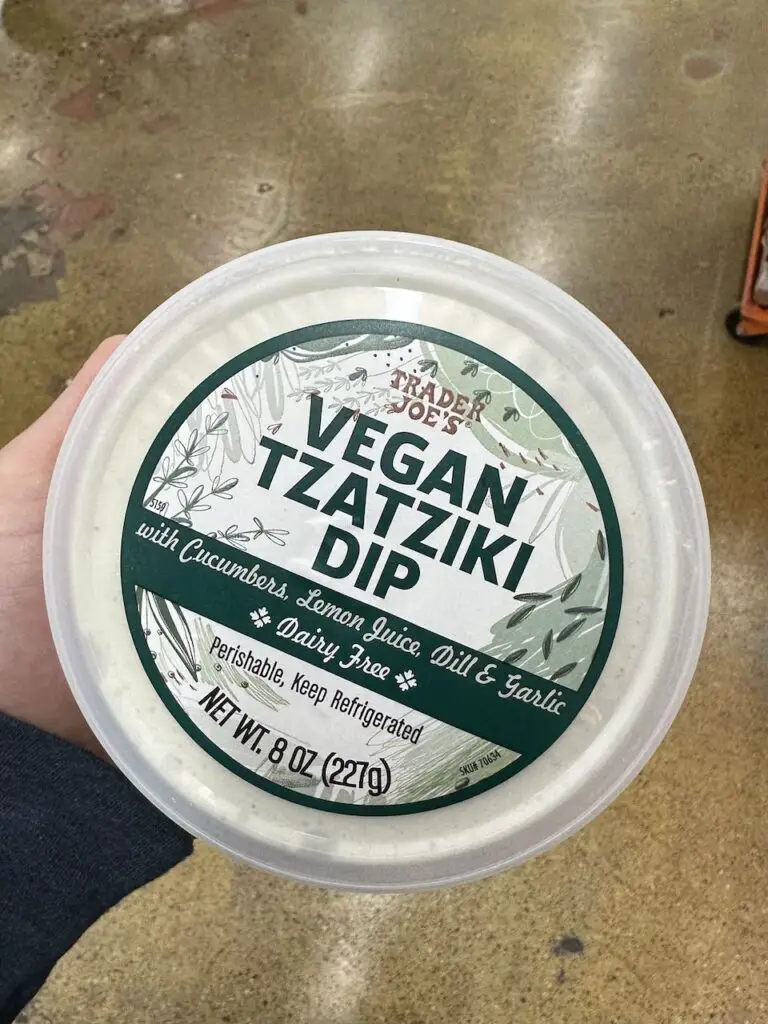 This vegan Trader Joe's tzatziki NAILS THE FLAVOR of it's dairy counterpart, and it pairs perfectly with falafel on a salad or soft pita, or as a dip with veggies or pita chips. 
Trader Joe's Vegan Salmonesque Spread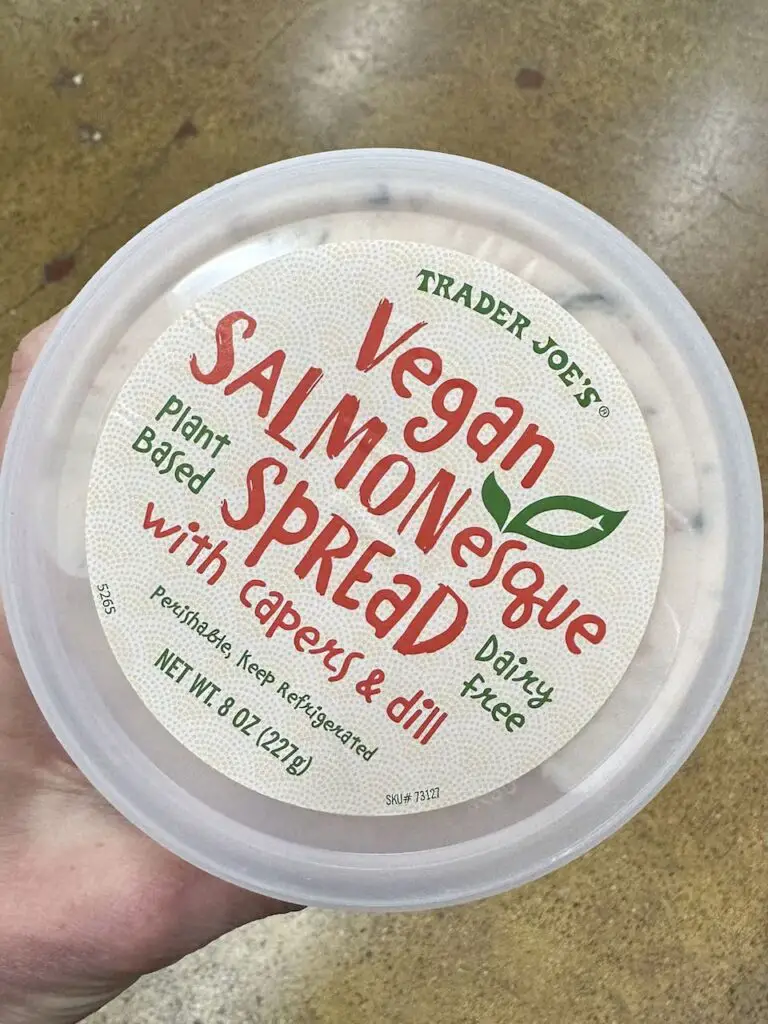 Essentially a Trader Joe's vegan salmon cream cheese, this spread is full of flavor! Best slathered on a bagel, it is also delicious as a dip with cucumbers, pita chips, or crackers.
Trader Joe's Vegan French Onion Dip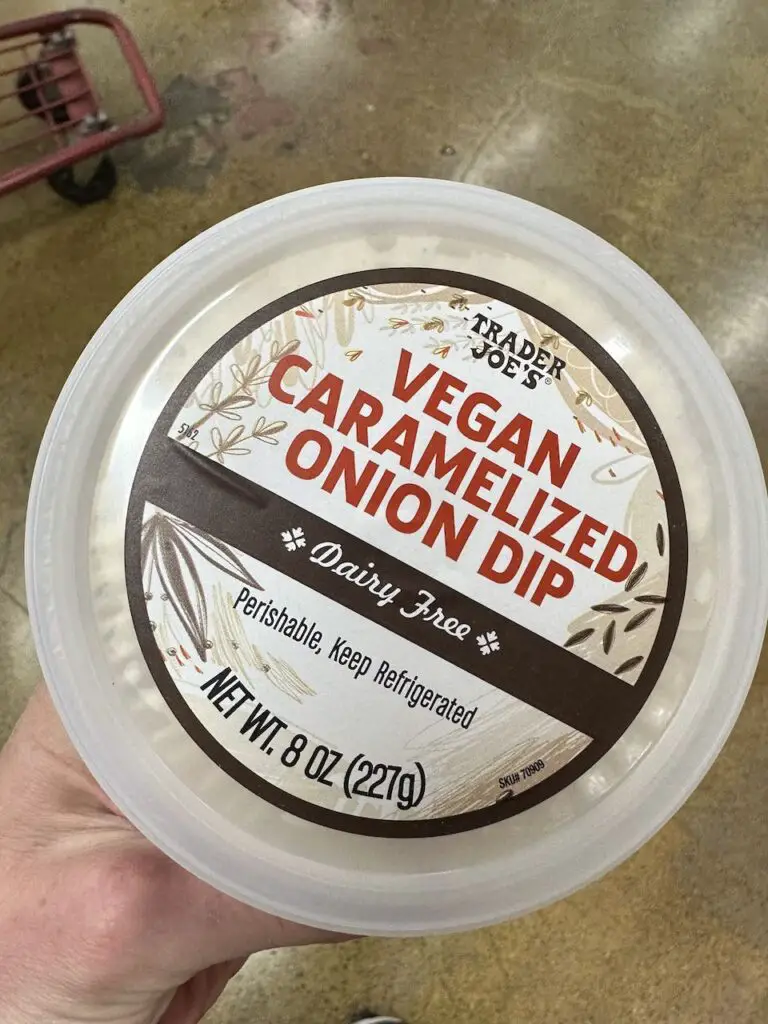 This dairy-free caramelized onion dip tops the list of Trader Joe's vegan products most likely to fool omnivores! In fact, it tastes so similar to the dairy version that no one has ever even asked about it! I serve it regularly with potato chips for an easy poolside snack.
Trader Joe's Vegan Butter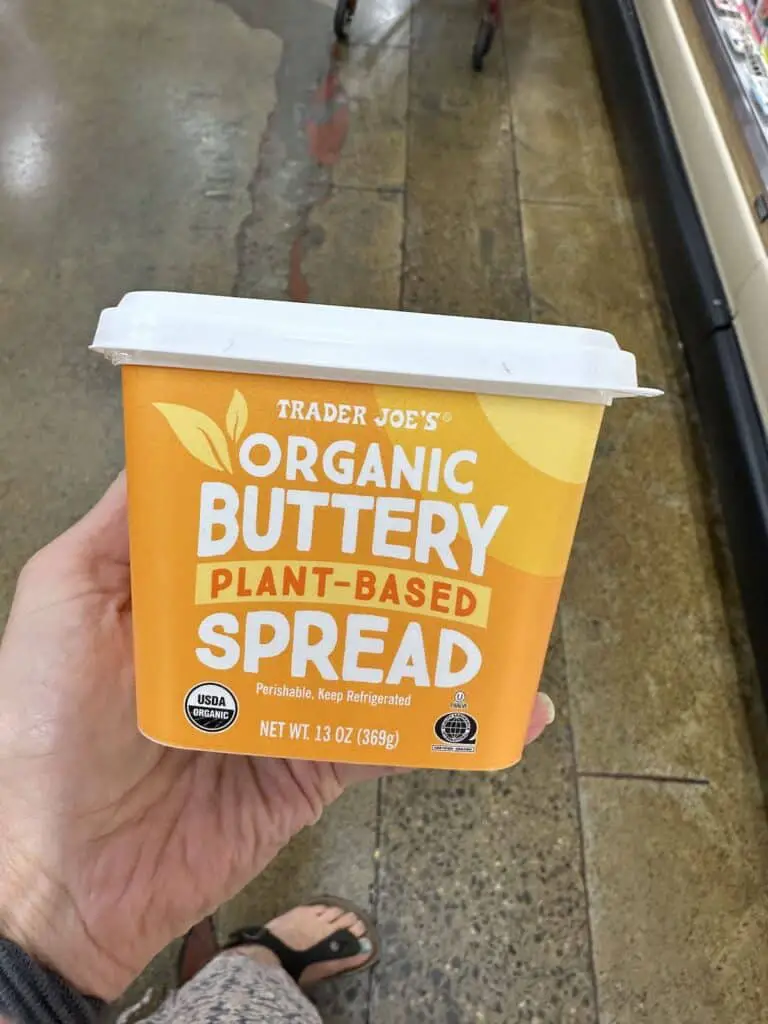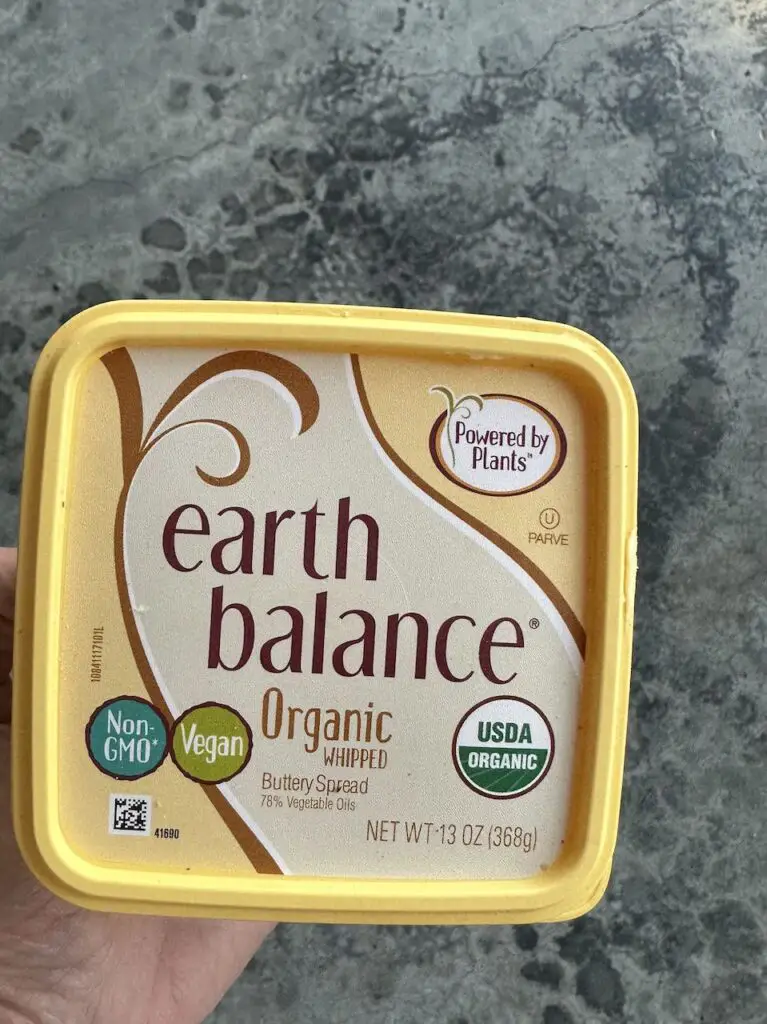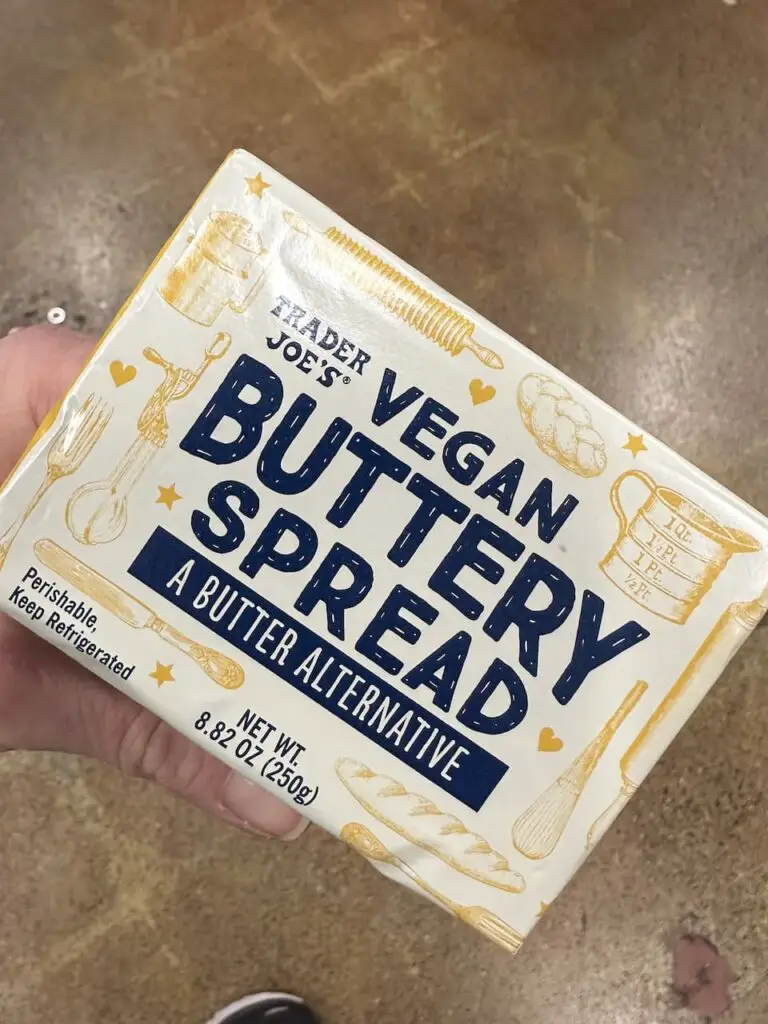 Earth Balance has been on the shelves for years at Trader Joe's. Easy to spread, this buttery goodness is a classic standby.
However, they just launched their own label of organic buttery plant-based spread that tastes almost exactly the same (could they be made by Earth Balance?!), so I wouldn't be surprised if Earth Balance goes away soon.
Trader Joe's also carries their own label of Vegan Buttery Spread. I'm gonna be honest: it is not the best tasting vegan butter on the market. So I don't serve it alone on toast unless I am in a pinch. However, it works great for cooking and baking, and because it comes in a square, it is easy to work with.
Trader Joe's Vegan Yogurt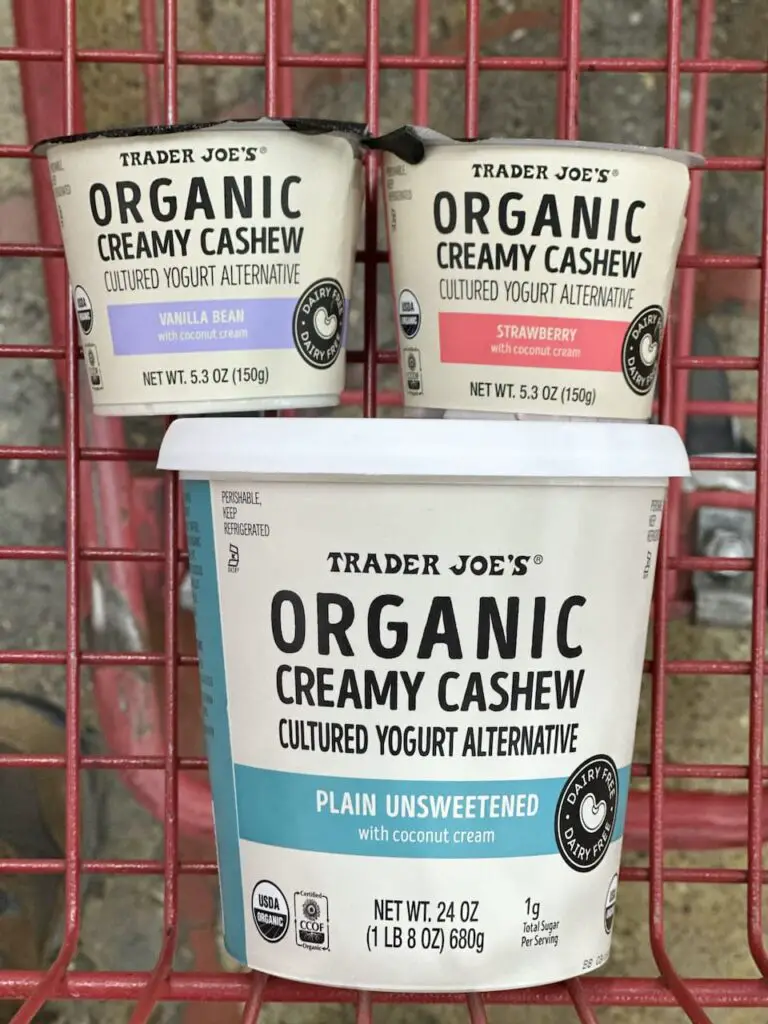 Currently, Trader Joe's offers cashew-based yogurts in plain, vanilla, and strawberry. They also offer seasonal flavors like pumpkin. While not Greek style exactly, these vegan yogurts are certainly thick and creamy!
Dairy-Free Sour Cream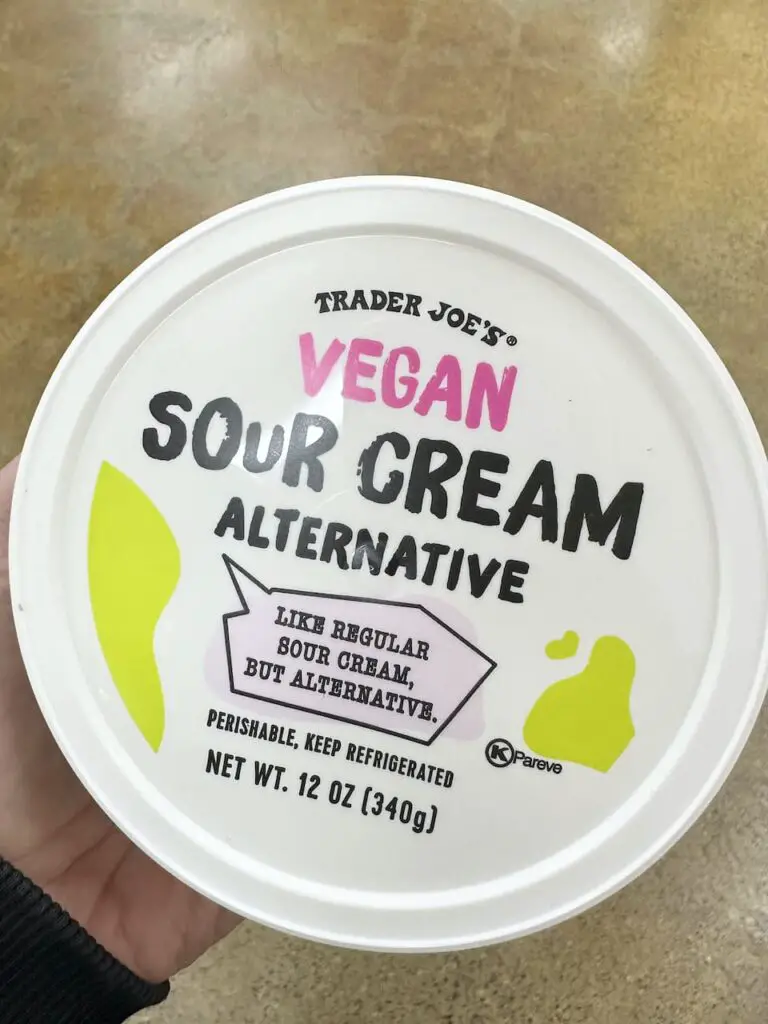 Trader Joe's vegan sour cream alternative needs a good stir once opened (it's a bit stiff), but it's a tasty replacement. With a mild coconut flavor, it works best when incorporated with other flavors (like in Mexican dishes).
Trader Joe's Dairy-Free Pizza
Trader Joe's vegan pizza is the only dairy-free pizza at the store, and it is about as good as frozen vegan pizzas get!
Named "Vegan Meatless Meat Eater's Pizza", the pie is full of flavor and has a perfectly crispy crust. The sausage is spot on in flavor and texture; the pepperoni also has great flavor, even if the texture is a little soft. And the plant-based cheese is totally passable, even if it doesn't fully melt😉.
Trader Joe's Dairy-Free Baked Goods
Trader Joe's Vegan Banana Bread with walnuts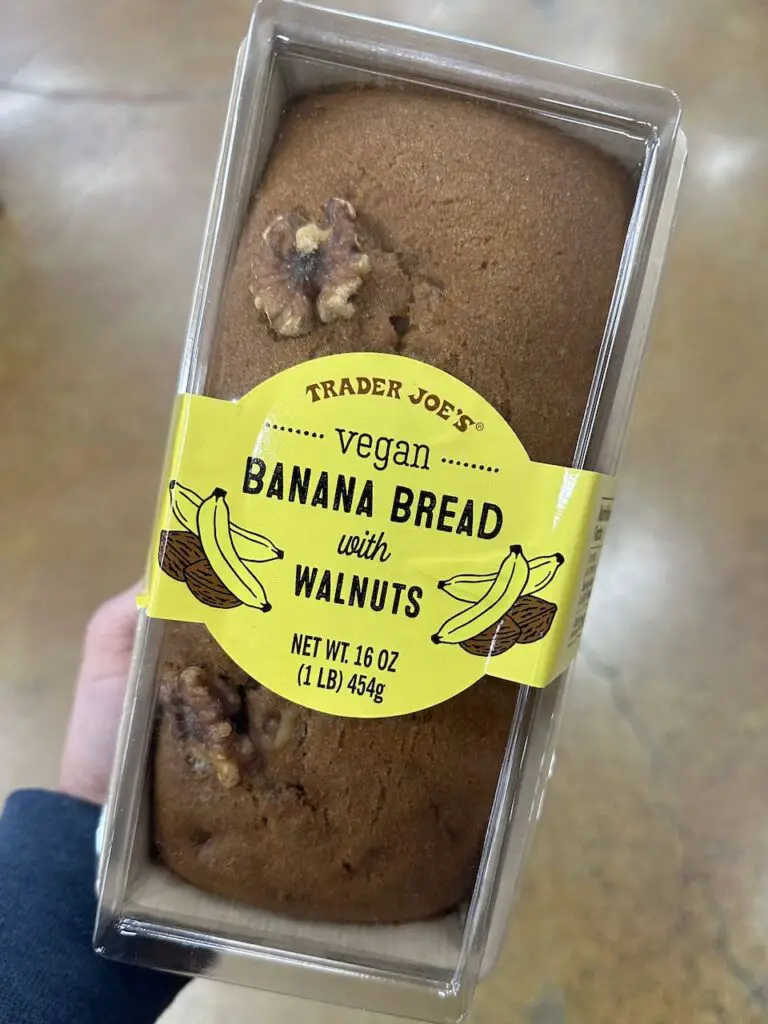 Call it dessert for breakfast, a sweet snack, or dessert. Whatever you call it, this dairy-free banana bread is worth the calories – try it with a schmear of Trader Joe's vegan cream cheese on top for the ultimate bite!
Trader Joe's Vegan Brioche Loaf Bread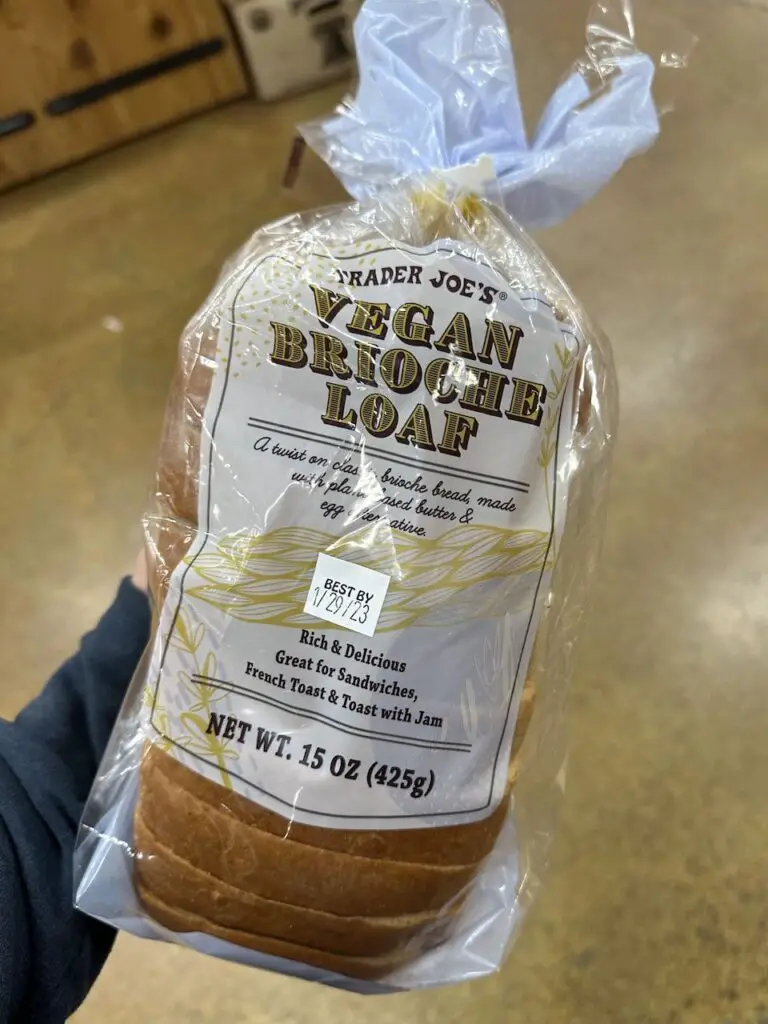 This dairy-free brioche leaves nothing to be desired: sure to fool anybody! It is especially impressive in Vegan French Toast.
Dairy-free Whipped Cream at Trader Joe's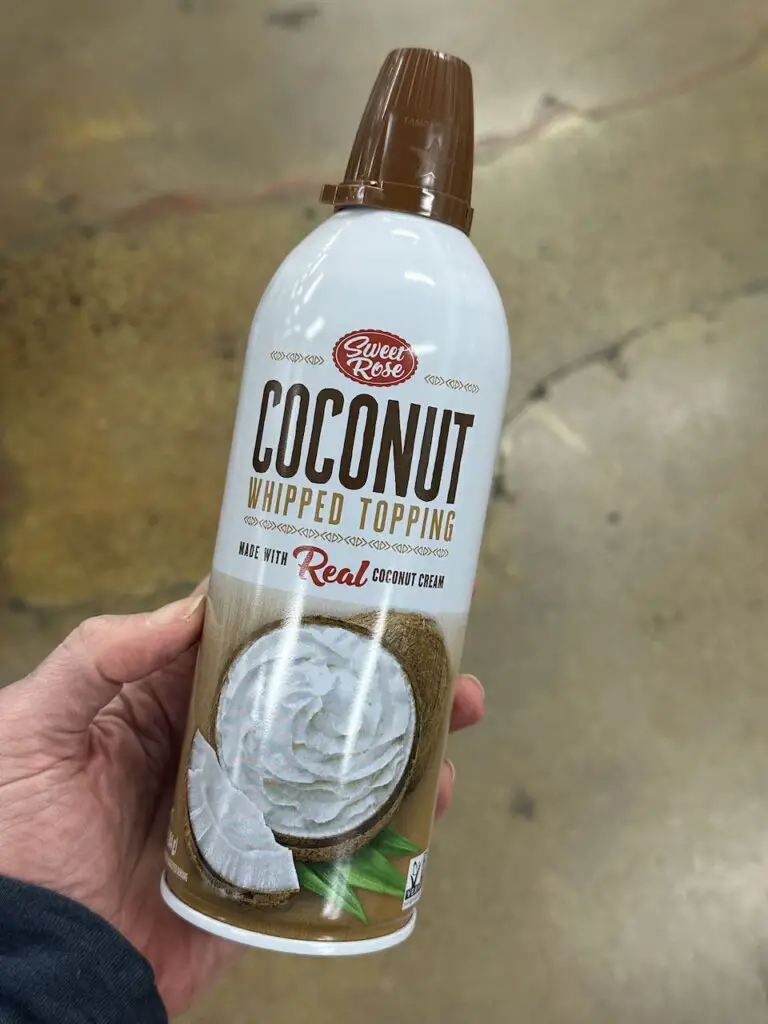 This Trader Joe's Coconut Whipped Topping is a dynamite vegan whipped cream! Made with coconut cream, it does have a mild (though delicious) coconut flavor. We love to spray it right into our mouths! Oh, and on top of fresh fruit, fruit cobbler, dairy-free ice cream, and pie.
Trader Joe's Dairy–Free Frozen Treats
Diary-Free Ice Cream at Trader Joe's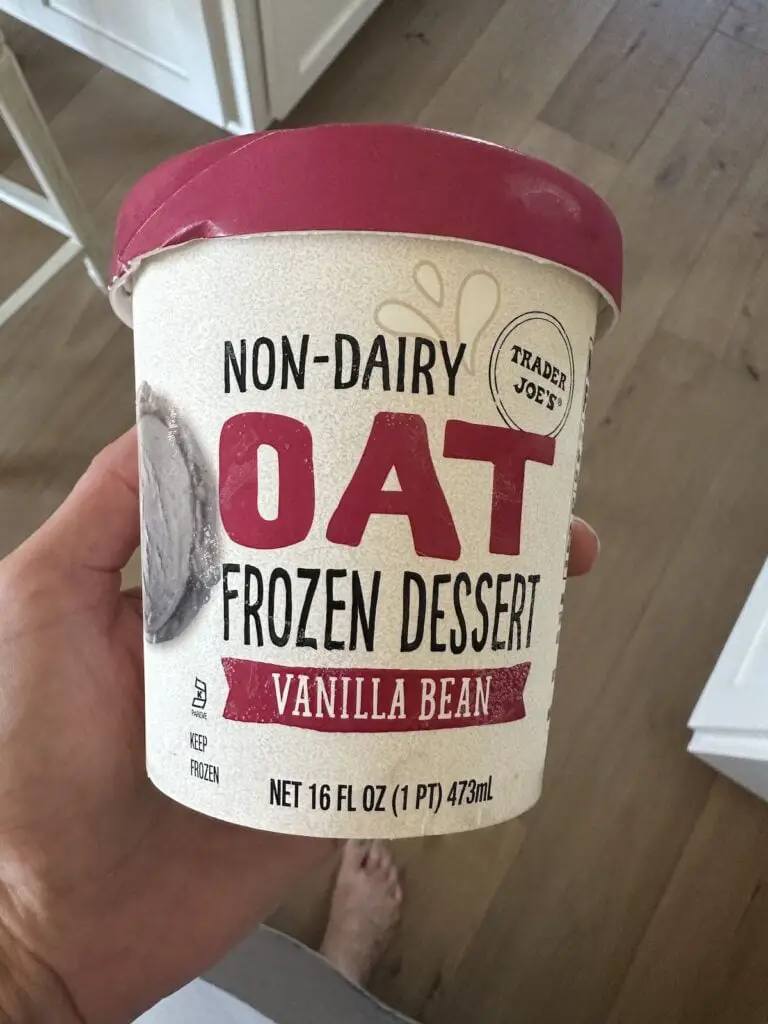 Trader Joe's has plenty of vegan ice cream options. While many of the flavors rotate in and out seasonally or pending supply, current selection includes:
Cold Brew Coffee and Boba Coconut Non-Dairy Frozen Dessert: rich and creamy, it is a coffee-lovers dream! If you aren't familiar with Boba, they are tapioca pearls that bring a chewy surprise in each bite.
Black Tea and Boba Coconut Non-Dairy Frozen Dessert: tea lovers will enjoy this creamy frozen sweet treat.
Strawberry Non-Dairy Frozen Dessert: unique interesting flavor and texture, with bits of almond brittle and candies strawberries.
Okey Dokie Oat Non-Dairy Frozen Dessert: vanilla oat based ice cream with swirls of caramel and candy bits…this one is on the sweeter, more decadent side.
Chocolate Coconut Milk Non-Dairy Frozen Dessert: for a simple chocolate vegan ice cream, this one is a solid choice. Creamy and not too sweet.
NEW! Non-Dairy Oat Vanilla Bean Frozen Dessert: This vanilla ice cream is awesome! Rich and creamy with vanilla bean specs, it will make the perfect topping to any pie or cake, or sandwich a scoop in between two of those vegan chocolate chip cookies below:)!
Trader Joe's Diary-Free Ice Cream Cones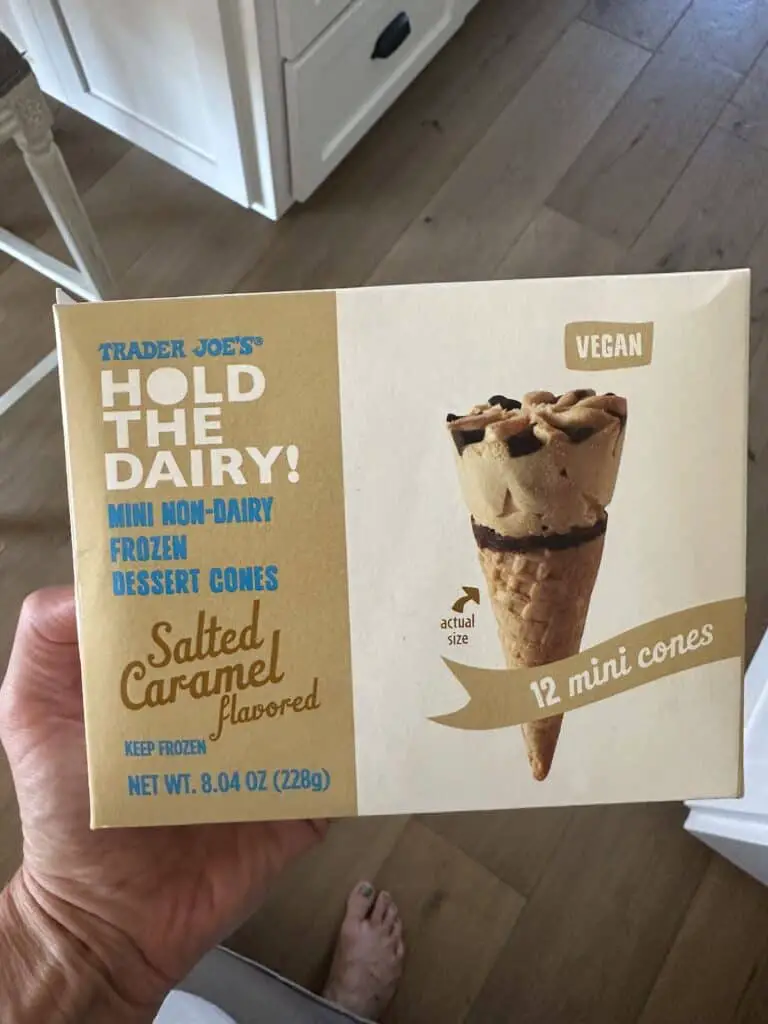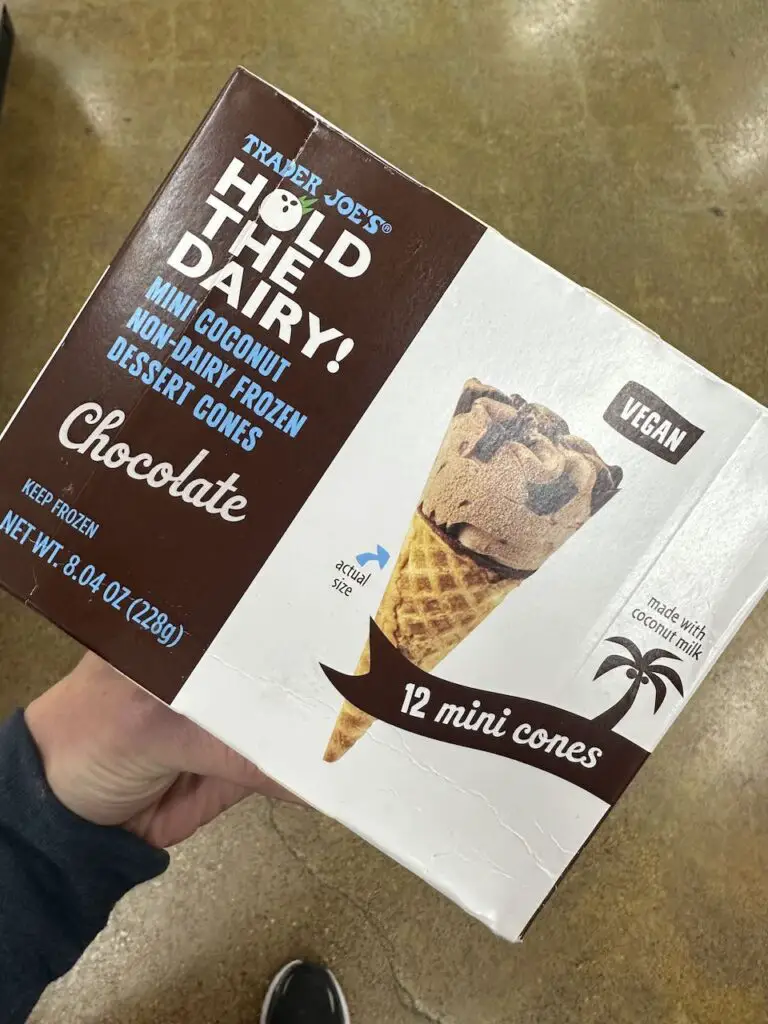 These mini Trader Joe's vegan ice cream cones are so addictively delicious that I dare you to eat just one;)! And, I betcha your dairy eating friends and family won't notice that these are made with coconut milk!
In fact, they are so good, they are also included in the Best Trader Joe's Vegan Food list!
Trader Joe's Diary-Free Bon Bons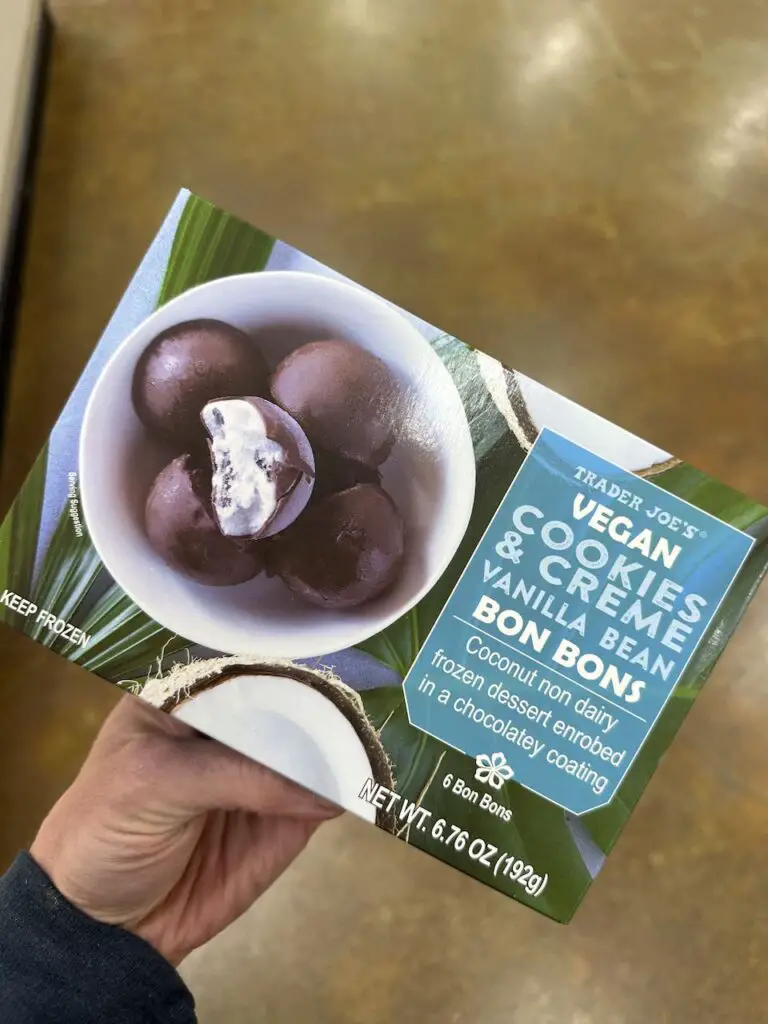 Trader Joe's Vegan Bon Bons are all the rage these days! At nearly every backyard gathering, someone brings a few boxes of these delicious bites to share. Adored by herbivores and omnivores alike, these dairy-free bon bons are always a crowd-pleaser.
Trader Joe's sometimes carries a mint chocolate chip flavor too, so be on the lookout!
Trader Joe's Dairy-Free Cookies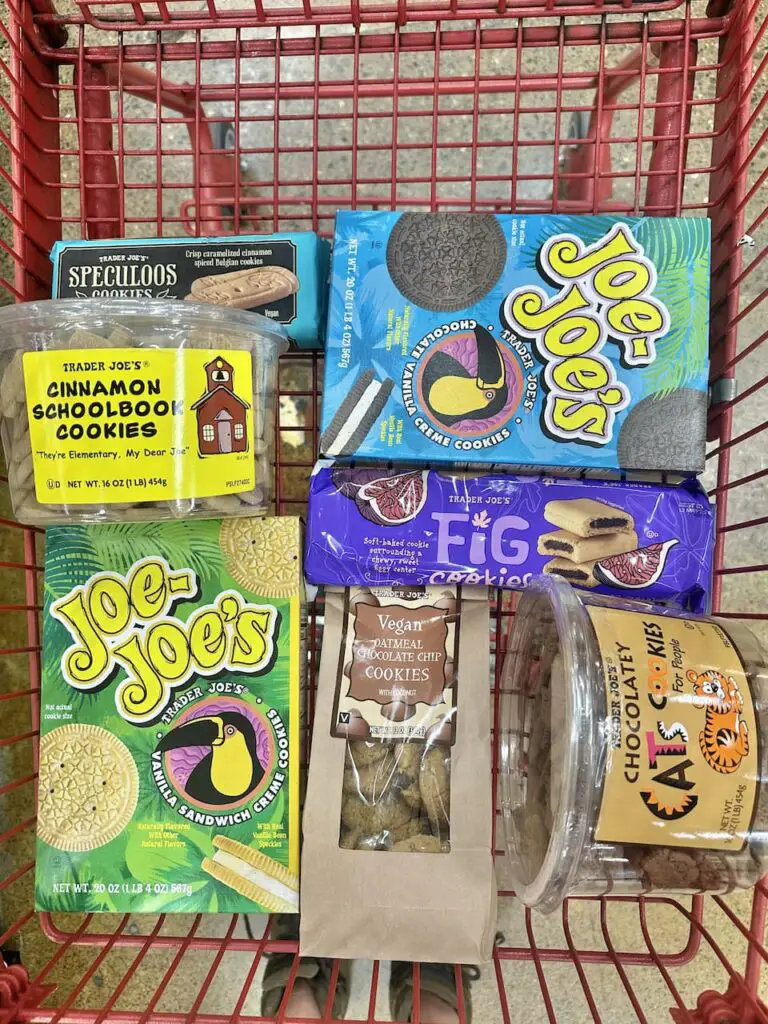 If you're looking for dairy-free cookies, Trader Joe's is the place! The large assortment includes:
Trader Joe's Vegan Oatmeal Chocolate Chip Cookies with coconut: consistently soft, slightly chewy, and not crumbly, these are the only store-bought cookies we buy regularly.
Joe Joe's: available in chocolate and vanilla sandwich cookie (plus seasonal flavors including pumpkin and peppermint), these Trader Joe's Oreos are a staple. They are vegan, dairy-free, and TJ's even carries a gluten free chocolate option.
Dairy-Free Graham Cracker Cookies: Trader Joe's offers two dairy-free graham cracker cookies that happen to be vegan as well: Chocolatey Cats Cookies (for people!) and Cinnamon Schoolbook Cookies. Both delicious!
Trader Joe's Fig Cookies: Trader Joe's even has their own version of Fig Newtons! Delicious and relatively healthy!
Trader Joe's Speculoos Cookies: These dairy-free and vegan cookie butter cookies are dangerous, watch out!
Trader Joe's Dairy Free Chocolate
These new "milk chocolate bars" are a win! Finally, a dairy-free option for milk chocolate that is accessible and easy to find. And the mini size is a perfect portion.
Now available with crispy rice, too!
Trader Joe's Vegan Chocolate Chips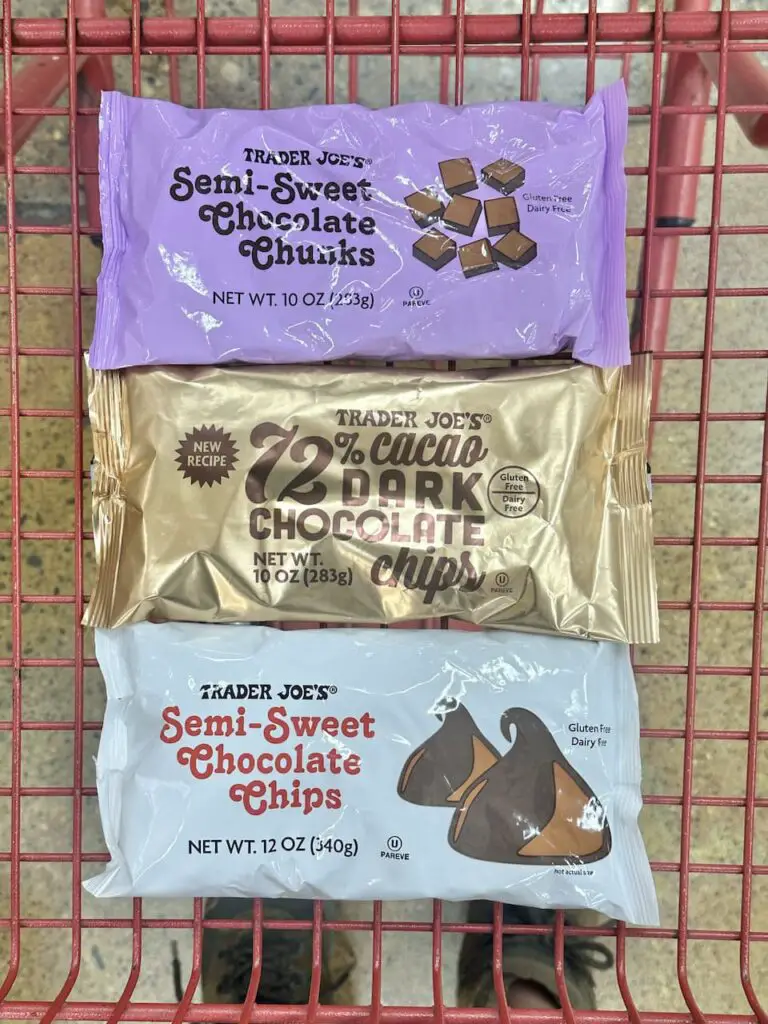 Shockingly, all of Trader Joe's chocolate chips are dairy-free these days! And no one would know the difference!
They carry three selections: semi-sweet chocolate chips, semi-sweet chocolate chunks, and dark chocolate chips. Perfect for baking…or snackin!
FAQs
Does Trader Joe's have vegan Greek yogurt?
No, Trader Joe's does not currently offer a dairy-free Greek yogurt option. However, the plain, unsweetened Organic Creamy Cashew Yogurt Alternative is thick and creamy, so it is a good replacement for non-dairy Greek yogurt.
Does Trader Joe's sell dairy-free mac and cheese?
No, Trader Joe's discontinued their dairy-free mac and cheese in 2022. Stay tuned to see if they replace it!
Does Trader Joe's have diary-free ranch?
No, Trader Joe's does not currently offer non-dairy ranch. However, they have a similar product that is absolutely delicious: Vegan Creamy Dill Dressing. You can find it in the refrigerated section next to the salad greens.
I hope this list is helpful for your non dairy Trader Joe's needs. Feel free to comment below and let me know about your favorite Trader Joe's dairy free items!
For more TJ's dairy-free love, check out:
Or check out all my Trader Joe's posts!
Cheers!
–Jenn
Save this Trader Joe's blog post for later: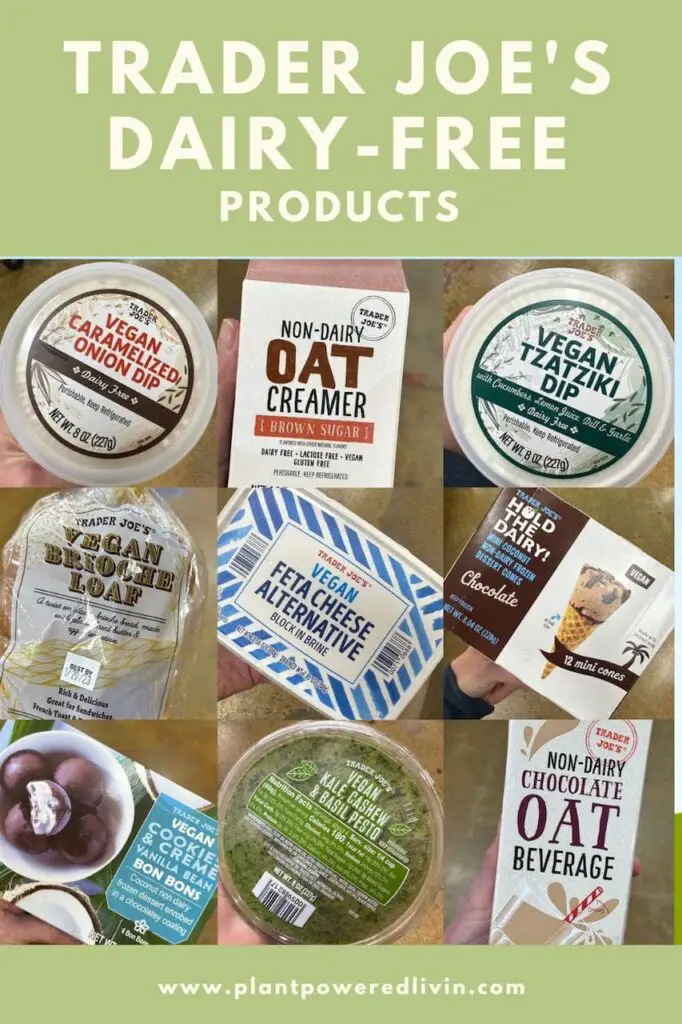 ---
---