10 Easy Trader Joe's Vegan Meals
Sick and tired of cooking? Need a quick and relatively healthy option that is TASTY too without spending a pretty penny for takeout? These 10 quick & easy Trader Joe's vegan meals could be your answer.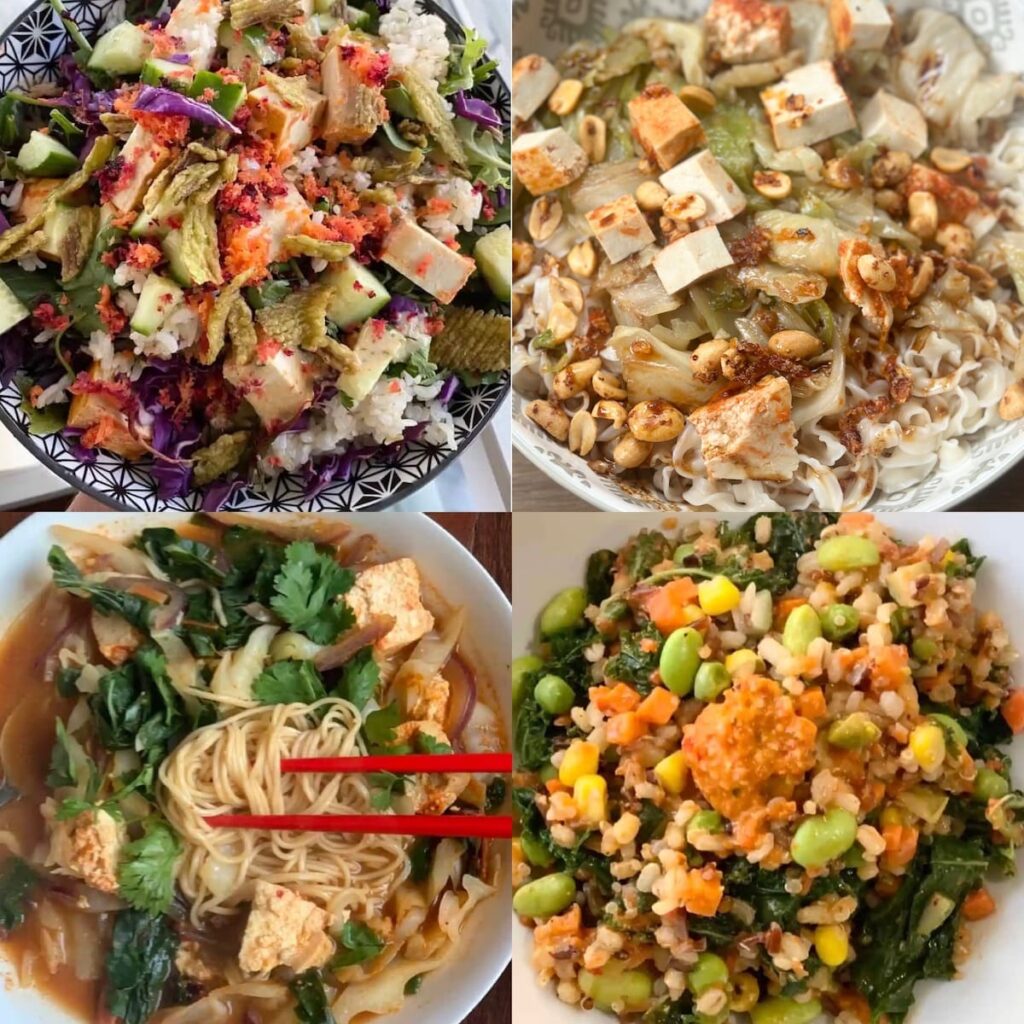 This list will make your Trader Joe's meal prep EASY! Cook times range from about 3 to 20 minutes. And portions are flexible, whether you are looking for vegan meals for one or two, or an entire family.
Here are 10 of my tasty, throw together Trader Joe's vegan recipes.
Chili Onion Cabbage Noodles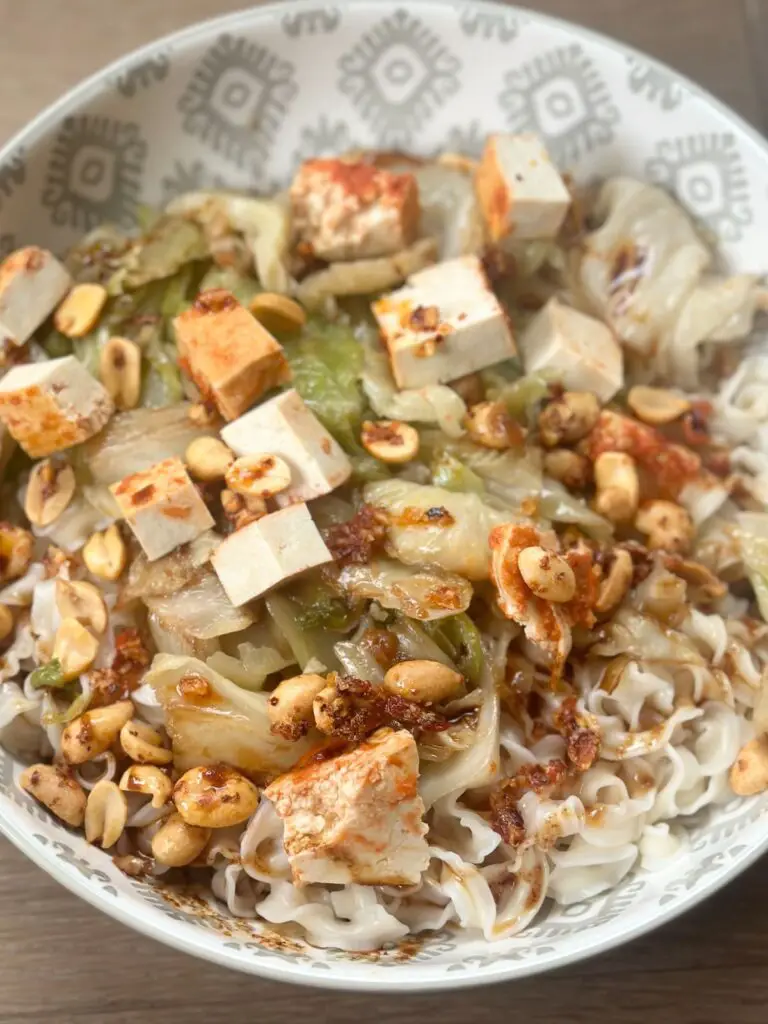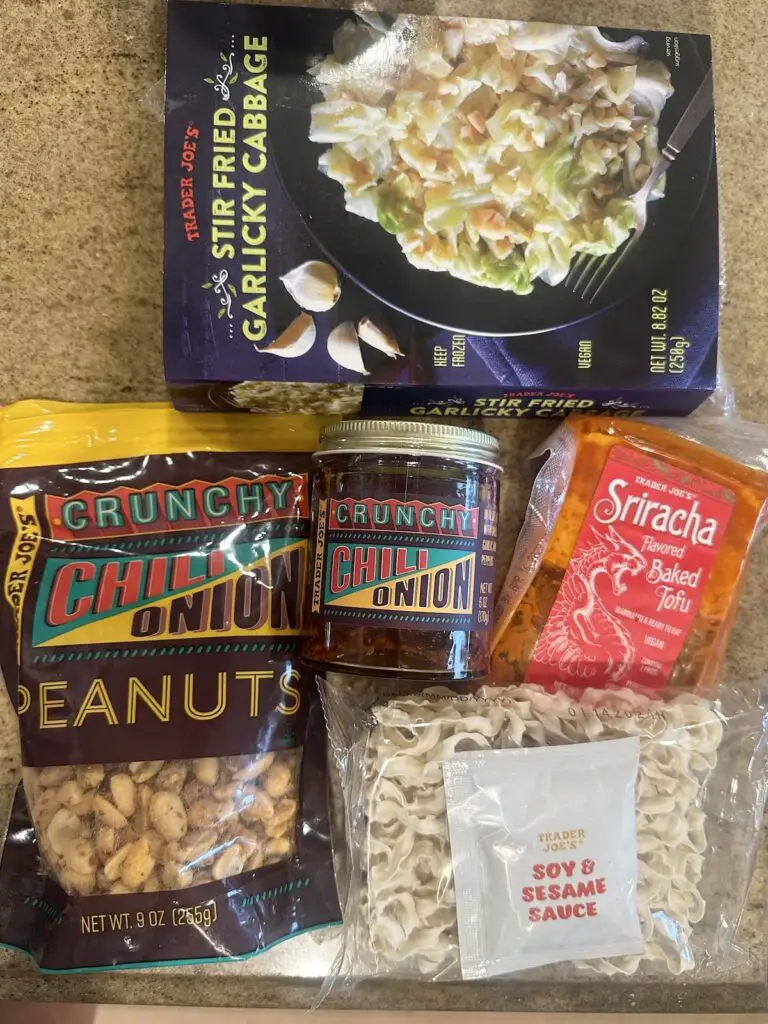 Move over takeout…these Chili Onion Cabbage Noodles leave nothing to be desired! If you haven't tried some of these new items like the unbelievably flavorful Stir Fry Garlicky Cabbage or Squiggly Knife Cut Style Noodles, you are missing out!
Base ingredients:
Squiggly Knife Cut Style Noodles w/ sauce (or Thai Wheat Noodles or Instant Ramen Noodles)
Stir Fry Garlicky Cabbage
Crunchy Chili Onion (or sriracha)
Optional Ingredients:
Sriracha Tofu (or plain tofu)
Chili Onion Peanuts
fresh herbs
fresh lime juice
Coconut aminos or soy sauce
Method:
Simply followed instructions to cook noodles and cabbage (proportions are roughly 1 individual package of noodles to 1 package of cabbage). Then combine them with noodle sauce packet (I only use 1/2 of the sauce) and top with other ingredients!
Souped-Up Trader Joe's Multigrain Blend with Chimichurri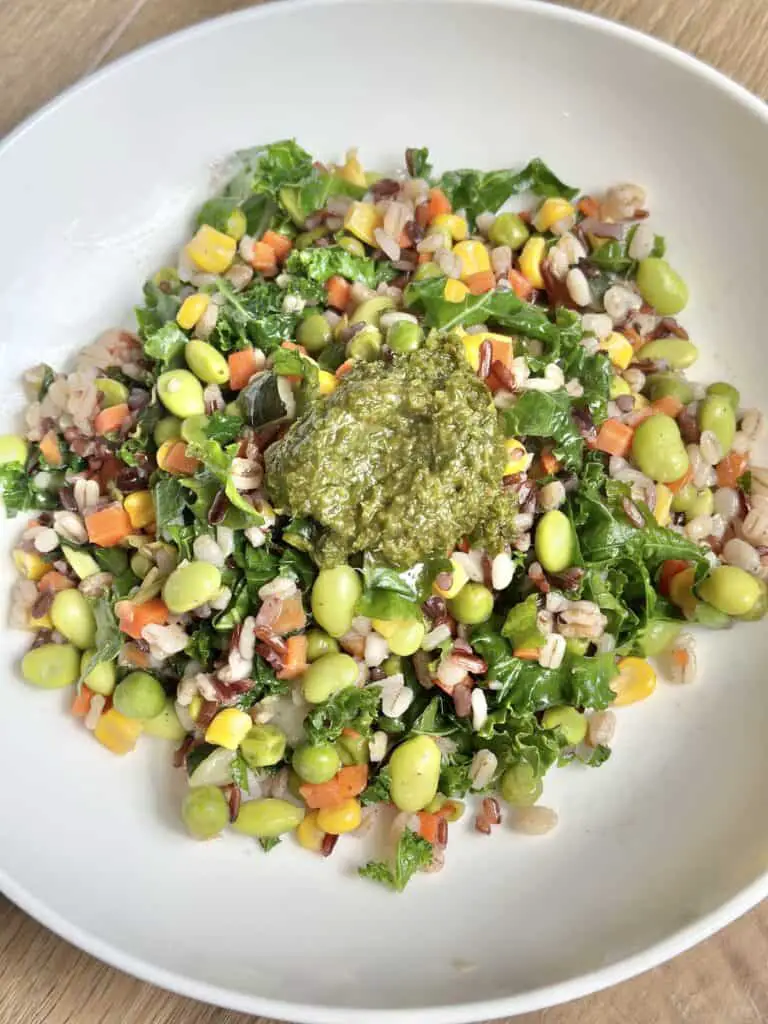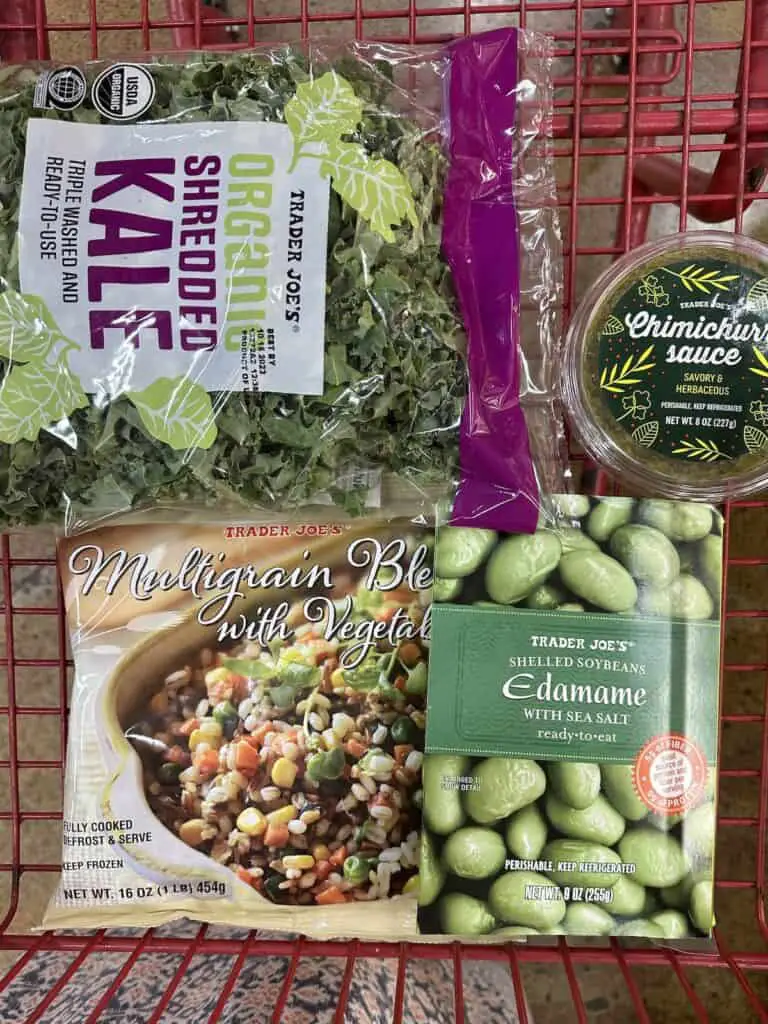 This creation was so satisfying and wholesome that it is now in our adult dinner rotation (when kids are eating something else:)). Delicious and SO HEALTHY!
Base ingredients:
Trader Joe's Multigrain blend (or other quick cooking grain like farro if you prefer)
sea salt, black pepper, or other simple seasoning
Chimichurri Sauce or Romesco Sauce
Optional Ingredients:
frozen or fresh veggies of choice (like edamame, greens, carrots, peas, and corn)
Method:
Simply sauté the frozen Multigrain Blend in a little water (or olive oil) with optional veggies of choice until heated through, added salt and pepper and top with sauce.
Vegan Mexican Cobb Salad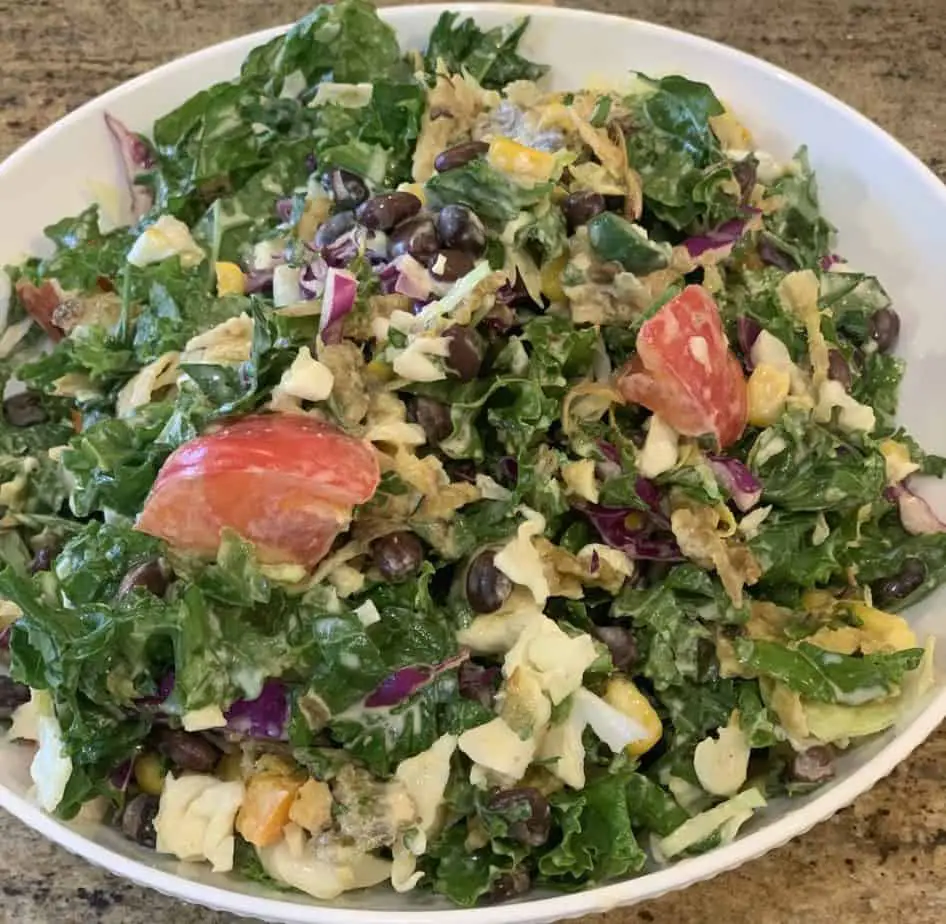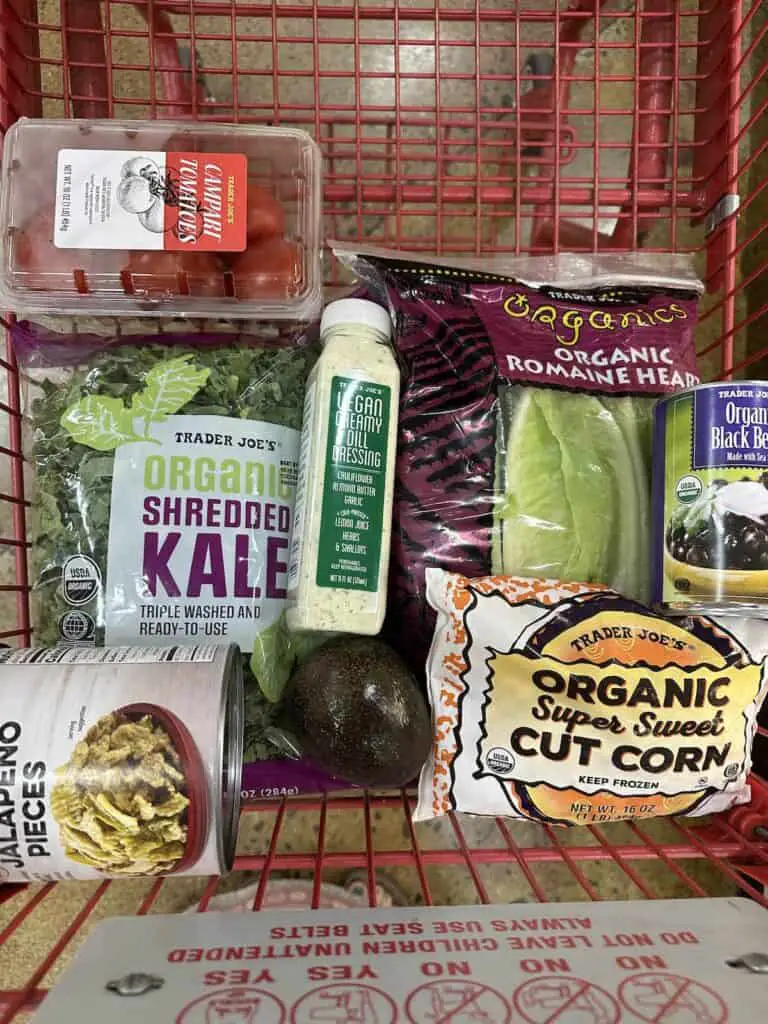 THIS Trader Joe's vegan salad creation is the salad I crave more than any other: creamy, spicy, light. My vegan Mexican Cobb Salad is essentially taco salad ingredients with a ranch-like dressing. And Trader Joe's makes it EASY with the best salad dressing of all time, Creamy Dill.
Base ingredients:
romaine or greens of choice
black beans
corn
fresh tomatoes
avocado
Crispy Jalapeno Pieces (or tortilla chips if you prefer)
Vegan Creamy Dill dressing (tastes like ranch!)
Optional added ingredients (chopped or shredded):
radishes
bell peppers
Impossible Chicken Nuggets (baked and chopped into bite size pieces) or sautéed Soy Chorizo
hemp seeds/hearts
Method:
Prepare meat substitute per package instructions if using. Then simply combine all ingredients into large bowl and toss to combine.
Check out all my Trader Joe's salad recipe ideas here.
Vegan Ravioli with Pesto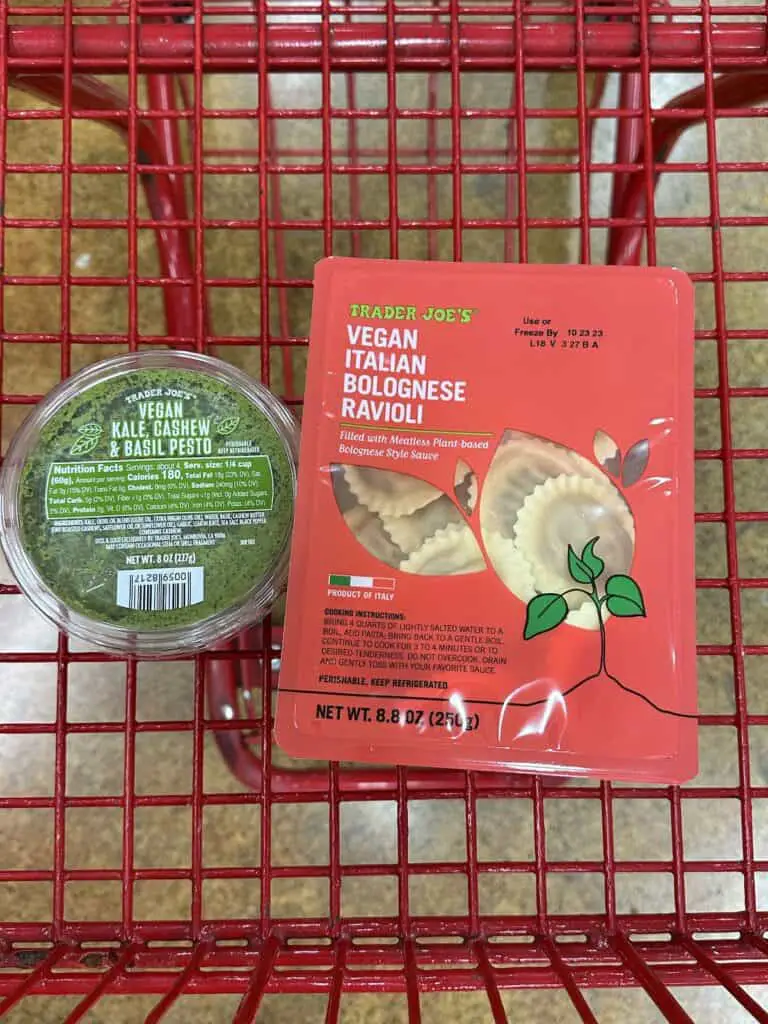 Trader Joe's makes it SO EASY to eat vegan with their amazing vegan ravioli…first they offered spinach and cashew, and now bolognese too! A warm and hearty dinner in minutes…
Base ingredients:
Optional added ingredients:
white beans
greens
vegan parmesan
Method:
Cook ravioli according to packaging instructions. Once cooked, add ravioli to pan with large scoop pesto and warm. Serve.
Veggie Ramen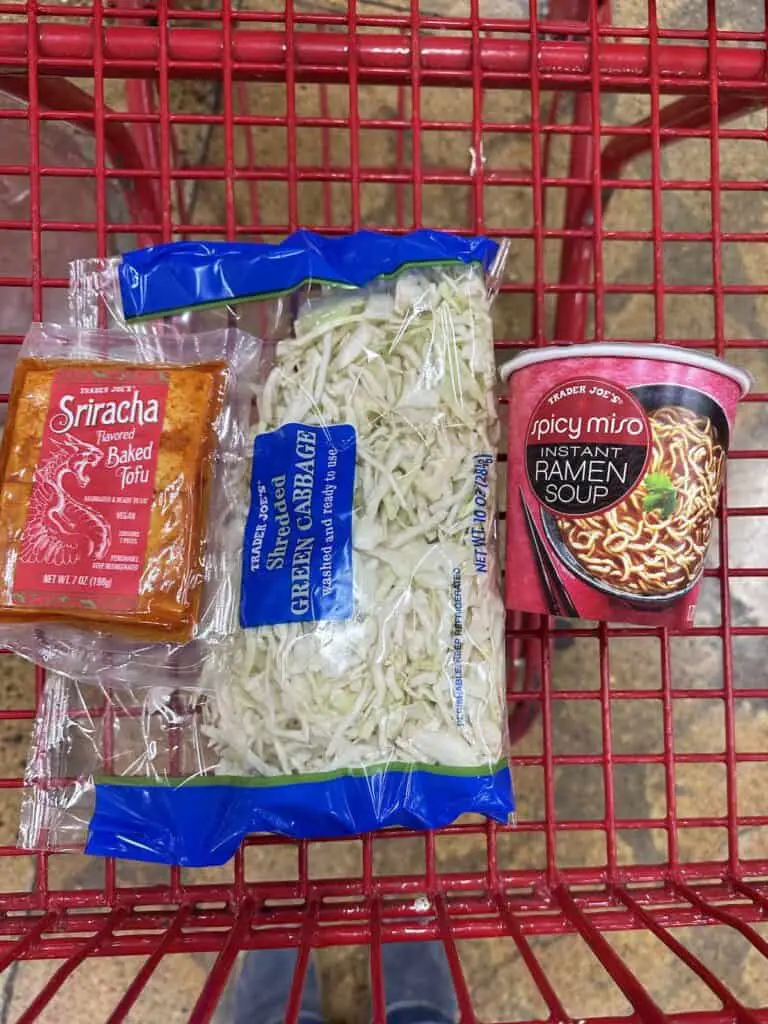 Nothing says comfort food like ramen! This is my favorite lunch (even brunch) for one when I am working from home during the week.
Base ingredients:
single-serve ramen package (miso or spicy miso)
veggies of choice (like kale, spinach, cabbage, or broccoli)
tofu of choice (I like TJ's sriracha or plain tofu)
Optional added ingredients:
Method:
Simply follow the ramen directions to cook the noodles and broth (I omit the oil since I find it's tasty without it). While they cook, sauté veggies in a pan with 1/4 cup water. When the noodles/broth are ready, combine them with the veggies in the pan, add in tofu of choice and top with fresh herbs and/or sriracha.
This prep feels more elevated than just eating out of the paper cup and it's a scrumptious way to pack in the veggies;). Definitely one of my go-to vegan meals for one.
Lentil or White Bean Bruschetta Toasts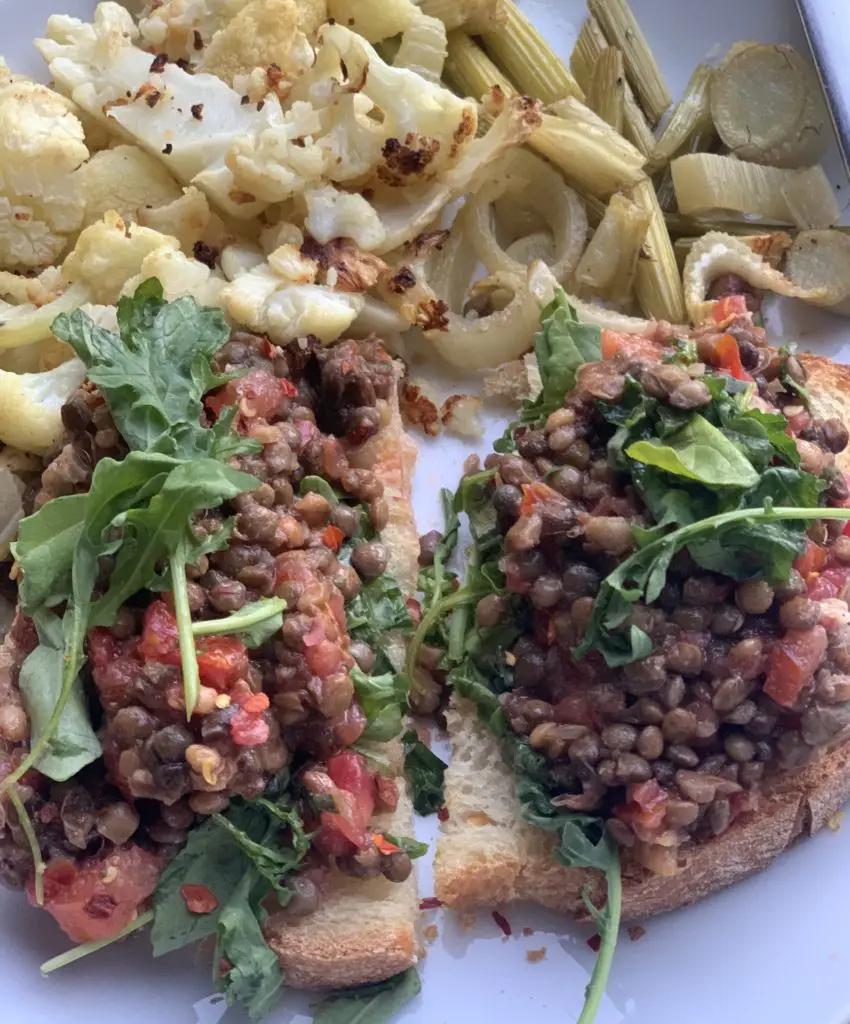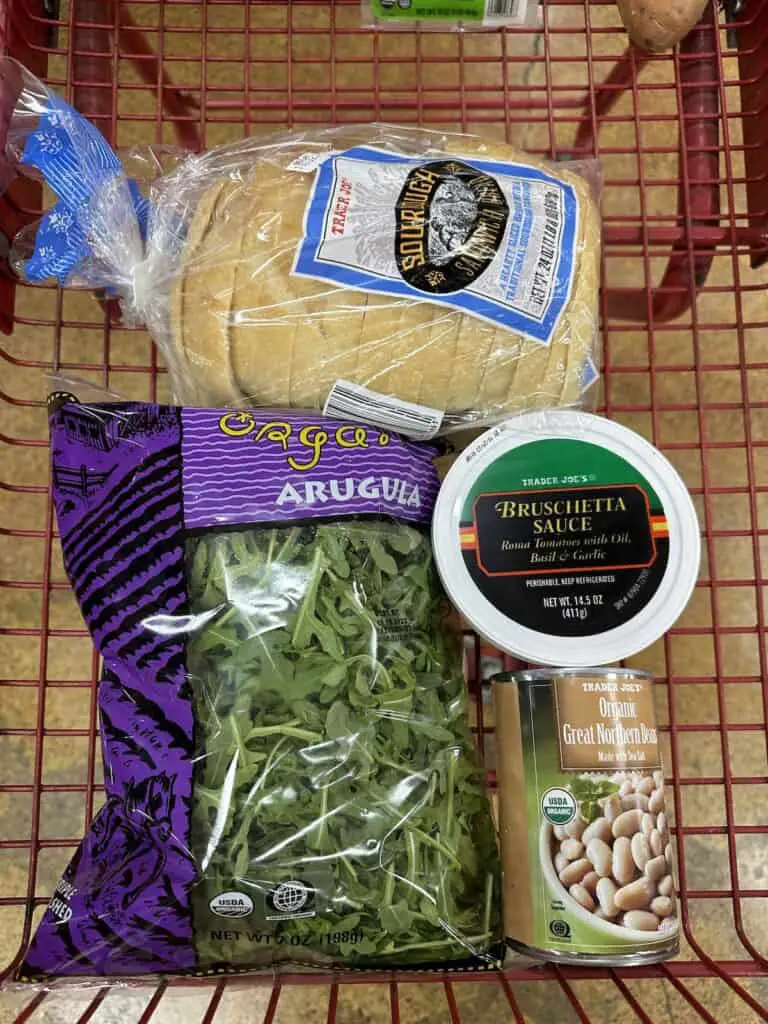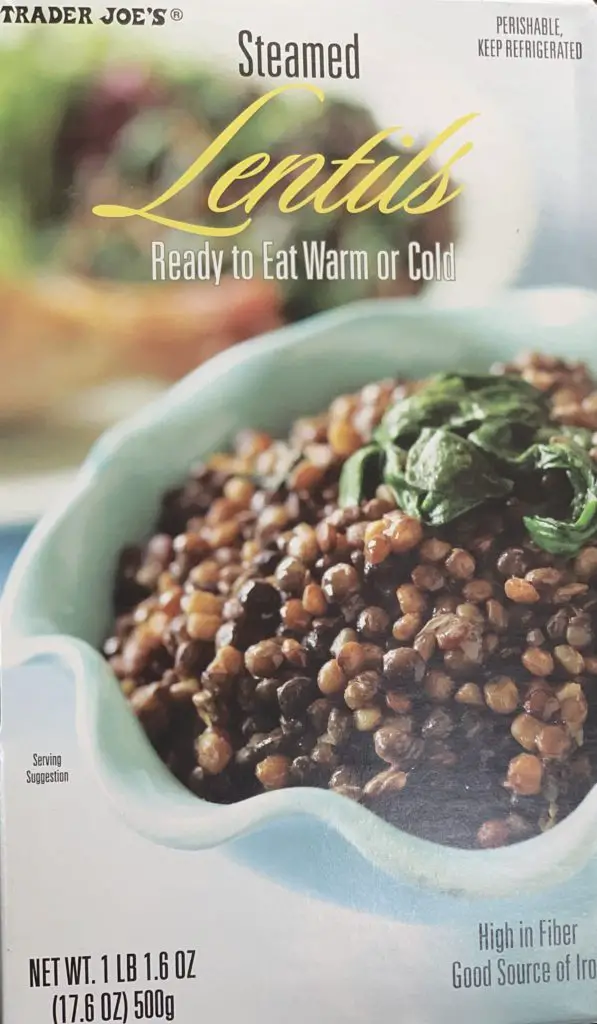 The Trader Joe's Bruschetta Sauce is delicious all by itself, but can easily be made into a meal by adding legumes like lentils or white beans. I serve on toast or crostini with a little arugula on top for the adults. My kids prefer white beans and they use crackers to shovel it in;)!
Base ingredients:
Trader Joe's steamed lentils or Great Northern white beans
toast or crackers
salt and pepper to taste
Optional added ingredients:
Method:
Proportions of bruschetta to legumes are personal preference. I typically start with about 1 cup of sauce to about 1/2 cup of legumes, season with salt and pepper, and then taste and alter.
This is one of our family's favorite easy vegan Trader Joe's meal ideas, and it works well as a snack or appetizer too!
Easy Vegetable Gyoza Soup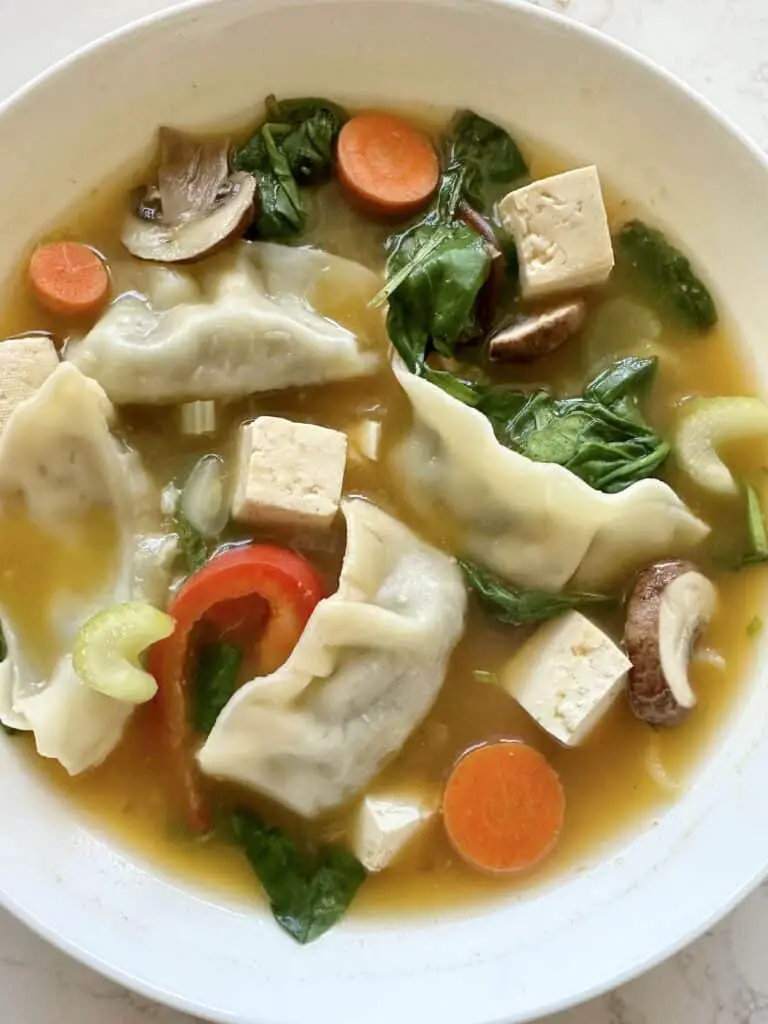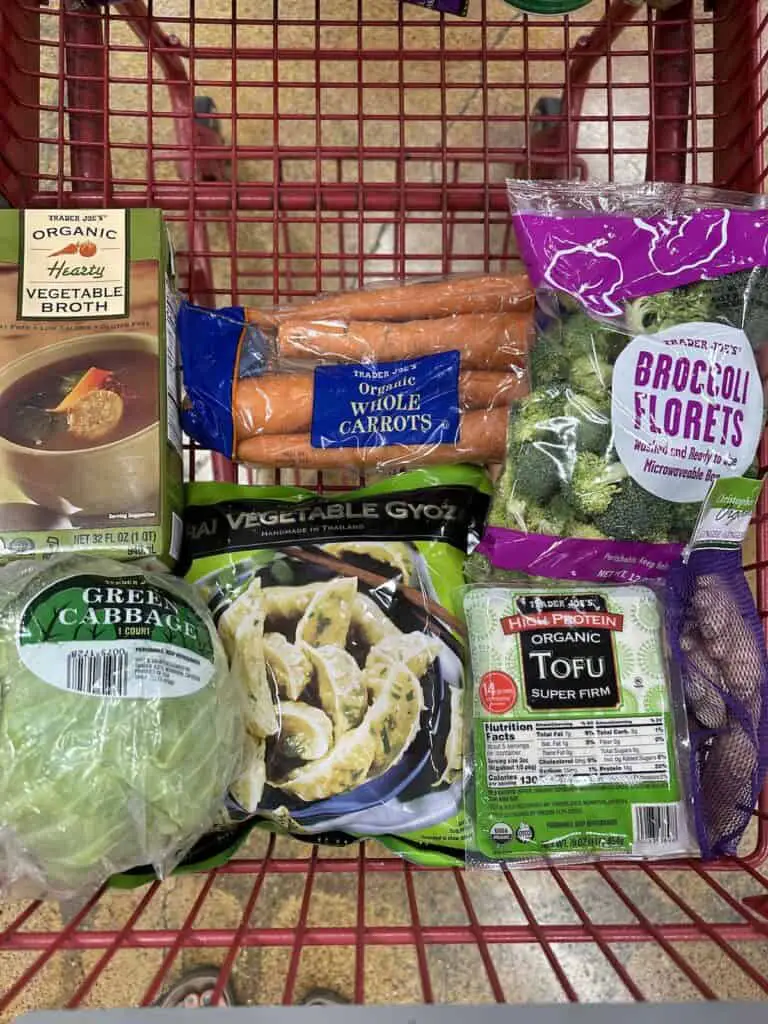 This dumpling soup recipe is a great way to pack in veggies to your diet while still enjoying these yummy gyoza. While it is almost too simple for a recipe, I have mastered some preparation hacks that are worth sharing.
Refrigerated Soup with Greens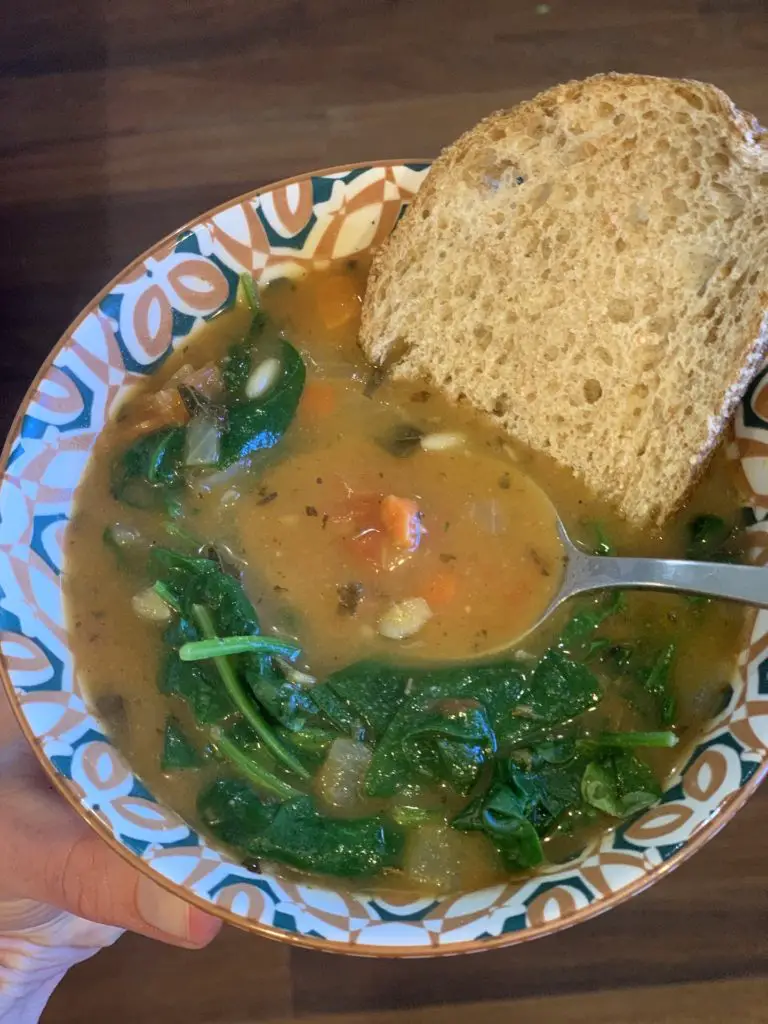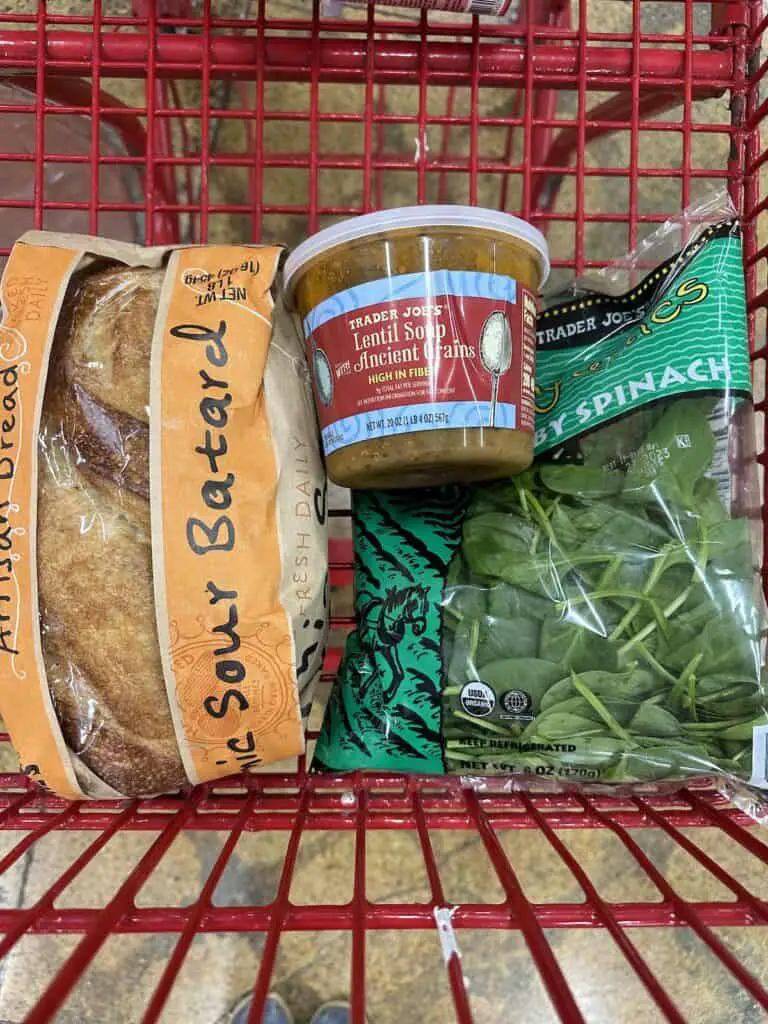 Trader Joe's carries a handful of plant-based soups in the refrigerated section that are delicious on their own…but adding a handful of fresh greens while simmering on the stove somehow makes them feel more special, like a complete meal.
Base ingredients:
prepared soup (like Hearty Minestrone, Harvest Chili, and Lentil with Ancient Grains. Note: some of TJ's soups are seasonal and regional)
fresh spinach or kale
crusty bread
Optional added ingredients:
Method:
Simply heat soup over medium heat and stir in greens. Throw in some crusty bread for a heartier bowl.
Sweet & Spicy Rice Salad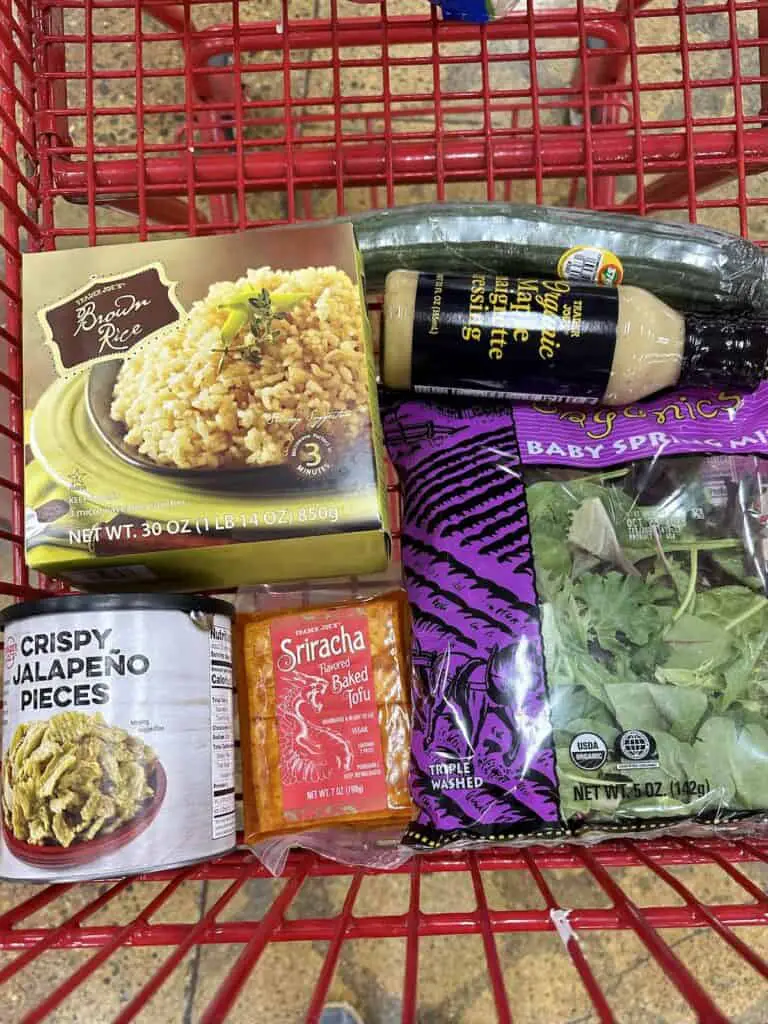 This Asian-inspired Spicy Rice Salad is oh so addicting, with the perfect balance of textures and heat. It tops the list for my favorite Trader Joe's Salad Recipes!
Base ingredients:
salad greens of choice
brown rice (quick-cooking frozen works great)
cucumbers
Sriracha Baked Tofu
Crispy Jalapeño Pieces
Maple Vinaigrette Dressing (unfortunately the Spicy Cashew Butter Dressing was discontinued…that was the best!)
Optional added ingredients (chopped or shredded):
cabbage
carrots
raw beets
Hearty Pasta: Easy Vegan Trader Joe's Meals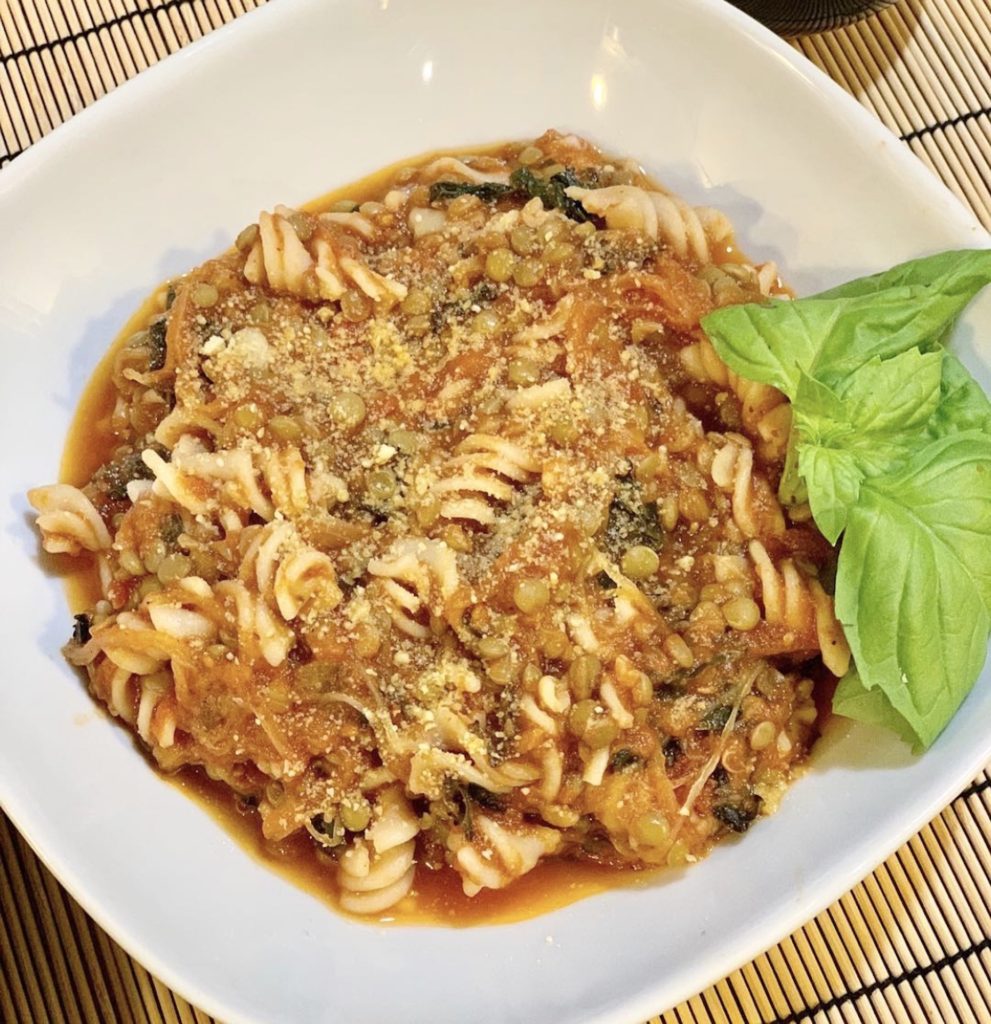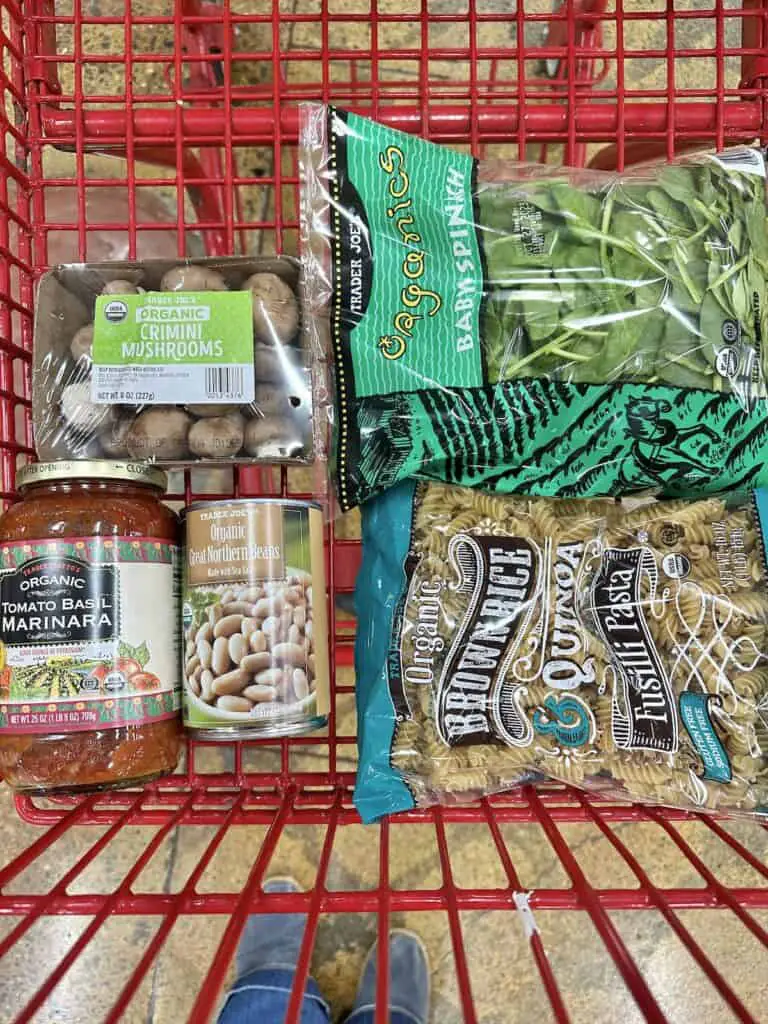 Healthy and hearty, this dish has so many variations and can be gluten free too.
Base ingredients:
pasta of choice
tomato sauce of choice
veggies of choice (like mushrooms, carrots, kale, spinach, spaghetti squash)
beans of choice (like white beans or ready cooked lentils or red lentils)
Method:
Cook pasta according to packaging instructions (and boil red lentils if using). Cook veggies as needed, then add sauce and legumes to warm. I often make this dish when I have leftover spaghetti squash as my kids barely notice it mixed in with all the pasta and sauce.
I hope this post gave you some new ideas for quick and easy Trader Joe's vegan meals! What is YOUR favorite TJ's quick meal?! Please let me know what you think in comments below!
For more Trader Joe's easy ideas, check out:
Or check out all of the Trader Joe's vegan posts here!
Cheers!
–Jenn
Save these Easy Trader Joe's Vegan Recipes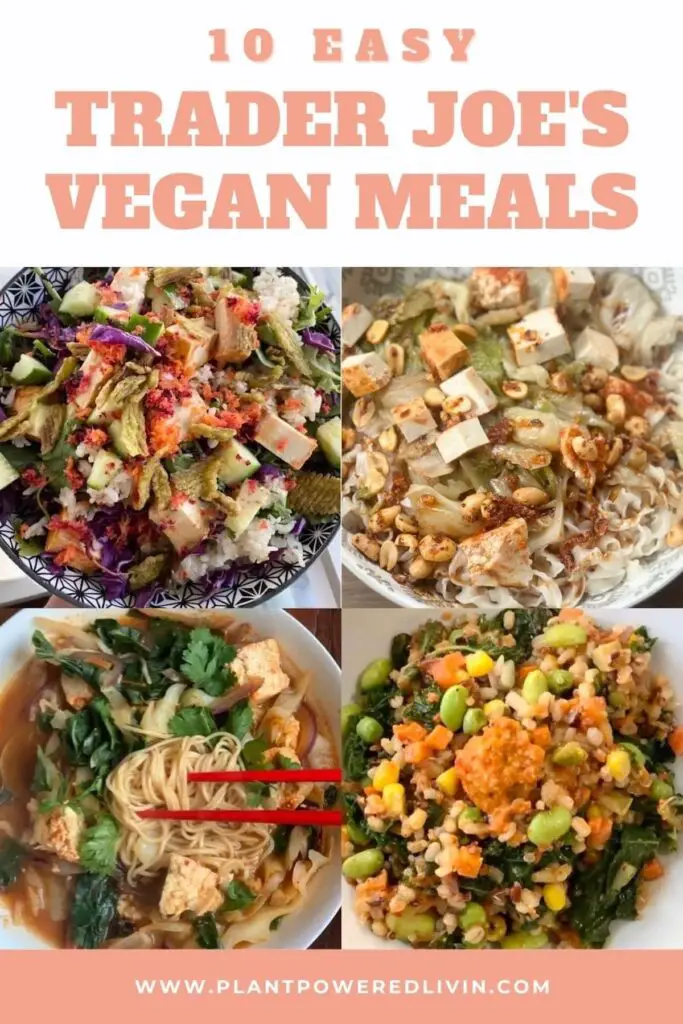 ---
---