Easy Vegan Meals for One
Eating plant-based solo and looking for easy vegan recipes to feed yourself well? Need a break from take out, frozen meals, or a can of soup? Check out these easy vegan meals for one: not only simple, but satisfying, nutrient-dense, and full of flavor.
Veggie Ramen
Nothing says comfort food like ramen! This is one of my favorite everyday vegan meals for one (usually for lunch, even brunch) when I am working from home during the week.
Base ingredients:
Optional Ingredients:
Method:
Simply follow the ramen directions to cook the noodles and broth (I omit the oil since I find it's tasty without it, your call). While they cook, sauté or steam veggies in a pan with 1/4 cup water. When the noodles/broth are ready, combine them with the veggies in the pan, add in tofu of choice and top with fresh herbs and/or sriracha.
This prep feels more elevated than just eating out of the paper cup and it's a scrumptious way to pack in the veggies!
Yuba (Tofu Skin) Noodle Salad
For a tasty, unique spin on a salad, try yuba noodles! These delicate noodles made of tofu skins are high in protein, low in carbs, and totally hit the noodle craving.
Yuba noodles come ready to eat…simply mix with a few ingredients and lunch (or dinner) is served!
Base ingredients:
Optional added ingredients:
other veggies like peas, jalapeños, avocado, carrots, and radishes
fresh herbs like cilantro or mint
squeeze of lemon juice
sriracha (if you want more spice)
Method:
Chop all veggies and greens. Toss with noodles. Taste. Since noodles are already seasoned, I find that they generally don't need added dressing…just a simple splash of fresh lemon and sriracha as desired to round out.
Get Creative with Hot Sandwiches
Whether you have a panini press or just a skillet, the creativity for plant-based sandwiches is endless. From souped-up grilled cheese and Italian sausage pressed delights to vegan reubens and chick'n parm English muffins, it seems we never repeat a sandwich…and every time it is undoubtedly a delicious mess!
You can find the best plant-based cheeses by style here.
Here are a few of our favorite vegan sandwich ideas:
Grilled Cheese
cheese of choice (or combo)
sandwich bread
vegan butter
veggies of choice (like caramelized onions, greens, tomatoes, peppers, or pickles)
Hot Italian
vegan sausage
tomato sauce
greens (optional)
bread of choice
vegan butter
Vegan Reuben
vegan meat substitute of choice (like seitan or deli meat or tempeh bacon)
sauerkraut
vegan Thousand Island (or I simply mix vegan mayo and sriracha for a quick one)
rye sandwich bread
vegan butter
Chick'n Parm
This sandwich is easiest baked in oven.
cooked vegan breaded chick'n of choice (nuggets or patties work)
tomato sauce
bread of choice (like English muffins or hoagies)
Method:
Build your sandwich as you normally would: cook any vegan meat or veggies (like onions or mushrooms) first. Then layer your sandwich and grease each side with vegan butter.
Tip for melting vegan cheese: to ensure maximum meltability, it is helpful to either put the cheese right on the skillet to warm/melt and then scoop it onto the bread, or else add a few teaspoons of water into the skillet with the sandwiches and cover to almost steam the cheese to melt. Both work like a charm!
Spicy Rice Salad
This Asian-inspired Spicy Rice Salad is oh so addicting, with the perfect balance of textures and heat. Click here for Trader Joe's-specific ingredient details if you shop there!
Base ingredients:
Optional ingredients:
cabbage
carrots
raw beets
sriracha sauce
Method:
Cook rice and allow to cool slightly. Then simply throw ingredients into bowl.
Hearty Pasta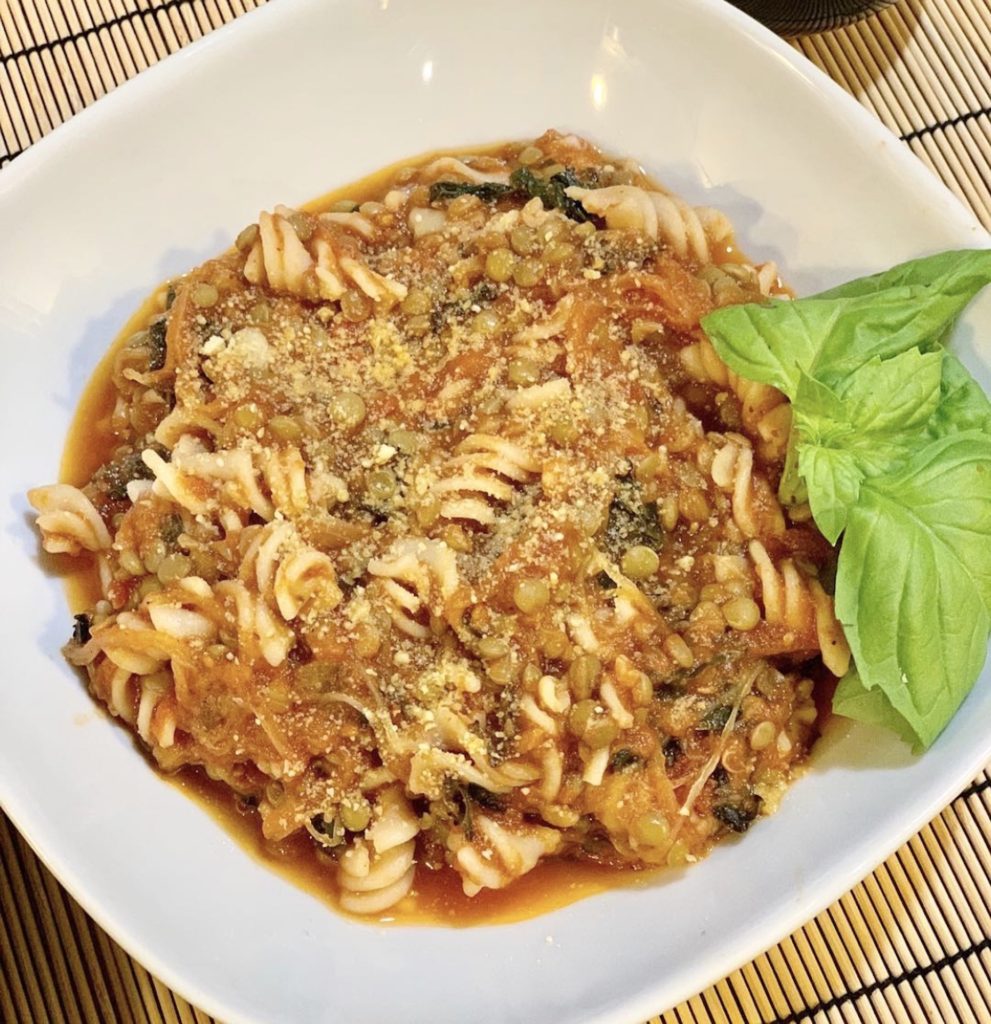 Healthy and hearty, this dish has so many variations. Simple warm the veggies and beans in your favorite sauce while the pasta is cooking. It is especially one of those easy vegan meals for beginners as you can throw in whatever you like!
Base ingredients:
pasta of choice
tomato sauce of choice
veggies of choice (like mushrooms, carrots, kale, spinach, squash)
beans of choice (like white beans or ready cooked lentils or dry red lentils)
Optional Ingredients:
Method:
Cook pasta according to packaging instructions (and boil dry red lentils if using). Cook veggies as needed, then add sauce and legumes to warm. I often make this dish when I have leftover spaghetti squash as my kids barely notice it mixed in with all the pasta and sauce.
Vegan Mexican Cobb Salad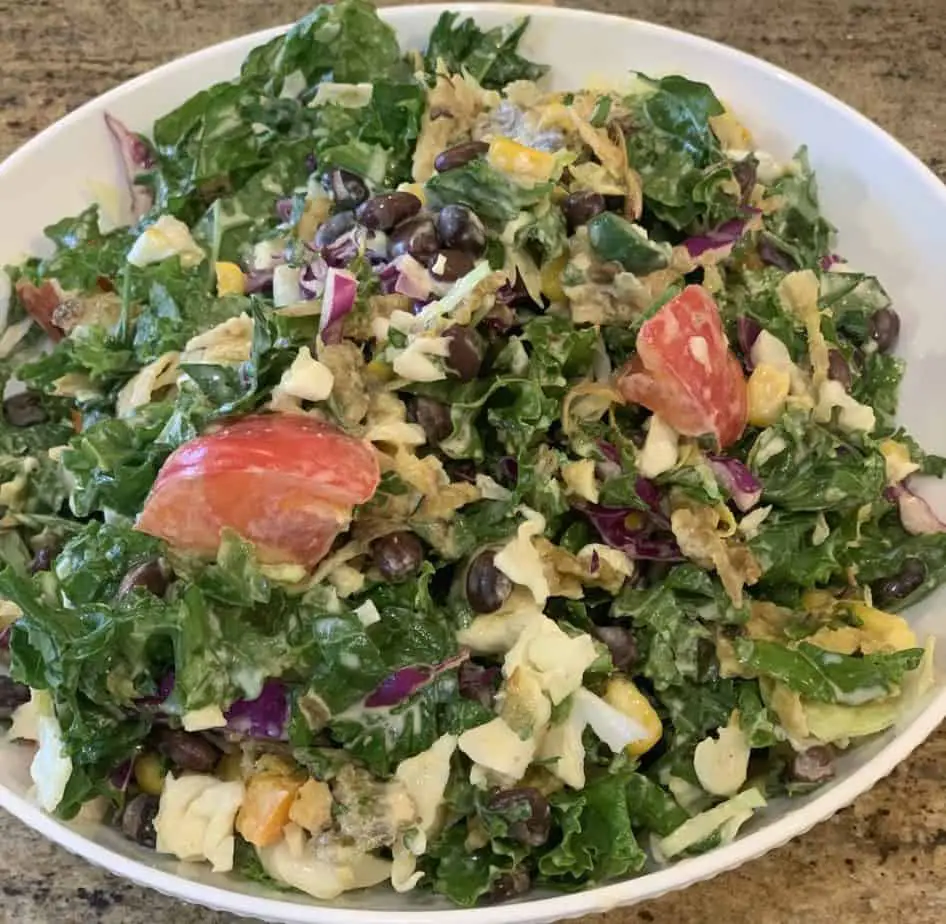 THIS is the salad I crave more than any other: creamy, spicy, light. Vegan Mexican Cobb Salad is essentially taco salad ingredients with a ranch-like dressing. Talk about easy vegan meals for one…
Base ingredients:
Optional added ingredients:
radishes
bell peppers
hemp seeds/hearts
plant-based chicken, cooked and cut into bite-sized pieces
Method:
Prepare meat substitute per package instructions if using. Then simply combine all ingredients into large bowl and toss to combine.
Veggie & Grain Bowl: easy vegan meals for one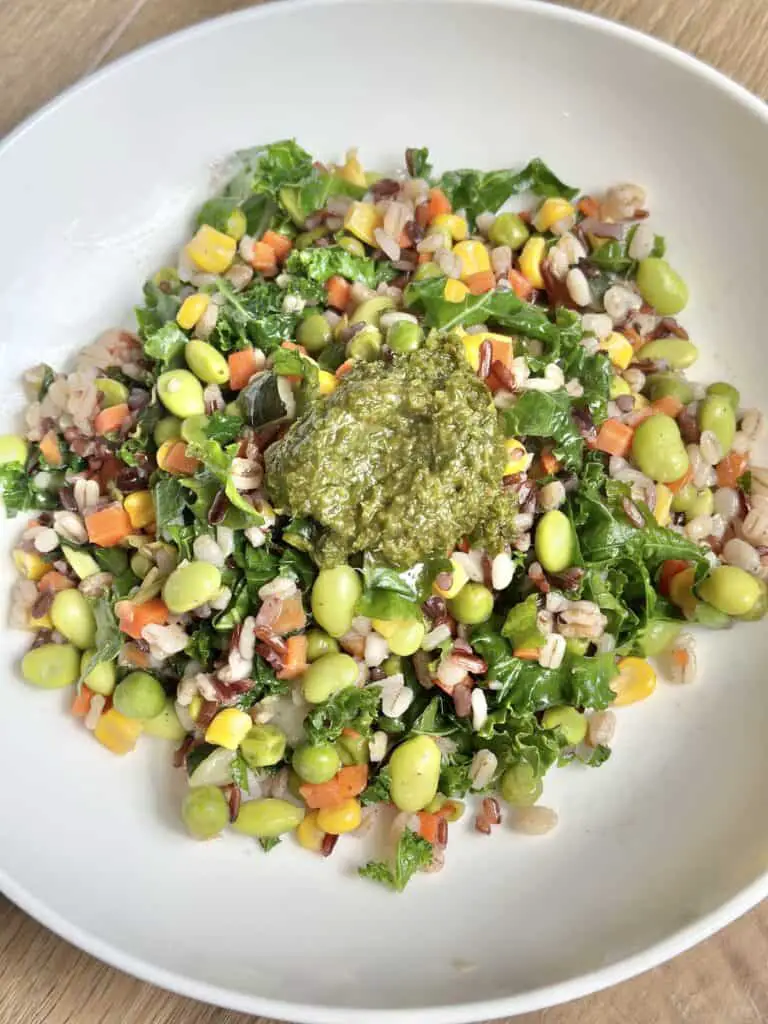 This creation is versatile and nutrient-dense! Simply mix together quick cooking grains with steamed veggies and top with your favorite sauce.
Base ingredients:
quick-cooking grains (like farro, barley, quinoa, or a frozen blend like Trader Joe's Multigrain blend)
frozen or fresh veggies of choice (like edamame, greens, carrots, peas, and corn)
sea salt, black pepper, or other simple seasoning
sauce of choice (like Trade Joe's Chimichurri, Bitchin' Sauce, or my green herb sauce)
Method:
Cook grains. Sauté veggies in a olive oil or steam in a few tablespoons of water. Add grains to veggies, season with salt and pepper, and top with sauce.
Vegan Taco Salad: easy vegan meals for one
Few dishes are more satisfying than a taco salad: fresh, crunchy, sweet, spicy, creamy. Whether you bowl looks neat or messy, it invariably hits the spot.
For a simple and irresistible taco salad dressing, try this 2-ingredient recipe: mix your favorite salsa & plain plant-based yogurt together. Depending on the salsa varietal and your spice tolerance, it is usually about 1:1 proportions.
Base ingredients:
romaine or greens of choice
black beans
corn (frozen or canned)
fresh tomatoes
avocado
tortilla chips, crushed
salsa of choice
plain vegan yogurt or sour cream
Optional ingredients:
radishes
bell peppers
fresh cilantro
prepared taco meat substitute with chili powder + cumin
Method:
Cook taco meat, seasoning with chili powder and cumin. Prepare dressing by mixing salsa and yogurt/sour cream (1:1 ratio to start, taste and adjust). Layer salad and top with cooled meat and salsa.
Vegan Kale Caesar Salad
Did you know that vegan Caesar dressing can be JUST as flavor-packed as the original? This was one of my most exciting discoveries when I went plant-based. Homemade vegan Caesar dressings are definitely worth your time, but there is at least one store bought Caesar that is also worth the skip…Trader Joe's!
Base ingredients:
kale or greens of choice
vegan caesar dressing (store bought like Trader Joe's or homemade)
Optional ingredients:
radishes
tomatoes
chickpeas (from can or roasted)
plant-based chicken nuggets, baked and sliced
hemp seeds/hearts
Method:
Cook nuggets if using. If using kale, add salad dressing, mix, and set aside to allow leaves to soften (about 15 minutes). Then add other ingredients, toss, and enjoy!
Easy Spicy Tofu Sushi Rolls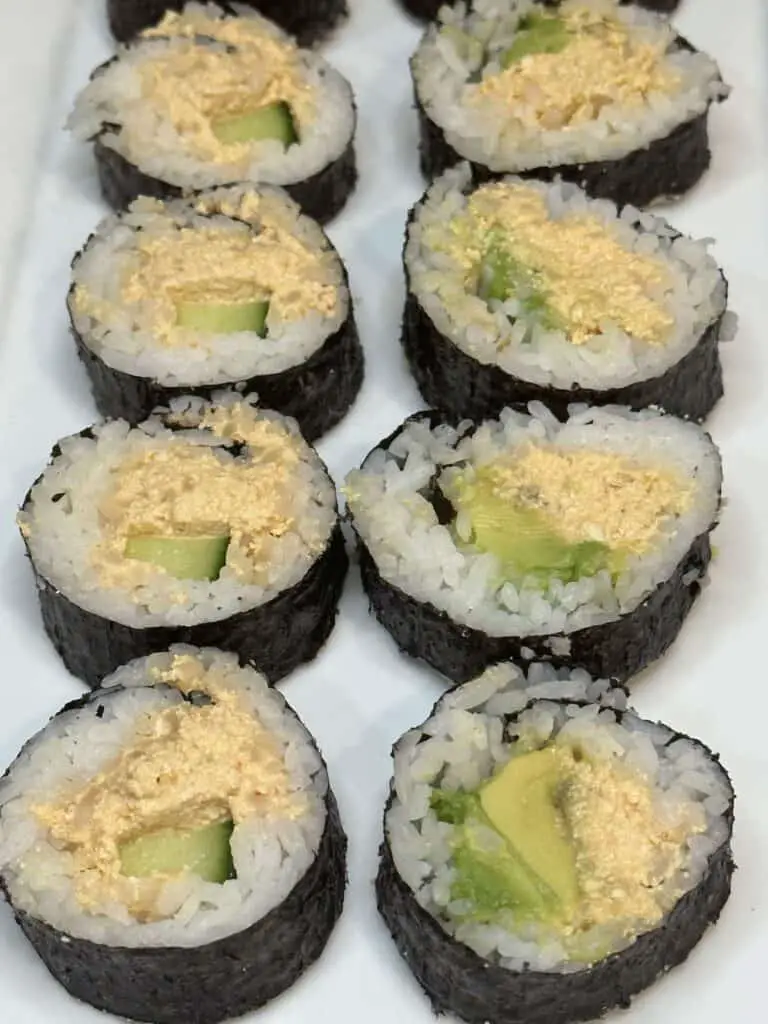 Craving sushi but wanna ditch the fish? These creamy, delicate, slightly spicy Tofu Sushi Rolls (aka vegan California rolls) are sure to hit the spot! And this recipe makes 2 large rolls, perfect for dinner for one!
Hearts of Palm Sushi Rolls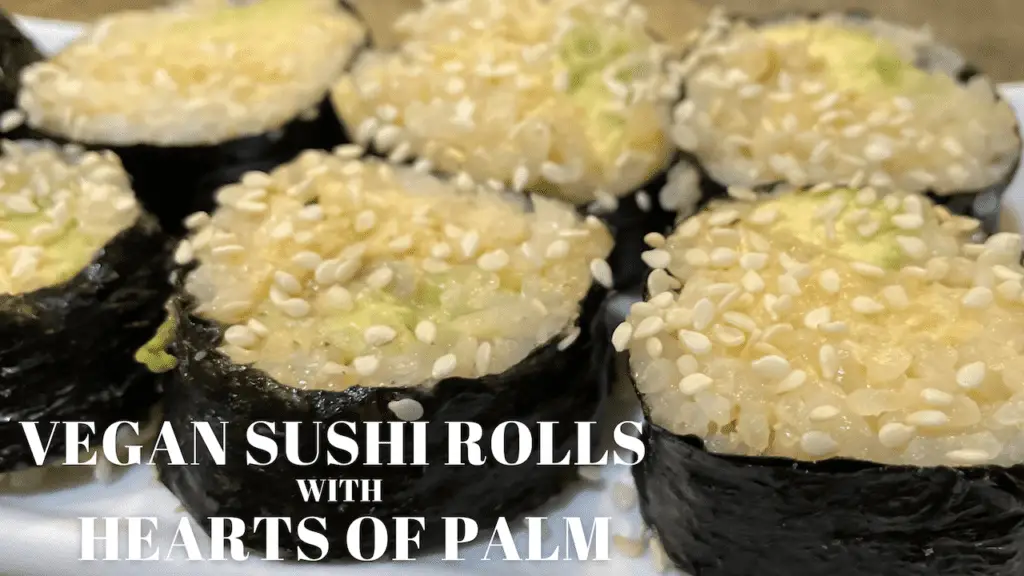 Another sushi idea for one! Hearts of palm make a perfect fish substitute in vegan sushi because the texture is delicate and flaky, similar to cooked fish, crab, and other shellfish. This vegan sushi roll recipe blends hearts of palm with horseradish, a common seafood condiment. The result is a vegan maki filling that is light and flaky with a taste reminiscent of the sea!
This recipe also makes two large rolls, plenty of food for one person!
Semi-Homemade Veggie Dumpling Soup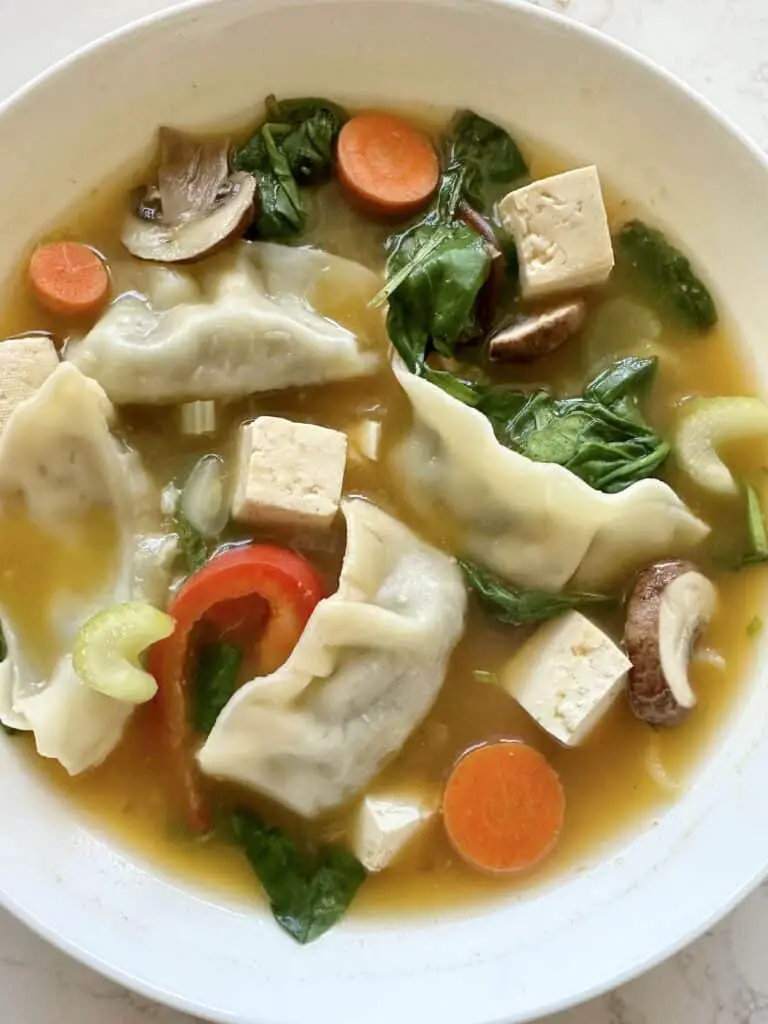 Craving cozy comfort food? Try my super simple ONE POT Semi-Homemade Veggie Dumpling Soup!
It's ALMOST too simple to even be a recipe. But after trying to explain my method to an interested friend, I realized it I had a few hacks that would be beneficial to write it down and share.
For a solo meal, I would cut the recipe in half…you will likely have leftovers, too.
Pasta Salad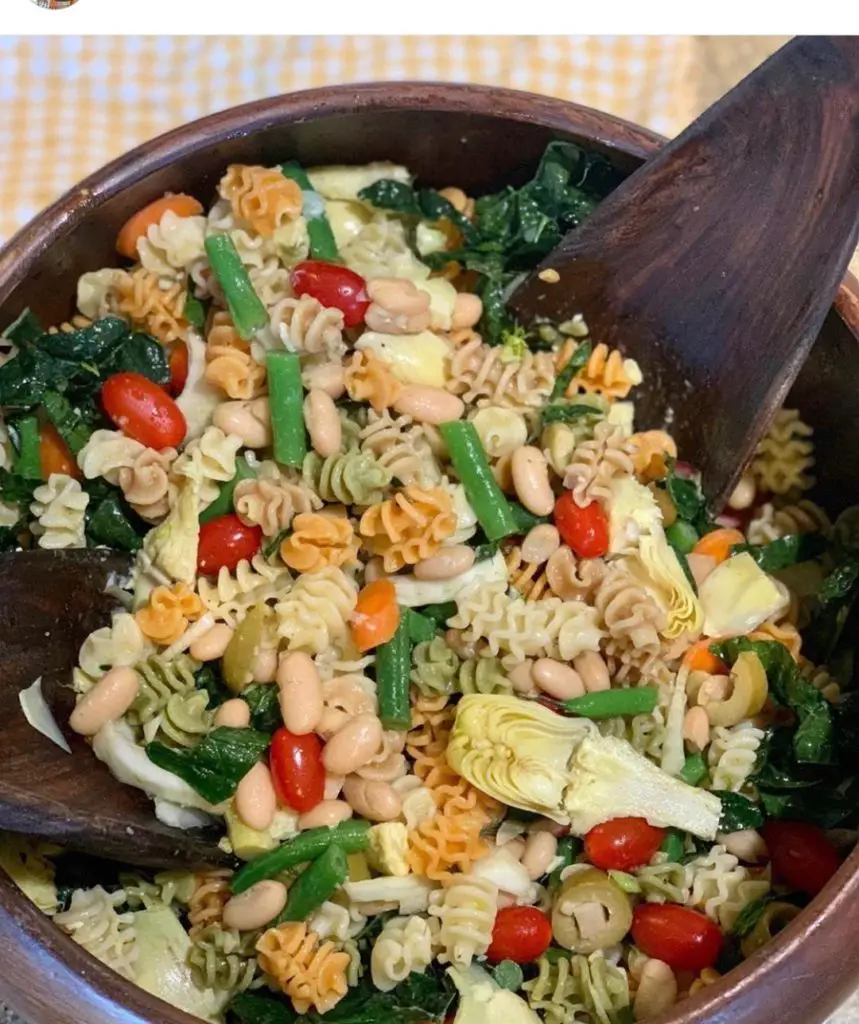 I used to think of pasta salads as a side dish…until I lived through my first summer as a vegan. And then I learned that pasta salad is one of the most versatile salad meal ideas for adults and kids alike!
This is an easy dish to make for one person, just cook the amount of pasta you want and eyeball the other ingredients too. It also keeps well so leftovers are awesome (sometimes better).
Base ingredients:
pasta (I look for the most colorful one on the shelf)
fresh veggies like tomatoes, green beans, carrots, celery, kale, arugula, radish, or peppers
beans like red beans, white beans, or chickpeas
dressing options: vinaigrette of choice, green goddess, store bought tahini dressing, or homemade delectable tahini dressing or Tangy Herb Sauce
Optional ingredients:
canned veggies like artichoke hearts or hearts of palm
vegan chicken or sausage slices
hemp seeds/hearts
Method:
Cook pasta and vegan meat if using. Allow to cool. Then combine with veggies in large bowl and toss with dressing.
I hope these lazy vegan recipes gave you some new inspiration! Please, let me know what you think or share your favorite easy vegan meals for one in comments below.
Finally, for more plant-based meal ideas, check out:
Cheers!
–Jenn
Save these Easy Vegan Meals for One: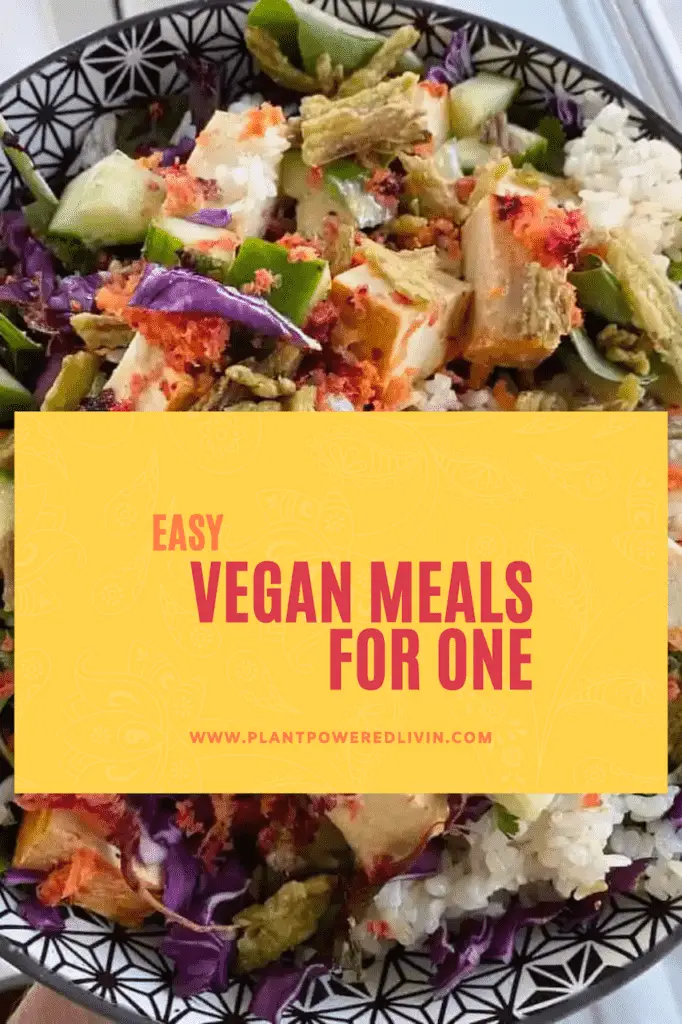 ---
---