Spicy Tahini Sauce (or dressing or dip!)
Jump to Recipe
One of the most underrated condiments of all time: tahini IMO! And this simple vegan oil free recipe is a one stop shop for spicy tahini sauce, spicy tahini dip, or spicy tahini dressing! A satisfying balance of garlic, lemon, and spice with a touch of sweetness.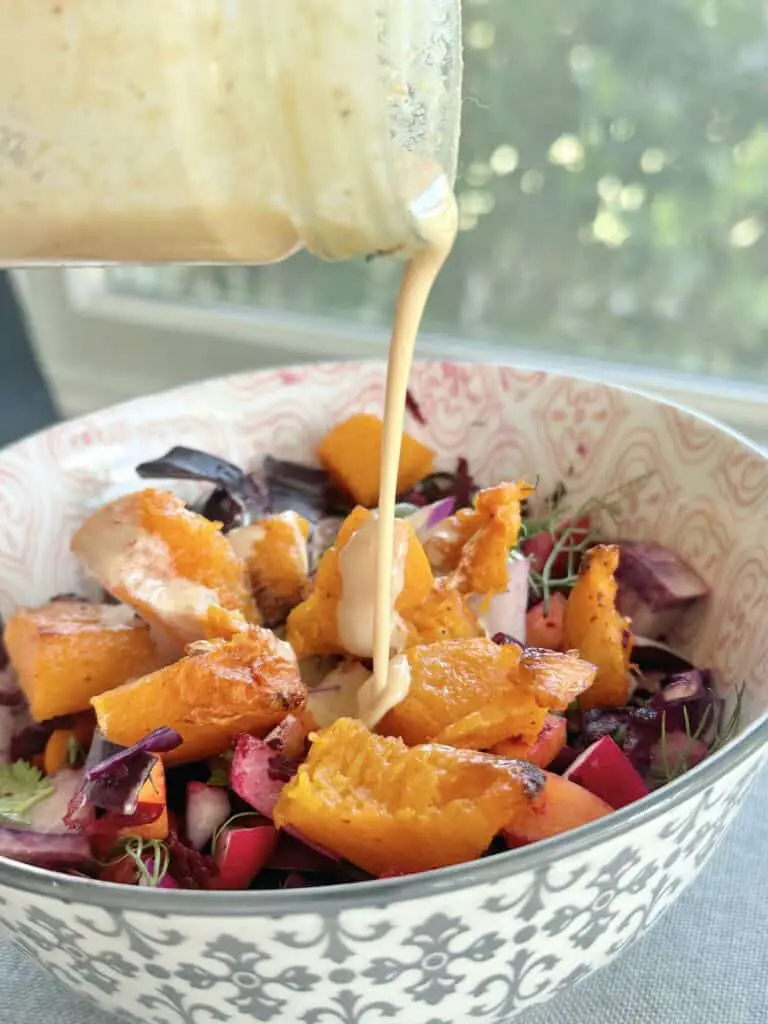 Disclosure: I only recommend products I use myself and all opinions expressed here are my own. This post contains affiliate links, which means that if you make a purchase, I may earn a small commission at no additional cost to you.
What is tahini made of?
Tahini is simply sesame seeds that have been hulled and ground into a smooth paste. You can find tahini in almost any grocery store. Depending on the brand, store bought tahini can be raw or toasted.
What does tahini taste like?
Tahini is rich and nutty in flavor. Some brands of tahini paste are more bitter, some are more buttery.
Tahini is generally smooth and silky in texture. Some brands of tahini paste need to be stirred to mix in the natural oils, similar to some natural brands of nut butters.
Check out the best tahini brands accordingly to three Arab American cooks at Kitchn.
Why you'll love this spicy tahini recipe
This easy vegan tahini sauce is:
Ingredients & Substitutions
How to make tahini sauce
First, heat some water on the stove or microwave.
While its heating up, mix all other ingredients in a glass jar or other container with a lid. Stir with whisk or fork.
Next, add in warm water.
Finally, if you have time, let sauce sit on counter for up to an hour to allow flavors to blend. Or, if making ahead of time, store in fridge.
Tahini Sauce Serving Suggestions
Tahini is oh so versatile and will elevates endless dishes. This delicious recipe can be used as a salad dressing, a dip, or a sauce. Here are my favorite three ways for how to use tahini:
1. Oil Free Tahini Dressing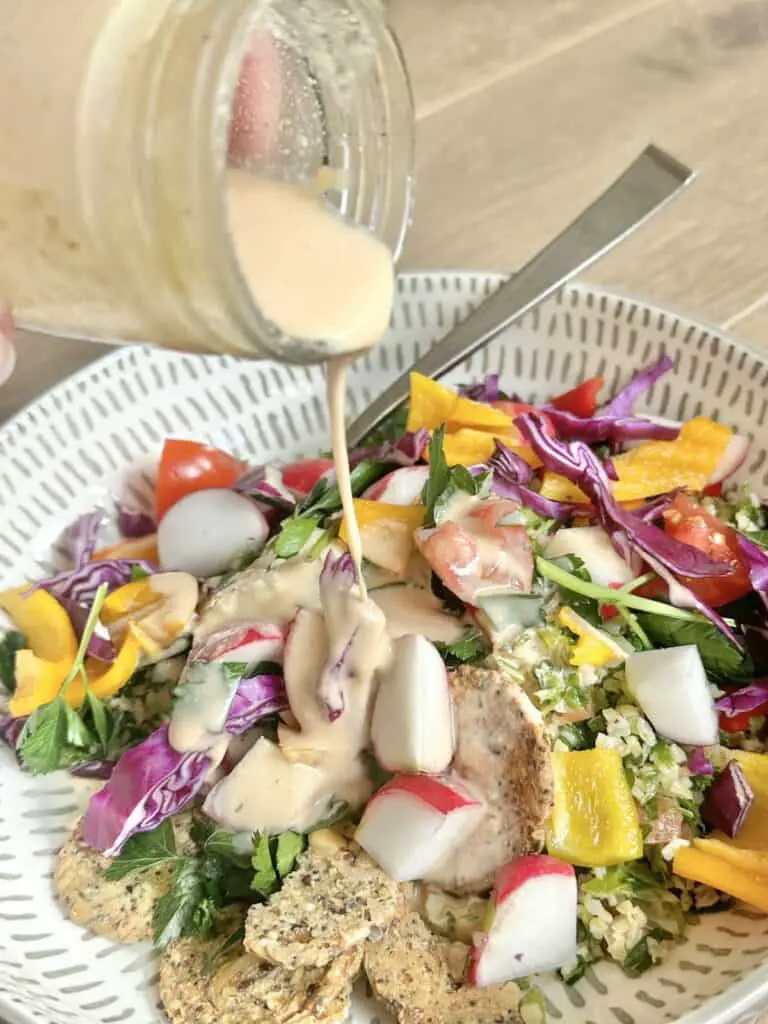 This spicy maple tahini dressing is particularly perfect for a kale salad. It stands up to the tough kale leaves, both softening them with its natural oil and minimizing the bitterness of the kale leaves. Complementary salad ingredient ideas include:
2. Spicy Garlicky Tahini Sauce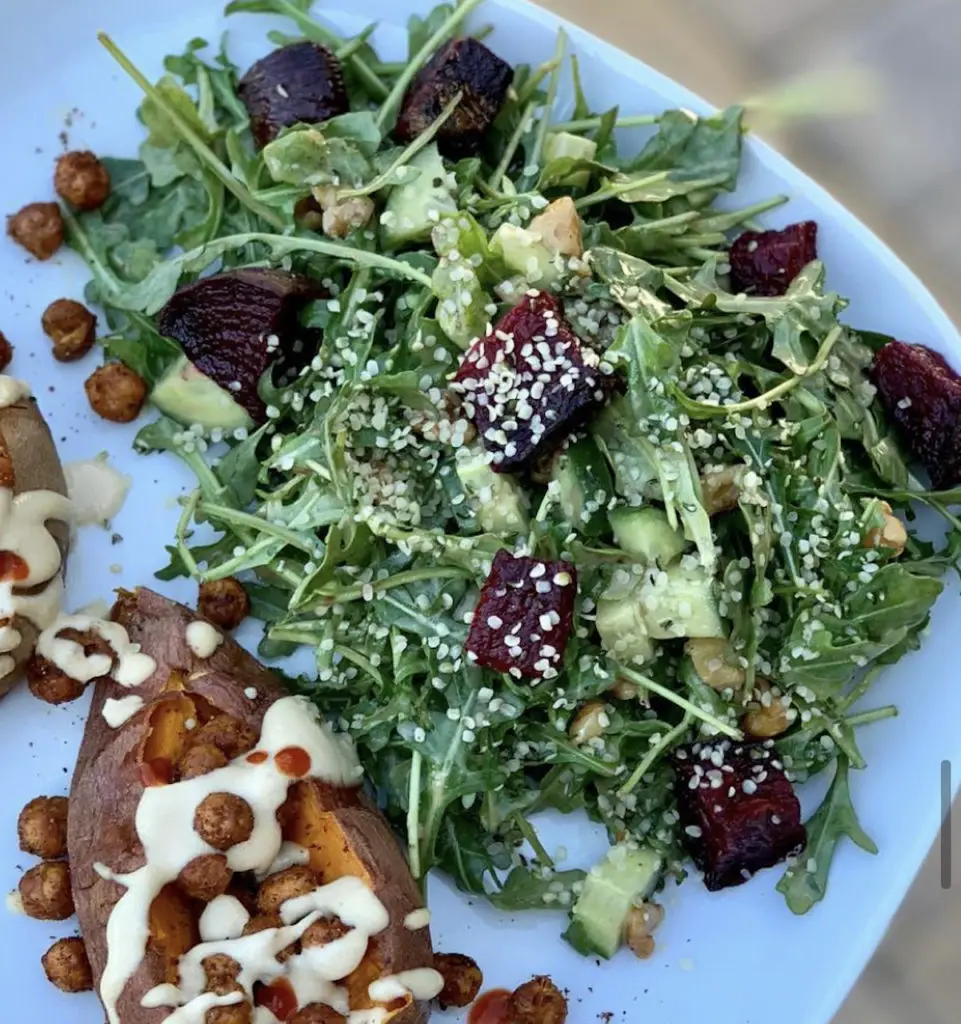 Baked sweet potatoes can move from a side dish to a main course with this delectable tahini sauce! Add some roasted chickpeas too for added crunch and protein. Serve with a side salad.
3. Spicy Tahini Dip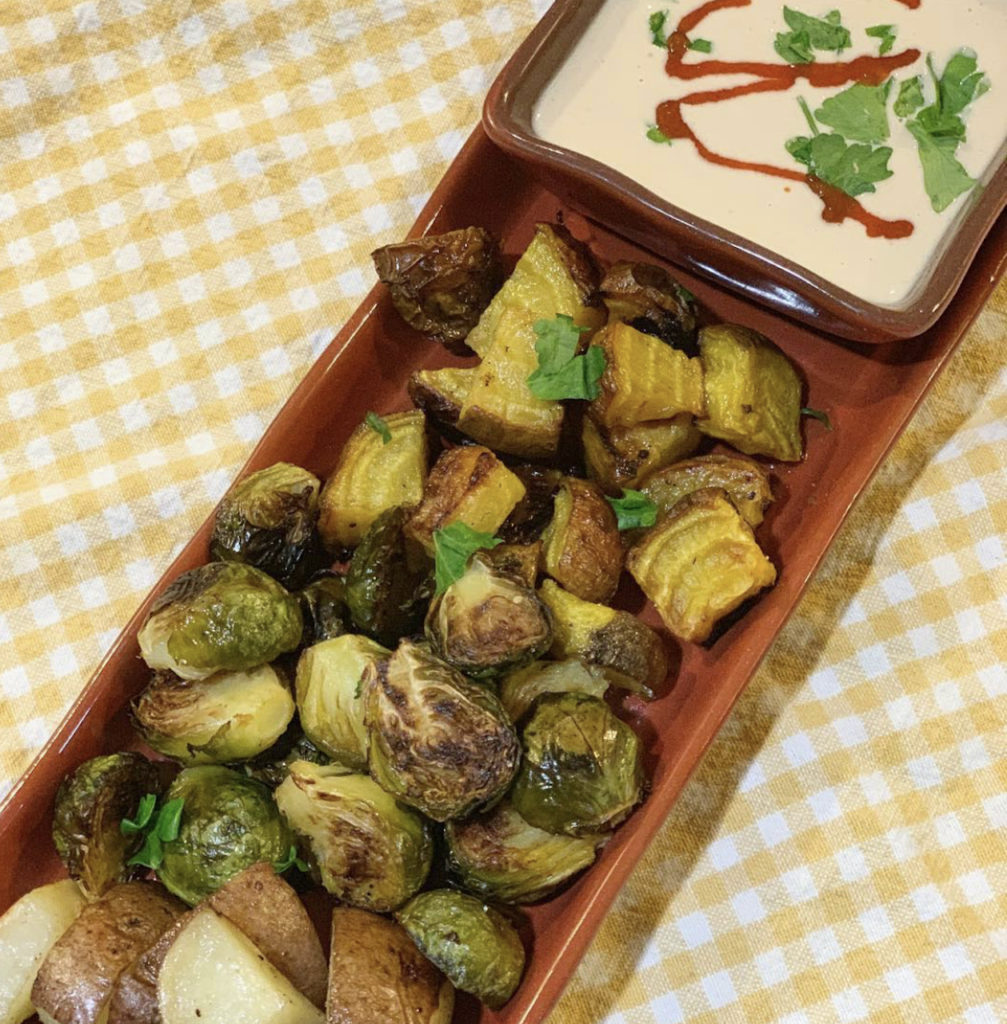 Finally, this recipe is amazing as a dip for roasted vegetables. Perfect complimentary veggies include crispy roasted beets, garlicky roasted cauliflower, air fryer sunchokes, broccoli, sweet potatoes, white potatoes, and Brussels sprouts.
Storage
Store in refrigerator in air tight container for up to 7 days. When ready to use, add a few teaspoons of warm water and stir to thin. If possible, leave tahini sauce out on counter for 30 minutes before use to soften naturally (this will allow for less added water to be needed).
FAQs
Is tahini supposed to be spicy?
Tahini on its own is not spicy. However, tahini is mixed with other ingredients to make tahini sauce, which is often made spicy.
Is tahini usually bitter?
Some brands of tahini are a bit more bitter than others; it all depends on how the sesame seeds are processed to make the paste.
Is tahini good for you?
Yes, tahini is a whole food that is full of nutrients, like healthy fats, thiamine (B1), B6, phosphorus, and manganese. Tahini also anti-inflammatory compounds, antibacterial properties, and is full of antioxidents.
What is the difference between tzatziki and tahini?
Tzatziki is a Greek sauce made with yogurt, cucumbers, garlic, and fresh herbs. Tahini is a Middle Eastern sauce made with sesame seed paste. Both sauces are often used in Mediterranean dishes like falafel.
What do you eat tahini with?
Tahini is delicious in endless dishes. Most notably, it is a key ingredient in hummus. But tahini can also be used to make sauces, dressings, and dips. Tahini sauce is commonly used in Middle Eastern dishes like falafel as well as in buddha bowls.
For more plant-powered dressings, sauces, and salad ideas, check out: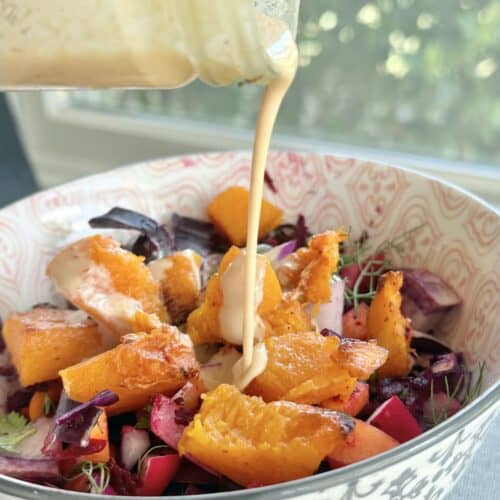 Spicy Tahini Sauce (or dressing or dip!)
This tasty concoction is a satisfying balance of garlic, lemon, and spice with a touch of sweetness.
Can be served immediately, or, ideally, let sit for 1-24 hours to allow flavors to come together.
Ingredients  
1/3

cup

tahini

1/4

tsp

garlic powder

1

tsp

coconut aminos

(can sub tamari or extra sea salt if unavailable)

4

tbsp

lemon juice

5/8

tsp

maple syrup

1

tbsp

sriracha

flexible to add more/less

1/8

tsp

sea salt

2-6

tbsp

warm water to thin*

(amount depends on thickness of tahini and how well it is stirred, varies by brand)
Instructions 
Whisk together all ingredients except water.

Slowly add warm water until desired thickness is achieved.
Notes
*THICKNESS: based on preference; consider thinning out more when using as dressing and keeping a bit thicker when using as a sauce or dip
MAKE IN ADVANCE: can be made in advance or served immediately; the longer it sits, the more the flavors will blend
STORAGE: cover and store in fridge for up to 7 days; to reconstitute, add a bit more warm water
Nutrition
Please, let me know what you think of the recipe once you try it by rating and commenting below!
Cheers!
-Jenn
Pin this spicy tahini dressing for later: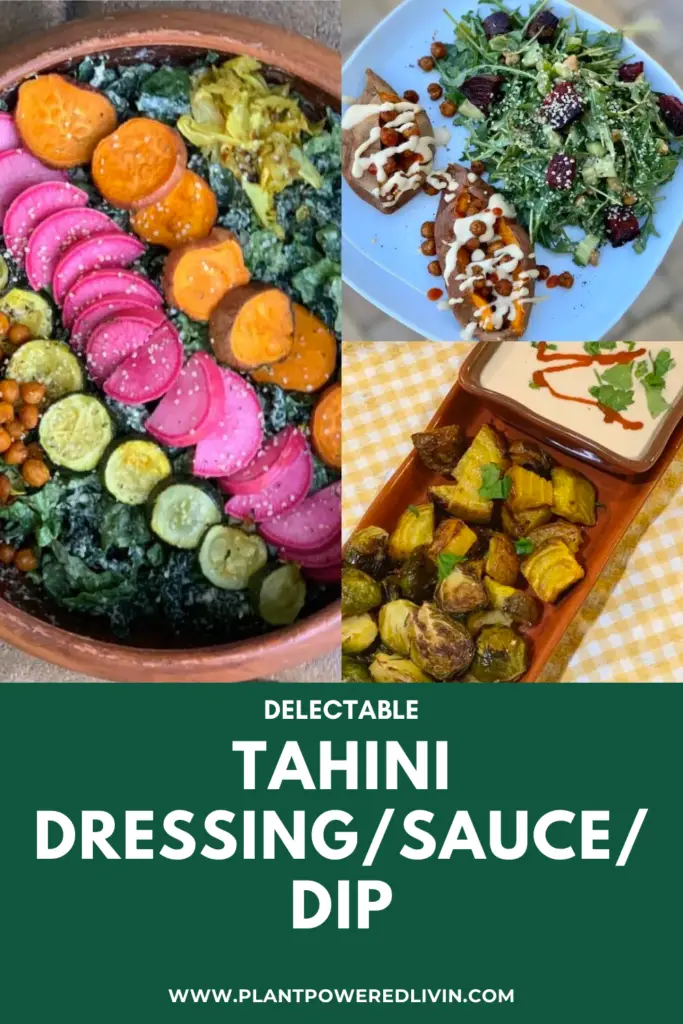 ---
---