Quick High-Protein Vegan Salad Ideas
Looking for fast, tasty, nutrient-dense salad inspiration that is plant-based? From Mediterranean to Asian to Mexican-inspired, these 9 quick high-protein vegan salad ideas gotcha covered!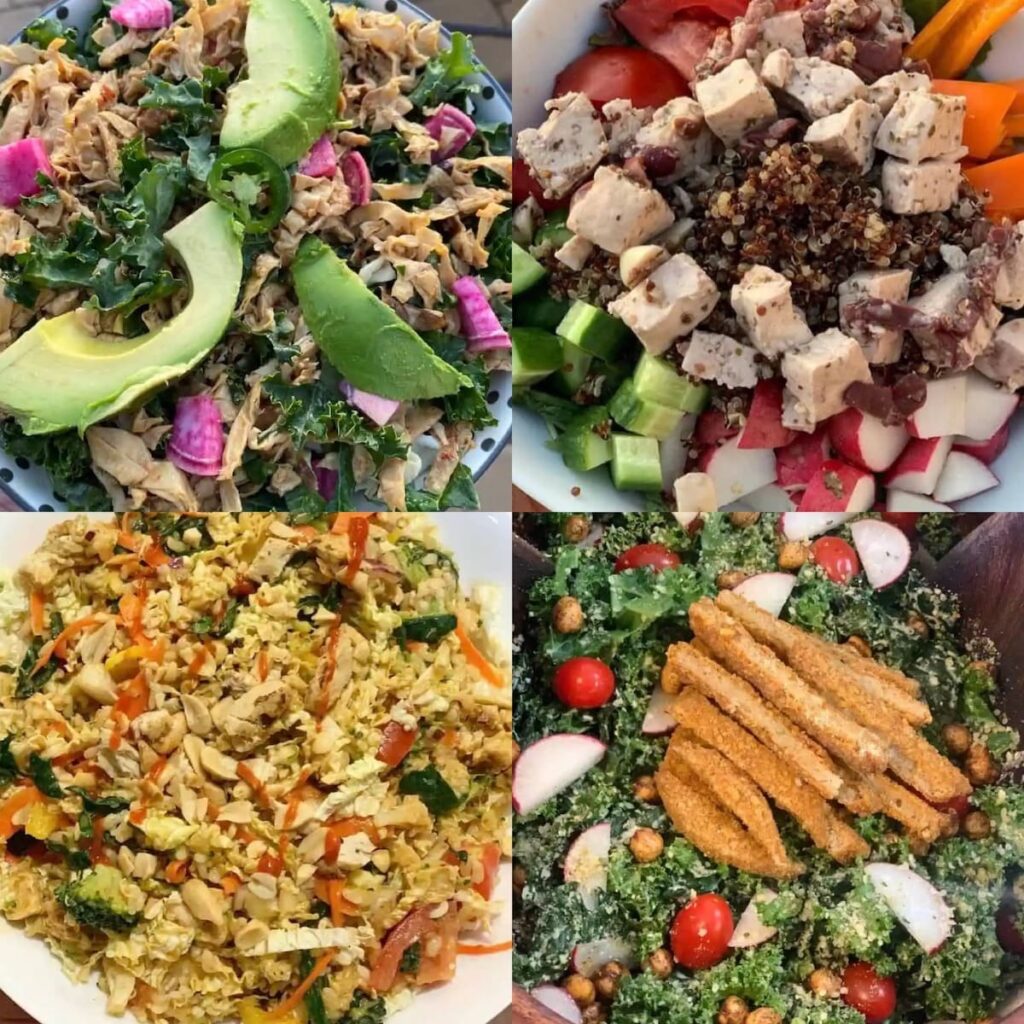 Vegan Salad Meal Prep Tips:
Short on time but craving hearty vegan salads? Here are my top tricks for quick salad meals:
Make cooked ingredients in advance (like grains or tofu feta). Since they're going on a salad, no need to be warm when serving (except maybe the meat alternatives). And make extra for another salad later in the week!
Prepare dressings in advance if making homemade. Not only quicker on the back end…time also allows the flavors to blend together.
Eating on the run? Invest in some large Tupperware or mason jars to make salads in advance, or even make a few for the week.
High-Protein Vegan Salad Ideas
Tofu Skin Salad (Yuba Salad)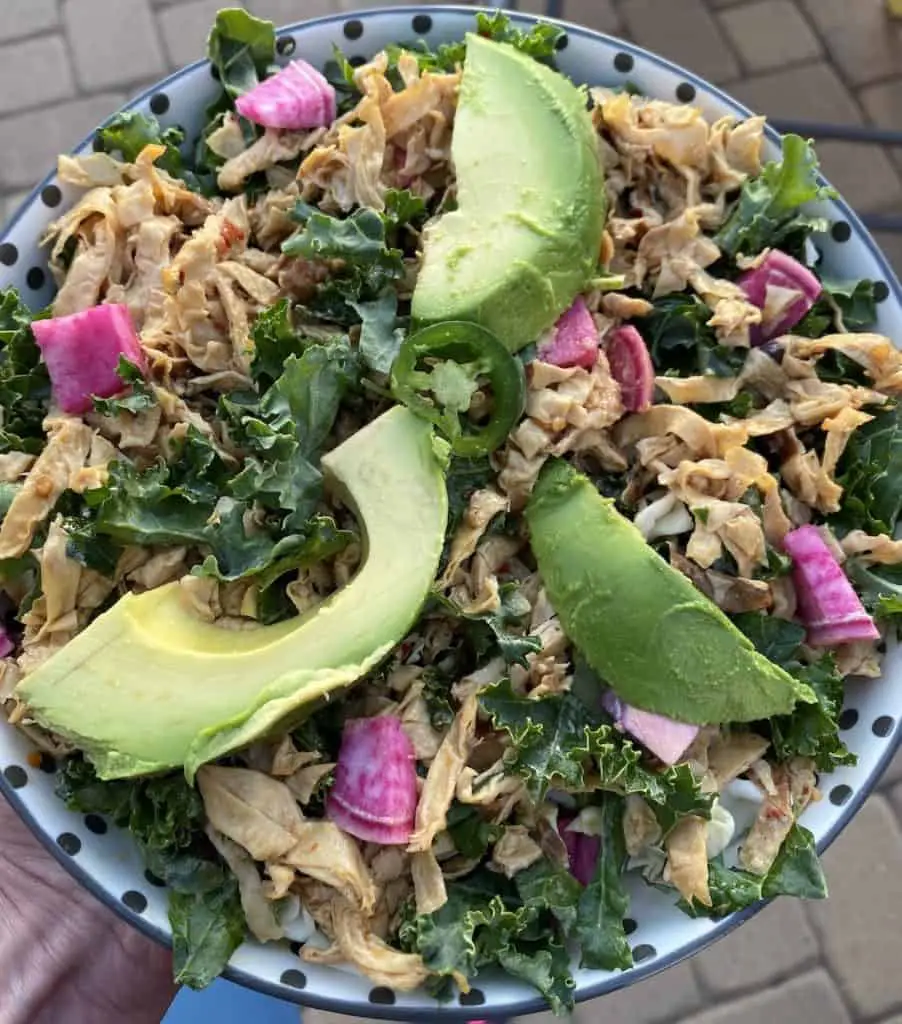 For a tasty, unique spin on a salad, try yuba noodles! These delicate noodles made of tofu skins are high in protein, low in carbs, and totally hit the noodle craving.
While some yuba noodles come plain and unseasoned (even dry), I go for the ones that are already seasoned and ready to eat. Simply mix with a few ingredients and lunch (or dinner) is served!
Base ingredients:
Optional added ingredients:
other veggies like peas, jalapeños, avocado, carrots, and radishes
fresh herbs like cilantro or mint
squeeze of lemon juice
sriracha (if you want more spice)
Vegan Greek Salad with Tofu Feta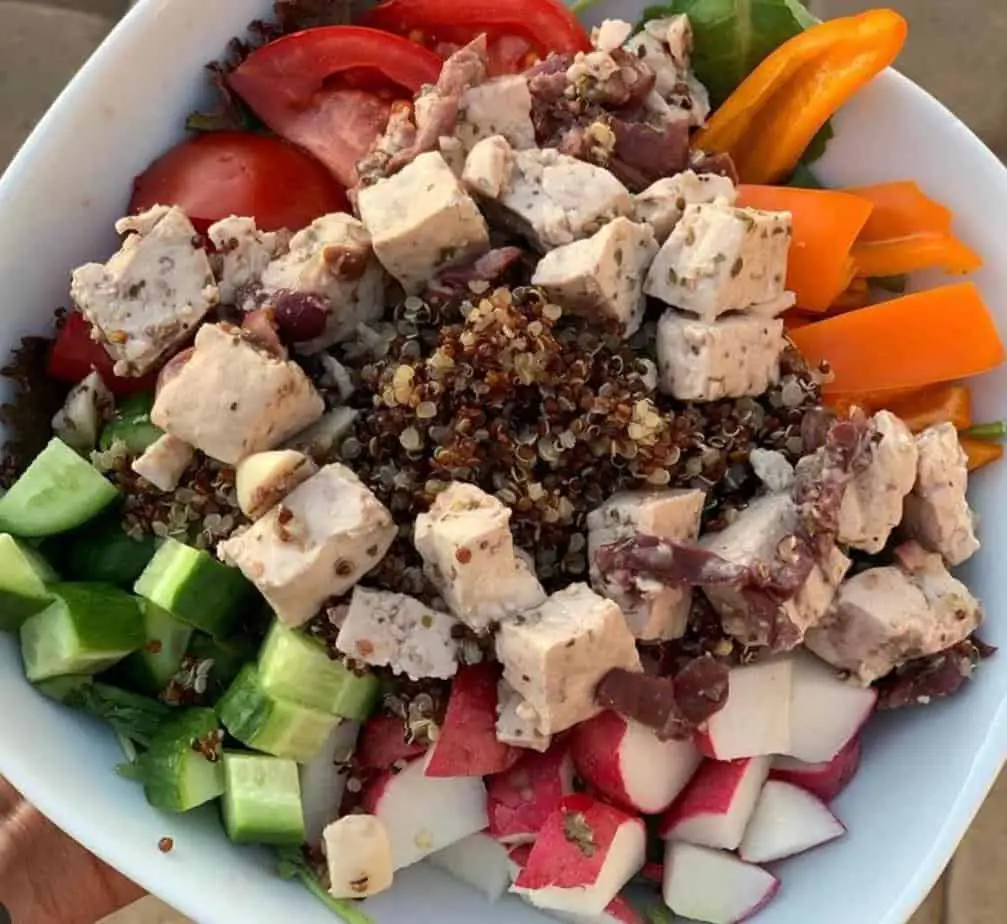 Tofu feta may sound bland, but this recipe by Dreena Burton is anything but! And while it does take a little time to make, it's better the longer it sits in the fridge. So it's a perfect meal prep item.
Make it a traditional Greek salad without greens, or throw in whatever inspires you!
Base ingredients:
tomatoes
onions
cucumbers
olives
dried oregano
dressing: light lemon and olive oil (or just use some of the tofu marinade!)
Optional added ingredients:
salad greens of choice
radishes
bell peppers
quinoa or other grains
Falafel Salad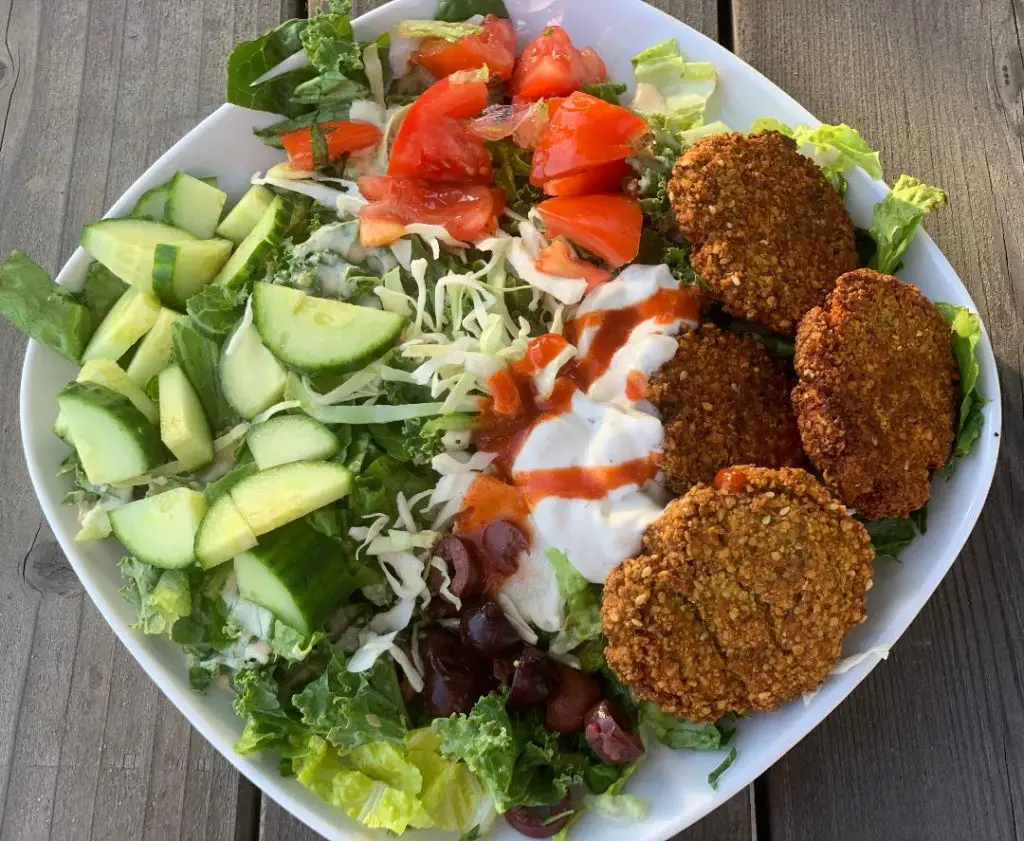 Falafel is not only a delicious and crunchy addition to a salad or bowl, but it's packed with protein and fiber.
Frozen falafel and falafel mixes are easy to find these days so there is very little incentive to make your own!
Base ingredients:
Optional added ingredients:
cabbage
chickpeas
radishes
olives
pita bread
Vegan Chopped Chicken Salad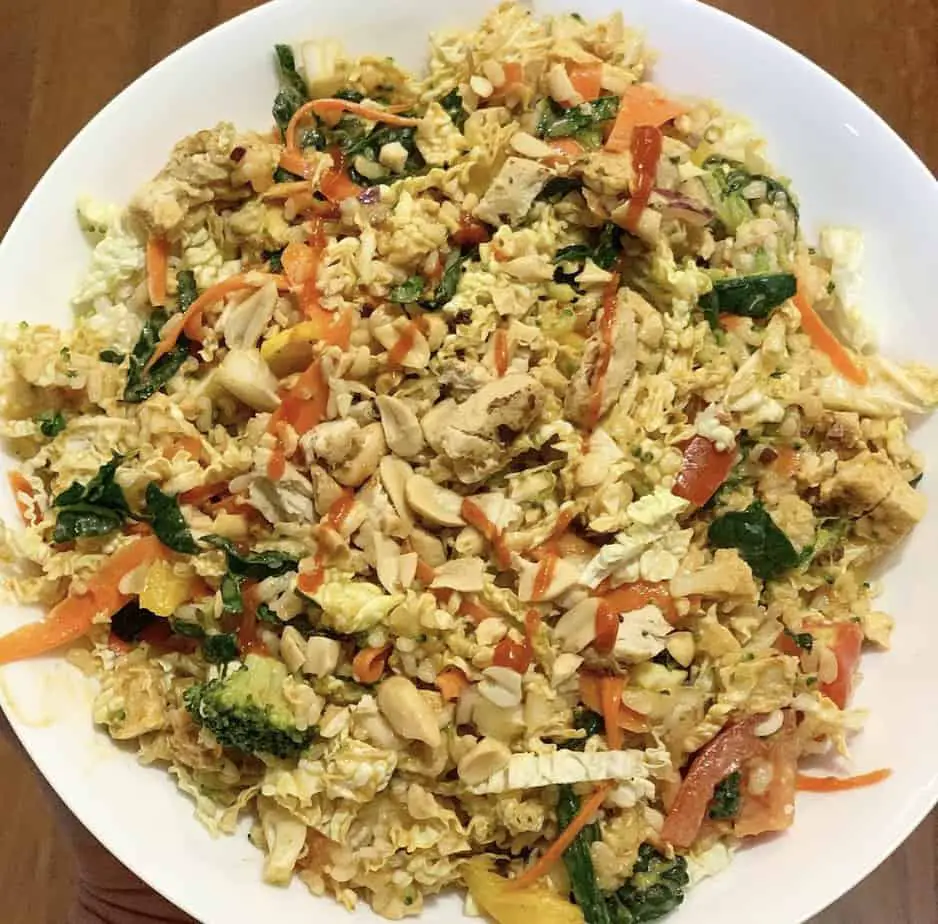 This Thai chopped salad is everything you could want on one plate: nutty, rich, sweet, spicy, savory, and crunchy! This Easy Thai Peanut Sauce recipe by She Simmers makes this salad!
Base ingredients:
Optional added ingredients:
brown rice
peppers
tomatoes
broccoli
sriracha
Spicy Rice Salad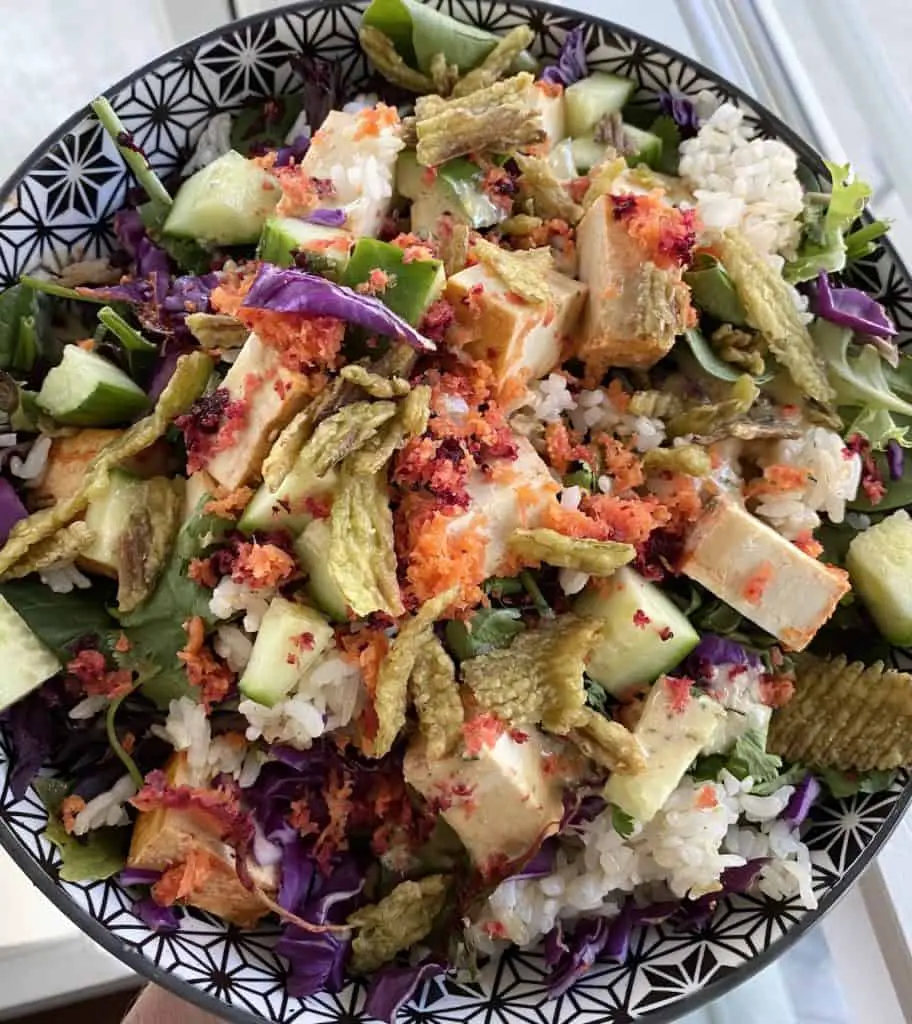 This Asian-inspired Spicy Rice Salad is oh so addicting, with the perfect balance of textures and heat. Click here for more Trader Joe's-specific ingredient details if you shop there!
The protein comes from sriracha baked tofu or tasty tofu nuggets.
Base ingredients:
Optional added ingredients (chopped or shredded):
cabbage
carrots
raw beets
Vegan Chicken Caesar Salad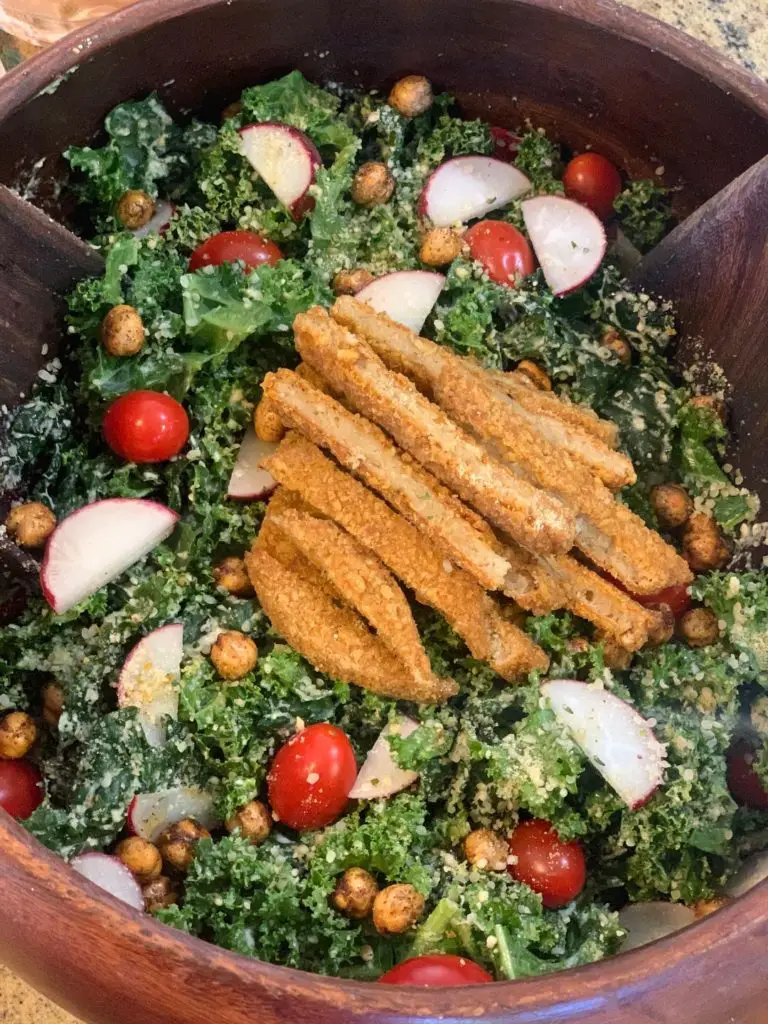 One of my favorite discoveries after becoming plant-based was that I can still eat Caesar salads…and honestly, they are just as tasty as the original. The key to the dressing is capers!
Make it a vegan chicken caesar salad for an amazingly satisfying protein-packed meal.
Base ingredients:
kale or greens of choice
Vegan Caesar Dressing, store bought or homemade
vegan chicken (I prefer fried for this salad, like Impossible nuggets)
Optional ingredients:
radishes
tomatoes
chickpeas (from can or roasted)
hemp seeds/hearts
Vegan Taco Salad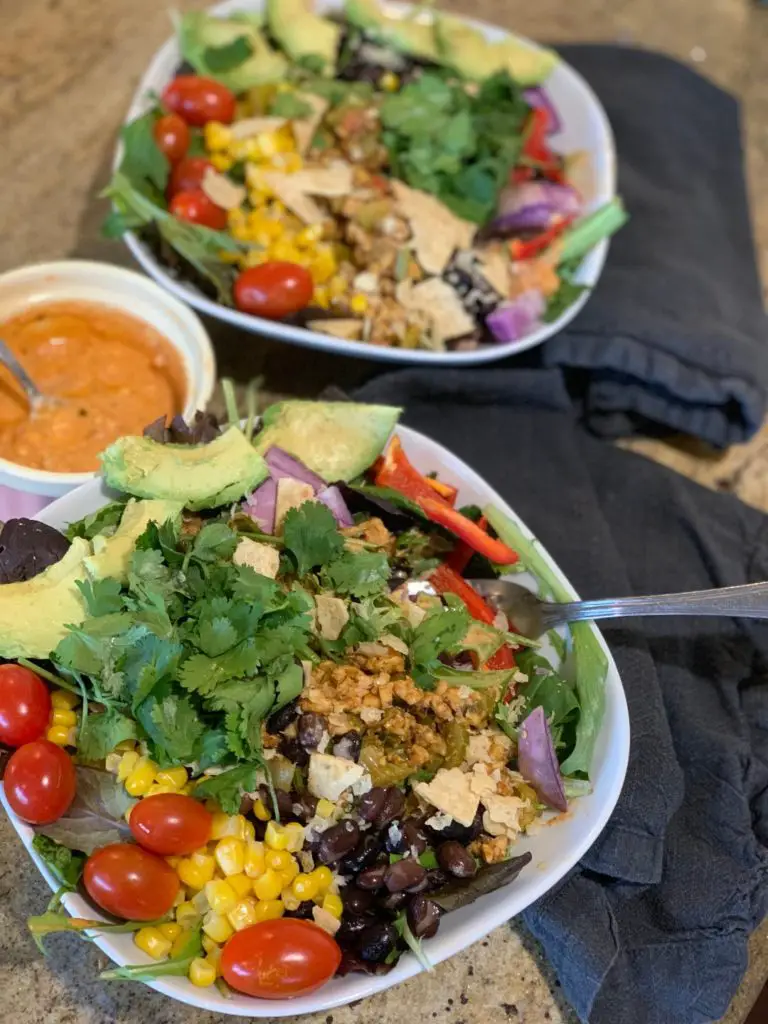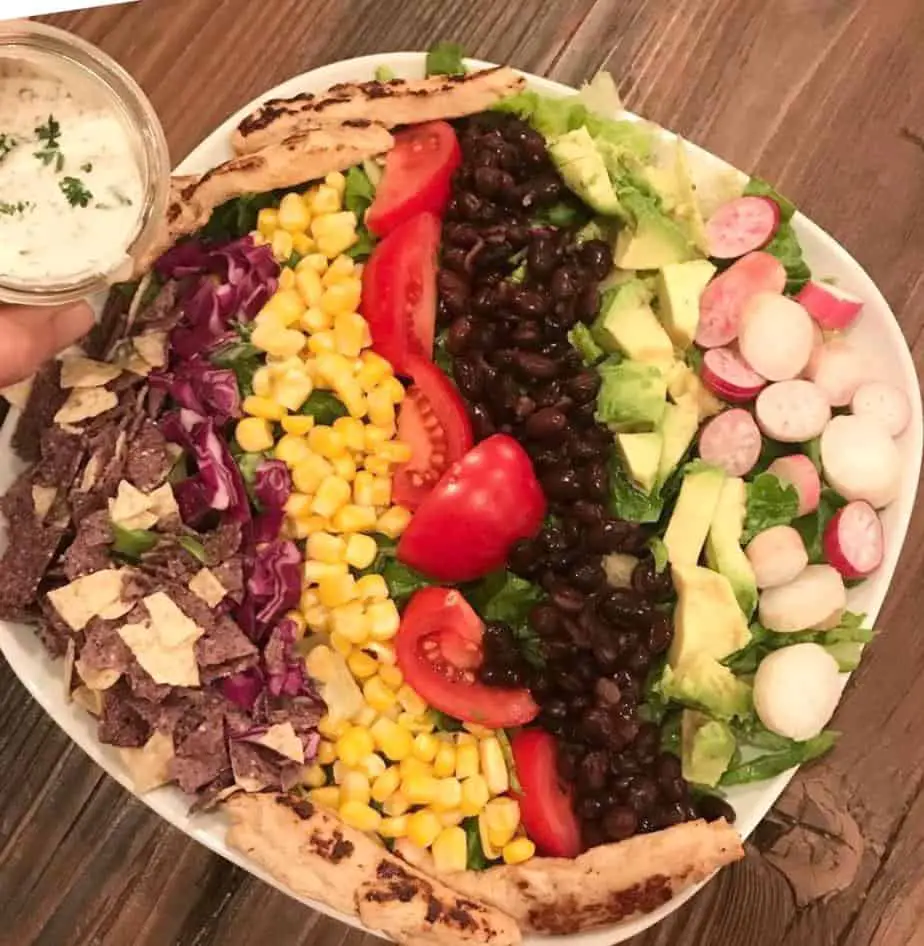 There's nothing more satisfying than a taco salad: fresh, crunchy, sweet, spicy, creamy. Whether neat or messy, it invariably hits the spot.
With both beans and a plant-based meat alternative, this bowl is full of protein.
Base ingredients:
romaine or greens of choice
black beans
plant-based meat (like Daring Foods or Gardein grilled chick'n or Beyond or Impossible ground beef with taco seasoning)
corn (frozen or canned)
fresh tomatoes
avocado
crushed tortilla chips or jalapeno crisps
Dressing:
Optional ingredients:
radishes
bell peppers
fresh cilantro
Raw Beet Salad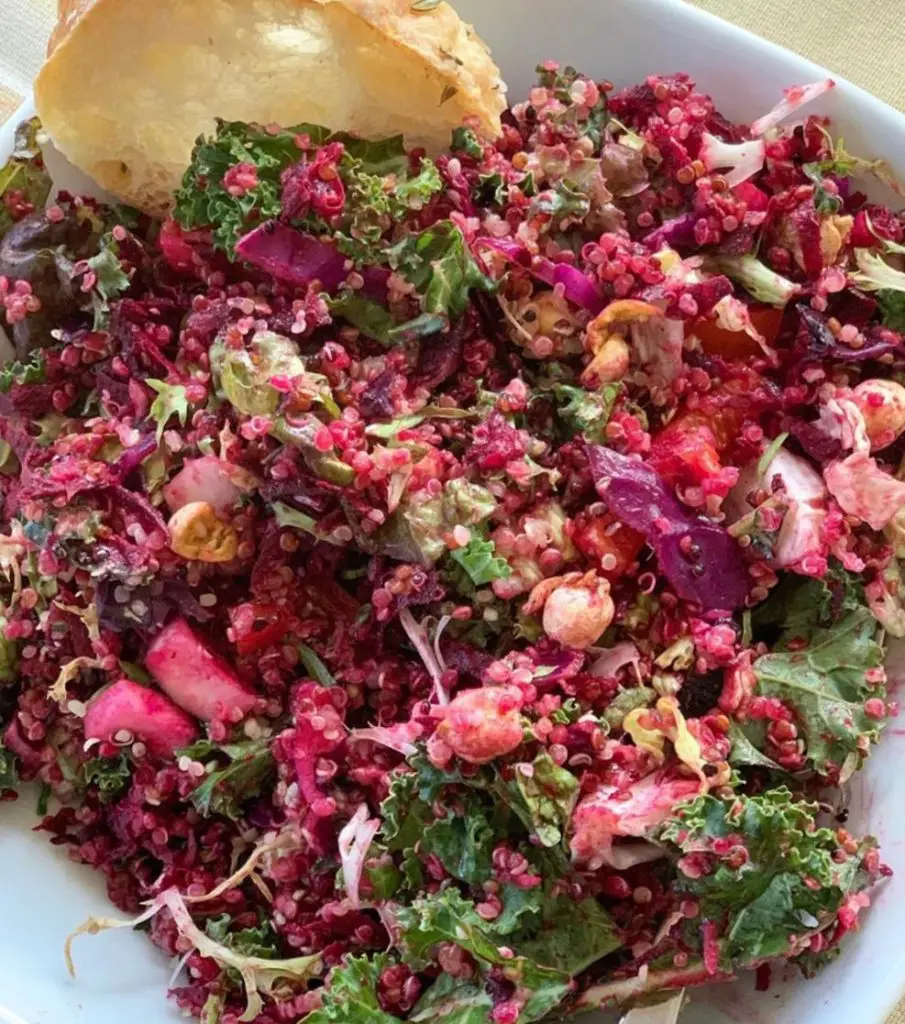 Perhaps the prettiest salads are ones that include raw shredded or grated beets. Not only colorful but surprisingly mild in taste when raw, beets can add the wow to any salad.
My favorite beet combo is mixed with a variety of greens, includes crunchy textures like roasted chickpeas and/or sweet/spicy nuts, and is dressed with tahini sauce. Adding grains like quinoa really makes it a protein-packed meal.
Base ingredients:
salad greens of choice
fresh shredded or grated beets
roasted chickpeas, homemade or store bought
quinoa or other grain of choice
tahini dressing or dressing of choice
Optional added ingredients (chopped or shredded):
baked tofu
shredded carrots
radishes
seeds or nuts of choice
Rainbow-inspired Salads: High-Protein Vegan Salad Ideas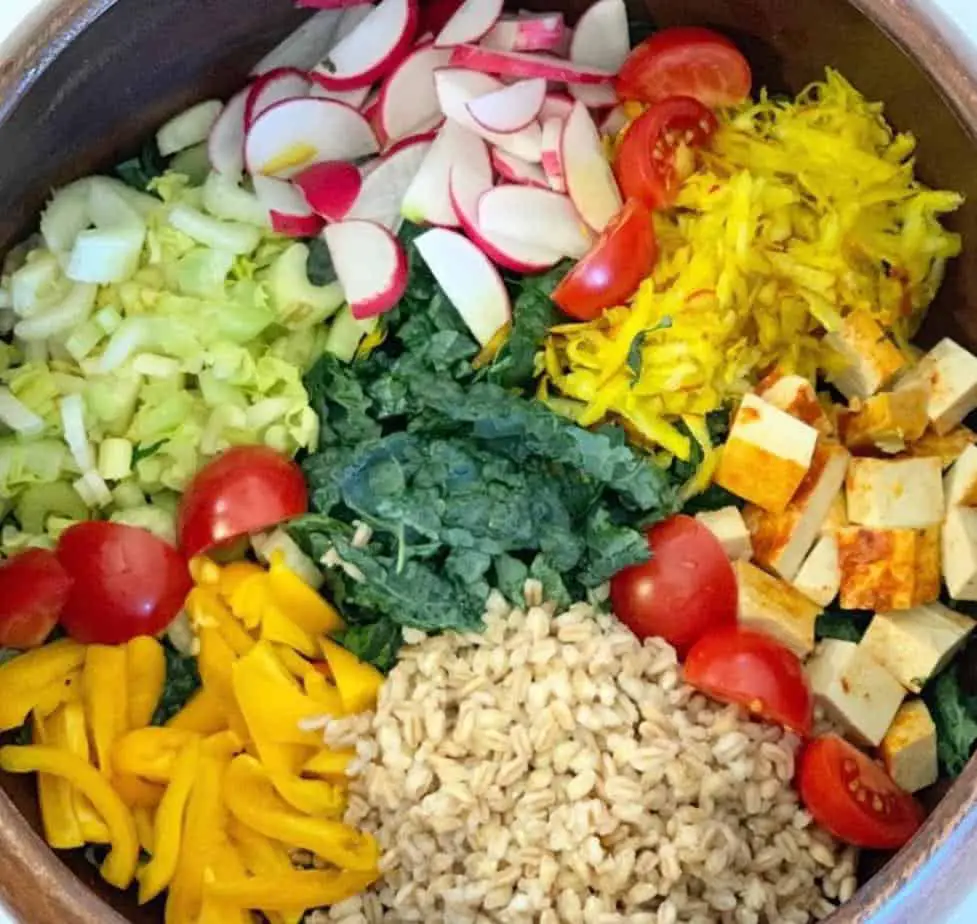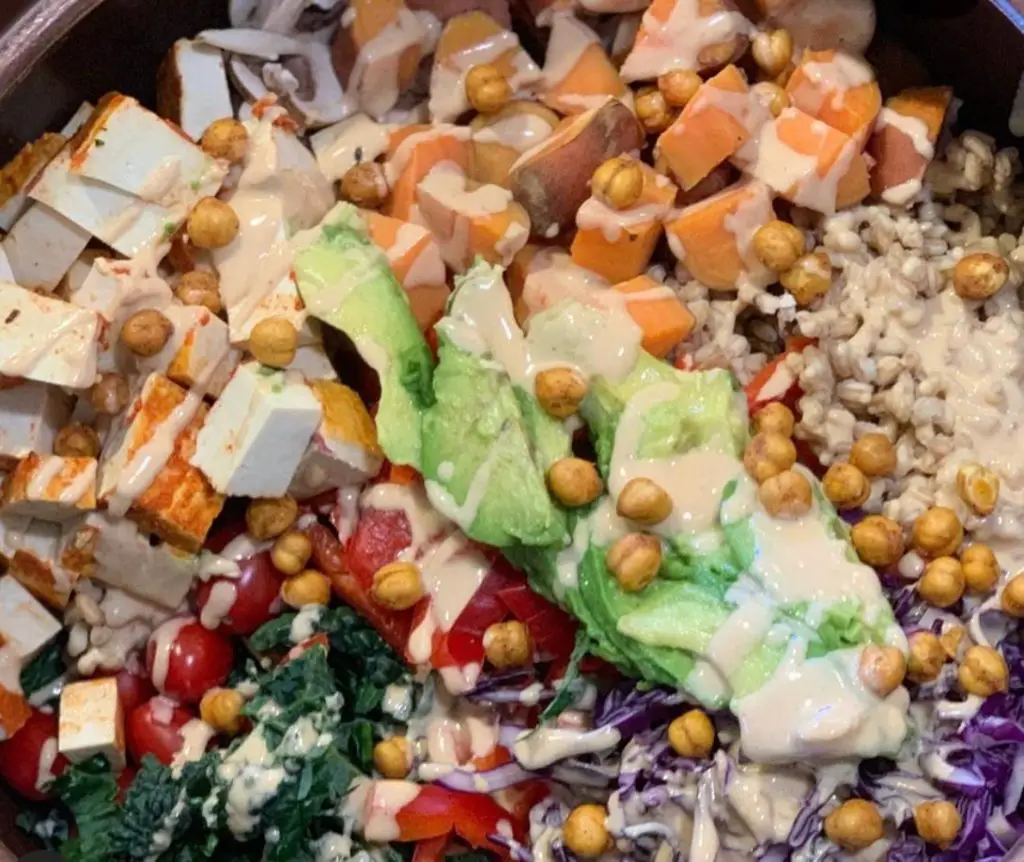 Sometimes, I simply use color as inspiration to create hearty vegan salads. First, I aim for about 5 veggies. Then, 1-2 proteins and 1-2 healthy carbs.
Ingredients:
kale or greens of choice
veggies like crispy roasted beets or shaved raw beets, radishes, cabbage, bell peppers, and tomatoes
proteins like Sriracha Tofu, chickpeas, or red beans
healthy carbs like sweet potatoes, barley, farro, or quinoa (I try to have at least one cooked in my fridge at all times)
dressing options: vinaigrette of choice, green goddess, store bought tahini dressing, or homemade tahini dressing
FAQs
How can I add protein to my salad without meat?
You can add plant-based protein to your salads either with whole plants or meat replacements. Plants that are high in protein include beans, lentils, seeds, nuts, quinoa, tofu, tempeh, and grains. Plant-based meat alternatives that work well on salads include vegan grilled chicken, vegan chicken nuggets or tenders, and plant-based ground beef or strips.
What do vegans eat for protein?
Vegans have many protein sources, like beans, lentils, seeds, nuts, nut butters, quinoa, tofu, tempeh, grains, and plant-based meat alternatives.
How do you replace meat protein with plant protein?
You can either replace meat protein with whole plant sources like beans, lentils, seeds, nuts, tofu, and tempeh, or you can use plant-based meat alternatives like vegan chicken or beef.
What vegetables are high in protein?
Many vegetables have protein; those highest in protein are peas, spinach, artichokes, avocados, corn, mushrooms, Brussels sprouts, kale, potatoes, and asparagus.
Which salad greens have the most protein?
Spinach, kale, Brussels sprouts, dandelion greens, and mustard greens make good salad choices and are relatively high in protein compared to other salad greens.
I hope these high-protein vegan salad ideas inspire you to try something new! And if you do, drop me a line to tell me about it in comments below!
For more high-protein meal ideas, check out:
Pin these Easy High-Protein Vegan Salad Ideas for later: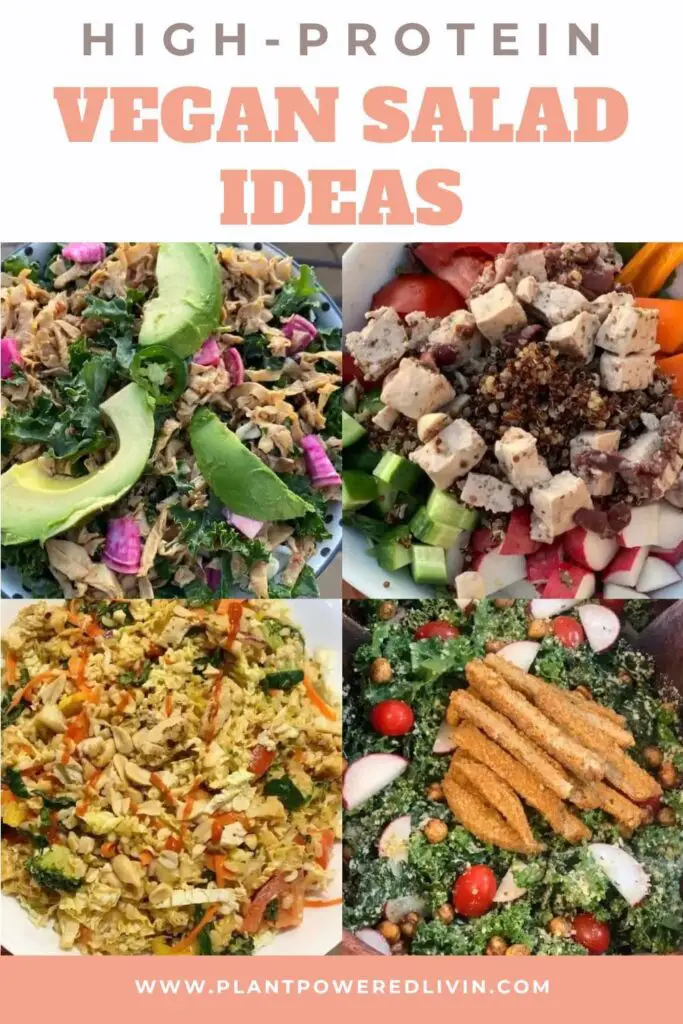 ---
---