Simple Sumac Dressing (sumac sauce)
This simple sumac dressing is light, bright, and tangy. Kick up your boring old salad or Mediterranean bowl with the addition of sumac, a zesty and colorful Middle Eastern spice.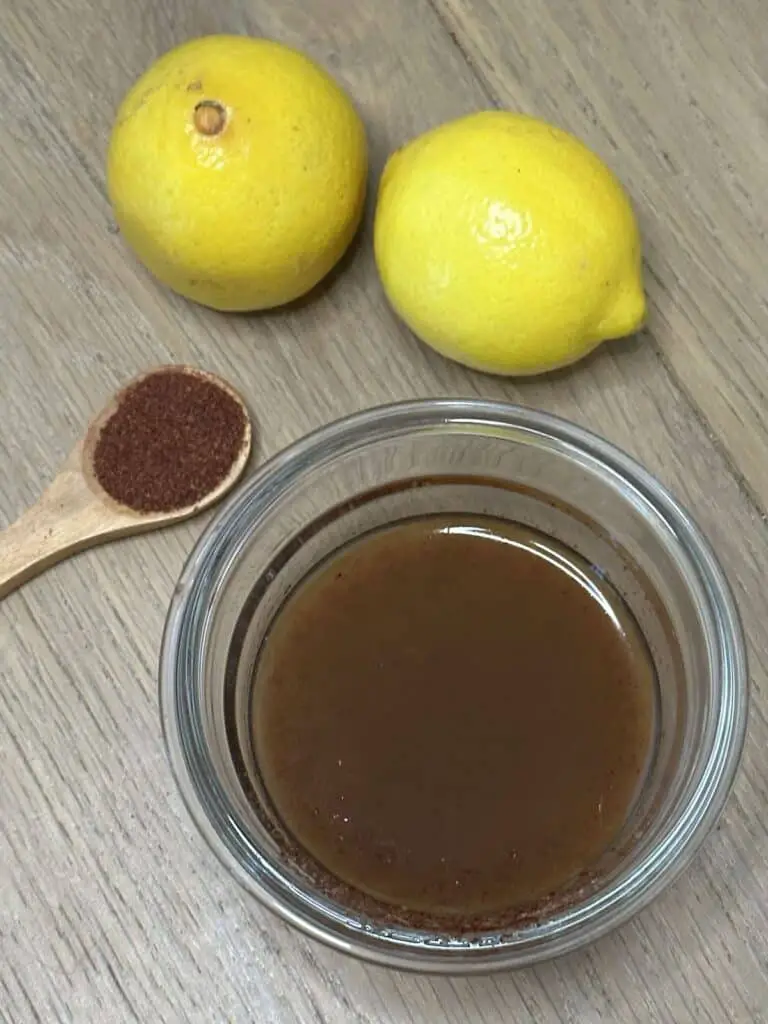 What is Sumac?
Sumac comes from 35 species of flowering plants in the cashew family. It grows in subtropical climates in the Eastern Mediterranean, Asia, Africa, and North America. Sumac is used as a spice, a dye, and in medicine.
The dried fruit of some of the species of sumac is ground into sumac spice, a dark red (crimson) color that has a tangy, bright flavor.
What Flavor Does Sumac Add?
Sumac brings a slightly smoky, tart flavor. Think of it as the powdered version of lemon or vinegar…zesty, bright, and refreshing.
Personally, it makes me pucker/smack my lips together and say SU-MACK, get it? 🙂
Lemon Sumac Dressing Ingredients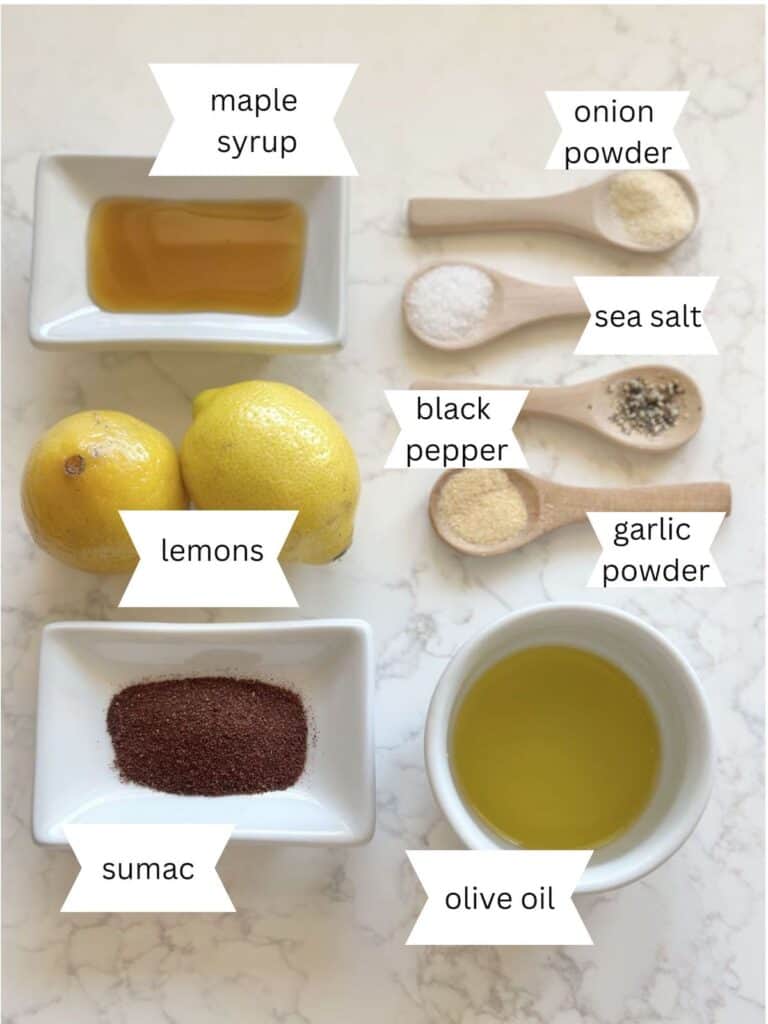 Sumac: The star of this recipe, sumac brings a smack-yours-lips-together tartness and crimson red color that is unbeatable.
Lemon: Fresh lemon juice pairs beautifully with the dry sumac spice to bring a brightness to the tang.
Garlic Powder: Powder form brings a stronger garlic flavor than fresh and without the bad breath!
Onion Powder: Balances the tart with a mild oniony sweetness.
Sea Salt: Only a touch needed to round out this dressing.
Black Pepper: Adds just a bit of peppery depth to the flavor profile.
Maple Syrup: Not to sweeten the dressing, but rather to balance the flavors out so the dressing is not overly tart.
Olive Oil: Olive oil is a natural oil choice for Middle Eastern recipes.
Substitutions and Variations
This Lebanese salad dressing is perfect as is, but if you are missing one of the ingredients, it is adaptable:
Looking for a substitution for sumac? Try za'atar, a spice blend that includes sumac and has a more herbaceous flavor profile due to the addition of thyme and oregano, as well as sesame seeds. Or if you can't find either of those dry spices, red wine vinegar, lemon zest, lemon pepper, or more lemon juice can replace sumac.
Looking for a creamy sumac dressing? Try blending in two tablespoons of tahini paste for a tahini sumac sauce.
In place of maple syrup, you can use pomegranate syrup, balsamic vinegar, white balsamic vinegar, agave syrup, or even orange juice.
Substitute fresh garlic or granulated garlic for garlic powder using this conversion chart for accurate measurements.
Sumac Vinaigrette Serving Suggestions
Use this dressing recipe in any Turkish, Greek, Mediterranean, or Lebanese salad. Or use as a sumac sauce on top any Middle Eastern dish like wraps, gyros, falafel bowls, lentils, quinoa, tabbouli, and more.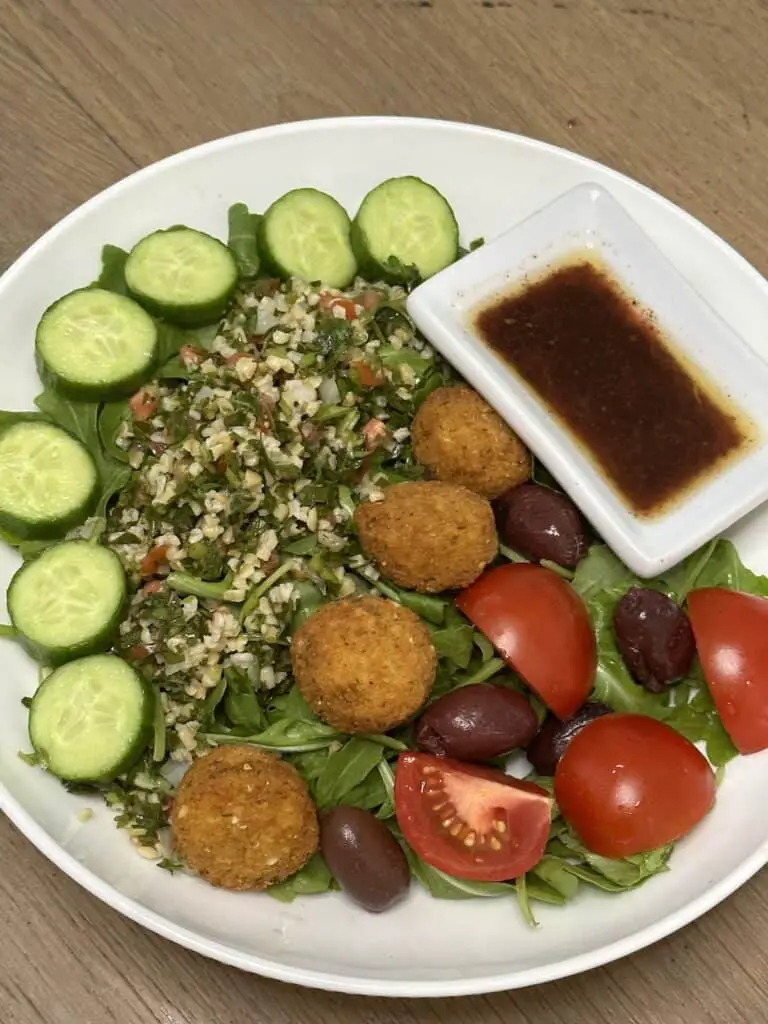 FAQs
Is sumac similar to paprika?
While both have a natural smokiness, sumac has a much more acidic, tangy flavor than paprika.
What is the closest to sumac?
Lemon zest, lemon pepper, lemon juice, za'atar, or red wine vinegar bring a similar flavor to sumac.
What dishes can you use sumac in?
Sumac is a flavorful addition to dressings, marinades, and sauces. Or sumac can be sprinkled on top of endless dishes like hummus, baba ganoush, rice dishes, meat, fish, falafel, or salad.
Pin this Sumac Salad Dressing for later: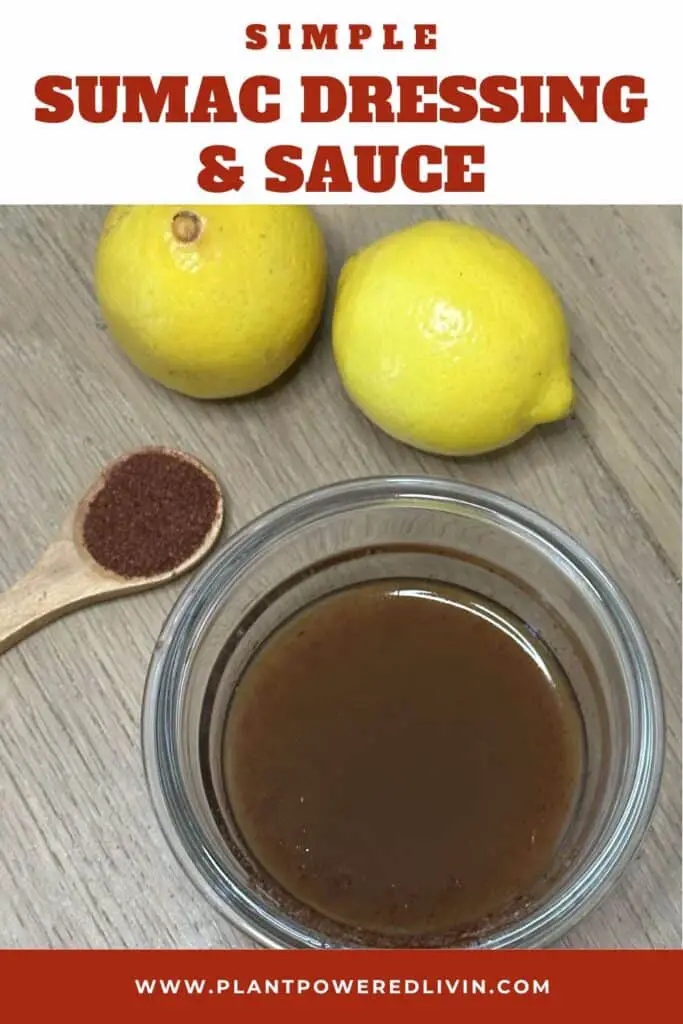 If you like this dressing and sauce recipe, you may also like:
Tried this simply sumac dressing at home? I would love to know what you thought! Please rate and review below!
Cheers!
-Jenn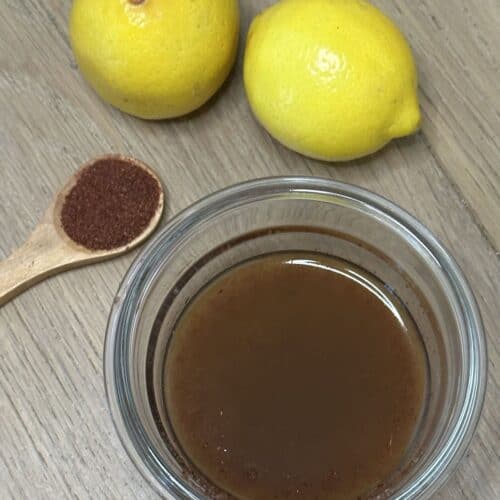 Simple Sumac Dressing (Sumac Sauce)
This simple sumac dressing is light, bright, and tangy. Kick up your Mediterranean salad or bowl with the addition of sumac, a zesty and colorful Middle Eastern spice.
Ingredients  
2

tablespoons

lemon juice

2

teaspoons

sumac

1/2

teaspoon

garlic powder

1/2

teaspoon

onion powder

1/4

teaspoon

sea salt

3/4

teaspoon

maple syrup

1/4

teaspoon

black pepper

3

tablespoons

olive oil
Instructions 
Combine all ingredients in bowl or jar with lid.

Shake or whisk to combine.
Notes
Store leftovers in refrigerator for up to a week. Or freeze in air tight container for up to four months.
Nutrition
Calories:
134
kcal
Carbohydrates:
3
g
Protein:
0.2
g
Fat:
14
g
Saturated Fat:
2
g
Polyunsaturated Fat:
1
g
Monounsaturated Fat:
10
g
Sodium:
195
mg
Potassium:
26
mg
Fiber:
0.2
g
Sugar:
1
g
Vitamin A:
2
IU
Vitamin C:
4
mg
Calcium:
5
mg
Iron:
0.1
mg
---
---