Air Fryer Tofu Without Oil (Crispy & Easy!)
This simple recipe for air fryer tofu without oil is so easy, it is shocking how crispy and addictively delicious the tofu is…without cornstarch or oil! While most other recipes include a marinade or seasoning, this tofu is plain and simple, allowing it to blend perfectly into countless other sauces, broths, and flavors.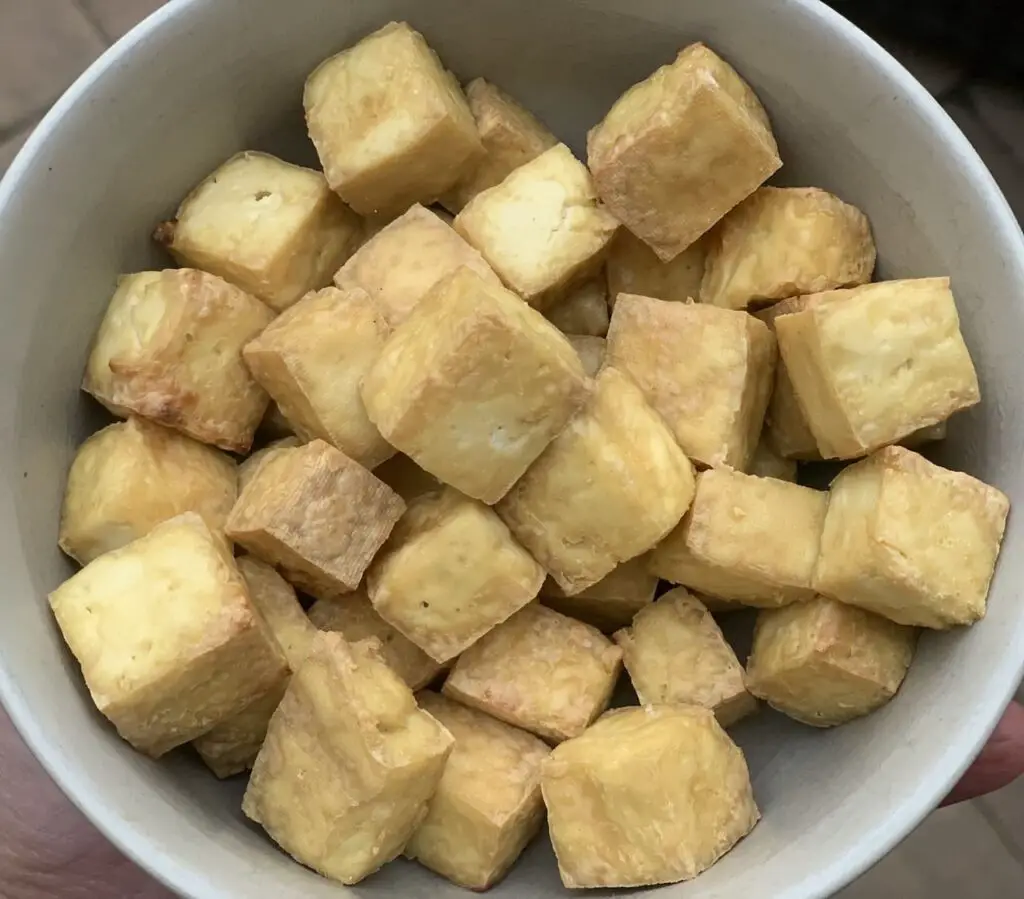 With a crispy exterior and soft inside, this air fried tofu is perfect to snack on, enjoy with a sauce/dip, or add to any recipe.
Disclosure: I only recommend products I use myself and all opinions expressed here are my own. This post contains affiliate links, which means that if you make a purchase, I may earn a small commission at no additional cost to you.
Inspiration for this Air Fryer Tofu recipe
The idea for this simple how to recipe came from a friend, when she asked how to air fry tofu and make it crispy without a marinade.
Low and behold…I realized that most air fryer tofu recipes include seasonings, marinades, cornstarch, and oil. And while those flavorful methods are delicious, our go-to method for air frying tofu is to keep it plain and simple.
Instead, I offer an optional sauce/dip/broth after cooking the tofu, because this way…the kids will eat it too!
Why I love this recipe
This recipe has been a staple for years. Why? Because these delicious tofu puffs are like little clouds or pillows, so soft in the middle, and completely ki-approved!
Why do I think it's the best air fryer tofu recipe is:
Pressing Tofu, an essential part of how to air fry tofu
Before air frying it, tofu needs to be pressed first.
Why?
Because tofu comes in water. And food fries best without all that excess moisture. Plus, the tofu will keep its shape better when pressed. Don't worry, it's super easy!
How to Air Fry Tofu
This easy recipe for air fryer tofu has just two simple steps:
Press Tofu for at least 30 minutes using my simple method (see recipe card for step by step).
Air Fry Tofu: first cut block into tofu nuggets (like 1 inch cubes or 2 inch flatter squares); then air fry with a bit of sea salt for 16 minutes.
That's it!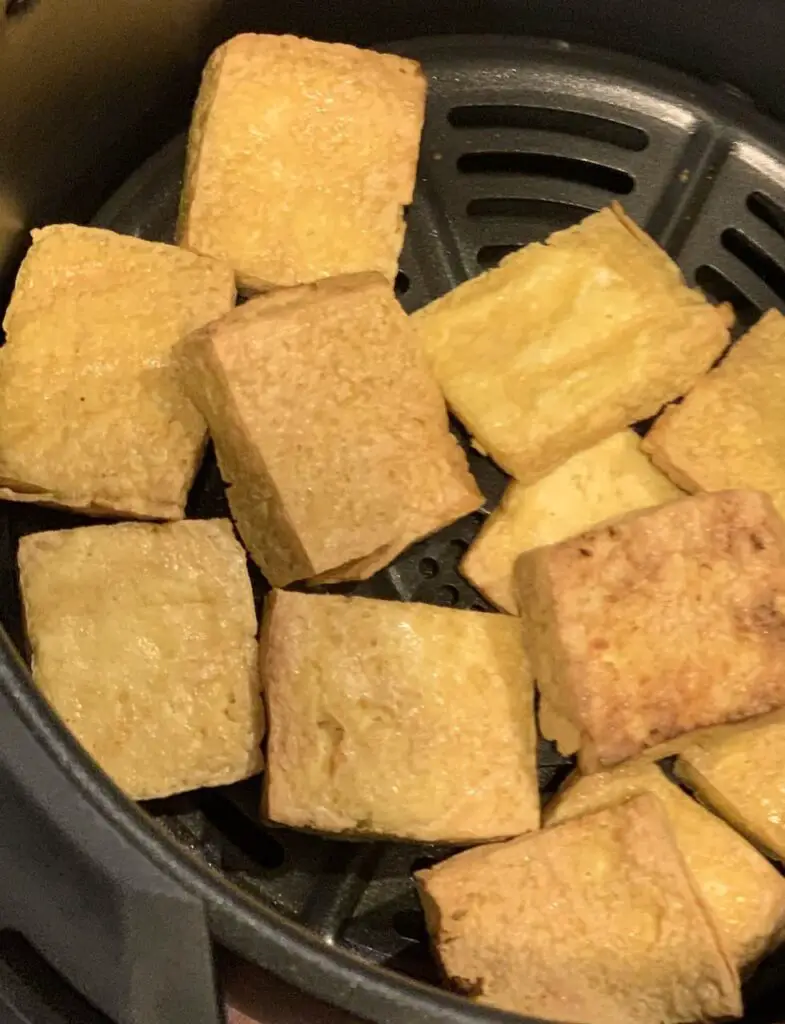 Serving Suggestions & Meal Prep Ideas
To be honest, my kids will just snack on the crispy tofu right out of the air fryer, eating it all if I let them;)!
But our favorite air fryer tofu dishes are Buddha bowls and Ramen Bowls:
Air Fryer Tofu Buddha Bowls
Air fried tofu makes an awesome protein in a Buddha bowl, along with other healthy veggies and grains. Simply prep all the ingredients and let your hungry eaters customize their own bowls.
Examples of Buddha Bowl Ingredients include that complement the air fryer tofu include:
Pull the dish together with an assortment of dressings, sauces or dips, like: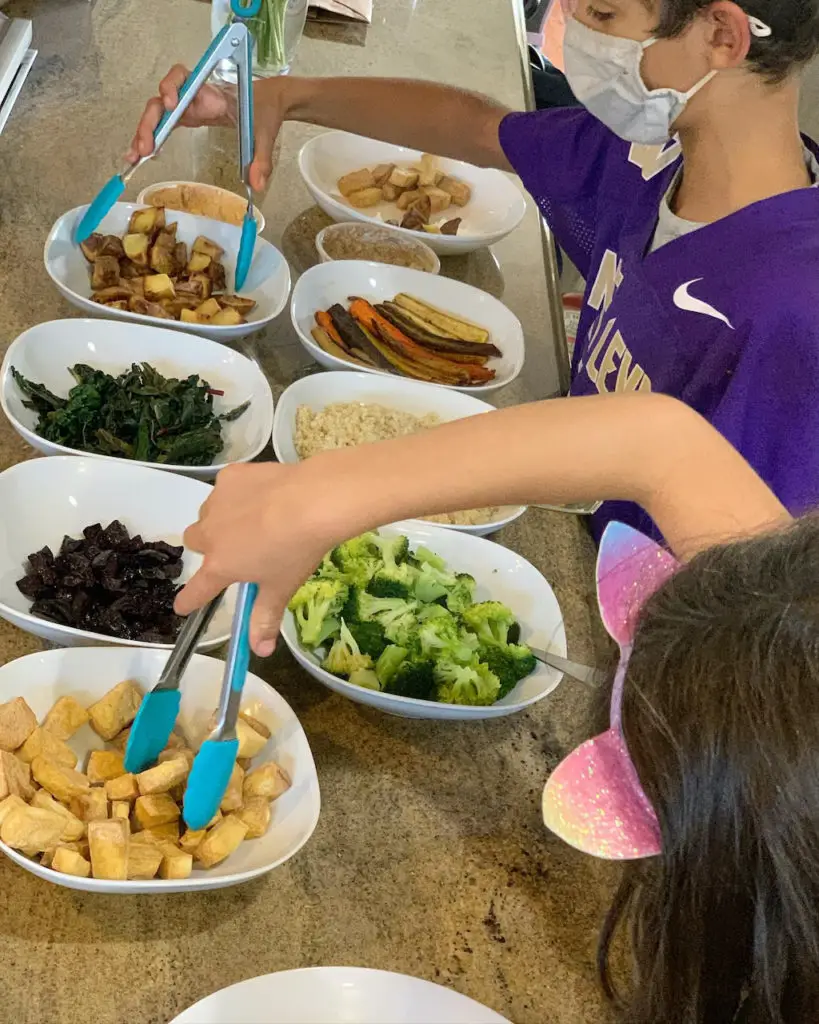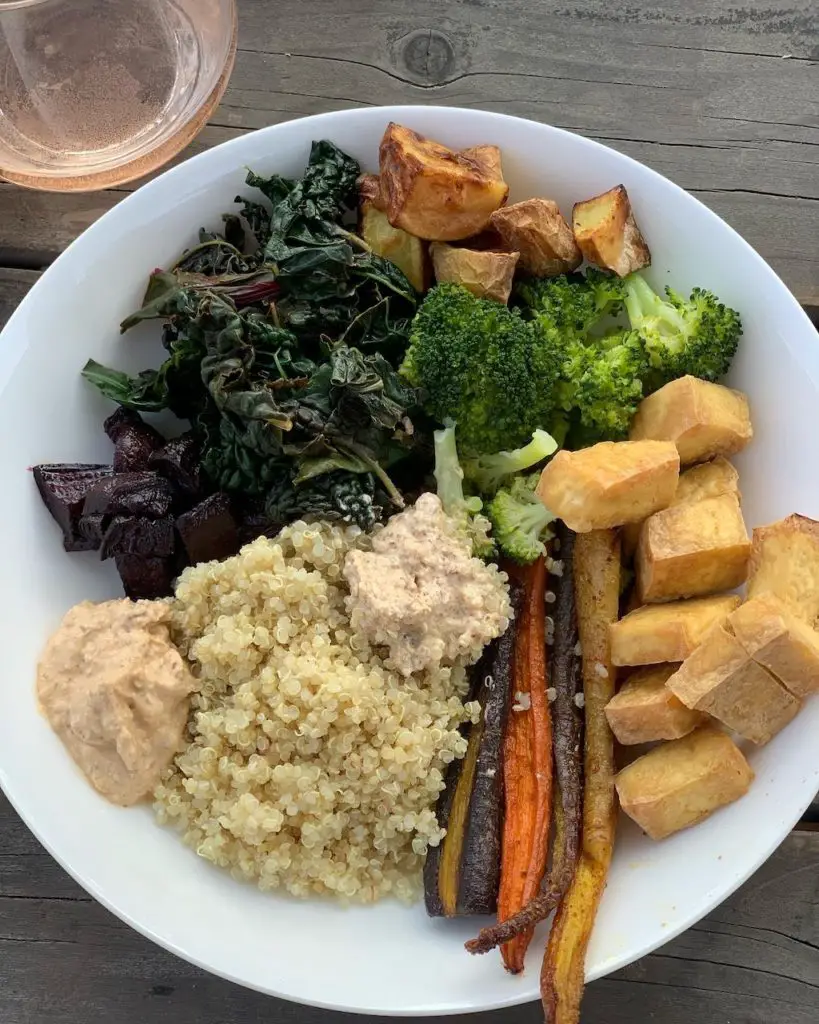 Ramen Bowls
Another favorite air fryer tofu meal is in Asian-inspired soups. For example, this Korean and Japanese-inspired Spicy Miso Ramen Soup Bowl: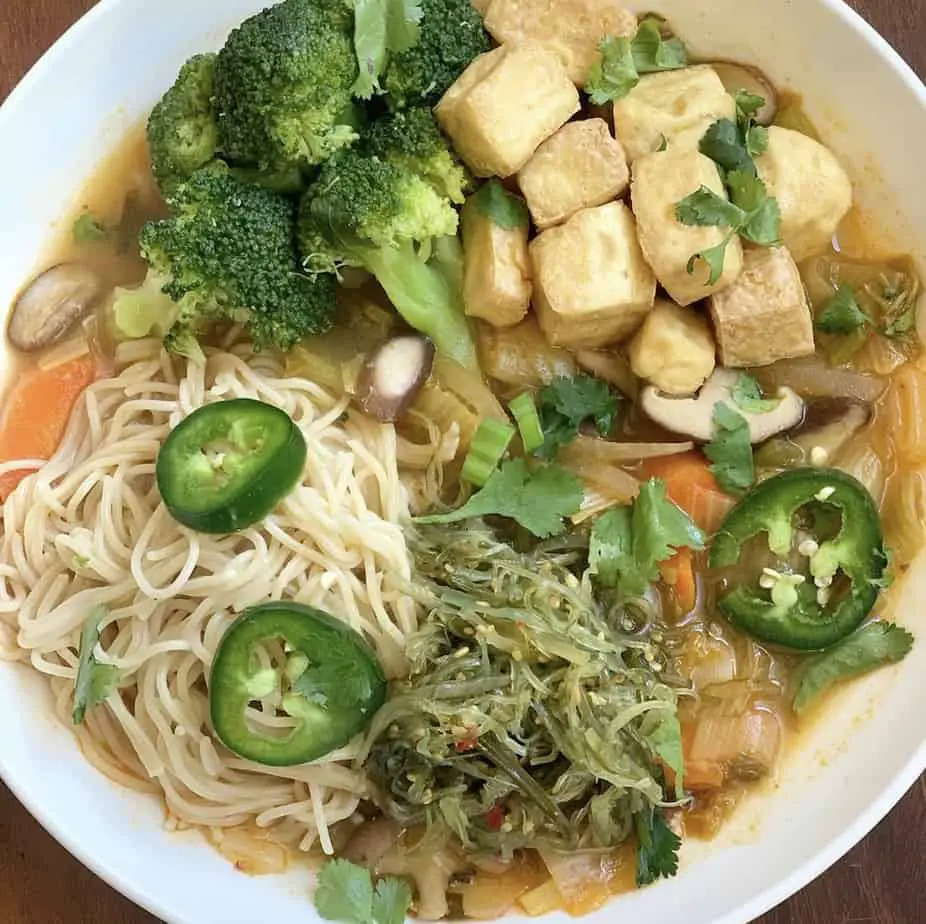 Or this Miso Ramen Bowl with roasted acorn squash: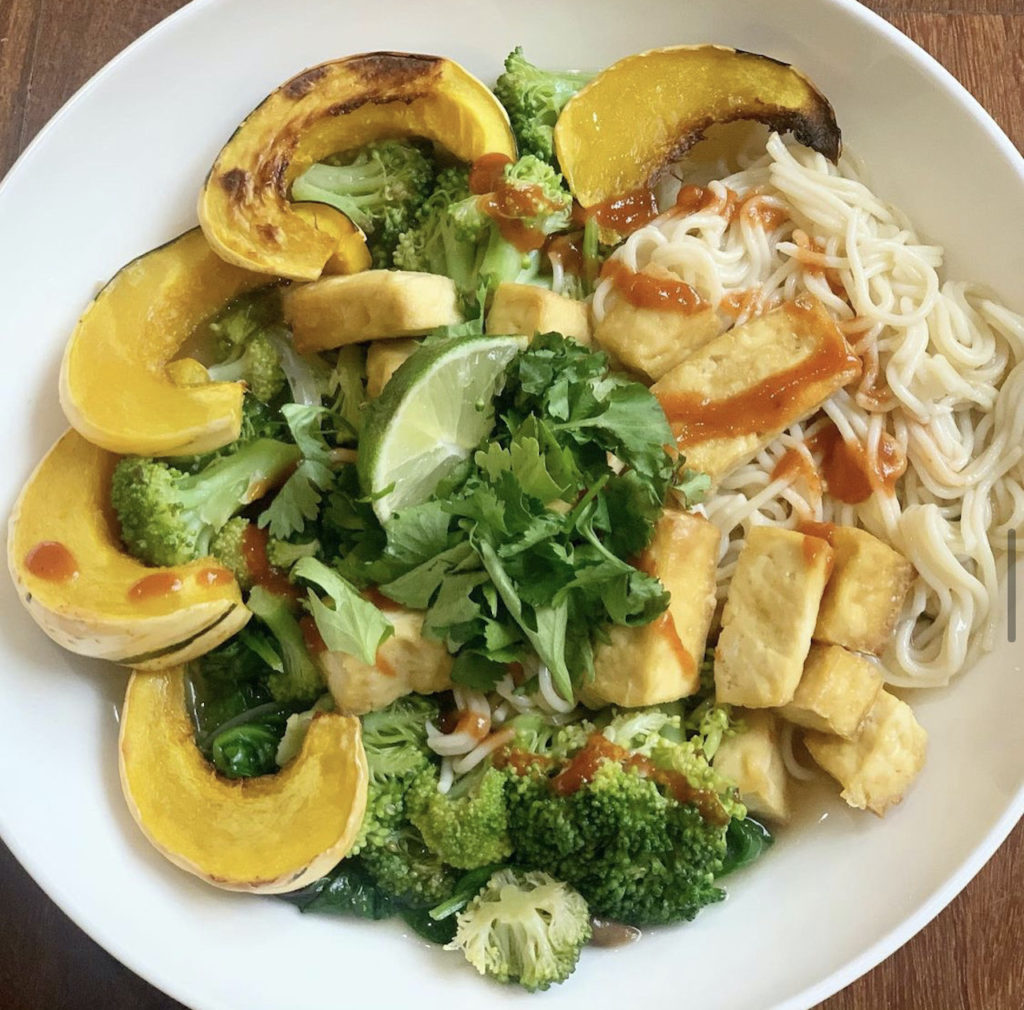 Here is how the kid version typically looks: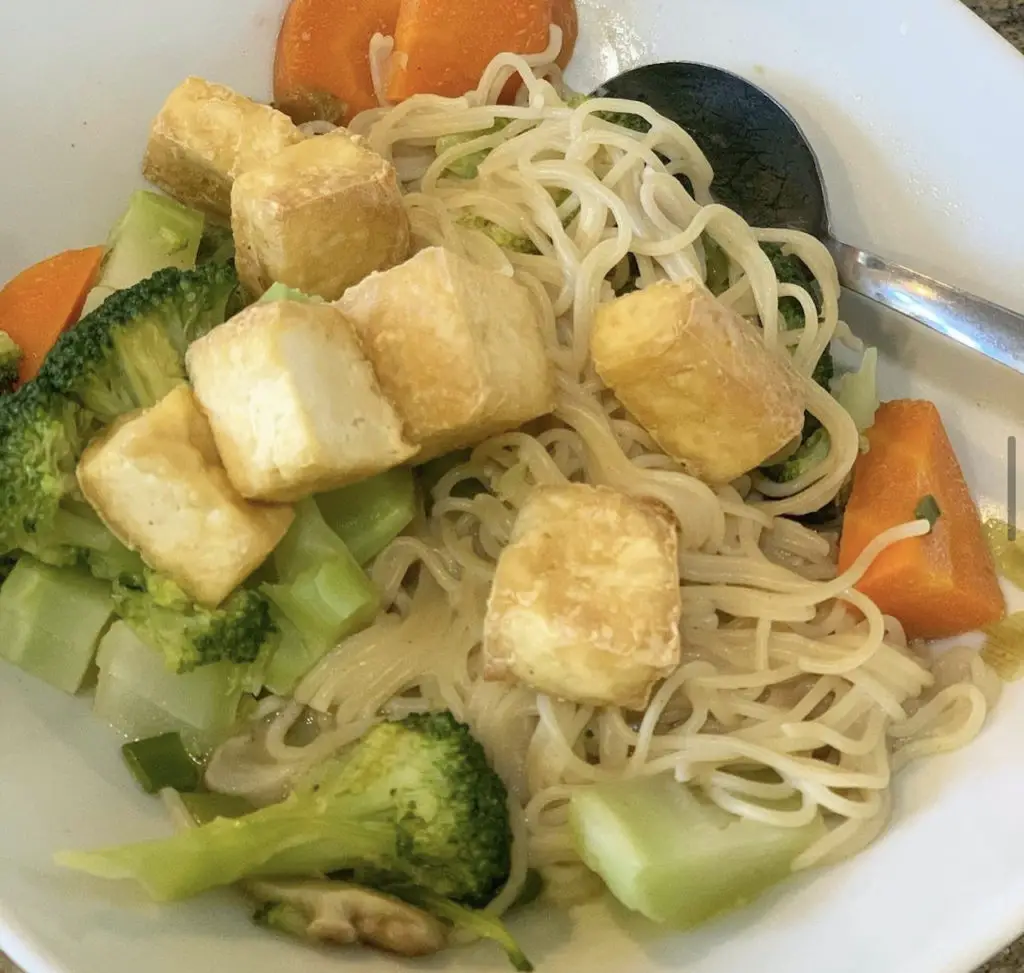 Equipment Needed
The key equipment needed for this recipe is an air fryer. While there are dozens of reputable air fryers on the market, we absolutely love our 5.5 quart Ninja Air Fryer. So much so that we are even eyeing getting a Ninja Double Air Fryer (2 basket)!
And while you absolutely do no need one, if you cook a lot of tofu, investing in a tofu press will simplify your life in the long run.
FAQs
Do you need oil to air fry tofu?
No, believe it or not, you do not need oil to air fry tofu. It will cook beautifully on its own as long as the tofu is pressed first.
How long should you air fry tofu?
The tofu cubes will cook in about 16 minutes.
Do you have to press tofu before air frying?
Yes, pressing tofu is essential before air frying. By getting rid of the water, the tofu is better able to crisp up in the air fryer.
What temperature do you cook tofu in air fryer?
Tofu cooks perfectly in the air fryer at 390 degrees.
Why won't my tofu get crispy in air fryer?
Most likely, your tofu isn't getting crispy either because it was not well pressed first, or else it needs a bit more time.
How do you keep tofu from sticking to air fryer?
The key to keeping the tofu bites from sticking to the air fryer is to pull out and shake the basket every 5 minutes during the cooking process.
I hope you find this simple recipe helpful. Once you try it, please rate and review below!
If you enjoy this recipe, you may also like:
Cheers!
– Jenn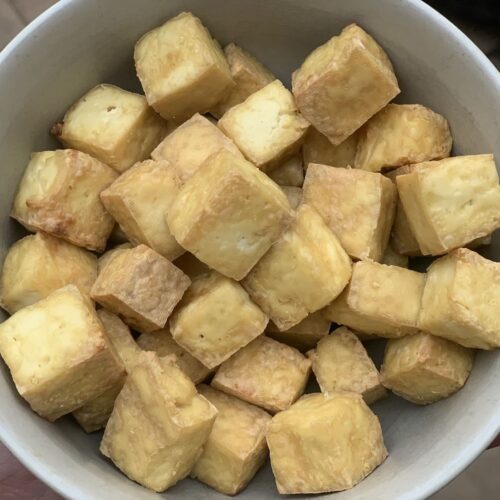 Air Fryer Tofu Without Oil (Crispy & Easy!)
This simple recipe is almost too easy to write down! With a crispy exterior and soft inside, this air fried tofu is perfect to snack on, enjoy with a sauce/dip, or add to any recipe. Enjoy!
Ingredients  
14-16

ounce

block firm or extra firm tofu

most blocks come in 14 or 16 ounce blocks

1/2

teaspoon

sea salt
Instructions 
Drain tofu. Press tofu using tofu press or else this simple method:

Wrap drained tofu in tea towel or paper towel.

Place wrapped tofu on plate to catch water.

Place a heavy pan on top of the wrapped tofu, like a cast iron skillet or a pot filled with food cans. Let sit for at least 30 minutes (up to 2 hours) to press tofu.

Unwrap tofu*. Cut into desired shape (we prefer 1 inch cubes or flatter 2 inch squares).

Place tofu cubes in air fryer. Sprinkle with sea salt.

Close air fryer. Set air fryer to 390 degrees for 16 minutes, opening to shake/move tofu cubes every 5 minutes to cook pieces evenly.

After 5 minutes it starts to brown.

At 10 minutes the tofu starts to crisp and brown some more.

At 16 minutes, tofu will be crisp on the outside and soft inside.
Notes
*If pressing in advance of cooking, place pressed tofu in the refrigerator until ready to cook.
If doubling recipe, open and shake tofu more frequently during air frying since the tofu pieces will likely be stacked…about every 3-4 minutes to ensure they cook evenly. You will likely add a few minutes at the end, but start with 16.
Nutrition
Calories:
83
kcal
Carbohydrates:
2
g
Protein:
9
g
Fat:
4
g
Saturated Fat:
0.5
g
Polyunsaturated Fat:
3
g
Monounsaturated Fat:
1
g
Sodium:
295
mg
Potassium:
0.1
mg
Fiber:
1
g
Sugar:
0.3
g
Calcium:
124
mg
Iron:
1
mg
Pin this recipe for WFPB Air Fryer Tofu without oil for later: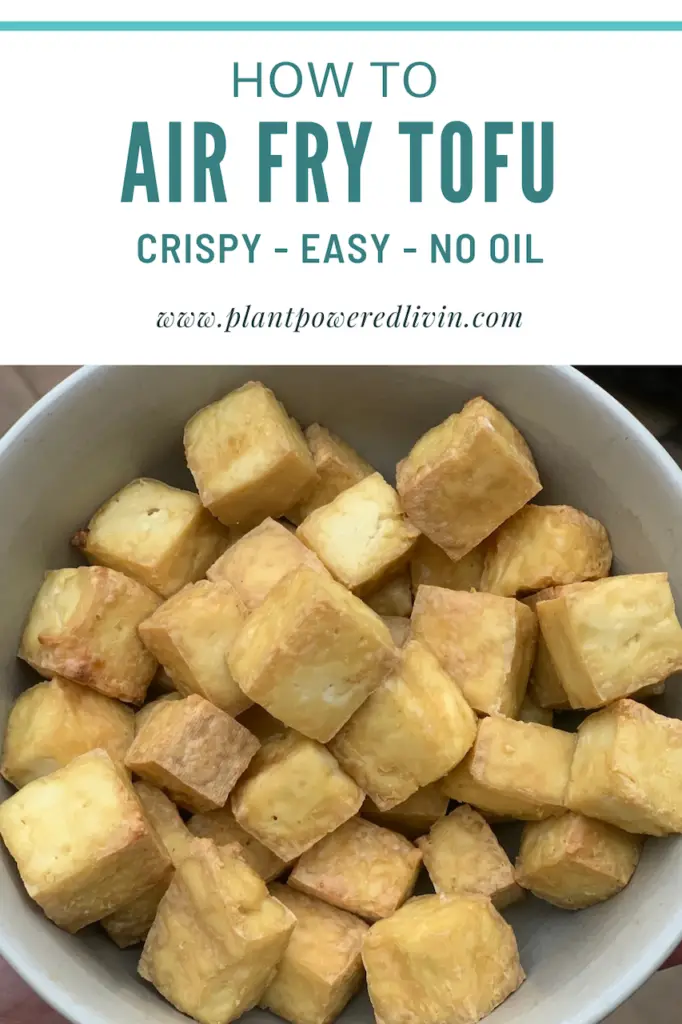 ---
---