Simple Air Fryer Parsnip Chips
These healthy Air Fryer Parsnip Chips are both crispy and chewy and oh so addictive! Move over potatoes…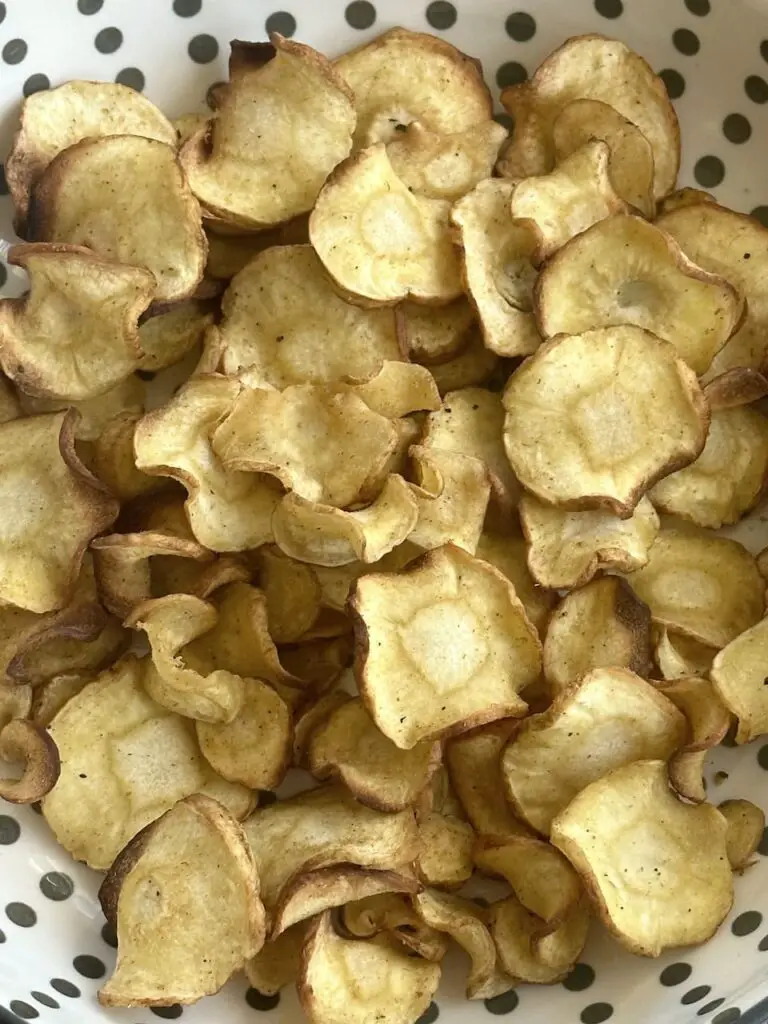 Disclosure: I only recommend products I use myself and all opinions expressed here are my own. This post contains affiliate links, which means that if you make a purchase, I may earn a small commission at no additional cost to you.
Why I love this Air Fryer Parsnip Chips recipe
This method to roast parsnips in the air fryer is so delicious and simple. And while parsnip fries may be more common in the air fryer, I prefer these parsnip chips even more! They are:
Crispy
Chewy & Sweet…almost like candy!
Vegan
Quick
Easy
Paleo Friendly
Healthy
High Fiber
Low Fat
What are Parsnips?
Parsnips are a cream-colored root vegetable that resemble large white carrots. Raw they are similar in consistency to a carrot; cooked they are more starchy, similar to yuca, or like a cross between a carrot and potato in texture.
Parsnips have a delicious, unique taste: earthy, nutty, and sweet…even a bit peppery.
They are also quite nutrient-dense. Parsnips are high in fiber, antioxidants, vitamins (C & K), and minerals (folate & magnesium).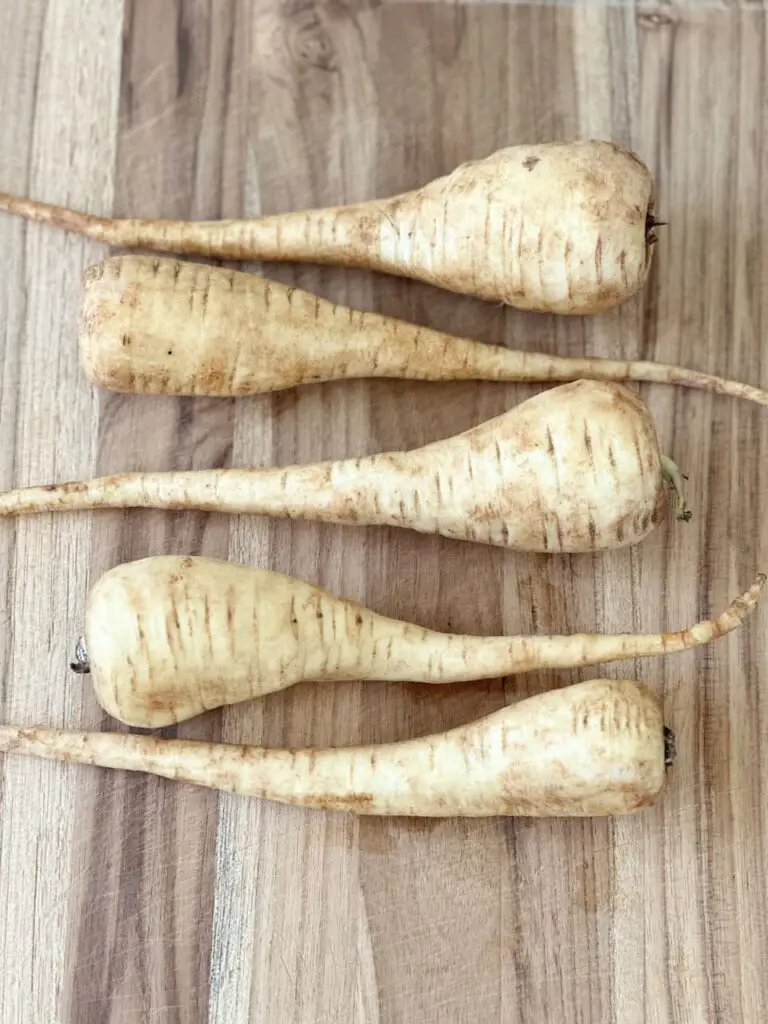 How to Make Air Fryer Parsnip Crisps
The method is simple. First, clean and cut parsnips into chips (with a sharp knife or mandolin).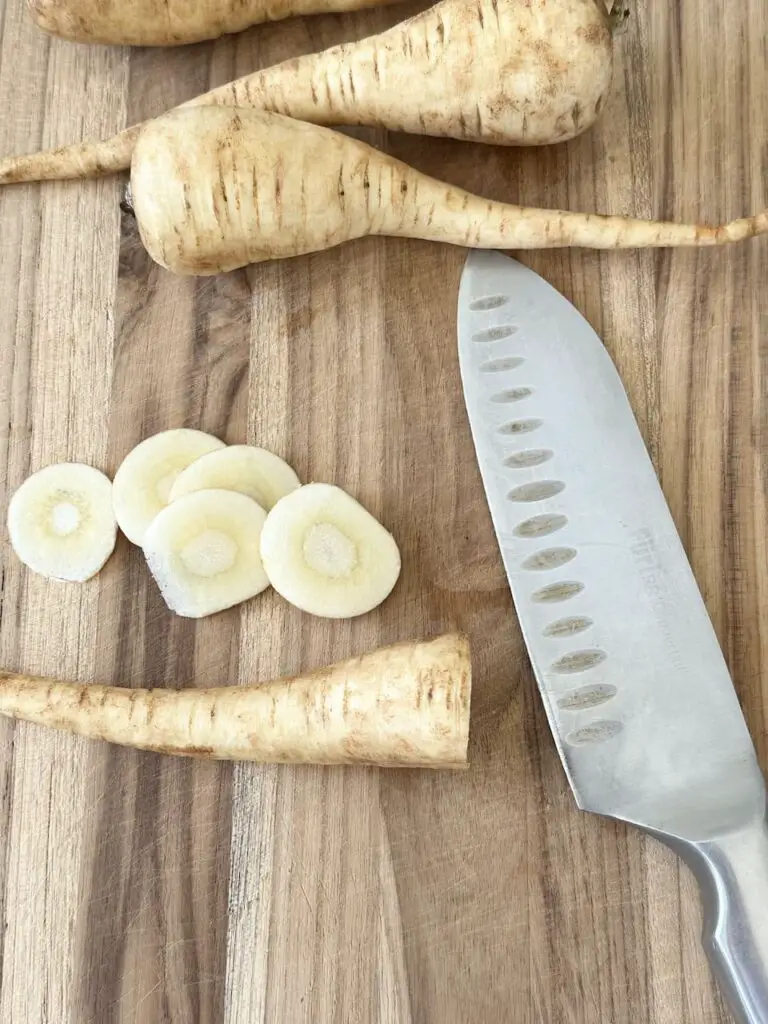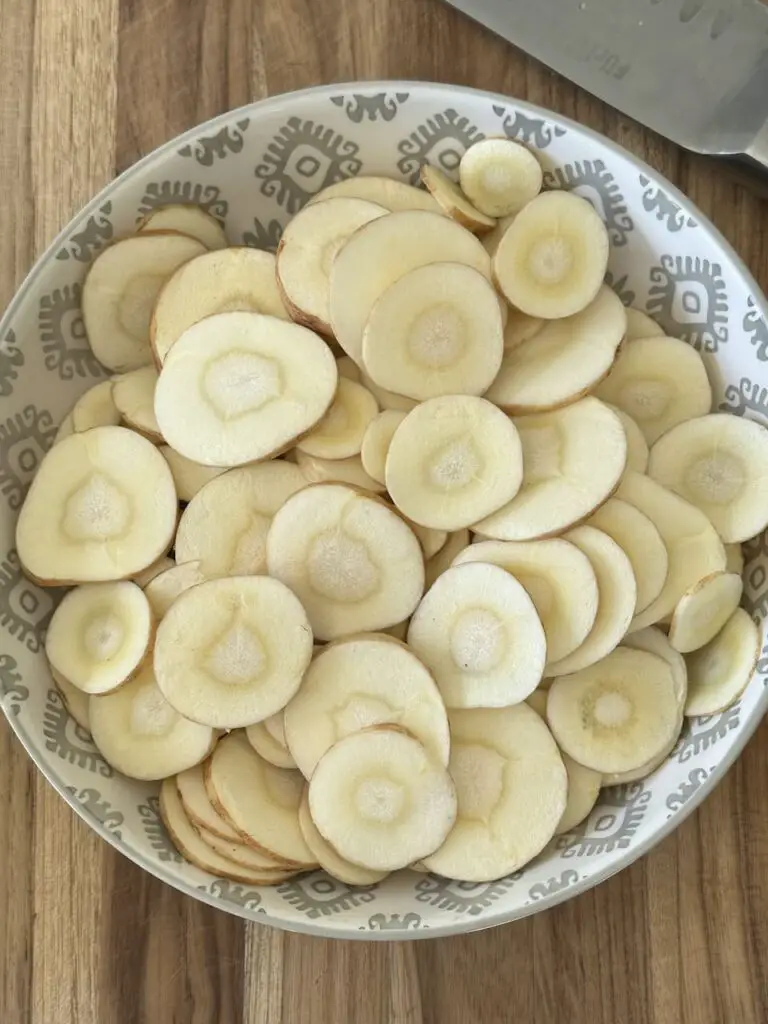 Next, add oil, salt, and spices.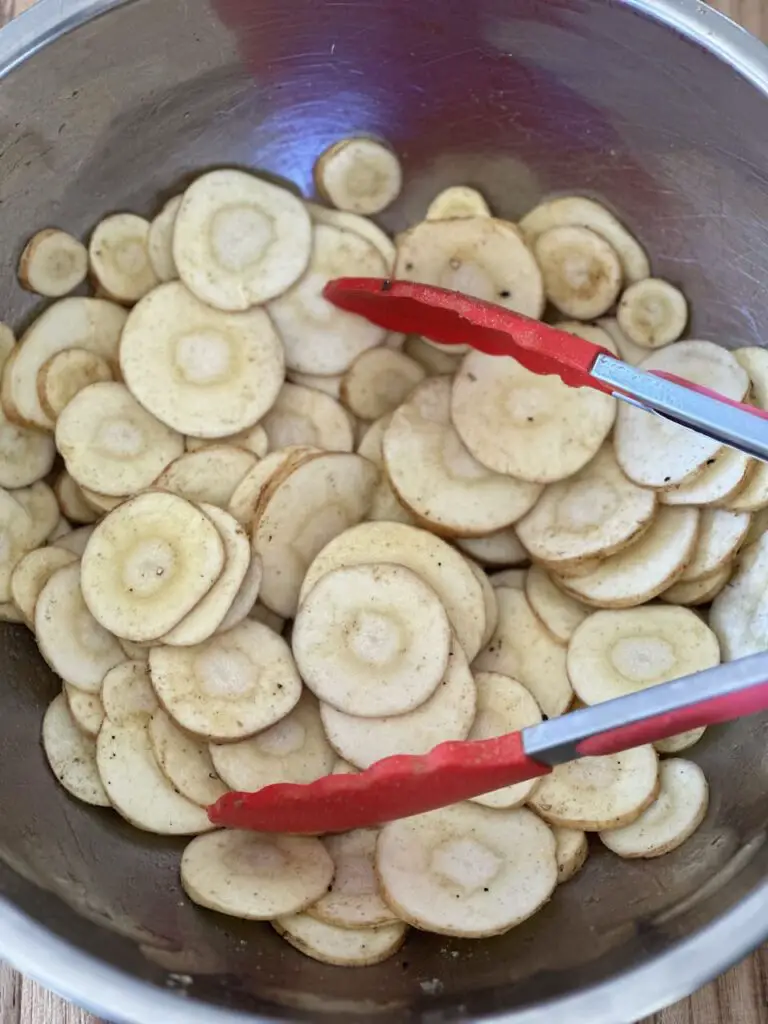 Air fry parsnips at 375, shaking basket every few minutes.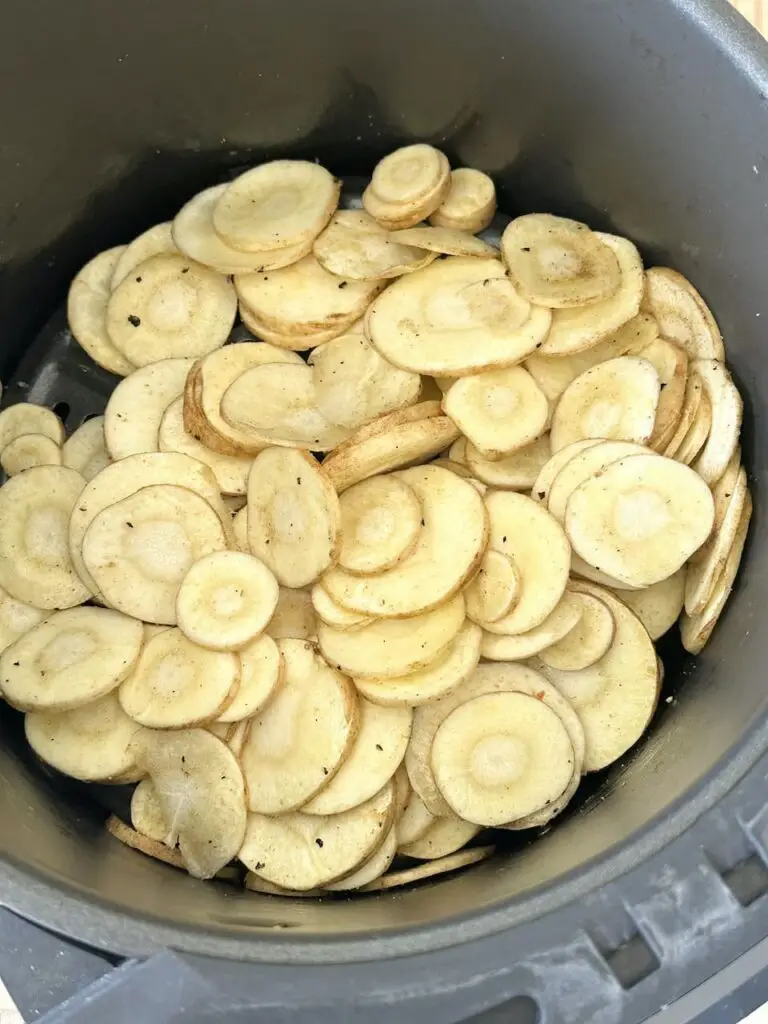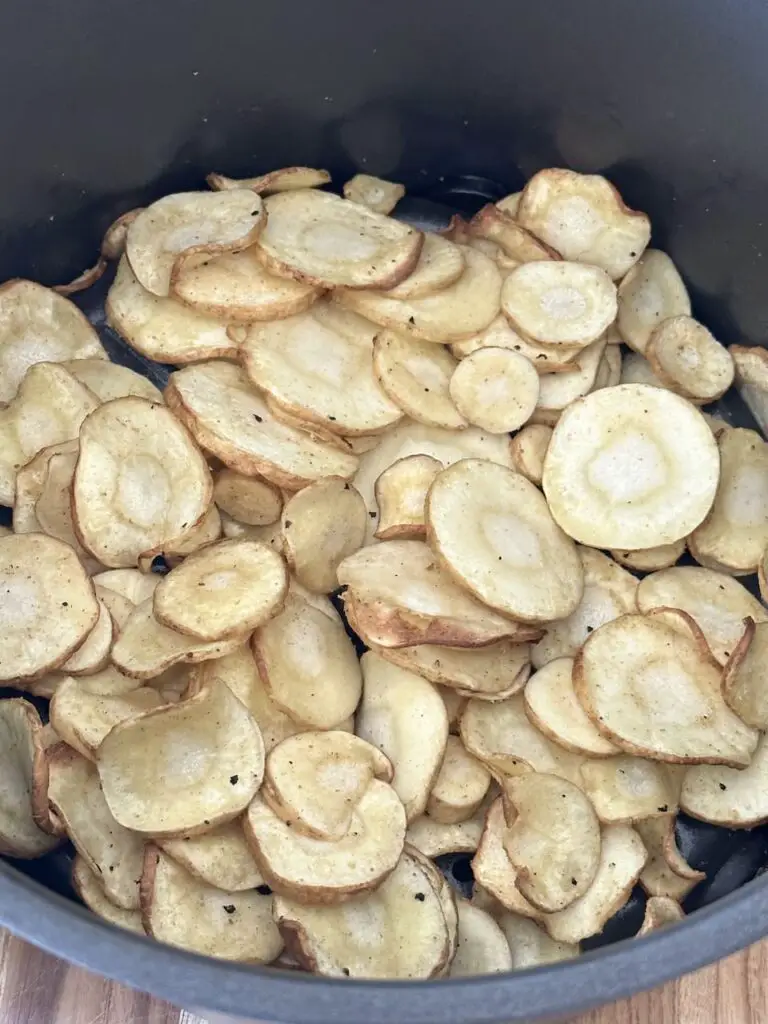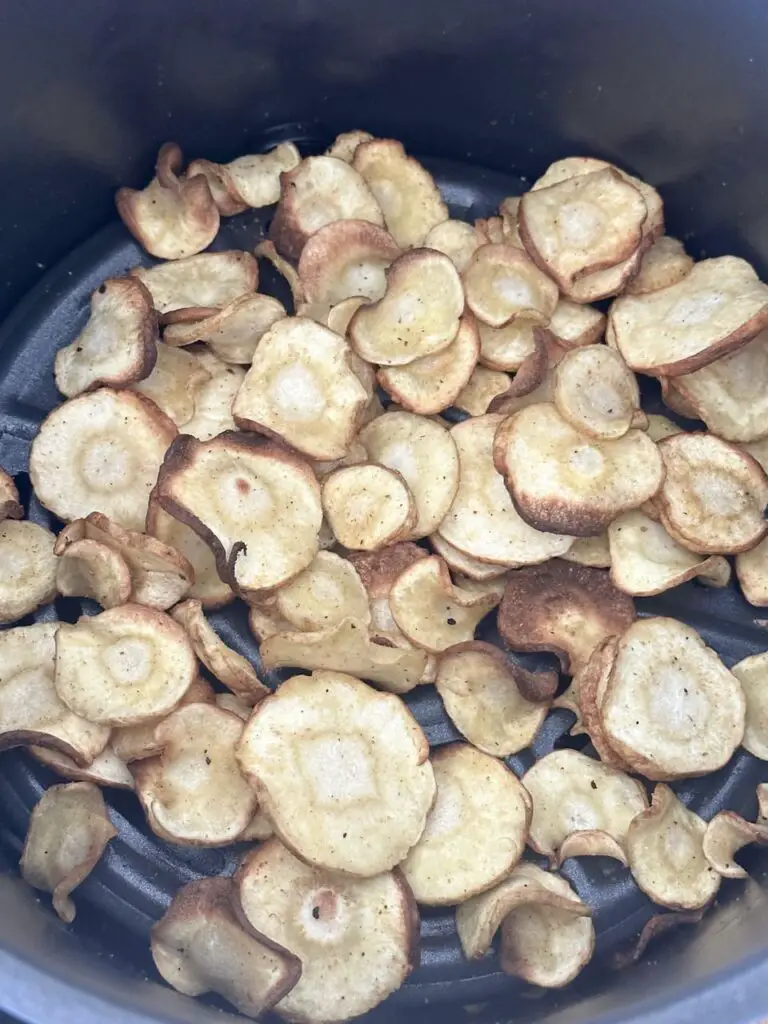 Serving Suggestions
Serve parsnip chips alongside a burger or sandwich, just like you would potato chips.
Or, eat them all alone as a snack (my favorite!).
Finally, serve as an appetizer alongside sriracha ketchup, fresh herb sauce, tahini sauce, aioli, ranch, honey mustard, or your favorite dip of choice.
Equipment Needed
Optional equipment includes a mandolin. There are so many mandolins on the market these days that will do the job well and make it easier and faster to prepare those parsnip chips! The key is to make sure that you use a special glove to stay safe (trust me!!!).
FAQs
What is the best way to store parsnip chips?
Store in air tight container in refrigerator. To reheat, throw back in air fryer for 2-3 minutes.
Can you freeze cooked parsnips?
I would not freeze these air fryer parsnip chips.
What is a substitute for parsnips?
Carrots, especially white carrots, are a good substitute for parsnips. Turnips, potatoes, celery root, and kohlrabi can also be used in place of parsnips.
Do you peel parsnips before cooking?
You do not need to peel parsnips before air frying them. In fact, the skin adds to the crispy texture.
What is the temperature to air fry parsnips?
Set the air fryer to 375 degrees to make parsnip chips.
Can you air fry parsnips without blanching?
Yes, parsnips can be air fried raw.
Can you air fry parsnip chips without oil?
If you are avoiding oil, you can air fry parsnips without it. Chips will be less crispy but just as tasty!
For more air fryer recipes, check out:
Tried this recipe? I would love to know what you thought! Please rate and review below!
Cheers!
–Jenn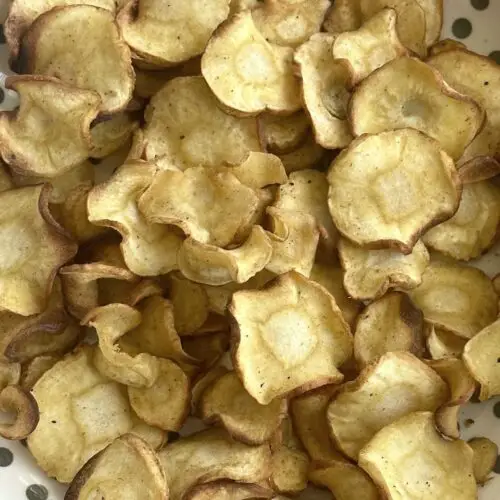 Air Fryer Parsnip Chips
These quick and easy air fryer parsnip chips are both crispy and chewy and oh so addictive…not to mention healthy!
Ingredients  
4-5

large parsnips

about 5 cups once cut in chips

2

teaspoons

olive oil

1/2

teaspoon

sea salt

1/4

teaspoon

black pepper

1/4

teaspoon

garlic powder

1/8

teaspoon

ground cumin

optional
Instructions 
Clean parsnips. Then carefully cut them into about 3 mm chips with either a sharp knife or a mandolin.

Place raw chips in bowl. Add oil, salt, and spices. Mix to spread seasoning evenly.

Place parsnip chips in air fryer (*see NOTES below). They will overlap (pending your style of air fryer), and that is okay! You will shake the basket throughout to move around.

Air fry parsnip chips at 375 degrees for 14-17 minutes. Be sure to stop the fryer every 3-4 minutes to shake the basket and mix the parsnips to ensure even cooking.

NOTE: If using a toaster oven air fryer that allows for less overlap of chips, cook time may be less. Flip the chips at about the 4 minute mark, and be sure to check for doneness every 3-4 minutes.

As you check for doneness, remove chips that are darker/done, allowing more space for remaining chips.

Once out of air fryer, parsnip chips will continue to get a bit crispier if they are spread out on a flat surface and not overlapping for another 1-2 minutes.

Enjoy these crispy, chewy parnsips while still warm. Serve alone or with dip of choice.
Notes
*Crispness: For the most crispy parsnip chips, cook one layer at a time. This will take more time to cook multiple batches with a basket style air fryer, but each batch will take less time (likely 7-10 minutes per batch, flipping at the 4 minute mark).
Personally, I enjoy the balance of crispy and chewy (and being done in less time!) so I just throw them all in at once and shake the basket throughout as written in the recipe.
Leftovers: Store leftover in refrigerator. To reheat, throw in air fryer for 2-3 minutes. I do not recommend freezing leftovers.
Nutrition
Calories:
135
kcal
Carbohydrates:
28
g
Protein:
2
g
Fat:
2
g
Saturated Fat:
0.4
g
Polyunsaturated Fat:
0.3
g
Monounsaturated Fat:
2
g
Sodium:
306
mg
Potassium:
586
mg
Fiber:
8
g
Sugar:
7
g
Vitamin A:
1
IU
Vitamin C:
26
mg
Calcium:
57
mg
Iron:
1
mg
Pin this Air Fryer Parsnips Recipe for later: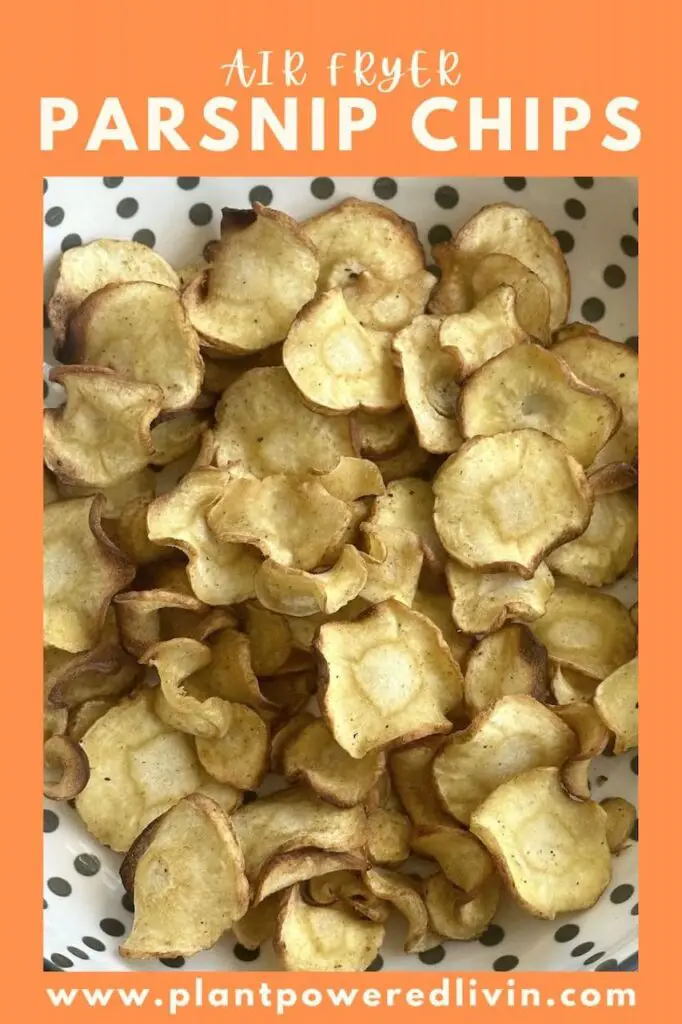 ---
---