Superfood Coffee Smoothie Recipe (vegan)
Looking to up your coffee game? Needing a refreshing, power-packed jump-start to your morning? This vegan Superfood Coffee Smoothie recipe may just MAKE YOUR DAY!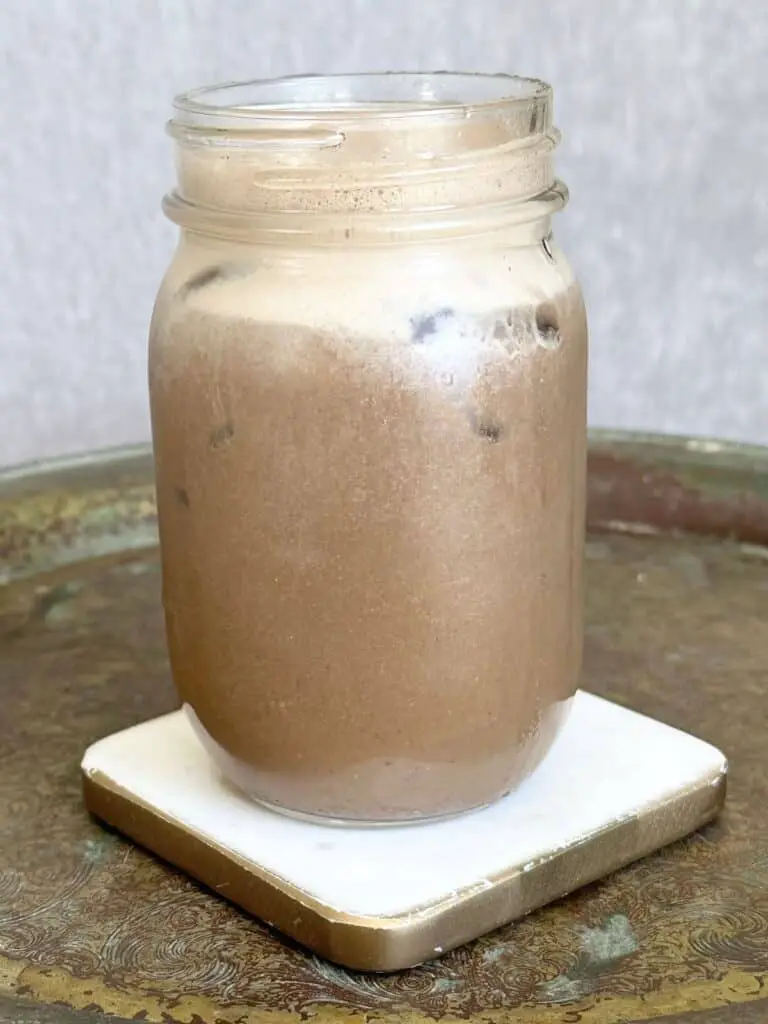 Preps like a healthy smoothie, drinks like a vegan iced coffee
Though it looks like your standard iced coffee, trust me, it's anything but. Inspired by an iced mocha smoothie special at Plant Cafe in San Francisco, my husband set out to recreate one at home at the beginning of Covid lockdown. We have been experimenting on warm days ever since, honing in on our customized concoction (we each have our own), and I have recently landed on my absolute favorite: more iced drink than smoothie, sans the cocoa, and with a bit of added nutty/seedy goodness🙌🏼.
This vegan coffee smoothie is packed with superfoods for a slightly sweet, boldly caffeinated, addictively nutritious punch! It can even pass as a light breakfast for those who don't go for a big meal in the a.m.
Superfood Smoothie ingredients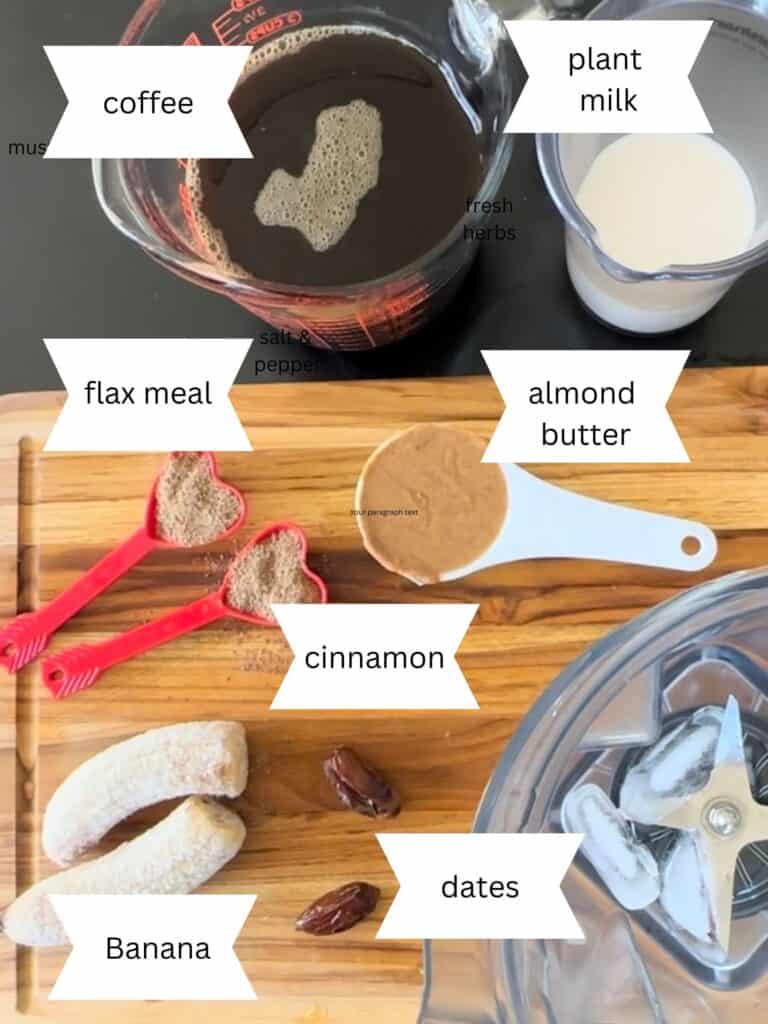 Coffee: Curious how to add caffeine to a smoothie? Simply use room temperature or cold coffee. Not only will it wake you up, coffee is considered a superfood!
Plant-based Milk: Unlike dairy milk, plant milk is cholesterol free without added hormones! So choose your favorite plant-based milk to make your iced coffee smoothie is even healthier!
Banana: Rich in soluble fiber, and high in many nutrients like potassium and magnesium.
Dates: Loaded with antioxidants and fiber and even more potassium and magnesium than bananas, dates are an amazing superfood! Dates make a perfect natural sweetener in this healthy coffee smoothie recipe.
Almond Butter: Almond butter is the key ingredient to making this recipe into coffee breakfast smoothie! With plenty of protein, fat, and fiber, almonds will help keep you satiated for hours.
Flaxseed Meal: Flaxseeds are loaded with omega-3 fatty acids, a nutrient hard to find in plant-based food. They make this vegan iced coffee into a superfood coffee drink for sure!
Cinnamon: This powerhouse spice is a delicious addition to your healthy coffee smoothie!
Pin this easy superfood coffee smoothie recipe for later: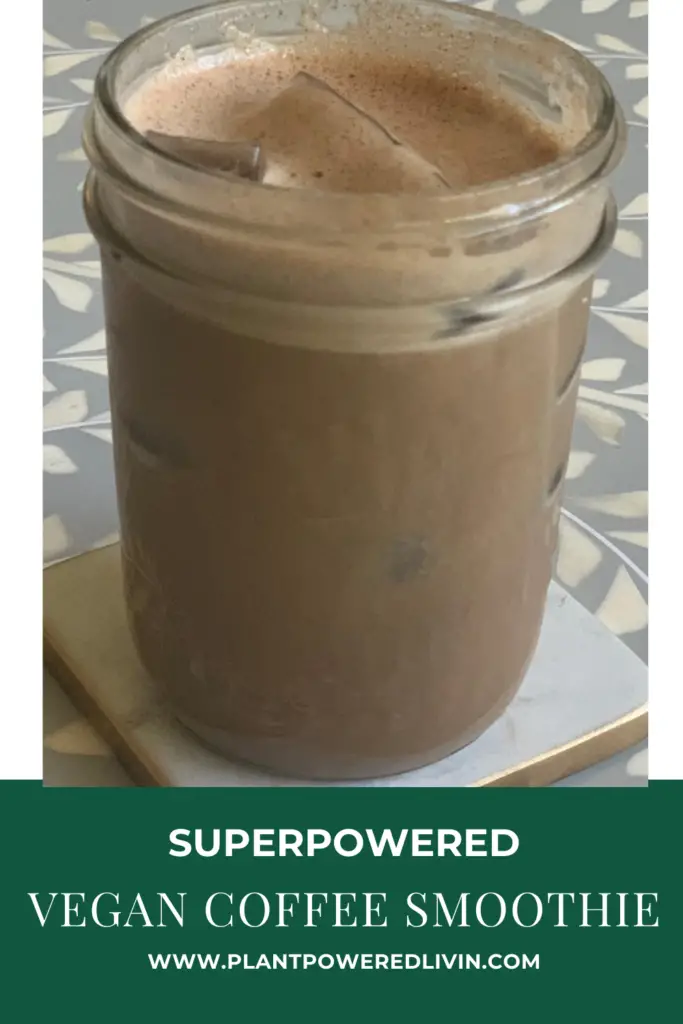 FAQs
Is it safe to put coffee in a smoothie?
Yes. Just be sure that the coffee is room temperature or colder.
How do you make a coffee smoothie?
Combine room temperature coffee with plant milk, almond butter, dates, frozen banana, flax meal, cinnamon, and ice for an amazing start to your day. For a mocha smoothie, add cocoa powder.
For more superfood recipes, check out:
I hope you enjoy this easy, Vegan Superfood Iced Coffee recipe. And please, let me know what you think by rating and commenting below!
Cheers!
– Jenn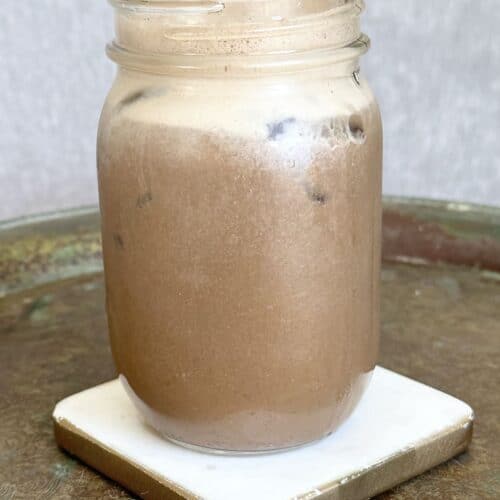 Superfood Coffee Smoothie Recipe
This coffee beverage preps like a smoothie but drinks like an iced coffee! And it's packed with superfoods for a slightly sweet, boldly caffeinated, addictively nutritious punch!
Ingredients  
3 – 3 1/2

cups

black coffee*

room temperature or cold

3/4

cup

plant-based milk

1

medium banana**

2-3

dates, 2 large or 3 small

pits removed

1/4

cup

almond butter

or nut butter of choice

2

tbsp

flaxseed meal

optional

3

dashes

cinnamon

handful ice cubes
Instructions 
Place all ingredients in blender.
Video
Notes
*For a stronger coffee flavor, use 3 1/2 cups.
**If you prefer more of a smoothie consistency, use a frozen banana.
Store leftovers in fridge for up to 2 days.
Nutrition
Calories:
238
kcal
Carbohydrates:
24
g
Protein:
7
g
Fat:
14
g
Saturated Fat:
1
g
Polyunsaturated Fat:
4
g
Monounsaturated Fat:
7
g
Sodium:
37
mg
Potassium:
535
mg
Fiber:
6
g
Sugar:
13
g
Vitamin A:
152
IU
Vitamin C:
4
mg
Calcium:
190
mg
Iron:
2
mg
---
---