East Bay Vegan Food Not to Miss (right now!)
Looking for the best vegan food in the Bay Area?! If you're headed to the East Bay, I've gotcha covered. As a Lamorinda resident since 2013, I keep a pulse on the tastiest, most craveable vegan dishes at any and all restaurants. Here is my current list of the best East Bay vegan food, broken down into vegan restaurants and vegan-friendly restaurants.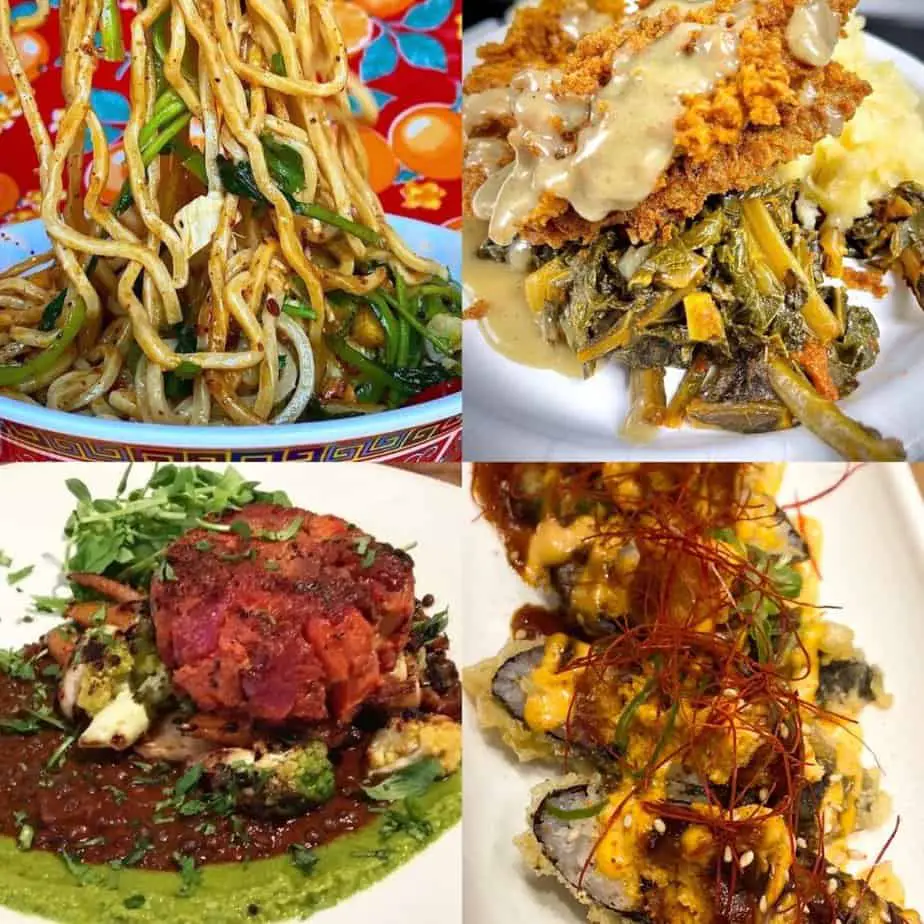 Vegan Restaurants: East Bay Vegan food
ROOTED COFFEE (Walnut Creek & Pleasant Hill)
This modern plant-based coffee shop is a favorite for adults and kids alike. With perfectly crafted java drinks (did you say cardamom maple latte?!) and a simple but dynamite food menu, this family-owned spot is on point.
I am not exaggerating when I say that THE AVOCADO TOAST ("Make It Sunny") IS THE BEST AROUND! It starts with super fresh artisan bread, slathered with homemade cashew cream cheese, perfectly ripe avocado, and a hefty scoop of turmeric smashed chickpeas, topped with homemade pesto, salt, pepper, lemon, hemp seeds, and chili flakes.
And the vegan baked goods do not disappoint. They include blueberry scones, chocolate chip cookies, donuts, and croissants. The blueberry donuts are our favorite!
Rooted has an especially impressive offering of plant-based milks for coffee: oat, almond, sweet pea, macadamia, hemp, coconut, and soy.
The cafe has two locations: one in downtown Walnut Creek Locust Street and one in Pleasant Hill.

Timeless Coffee (Oakland & Berkeley)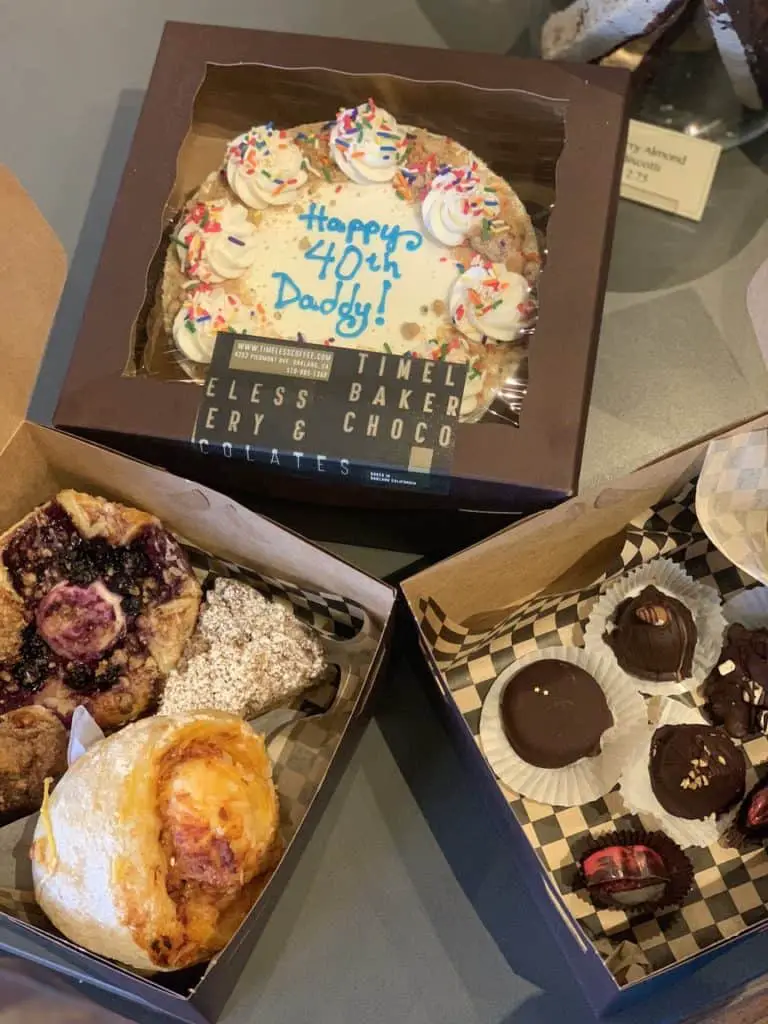 This impressive vegan bakery has a cult following for sure…so popular that they are about to open their fourth location! Timeless cranks out dozens of decadent baked goods, both sweet and savory.
The savory vegan pastries have made us regulars;). Most notably, the Buffalo Chick'n Calzone, Breakfast Roll (essentially an everything bagel-esque pastry with vegan chive cream cheese filling), the Pepperoni Pizza Roll, and the Pesto Roll.
Timeless is also the perfect sweet choice for special occasions. They have awesome vegan cakes, to-die-for vegan cheesecakes, and unbelievable chocolates. From birthdays to Valentine's Day, we frequent Timeless for almost all occasions.
This Bay Area vegan bakery has three East Bay locations: on College Avenue in Berkeley, and on Webster Street and Piedmont Avenue in Oakland. Plus a Jack London Square location coming soon!
Lion Dance Cafe (Oakland)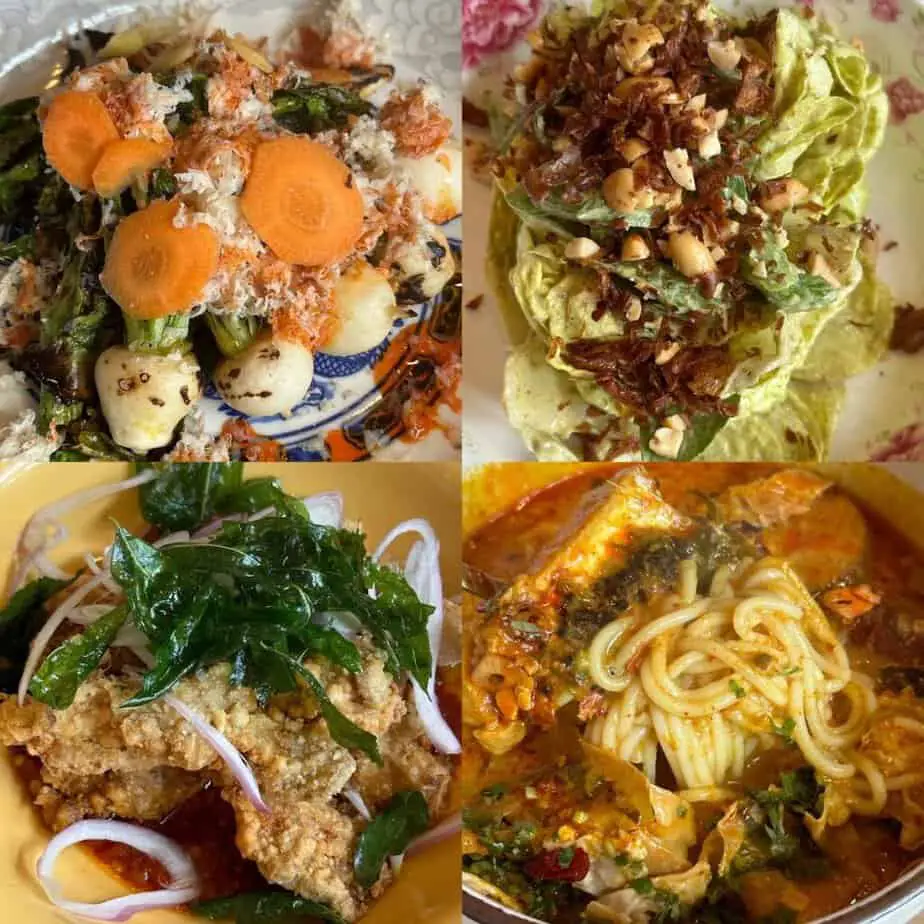 This Singaporean/Chinese vegan spot in downtown Oakland may just be the most innovative East Bay vegan restaurant. So unique and so flavorful, there is simply no other place like Lion Dance Cafe.
While we have never tried a dish we didn't love, a few highlights from their recent May 2023 menu include:
For starters, do not miss the perfectly fried oyster mushrooms with fresh herbs and spicy sambal…
Or the butter salad with charred scallion (vegan) buttermilk dressing, smoked peanuts, and fried shallots!
Laska continues to lead the entrees IMO: a rich, spicy coconut soup with rice noodles, seared yuba, king oyster mushroom scallops, and fried tofu with gorgeous toppings.
In addition to winning numerous accolades (New York Times 2022's Top Restaurant Dishes, SF Chronicle's top 25 restaurants, and more), they are also proudly female/Asian/queer/immigrant owned.
Lion Dance Cafe is finally open for seating dining!!! Reservations strongly recommended.
Millennium (Oakland)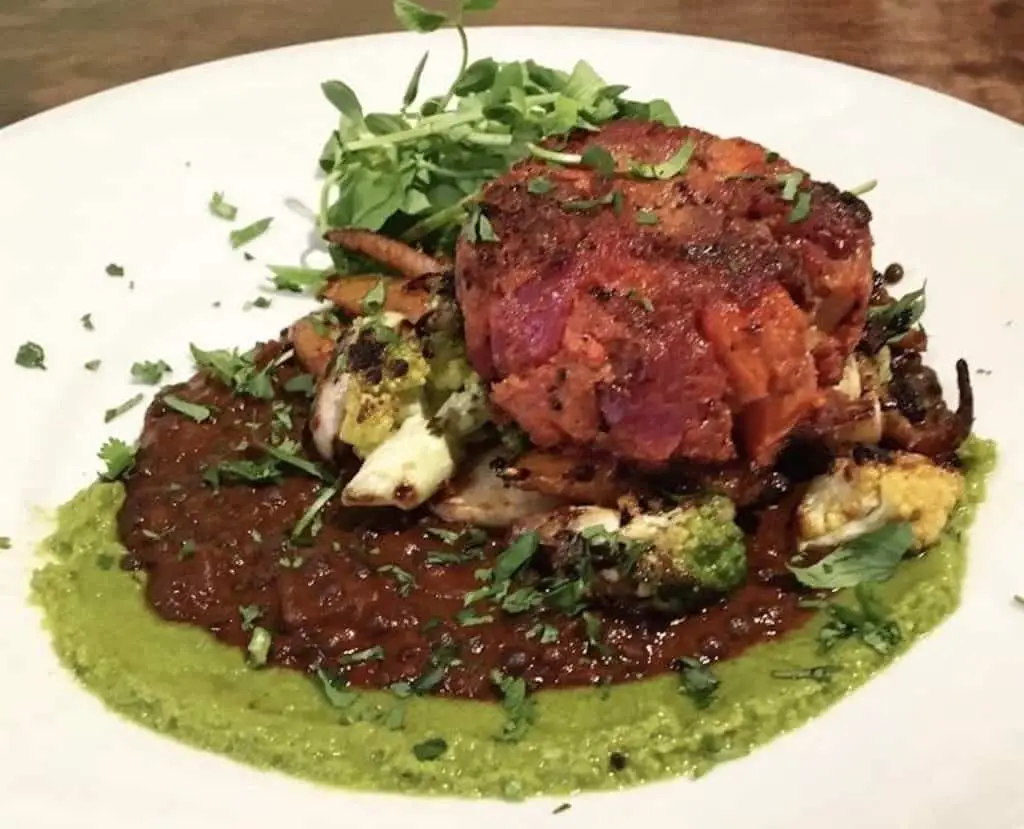 For vegan fine dining, head to Millennium for an impressive experience. This world-class restaurant has been around for nearly thirty years, since 1994! It originated in San Francisco, but relocated to Oakland's Rockridge neighborhood in 2015.
The quintessential Bay Area vegan restaurant for a special occasion, Millennium has been mine for two decades, well before I became vegan. So I can attest that omnivores will love it too!
The menu changes regularly, and always features seasonal ingredients. In addition to a la carte options, Millennium offers a 4-course prix fixe menu on Fridays and Saturdays only.
Tane Vegan Izakaya (Berkeley)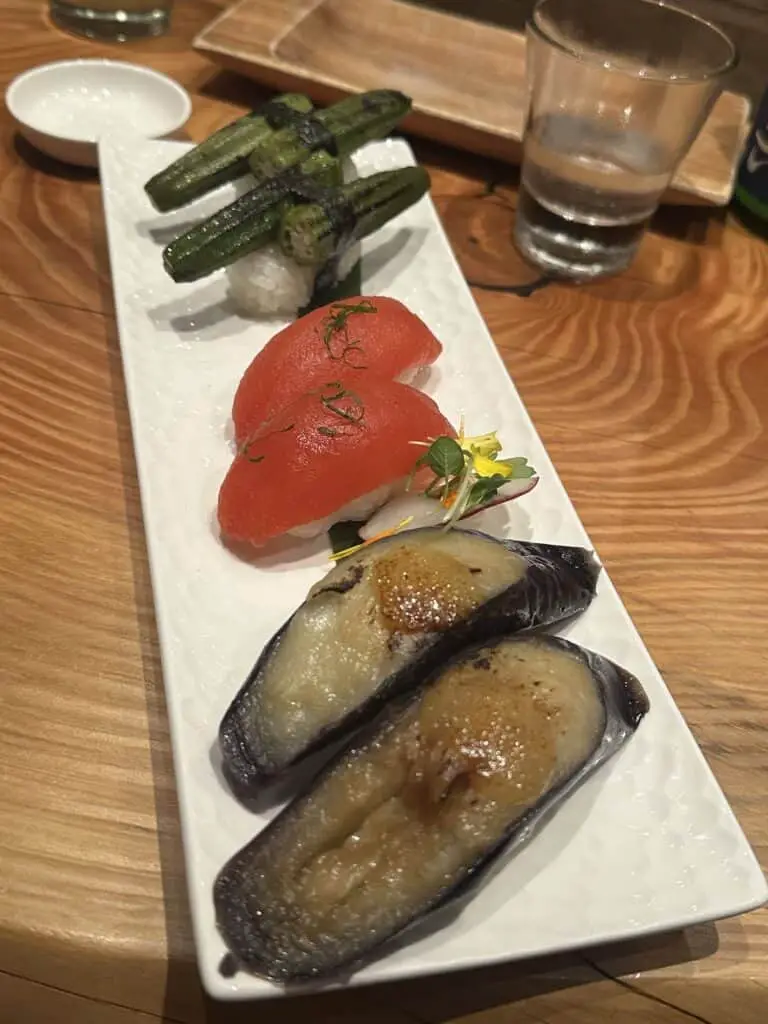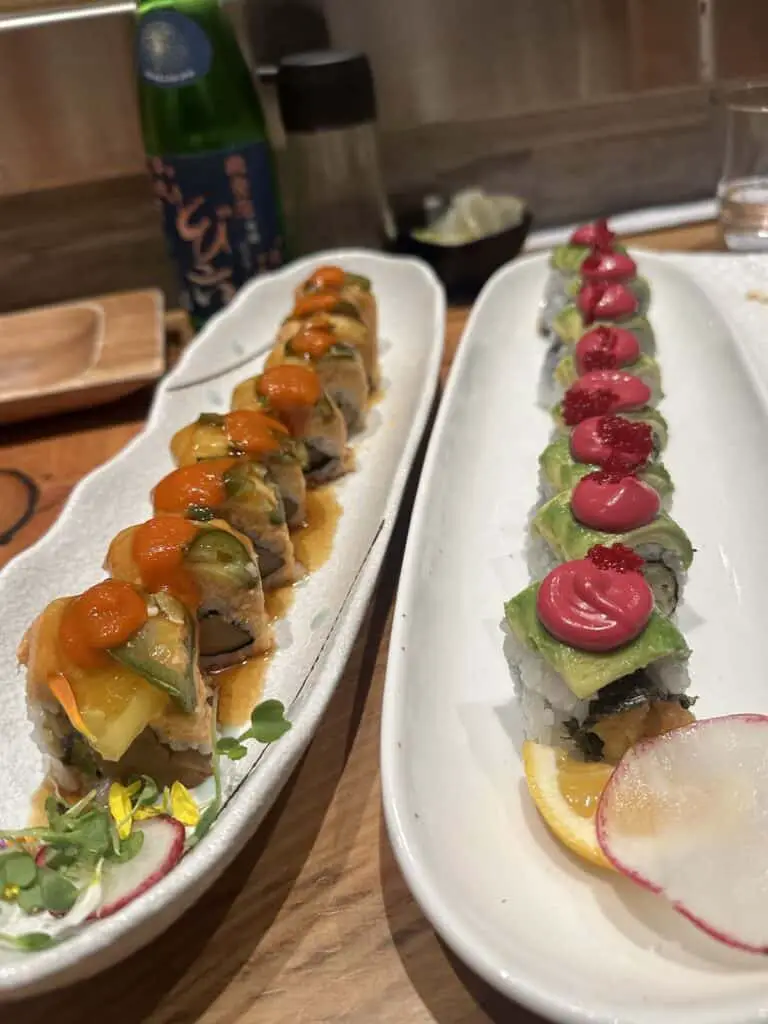 Newcomer Tane is a plant-based Japanese restaurant in Berkeley. From the team behind San Francisco's cult favorite for vegan sushi, Shizen, this new Izakaya will likely follow suit.
With a similar offering to it's sister restaurant, the menu features shared plates, ramen, nigiri, and an abundance of creative sushi rolls. For example, The Wedge tempura roll includes spicy tofu, green onion, ichimi, sesame, spicy aioli, and sweet shoyu. The Leahi roll has smoked beets, cashews, creamy tofu, asparagus, avocado, sweet mustard, and orange zest.
Not only is the food a work of art, the space is modern, clean, and warm. The East Bay vegan food scene is SO LUCKY to welcome Tane!
Souley Vegan (Oakland) Permanently Closed
Vegan Mob (Oakland) Oakland Location permanently closed
Go Vegan (Antioch)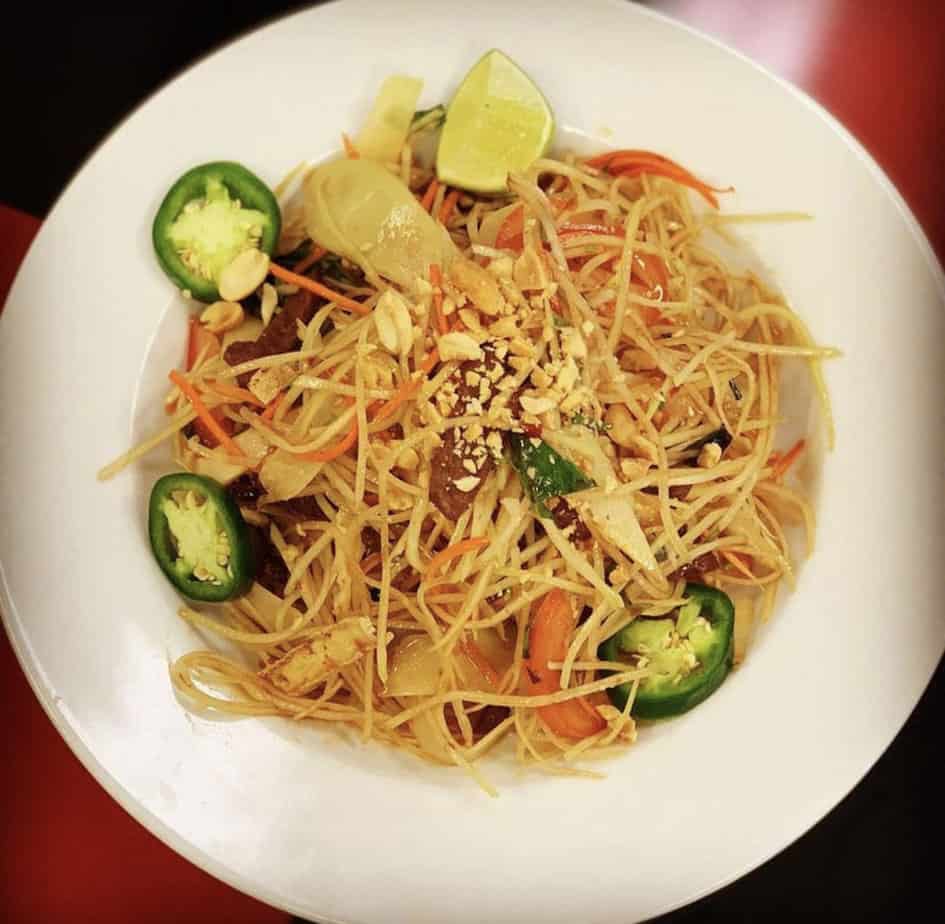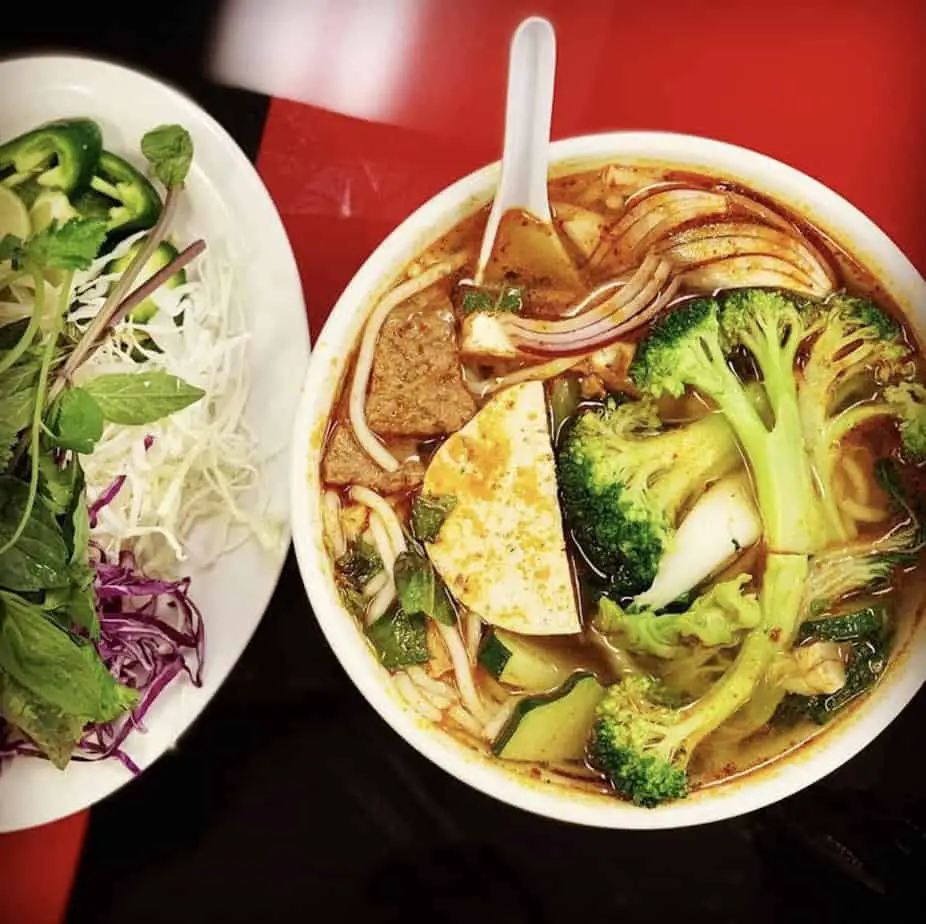 Heading deep into the East Bay? Not to worry! Go Vegan may look like a hole in the wall, but in fact, it's a hidden gem!
The Asian-inspired food is packed with flavor, like the Green Papaya Salad with vegan jerky and the spicy veggie-packed soups. Whether you're into meat substitutes or not, this spot has something for all plant-based preferences with it's vast menu. Even kids!
Veggie Lee (Hayward)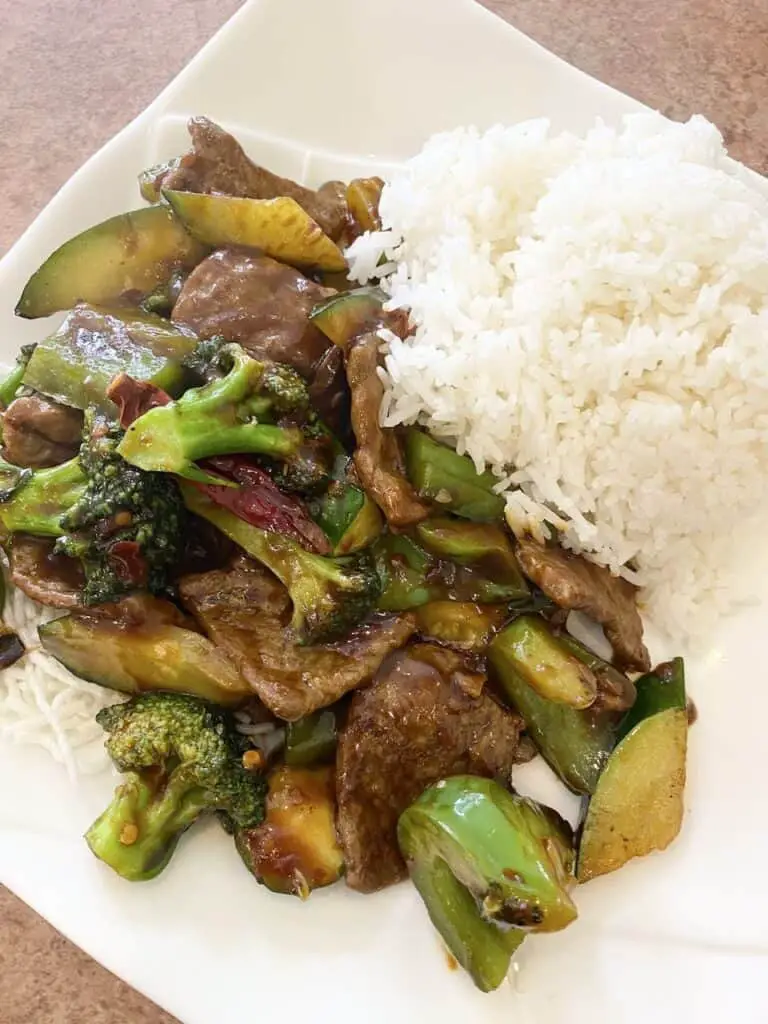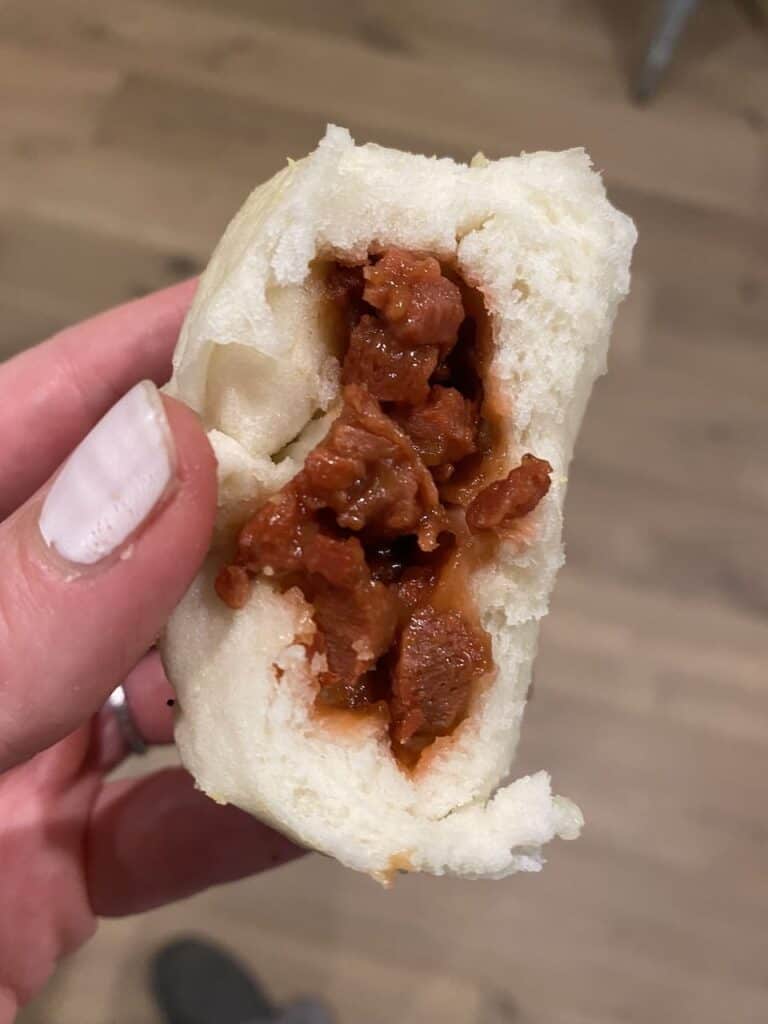 This hole in the wall vegan Chinese spot is a must-try if you are in or hear Hayward. Featuring a lengthy menu, its a perfect place for groups so you can try a handful of dishes.
In addition to the printed menu, Veggie Lee also features other specials, like vegan pork buns that come frozen for takeout only.
Vegan-Friendly Restaurants: East Bay Vegan food
Kitchen Story (Oakland)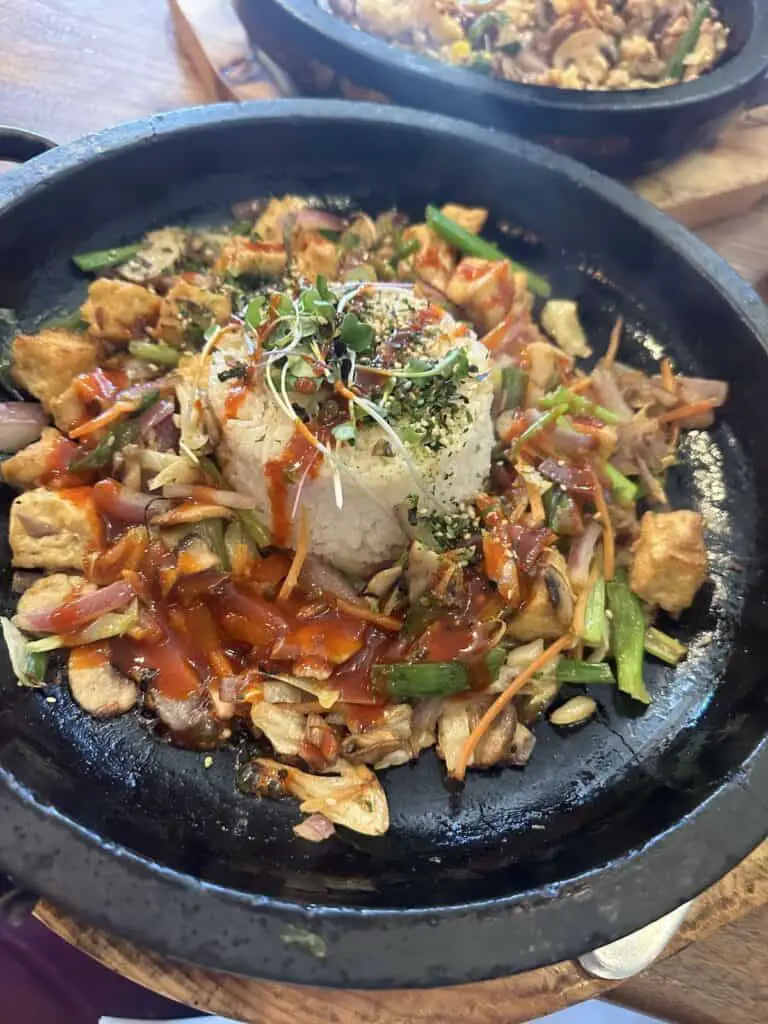 For the best brunch in the East Bay, head to Kitchen Story in Rockridge. With a unique Korean and American-inspired menu and indoor/outdoor seating options, it truly has something for everyone.
Personally, I can't get beyond the vegan stonepot (no egg, add fried tofu)…it is so incredible that I order it every single time! Similar to a bibimbap, the dish is served on a hot platter, so they longer you let it sit, the crispier the rice gets.
Easy Creole (Berkeley) Closed indefinitely as of November, 2023
Pho Benny (Lafayette)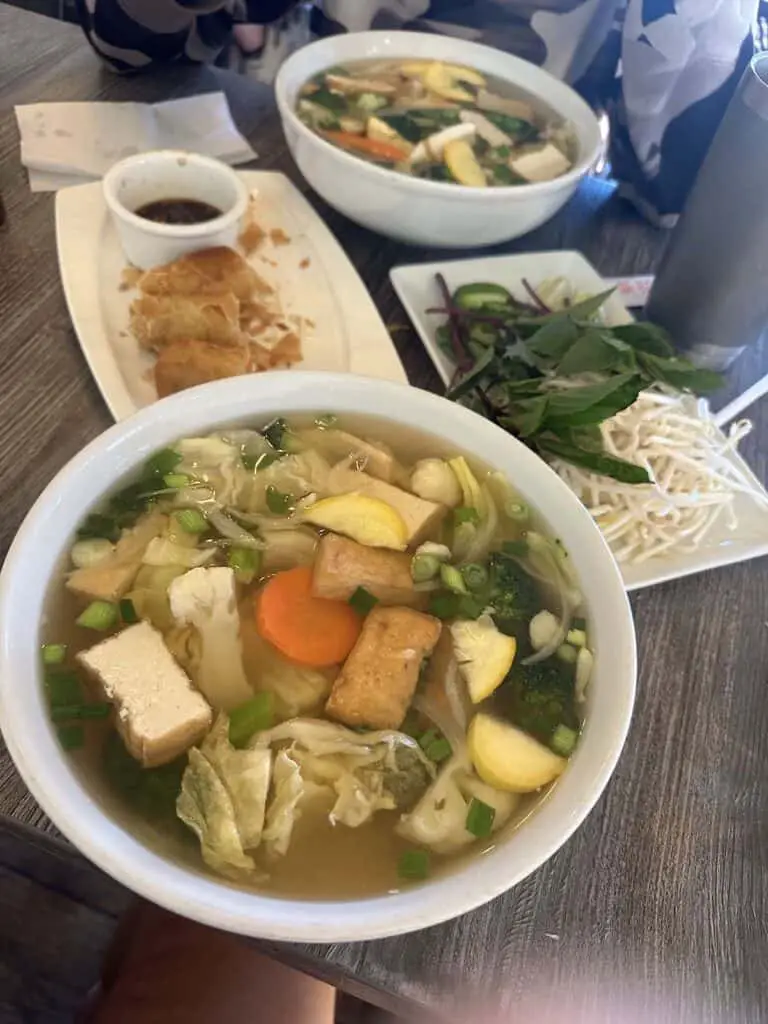 Perhaps the tastiest vegan pho broth I have ever tried is at Pho Benny in Lamorinda, and my son agrees😉. Delicate, flavorful, and clearly made with love, this simple soup is a must try for all pho lovers.
The veggie appetizer plattter with crispy rolls, spring rolls, and fried tofu is another stellar menu option. Other plant-based options include vegetable rice claypot, curry tofu, lemongrass tofu, and tofu with eggplant.
Located next to Trader Joe's, you have a great excuse to try it soon!
Lokanta Mediterranean Bar & Grill (Pleasanton)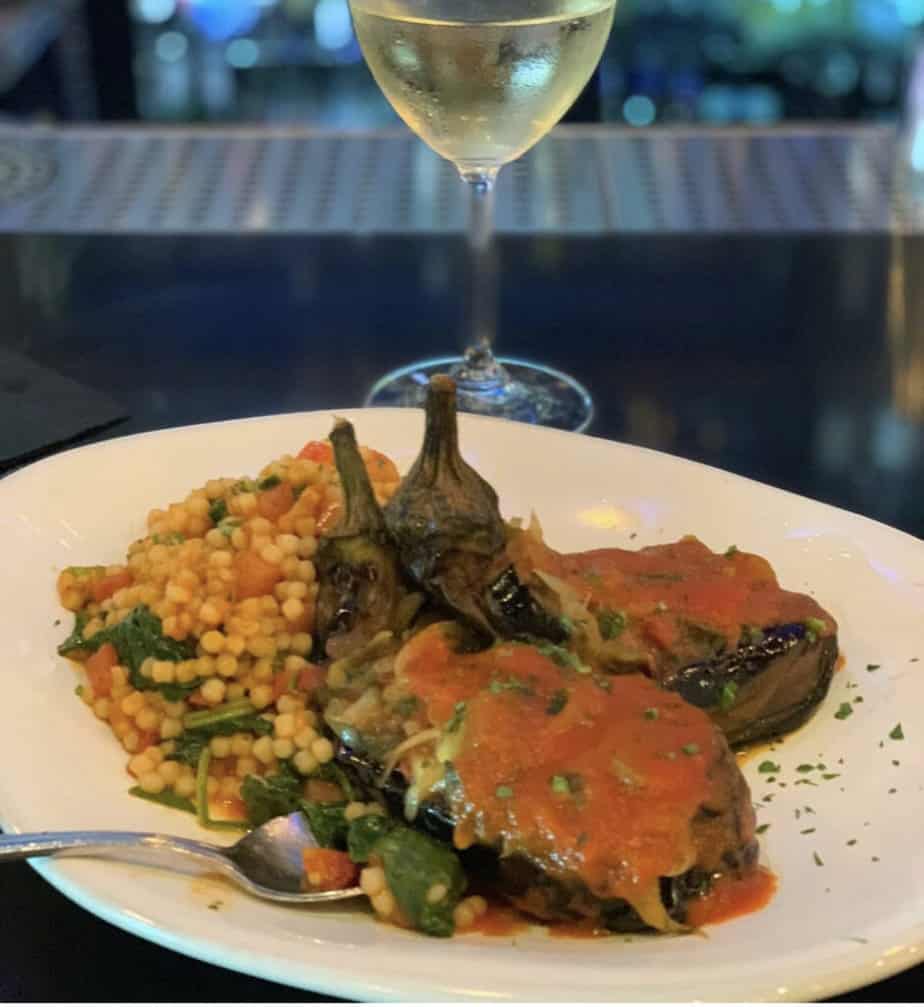 The stuffed eggplant (Imam Bayildi) at Lokanta in Pleasanton is a must-try meal. The perfectly cooked eggplant stuffed with peppers, onions, garlic, and tomatoes with a peppery tomato sauce over rice pilaf (previously couscous) is simply remarkable. 
And while this is the only vegan entree on the menu, a handful of other starters can be made vegan, like the dolmas, hummus, salads, and sides.
Kiku Sushi & Vegetarian (Lafayette & Berkeley)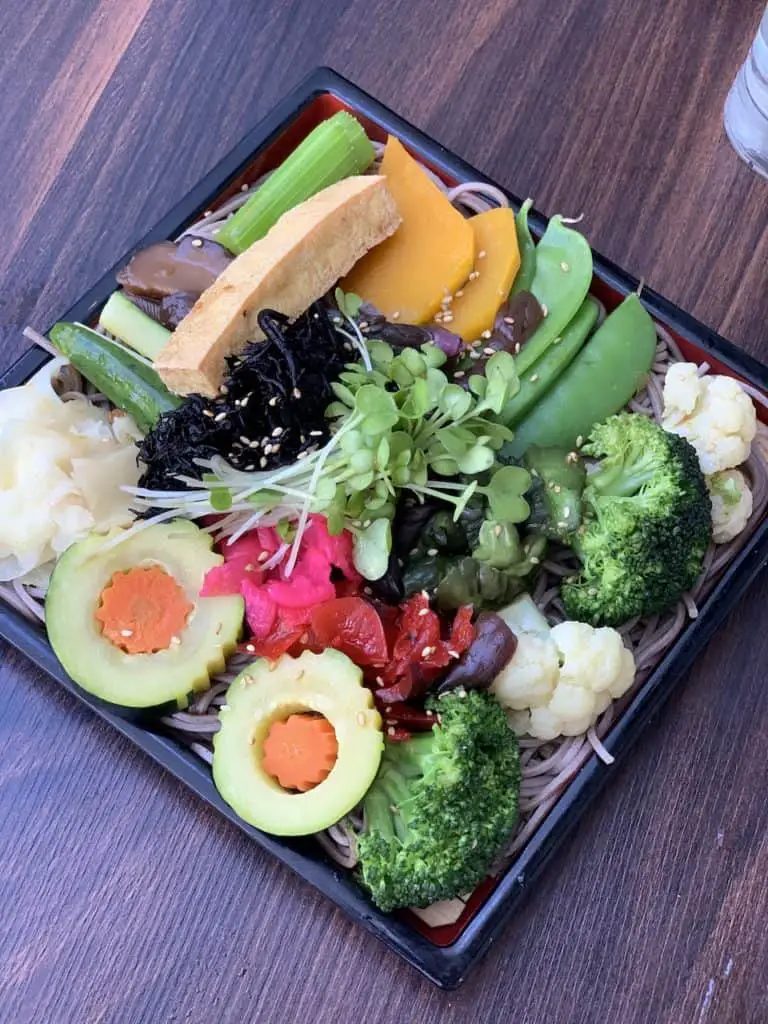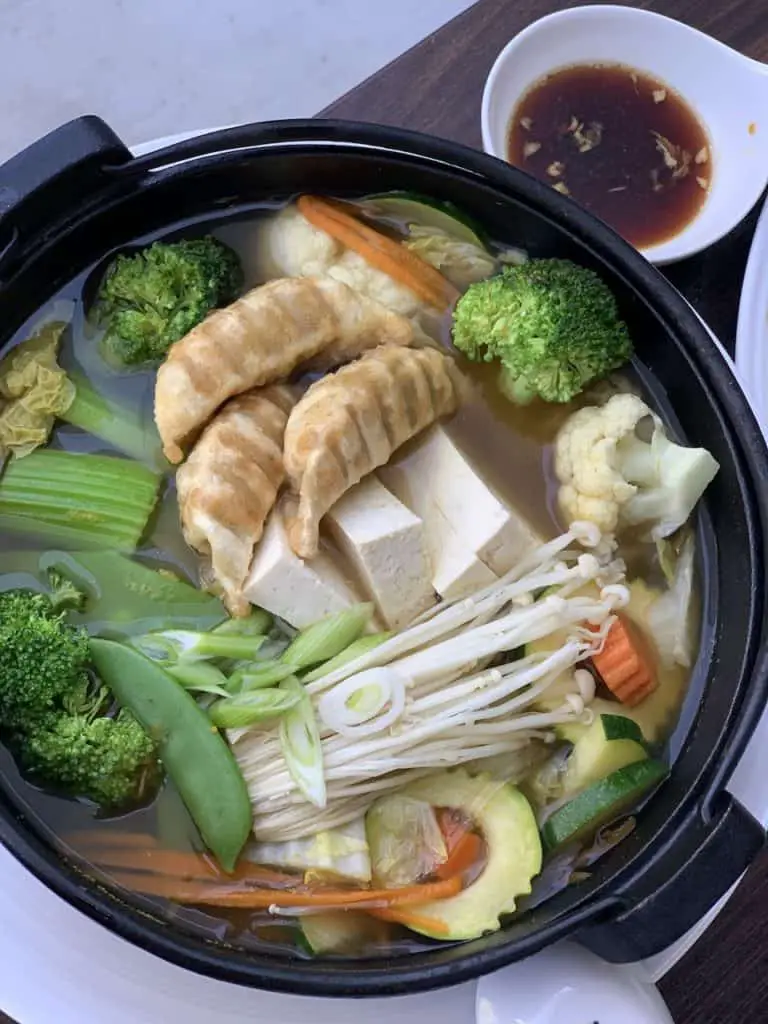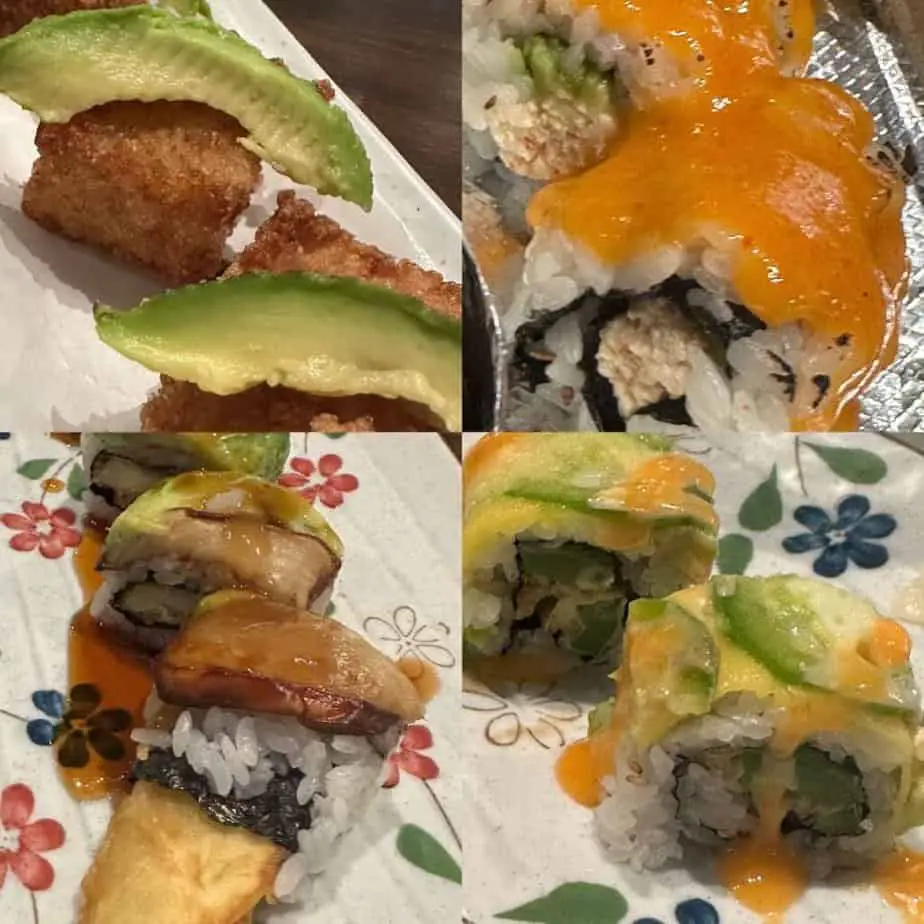 Kiku is a wonderful option for vegans dining with omnivores because it offers both a traditional Japanese/sushi menu and an entire vegetarian/vegan menu. With so many beautiful, fresh options, everyone is happy!
In addition to plenty of plant-based sushi, Kiku has many veggie-forward dishes, like the soba salad and the Nabe or Kobe soups. Popular rolls include the Vegan Baked Spicy Scallop Roll and Gogo Roll. And don't miss the vegan chocolate mousse cake for dessert!
Kiku has two locations: the original in Berkeley, and a second in Lamorinda (Lafayette). 
Drake's Dealership & Brewing Co. (Oakland)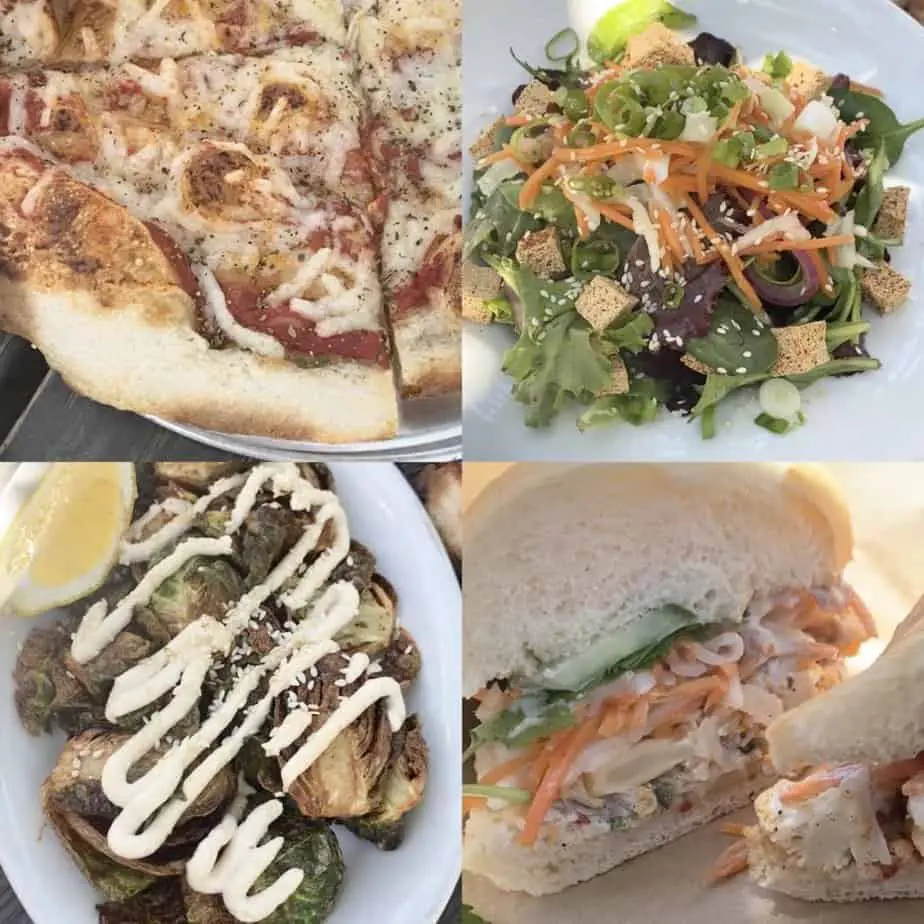 Drake's Dealership in downtown Oakland is more vegan-friendly than ever! Not only do they offer plant-based cheese on their incredible wood fired pizzas…they have a handful of other choices too! For starters, the sesame salad with tofu croutons, split pea soup, and brussels sprouts with tahini are awesome choices. And my newest favorite dish is the cauliflower banh mi, air fried with a tasty black pepper aioli.
Sure, go for the beer in the adorable beer garden. But stay for the awesome vegan food! It's the perfect spot for omnivores and herbivores to eat in harmony.
True Food Kitchen (Walnut Creek)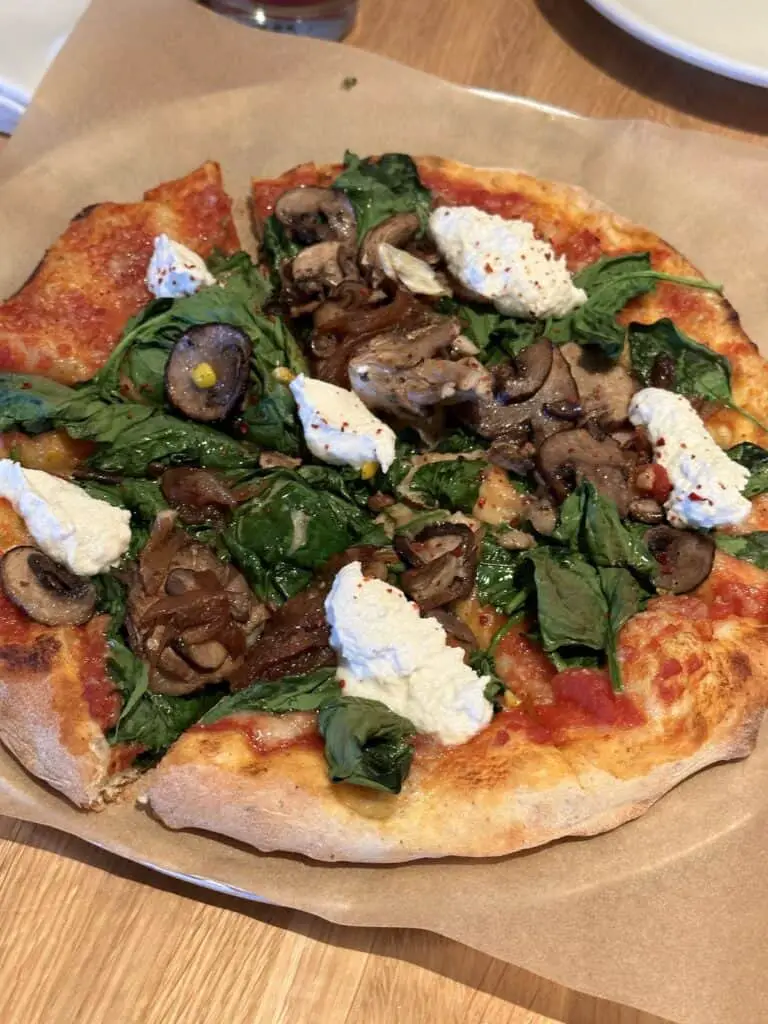 This upscale chain offers healthy, wholesome dishes for omnivores and herbivores alike. With an extensive menu, True Food Kitchen offers not only seasonally fresh options but a handful of everyday favorites.
While there are literally dozens of vegan options, a handful that rotate in/out each season, standouts include the Charred Cauliflower with harissa tahini and medjool dates, the Korean Noodle Bowl (I add tofu), the Butternut Squash Pizza with house made vegan almond ricotta, Mushroom and Spinach Pizza with lemon ricotta, and the Vegan Double Cheeseburger.
True Food is the perfect spot for healthy East Bay vegan food when dining with non-vegans, as it has plenty of delicious and healthy options for all eaters!
Sweet Green (Walnut Creek)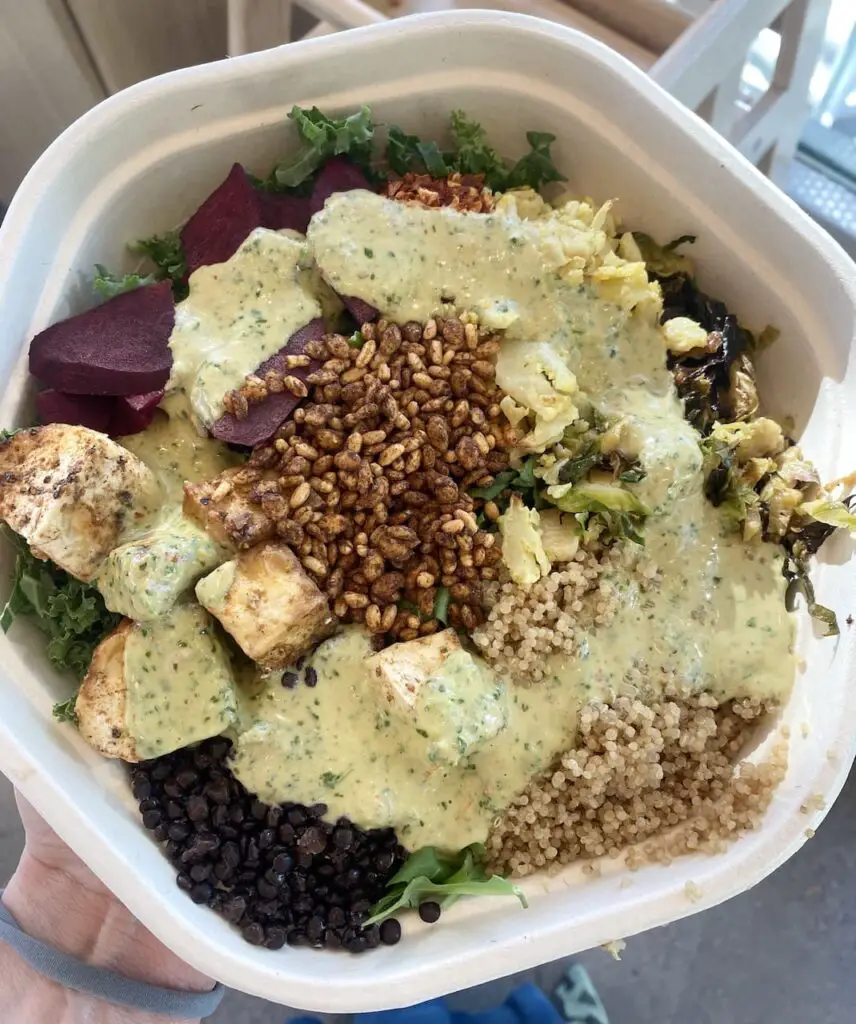 This casual chain makes a mean vegan bowl (and salad). Choose from the menu, or better yet, build your own. The possibilities are endless, but must-try elements include the raw beets, za'atar croutons, crispy rice, roasted tofu, caramelized onions, roasted squash/sweet potatoes, the spicy cashew dressing, and the lime cilantro jalapeno dressing.
Gather (Berkeley)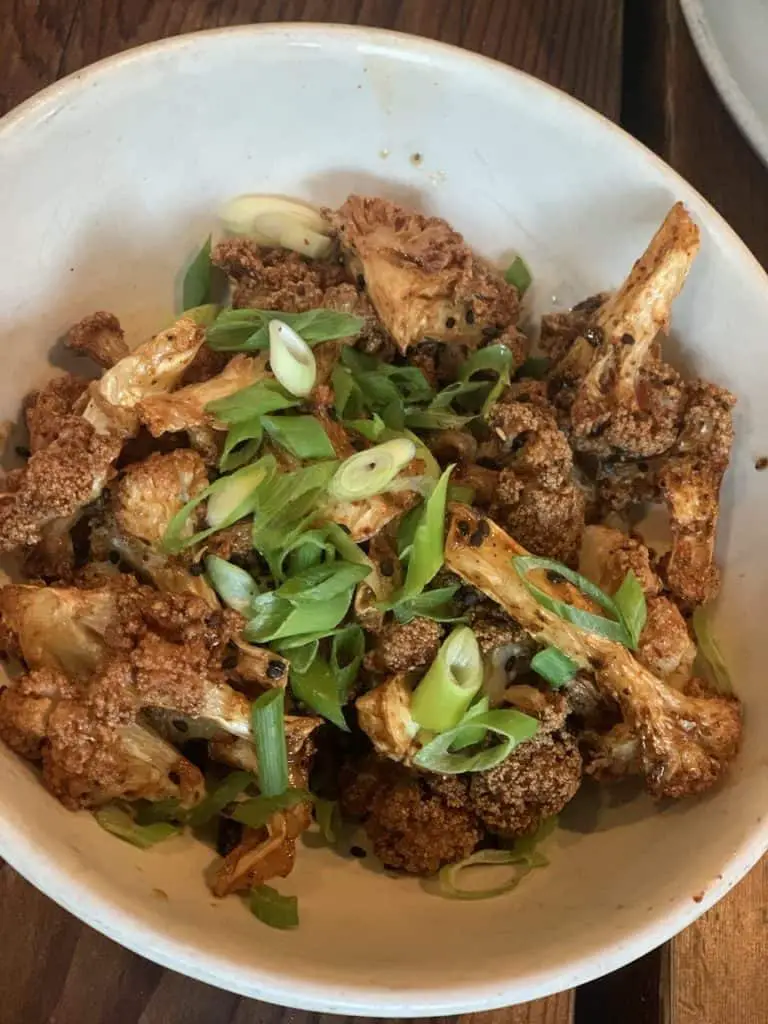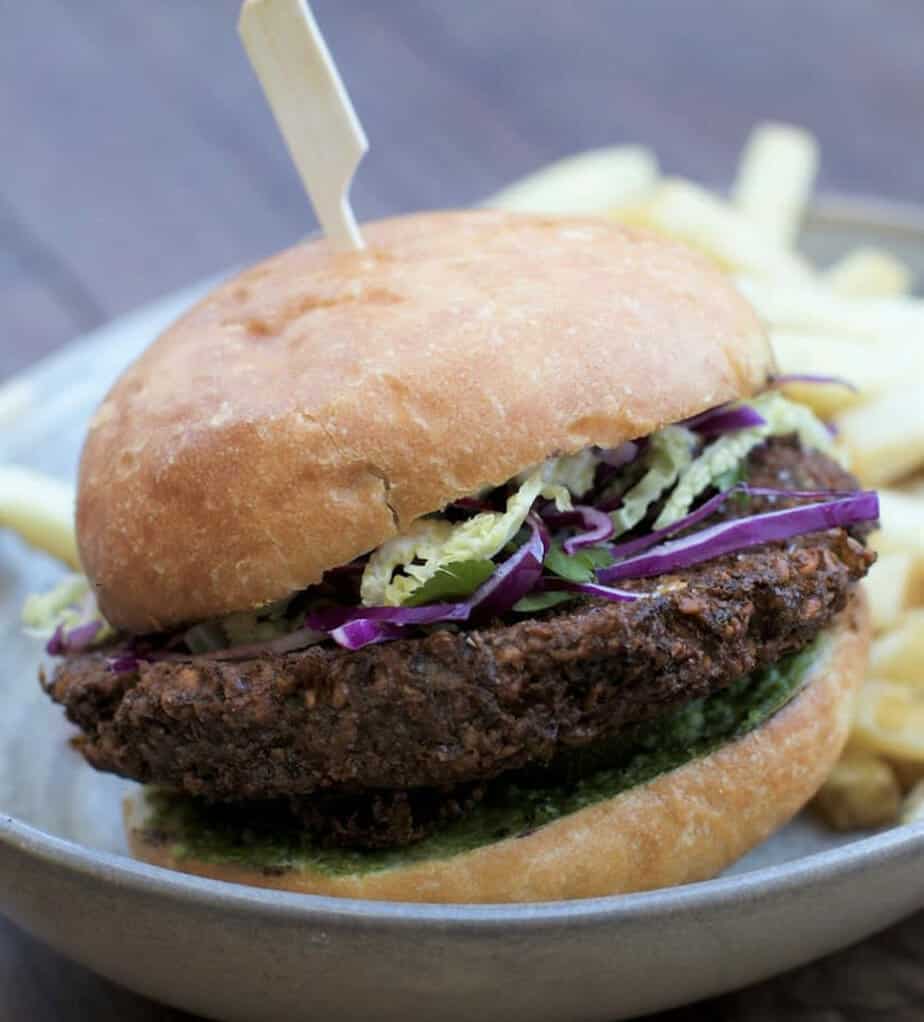 Gather is the OG vegan-friendly Bay Area restaurant IMO. For over a decade, the restaurant has focused on a seasonal, farm-to-table menu. And while it has evolved over time (I wish they would bring back the vegan charcuterie platter!), plant-based choices are always on the menu.
Current highlights include Sweet & Spicy Cauliflower, Falafel Burger (hold the yogurt), Seasonal Grain Bowl, and Spicy Tomato Pizza.
Finally, the ambiance matches the food, with an inviting, communal vibe. And an adorable patio to boot!
Lita (Walnut Creek)
Newcomer Lita brings Miami flavor with Caribbean influences. And the ambiance is as fresh and modern as the food.
The menu's plant-based offering is primarily dishes using the delectable jerk maitake mushrooms (be sure to ask for it vegan so they don't use butter). For example, the Caribbean Bowl includes coconut rice, pinto beans, charred pineapple guacamole, Caribbean slaw, Scotch-Bonnet tomatoes, and plantains. Perhaps not for the spice averse, this well-balanced dish is packed with flavor and spice.
Other highlights include the roasted heirloom Beet Tartare with sweet potato crisps and housemade chips and dips (guac and salsas).
Manakish (Walnut Creek)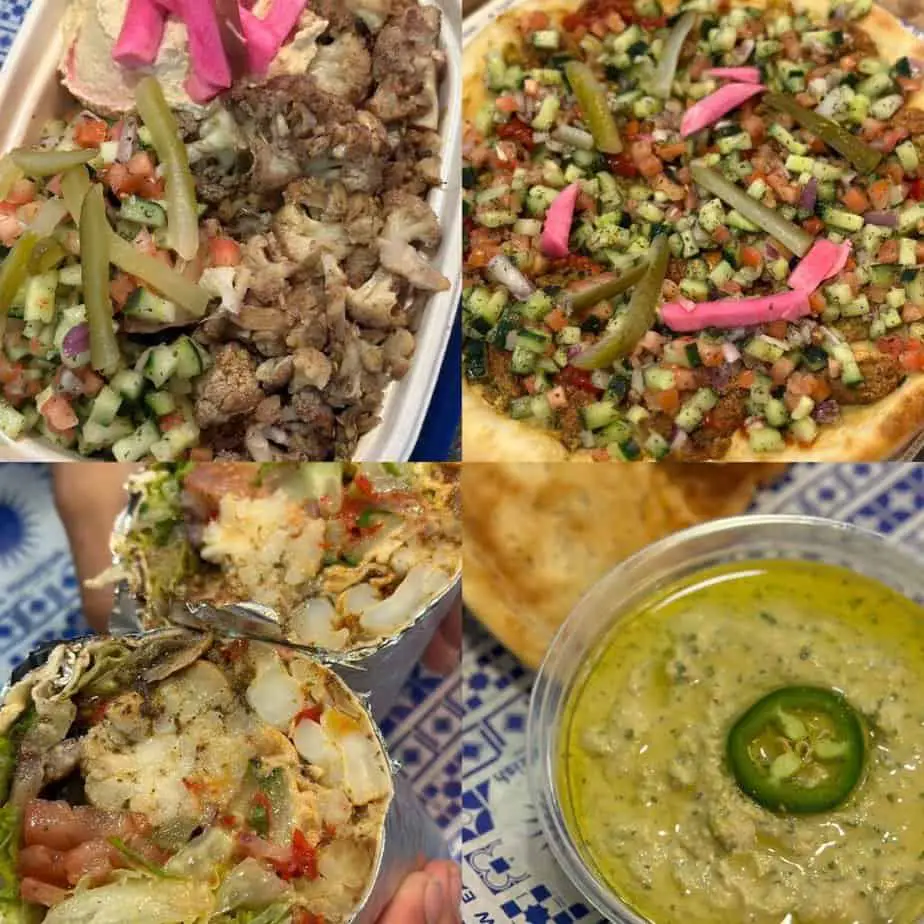 For quick counter-service Mediterranean food check out Manakish in Walnut Creek. Tasty plant-based options include flatbread pizzas (aka manakishes), wraps, bowls, and dips. Vegan mains to choose for any meal include roasted cauliflower & eggplant or falafel, and both are delicious! I recommend going with a friend and ordering a manakish with one and a wrap or bowl with the other.
Other menu highlights include the jalapeño hummus and mint lemonade.
Note: their special sauce has dairy so request the sumac dressing instead for salads and bowls.
Cocina Hermanas (Danville)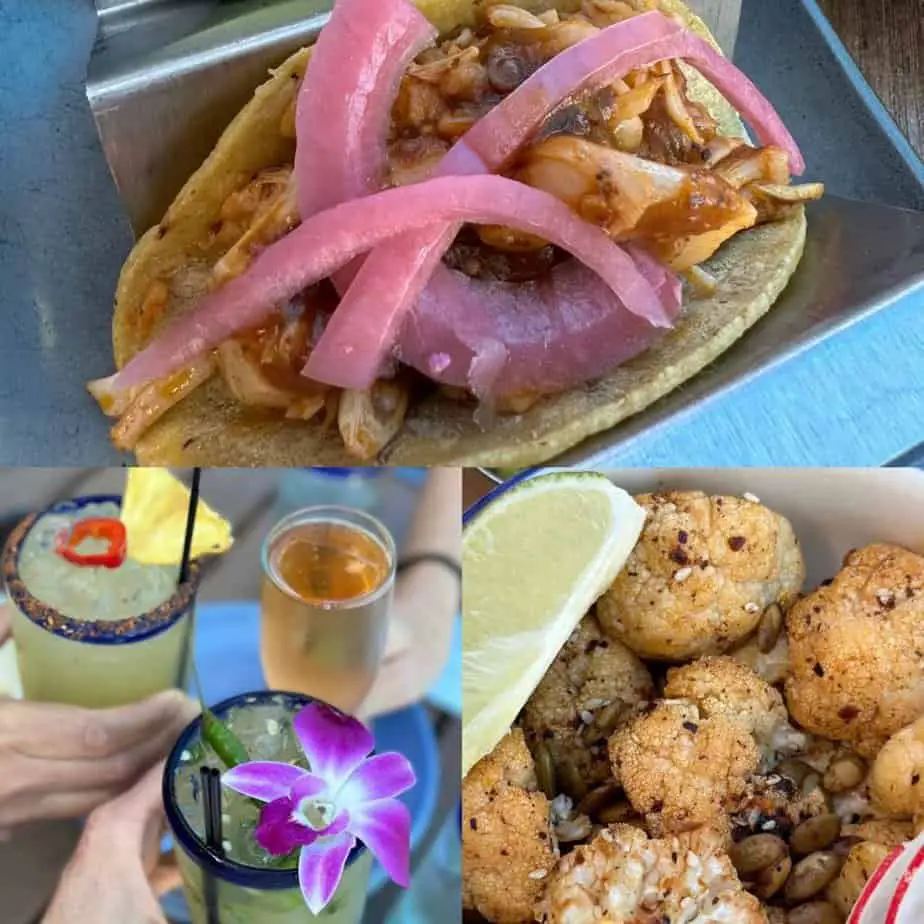 Enjoy a Mexican meal al fresco at the inviting patio of Cucina Hermanas in Danville. Don't miss the tasty jackfruit tacos with pickled onions, as well as the spicy cauliflower with pepitas and guac appetizer, and awesome chips and salsa.
Oh and don't forget the spicy margaritas (I prefer the Sassy Señorita🥳)!
Revival Bar & Kitchen (Berkeley)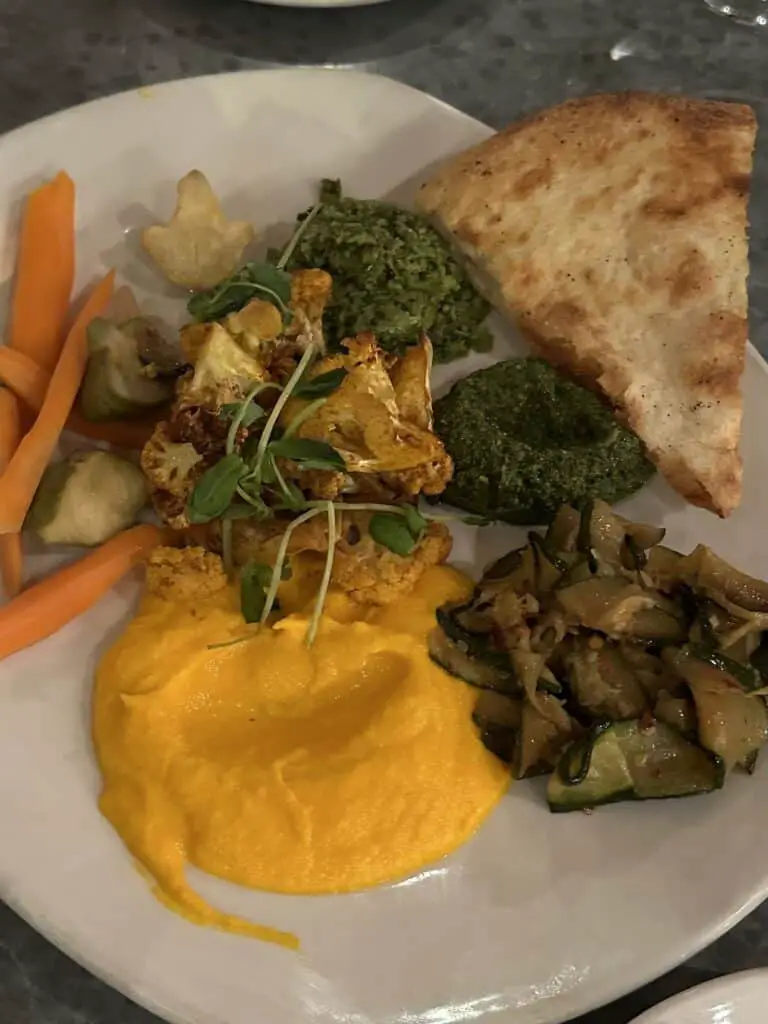 Revival Bar and Kitchen in Berkeley is home to one of the tastiest appetizers around: the vegan Mezze Board features kale pistachio pesto, olive tapenade, pickled veggies, flatbread, and an amazing ginger sauce. DO NOT MISS this dish!
The vegan paella or the pesto pasta without cheese are both delicious choices for an entree.
Roam Burger (Lafayette & San Ramon)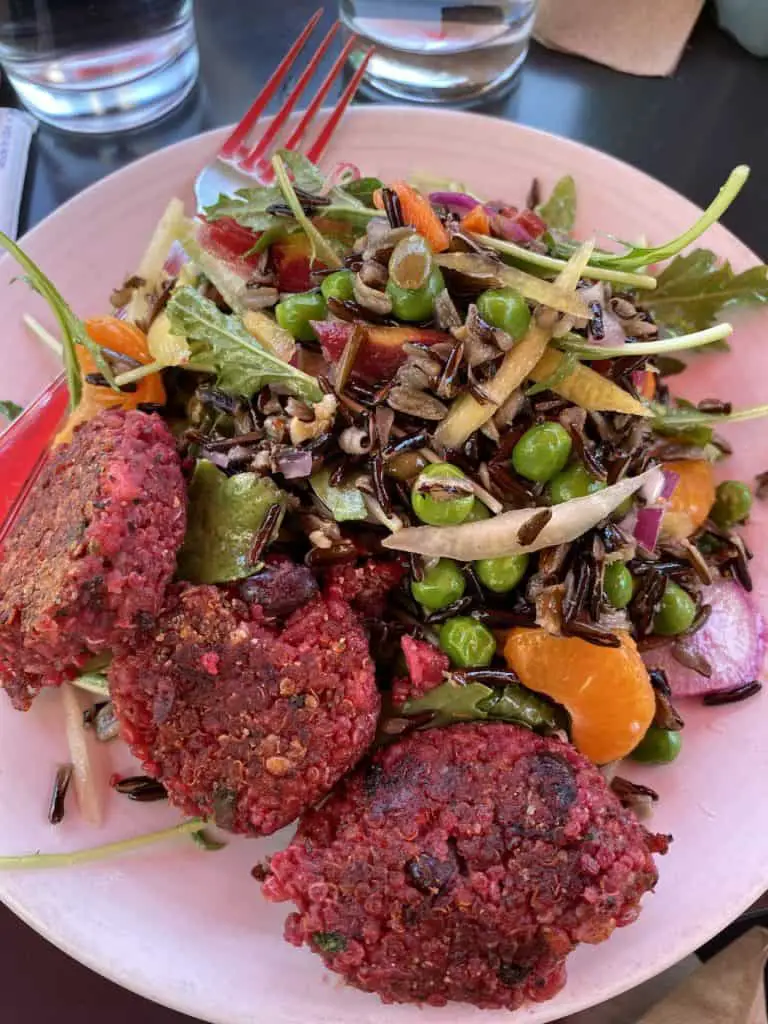 For the tastiest, healthiest homemade veggie burger around, check out Roam Burger. This casual Bay Area chain makes an awesome patty using brown rice, black beans, quinoa, beets, and fresh herbs. Not only vegan, the Roam burger is gluten free too!
While you can opt for the veggie burger for any burger menu item, my personal favorite is to order the mini veggie burgers on the seasonal salad. FRESH, FILLING, and DELICIOUS!
Roam offers other tasty vegan as well, like sweet potato fries, brussels sprouts, soups, and salads.
I hope you find this list helpful in your Bay Area vegan culinary adventures! Please, let me know what you think about this East Bay vegan food in comments below once you try em'. And if I have missed your favorite spot, holler!
Finally, for more restaurant recos, check out:
Cheers!
–Jenn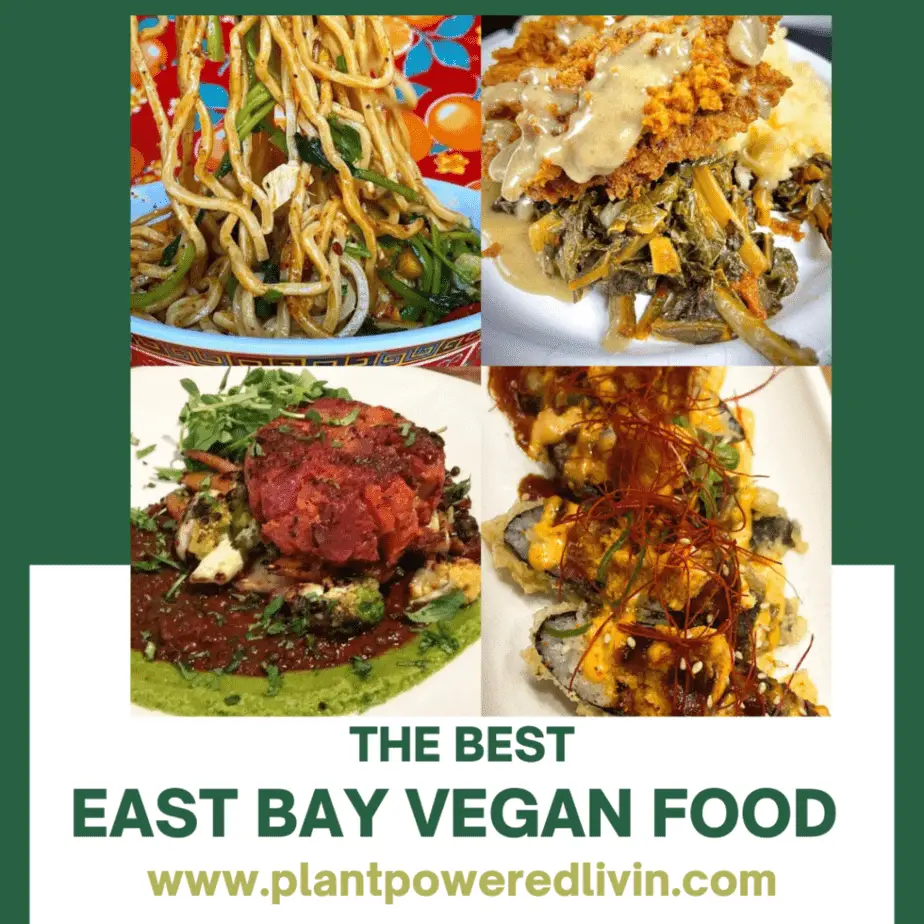 ---
---