Veggie Explorers Club Subscription for Kids
Wanting to nurture more adventurous eaters? Wishing there was a way to introduce kids to vegetables without forcing them to eat 'em? Always searching for creative & unique gifts? Have I got the answer for you…I am ecstatic to introduce Veggie Explorers Club subscription for kids!
Bay Area mom and The Family Kitchen Coach (and my friend!), Amy Jizmagian, has created a fun and educational subscription box for kids. Veggie Explorers Club creatively introduces vegetables to children through simple sensory activities focused on sight, smell, touch, and taste.
Essentially Veggie Explorers Club is part craft kit, part cooking kit, and makes an awesome gift for kids under 10. I can vouch from experience…my kids have thoroughly enjoyed the activities and have even tasted asparagus and artichokes for the first time ever! In fact, I think this kids' subscription box is such a unique & engaging gift that I have already sent Veggie Explorers Club to both my niece and my goddaughter for their birthdays this year.
If you've been wondering how to get your kids in the kitchen, give them exposure to healthy food, and maybe even try a new vegetable, this kids' food kit is for you.
Introducing Veggie Explorers Club subscription for kids and the entrepreneur behind the magic…
Disclosure: I only recommend products I use myself and all opinions expressed here are my own. This post contains affiliate links, which means that if you make a purchase, I earn a small commission at no additional cost to you.
Background
Health & Early Career
As a communications consultant fresh out of college, Amy struggled with severe stomach pain that would have her lying in bed most days after work. Over time, she endured every possible test – including a colonoscopy and endoscopy at age 25 – before realizing that she didn't have a physical problem. Her doctors suspected that, instead, food was the culprit.
"I knew about 'healthy eating', but I didn't actually know how to cook and feed myself very well. This got especially challenging as I undertook special diets to try to determine what was causing me so much pain.
"I started learning to cook by watching Rachel Ray. Between improving my cooking and experimenting with different elimination diets to support my health, I realized the immense power of food. It was literally life-changing."
Amy eventually determined that her problem was a combination of poor gut health and a gluten intolerance. And she wanted to empower more people to take control of their health through the food they ate. So Amy enrolled in a natural chef culinary program in Berkeley, CA.
After graduating, she secured a job at Whole Foods Market as a chef for it's pilot program, Healthy Eating. She spent over 5 years traveling around Northern California, teaching cooking classes to both customers and team members.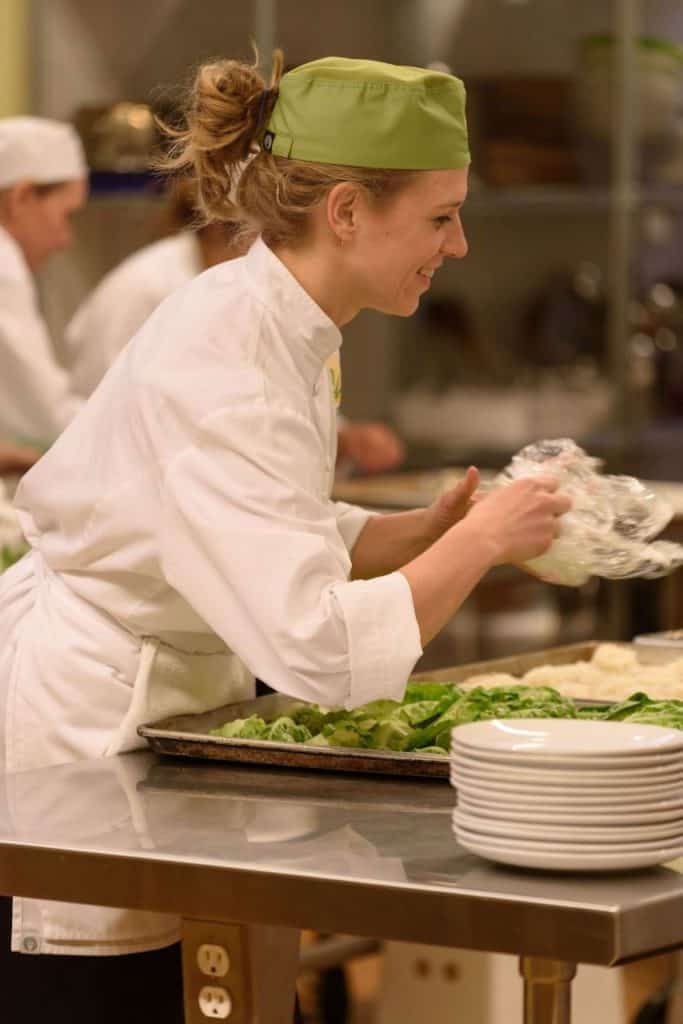 Becoming The Family Kitchen Coach
When Amy became a mom, she knew she needed to slow down her pace, and ultimately left her traveling position at Whole Foods. "I had also realized that who I really wanted to help was busy parents. After all, I taught about cooking all day in grocery stores and I still got home and wondered, 'What's for dinner?' That's where my passion for making healthy eating easier really blossomed.
Initially, Amy focused on leading 1:1 coaching sessions and creating meal prep plans for busy parents. Over time, she realized she wanted to be able to help more parents and families. She began teaching online and in-person group classes, and launched The Family Kitchen Coach on YouTube and Instagram. She also hosted a podcast, Feel Good Family Food, for two years.
"My goal is to make it simpler for parents to feed their families healthy food more often without all the fuss, worry, and guilt that often goes along with it."
"Anyone who's built their own business will resonate with the idea that it takes some trial and error to find the right thing (I'm pretty sure it's a never-ending process:)). All of my work has been focused on helping parents feel more confident in feeding their families well, it's just taken on different forms over time," Amy shares.
Her newest form was on the horizon…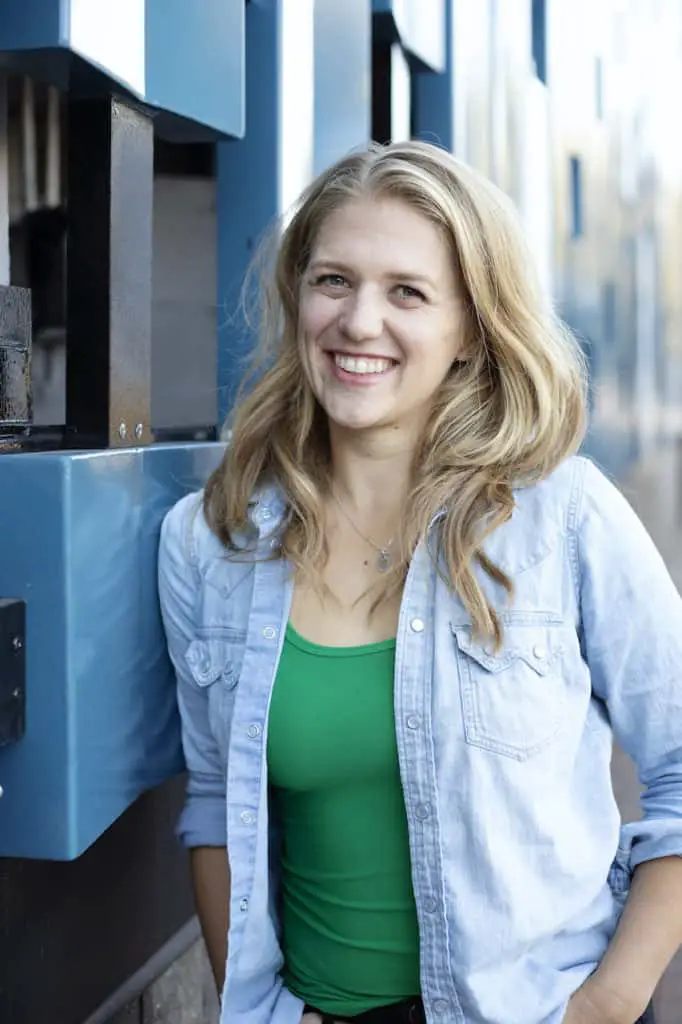 Conception Of Veggie Explorers Club
"I created Veggie Explorers Club because it was the thing I wished I had as I was introducing new foods to my kids."
Before having kids, Amy Jizmagian assumed raising healthy, adventurous eaters would be easy: introduce vegetables first, make healthy food taste good, and minimize junk food. "And while these do help, I underestimated how much kids are their own little people. They have their own natural preferences, tastes, and development patterns."
As a new mom, she slowly realized the power of having fun with food and providing low-pressure opportunities for kids to taste new things.
"Veggie Explorers Club came about as I considered how I could help more parents apply these concepts in their busy lives. I didn't want to just give more Pinterest activities. Rather, I wanted to create a focused progression of activities that would help parents and kids make real progress in learning about new foods."
Amy's idea for a subscription box for kids came to her in the fall of 2020, smack in the middle of COVID, when she had very little time to herself. And yet, amazingly, Veggie Explorers Club was born just a few months later in March 2021.
Creating Veggie Explorers Club Subscription For Kids
The Science Behind It
Through talking to various experts on her podcast, Amy had learned about Ellyn Satter's Division of Responsibility in Feeding early on in motherhood. Amy explains, "Parents are in charge of the what, when, and where the family eats; kids are in charge of the whether and how much they eat. This made so much sense to me…and also really aligned with the positive parenting approaches I was learning about in other areas of child rearing as well."
Veggie Explorers was built with this concept in mind, along with research from other studies showing that kids who have no-pressure, and even non-eating, interactions with food are more likely to eat it. "As a result, all of the activities in the kits are invitations to play and explore – NOT pressure to eat – knowing that even if they don't try it now, it will likely help them be more open to eating it in the future."
Box Development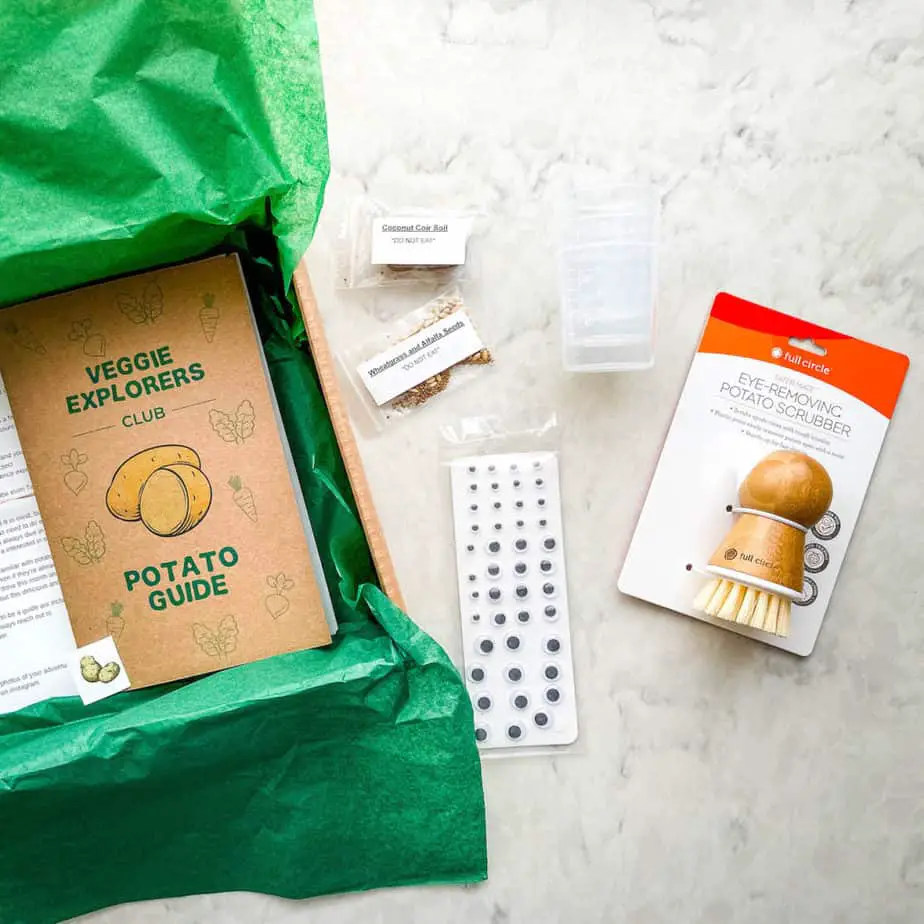 "Creating the monthly activities and recipes is the best part! I love thinking about what could help the kids get more interested, maybe even inspired to try a new vegetable.
"Often, the process of getting a kid to try a new food involves less actual eating than one might think, so there are a lot of STEAM elements leading up to the recipe. My kids love to help test the activities and they tell me what works, and what doesn't!"
Amy's biggest challenge has been developing the physical product in a thoughtful way. We all hate getting more "stuff" in the house, so Amy is mindful of striking the right balance between "fun for kids" and "good for the earth". For example, each box contains at least one useful tool that kids can use over and over again. The art activities are generally paper-based with minimal components that can be easily recycled.
Amy currently prints and sources all materials for the boxes at home as well.
How Veggie Explorers Club Subscription for kids works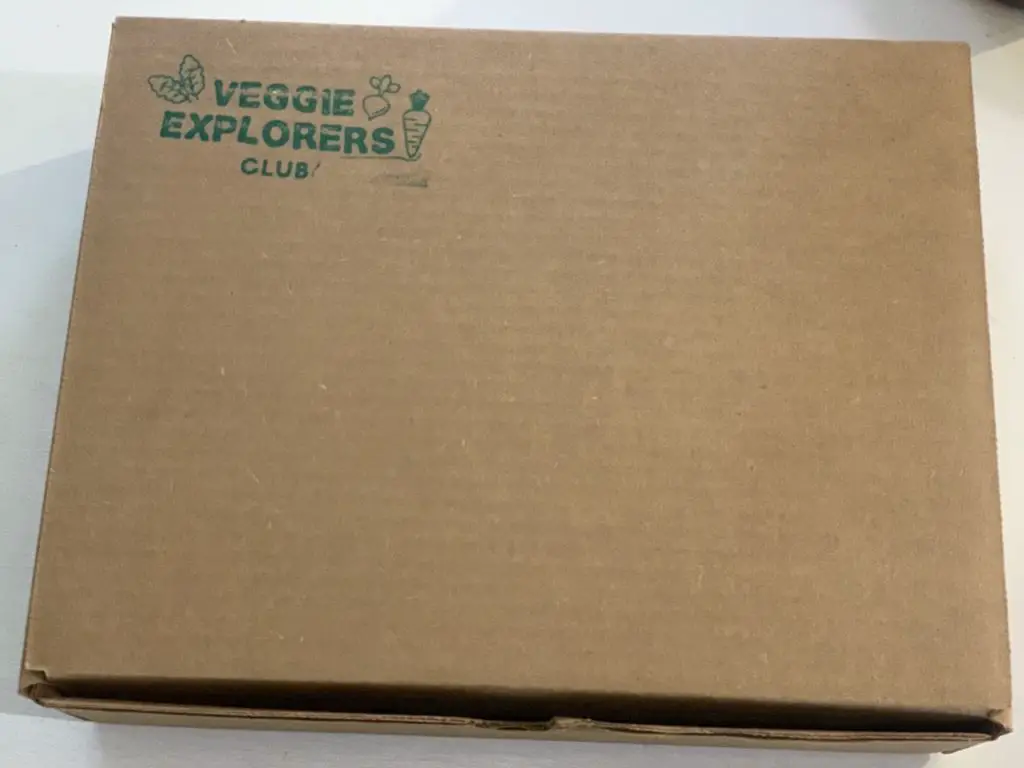 The Box
Each month, Veggie Explorers Club focuses on one in-season vegetable. The eco-conscious box arrives at the child's doorstep and includes everything needed except the food. That is, four evidence-based activities designed to see, smell, touch, and eventually taste the new vegetable.
Each box incorporates a recipe for the "taste" activity. Recipes include modifications for gluten free, vegetarian, vegan, and dairy free.
Check out our sight/smell/touch/taste activities from our recent asparagus box:
Oh, and I can't forget my kids' first time tasting asparagus:
Subscription Options
Veggie Explorers Club customers can choose from several options:
Order a one time box for $29.99
Opt for an ongoing monthly club membership for $24.99 per month, with free cancellation at any time with no minimum commitment
Choose a 3 month gift for $75
Add a sibling for $9.99 per box
To order past boxes, check out the Veggie Explorers Club Etsy page!
Live Zoom Class Included in Subscription!
Concerned that the Veggies Explorers Club could be too time consuming for busy parents? Amy's got you covered…she offers an optional online "playtime" class each month as well.
At no additional cost, parents can sign up their kiddos for a 1-hour Zoom session with Amy. During playtime, Amy leads up to 10 children through the box activities. She reads her audience to determine if all activities will be completed during the call, but always aims to cook (or prepare for cooking) with the kids.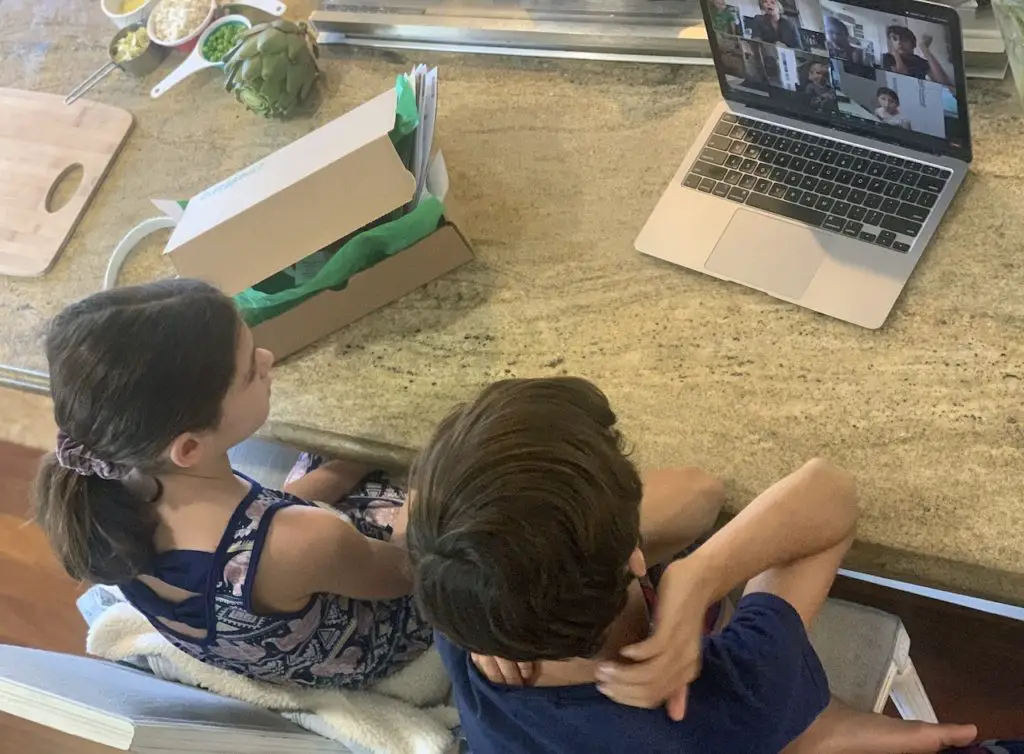 Amy's Inspiration
In learning about Amy's journey to helping parents and families, I was curious…
Besides her tummy troubles in early adulthood, where did Amy get her inspiration and passion for food, cooking, and VEGGIES?!
While she sites countless influencers professionally, Amy credits her Dad as being her biggest inspiration.
"He was vegetarian before most people even really knew what that meant. I credit him with making foods that most kids would think were weird taste so good. He also just made them seem normal because he would eat them regularly. He'd take us to the Follow Your Heart restaurant in LA for special occasions. He was always trying to recreate their split pea soup.
"He was my biggest cheerleader when I worked at Whole Foods. When I started my own business, he helped me shoot and edit videos, take food photos, and more. Sadly, we lost him a few years ago to brain cancer. But I'm certain if he was here, he'd be helping with every part of Veggie Explorers Club too."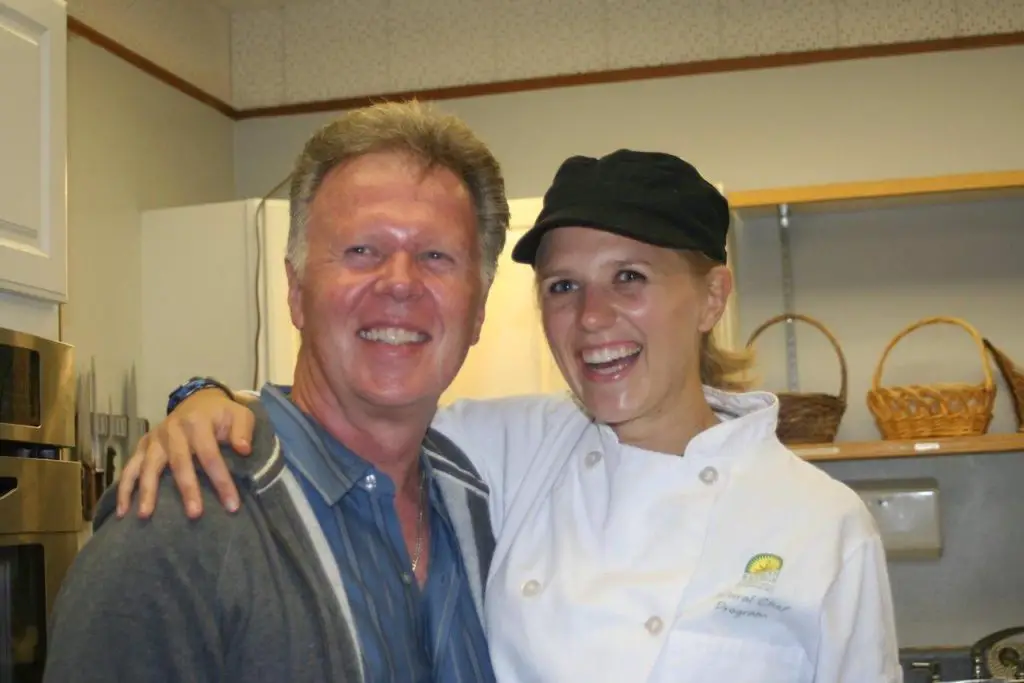 I hope you enjoyed learning about Veggie Explorers Club subscription for kids and it's inspiring creator, Amy Jizmagian. Her dedication to enabling kids and their families to EAT MORE PLANTS is exactly what Plant-Powered Livin' is all about, and I thrilled about our partnership. Feel free to leave a comment or question for Amy in the comment box below!
You can connect with Veggie Explorers Club on Instagram, or follow The Family Kitchen Coach on Instagram or YouTube for tips and tricks to make feeding your family easy.
For more kid-friendly, veggie-forward recipe and meal ideas, check out my kids page.
FOR MORE INSPIRING STORIES, CHECK OUT: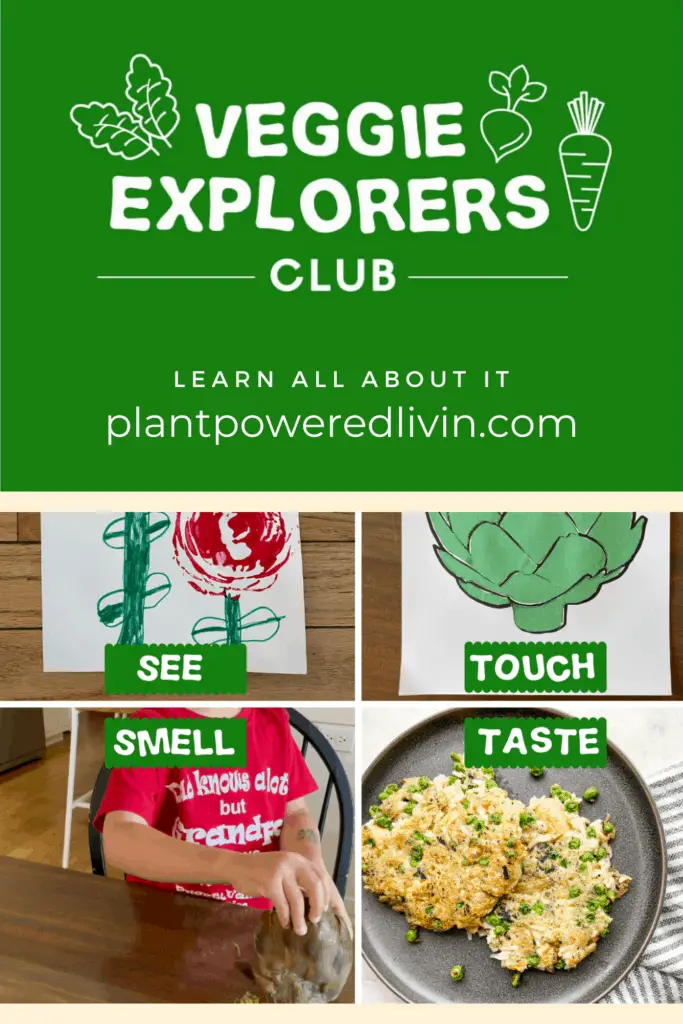 ---
---